The 10 Best Lo-Fi Plugins to Download in 2022
Here is a comprehensive list of the best lo-fi plugins on the market right now to inject your music with some wobble and warmth.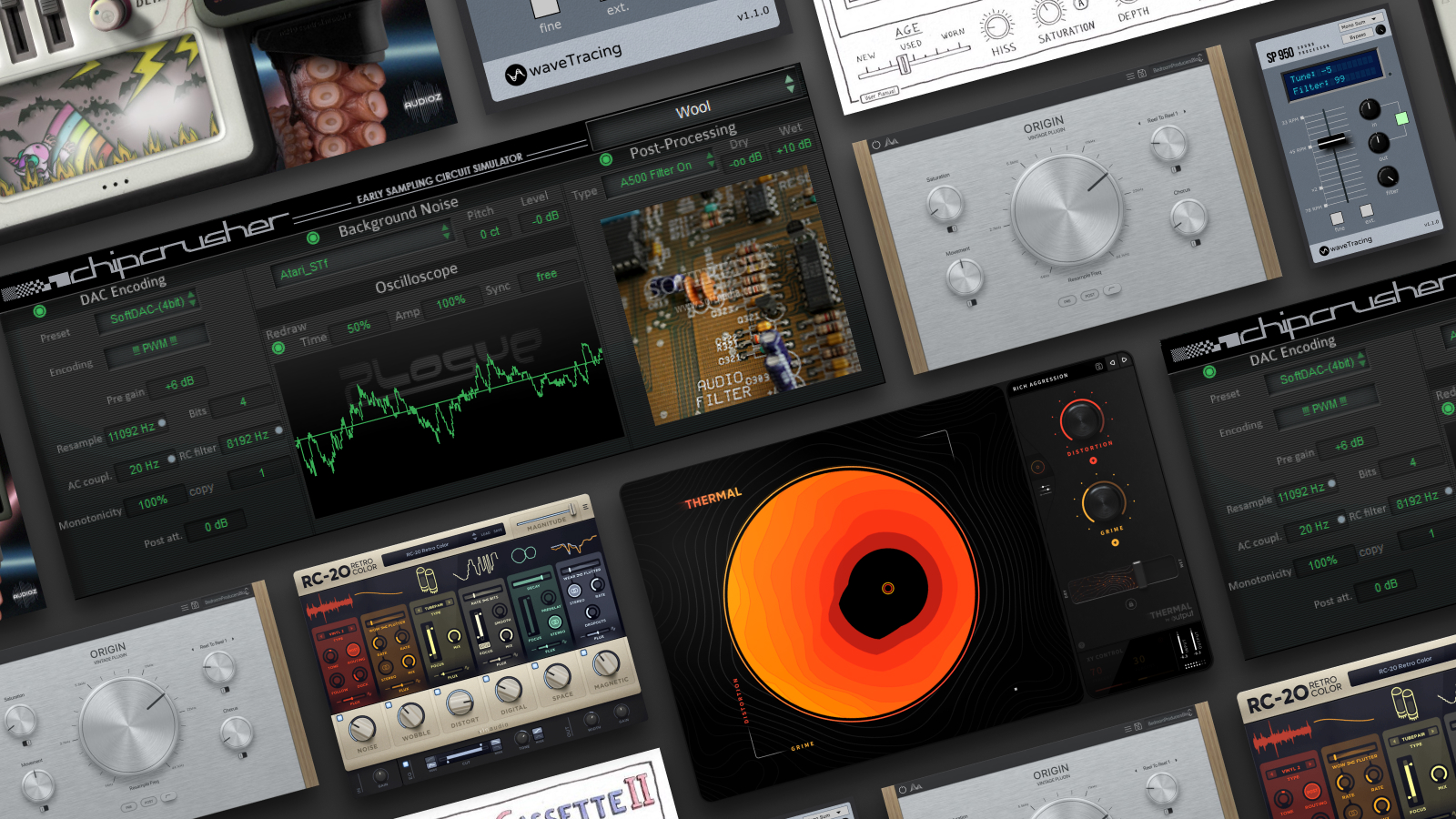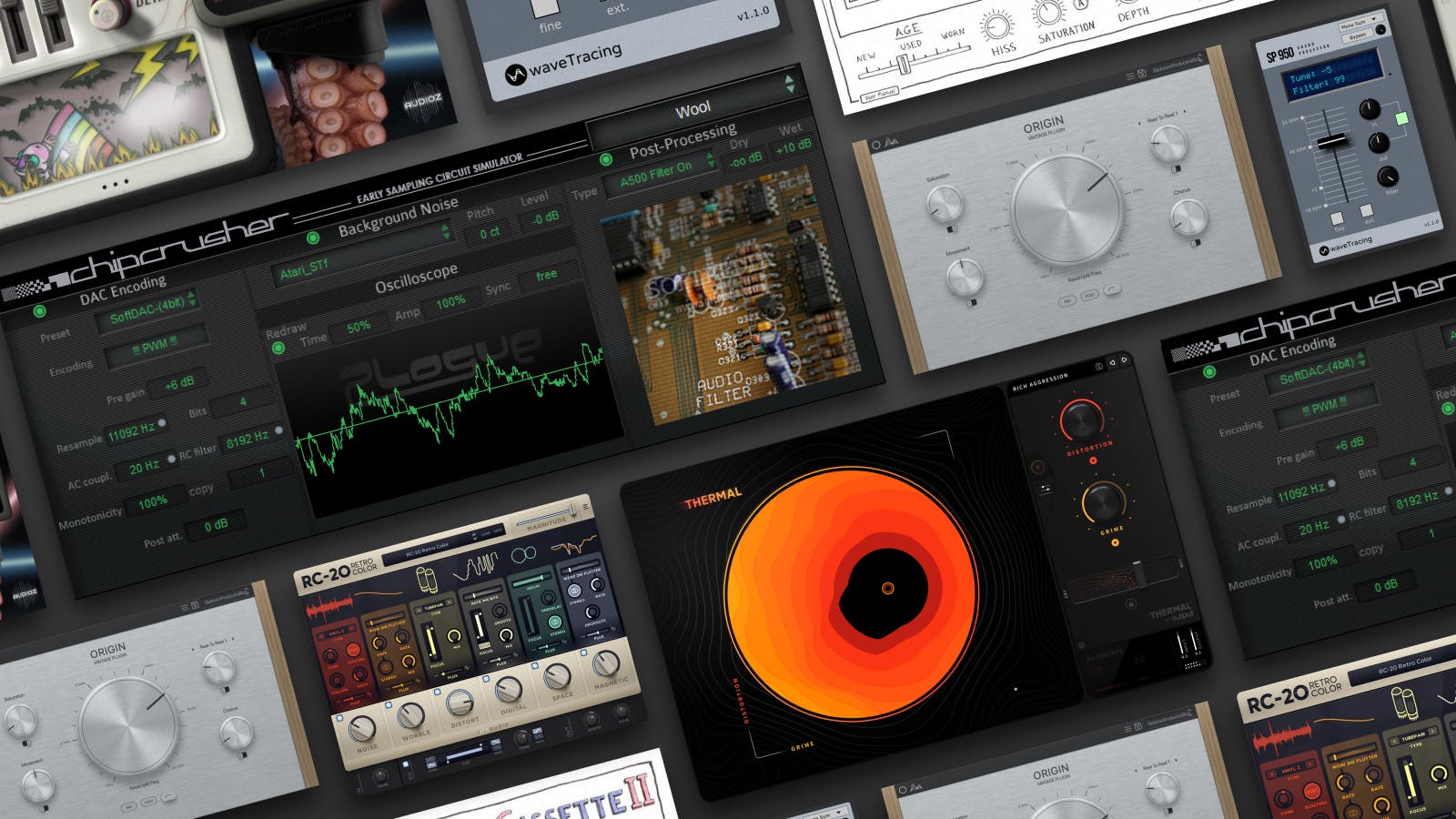 In 2022, "lo-fi" (or "low fidelity") is the catch-all term used to describe the woozy sonic aesthetic that spans across genres like lo-fi hip-hop, chillwave, and bedroom pop. In 2022, the best lo-fi plugins do more than simply recreate the quirks and distortions of different tape machines and preamps. The most popular software presents you with numerous different ways to quickly fuzz up your sound.
The sound of "lo-fi" is usually defined by the use of audio elements that have been "degraded" in some way, like oversaturation, pumping compression, pitch fluctuation, audio artifacts, or a reduced bit rate. Today's lo-fi has roots in the DIY recording movement that developed throughout the '70s and really exploded in the '80s with the advent of sophisticated home recording gear and technology like MIDI.
There's some confusion about what a "lo-fi" plugin actually is. For the purpose of this article, we're defining it as any plugin that lets you infuse your music with analog-sounding character, grit, and texture. Some plugins achieve this by emulating tape units or early digital samplers like the iconic Akai S950. Others, like Output's own THERMAL distortion engine, use saturation and bit depth reduction to gnarl up the sound. There are even plugins that add the warm crackle of playing well-loved vinyl to your track.
Just remember: The plugins you use do not define your art, even though they can make a difference. Making lo-fi is just as much about method and practice as it is about picking the right gear. The brilliant, critically acclaimed songwriter Helado Negro recommends you treat your samples and recordings manually before you even process them: "Resample pitched up. Then playback [the] resampled sound at original speed," he wrote. "You [get] variable artifacts depending on what gear/software you're using."
So to that end: Here is a comprehensive list of the best lo-fi plugins on the market right now, from a wide variety of developers and price ranges. If you're looking to inject your music with some wobble and warmth, you've come to the right place. Let's get started.
1. Thermal by Output
Good for: Searing drums and synths, mangling textures and samples, lo-fi sound design
Price: $150
Output's THERMAL is a saturation plugin that's a surefire way to transform the character of your samples and instruments. Each stage has an individual filter section for dialing in the harmonic nature of your sound, with options for bitcrush, modulation, and time-based effects like delay and reverb.
Think of THERMAL as a sound design control panel. We take our gain-staging seriously here at Output, and so should you — so there are plenty of controls for gain and filtering. You can modulate each of THERMAL's FX with a rhythmic sequencing envelope, putting nuanced pulses and wild snarls all within your grasp.

Don't just take our word for it. As former Sound on Sound editor-in-chief Paul White wrote in 2020: "For anyone with the slightest affinity for experimentation, it is a dream playground… Pads can become rhythms, simple drums can become complex, harsh sounds. Warm and polite sounds can be made to pop out of the mix."
Looking for more new ways to spice up your sounds? Check out PORTAL, our granular FX plugin.
2. Arcade by Output
Good for: Finding inspiration, fresh Samples for all genres, fantastic percussion library
Price: New users get a free trial, then monthly subscription
A big part of tapping into a "lo-fi" sound is about signal processing, and what tools you use to apply effects to your audio, but it's also very much about what instruments and sounds you use. Lo-fi hip-hop is often built around sampled loops from older records, but not everyone has access to libraries of vinyl (or the ability to legally clear samples).

Enter Arcade. Arcade gives you instant access to thousands of Samples (loops, chords, one-shots, vocals, you name it, we've got it) arranged in different Samplers, which you can play, chop up, and modify as you go. Other audio sample subscriptions make you go online for new content as it's released. In Arcade, new content is delivered right inside the software, making it one of the best lo-fi plugins for finding new sounds.

Arcade features numerous sound packs (we call them Lines) that are brilliant for lo-fi recordings. The Crate focuses on loops that could be at home in a connoisseur's vinyl collection, Taped is all about the emotive nature of tape saturation and flutter, and Vintage Synths is a diverse collection of pads, leads, arps, and subs that will spring to life when pushed through other plugins on this list.

3. Aberrant DSP Sketch Cassette II
Good for: Warbling tape vibes, breathing life into boring pads, making recordings sound "lived in"
Price: $30
Sketch Cassette II is a lightweight cassette tape emulation plugin that comes recommended by the likes of Shura, Peter Bauer (formerly of the Walkmen), and Birocratic, among many others. Don't be misled by the cutesy, hand-drawn design: This wonderful plugin has 12 different tape emulation models, with a bevy of customization options for dialing in a perfectly nostalgic tone.
One of Sketch Cassette II's coolest features is how detailed the wow and flutter options are. (Wow and flutter control wobbly pitch modulations, like what you hear when you play a cassette on a rundown tape player. Basically, "wow" refers to low-frequency modulations, while "flutter" refers to high-frequency modulations.) You can tempo-sync these controls so that your woozy cycles can line up perfectly with the beat. There's also a flanger knob for color, because why not. If you're looking for chillwave vibes, look no further.
Looking for a free alternative? Check out Audio Tape Cassette 2 by Caelum Audio.
4. Cymatics Origin
Good for: Getting rid of high frequencies, dreamy electric guitar, the "Drake sound"
Price: Free
Cymatics' lo-fi entrant Origin is a newcomer to the space that's already picked up fans thanks to its low (non-existent) price, easy-to-use control set, and a large selection of very usable presets. The main draw of the plugin is its ability to resample, a process which lets you degrade audio quality by converting sounds to a lower sampling rate. There are also two special filter options that can be used to clean up any high-frequency artifacts (unwanted harsh noises that arise from the resampling process).
(Ever wonder how Drake gets his famous "underwater" sound? His longtime producer Noah "40" Shebib uses resampling to cut out high frequencies and achieve that effect.)
Elsewhere, Origin also offers tape saturation, different kinds of noise, a single "Movement" knob to control wow and flutter, and even an emulation of the beloved Juno 106 synthesizer chorus effect. Not a bad deal for zero dollars and zero cents, and definitely one of the easiest and best lo-fi plugins you can use right now.
5. XLN Audio RC-20 Retro Color
Good for: Instant vintage character, controllable noise, pleasant surprises
Price: $99
Over half a decade after its release, the colorful RC-20 multi-effect plugin from XLN Audio remains a very popular choice for lo-fi producers. There are six modules here in total — "Noise," "Wobble," "Distort," "Digital," "Space," and "Magnetic" — that you can use to shape your sound. Each of them has a "Flux" control for introducing randomness, as well as an individual dry/wet knob to dial in the exact amount of affected signal.

RC-20 comes with some great presets, but most of the magic comes from carefully experimenting with the different modules on each of your sound sources. The most underrated feature is the bottom panel, which features gain and width controls, in addition to a simple but effective EQ with high and low shelves for lightning-quick adjustments.
5. waveTracing SP950
Good for: Lo-fi and sample-based hip-hop, '90s house drums
Price: 20€ (~ $24 USD)
You know the quintessential crunchiness of golden-age hip-hop drums? You can thank the combo of the E-mu SP-1200 and the Akai S950 for that signature sound. The SP-1200 is a late '80s sampler known for giving audio a "vinyl-like" sound, due to the hardware's low bit and sample rate limitations. The artifacts it produced were then removed with the sweet low-pass filter on another sampler, the S950.

waveTracing is a newer audio company that aims to bring this classic sound to today's digital workflows with its first plugin: SP950. (Get it?) No tuning and re-tuning needed here — the SP950 mimics the old-school hardware workflow automatically, letting you audition your desired levels of digital grit with ease.
7. Plogue chipcrusher
Good for: Digital lo-fi, video game enthusiasts, making instruments sound as if they were recorded off an old speaker
Price: $39
chipcrusher is an awesome lo-fi plugin made of four main parts: a beefy digital-to-analog converter (DAC) with 16 different encoding modes, a unique delay that recreates the washiness heard in soundtracks like Donkey Kong Country, a background noise generator that samples dozens of old computers, and a cabinet simulator with five categories of speaker impulse responses ("Computers," "Filters," "Monitors," "Consoles," and musical instruments with built-in speakers, like Casio keyboards.)

The wide variety of emulations and cabinets makes it a snap to change a stock sample into something vibrant and perfectly retro. In short: If you've ever wanted to run your synth through the audio processing chip of a vintage video game console, Chipcrusher is the multi-effect you need.
8. Goodhertz Vulf Compressor
Good for: Making mediocre instruments sound great, drum bus compression, coloration
Price: $150
Goodhertz Vulf Compressor is inspired by the "Vinyl Sim" compression algorithm introduced in the BOSS SP-303 at the beginning of the '00s. The unique lo-fi temperament of that hardware sampler can be heard on legendary records like Madlib and MF Doom's Madvillainy and J Dilla's opus Donuts. Vulfpeck bandleader Jack Stratton sent his SP-303 to Goodhertz's Devin Kerr with the challenge to recreate it in plugin form — and the Vulf Compressor was born.
Traditional compressors aim for the least amount of dirt or coloration to the original sound as possible. Vulf swings in the complete opposite direction. You'll hear an immediate difference when you engage it, especially on software instruments that lack that extra, musical "oomph." It sounds particularly good on drums and stock keyboard sounds — give it a whirl on a Wurlitzer sample to bring out some additional depth and sonic character.
Looking for more lo-fi plugins? Check out Goodhertz's Wow Control tape effect.
9. Freakshow Industries MISHBY
Good for: Music for the apocalypse
Price: $50
MISHBY stands for "Maybe I Shouldn't Have Built You." On their website, Freakshow Industries refers to it as a "tape abomination." This should tip you off. If you want subtlety or properly-labeled knobs or any type of real control over your sound, look elsewhere.

Everything about this plugin is grimy, noisy, and very, very fun. It's included in this list of the best lo-fi plugins because it can do insane things none of the competition can. From its oppressive, unmarked fuzz to the chaotic glitch controls on the right-hand panel (complete with a creepy octopus appendage hanging from the bottom), MISHBY has to be seen — and heard — to be believed.

10. iZotope Vinyl
Good for: Vinyl record and turntable noise simulation, adding texture and life to your track
Price: Free
When it comes to the best lo-fi plugins, no round-up would be complete without iZotope Vinyl. Released all the way back in 2001, Vinyl was iZotope's first-ever product, meant to be an easy way to introduce the warbles and crackles of vinyl records into modern music produced on computers. 20 years on, it continues to be one of the best lo-fi plugins out there. There's still nothing better if you need to lend some dusty texture to an instrument or sample.

The updated version, released for free in 2016, also features a "Spin Down" button for the tape stop (in this case, vinyl stop) effect. Sometimes, there's no beating a classic.
For more plugin recommendations, check out out picks for the seven best free piano VSTs.