Listen to Output's Favorite Next-Level Presets
Check out some of our favorite presets in PORTAL, REV, and more… get inspired here.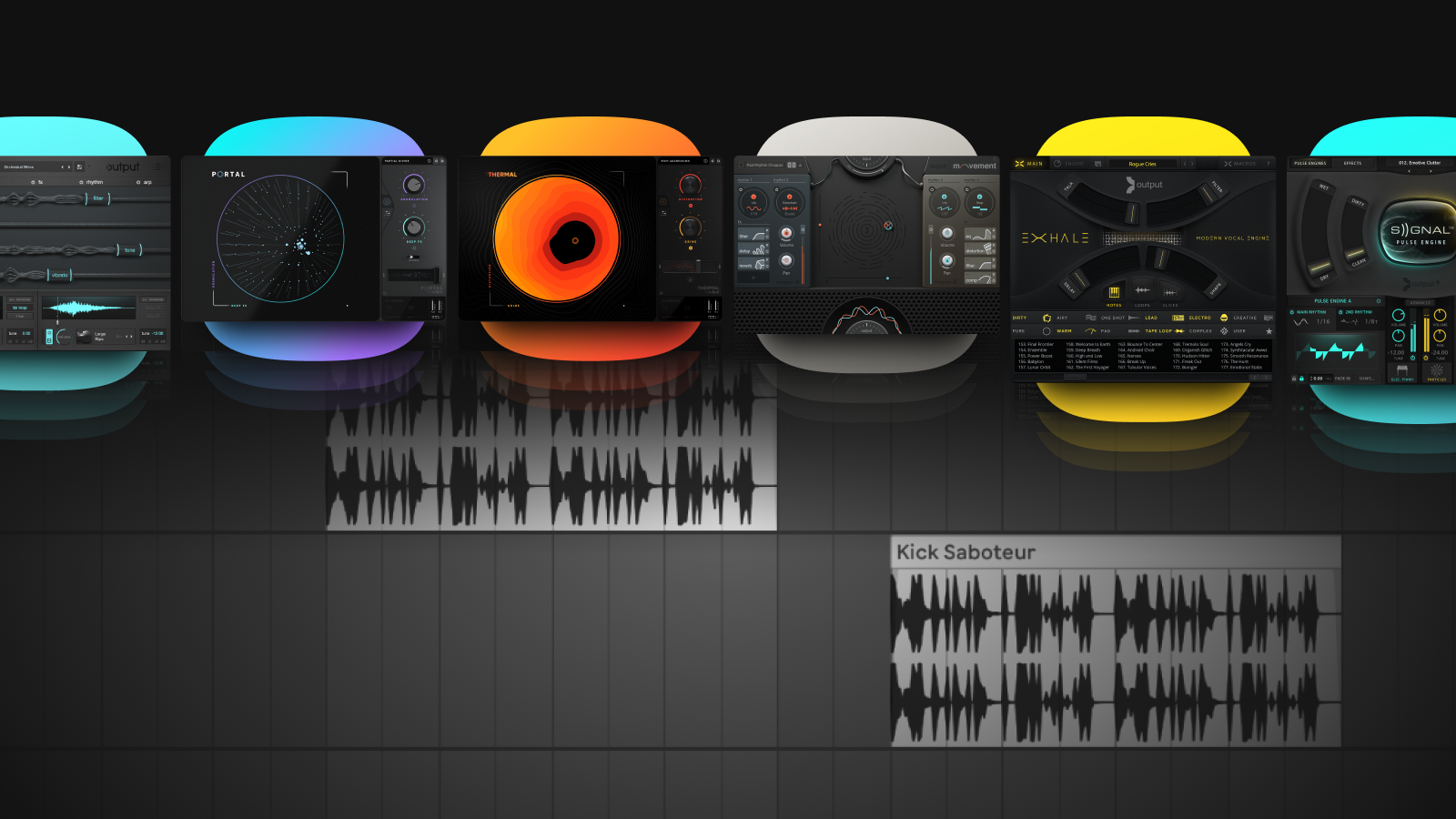 You may have used ARCADE by Output to discover some of your favorite next-level presets. But we have so many more VST plugins and instrument engines that are extremely powerful as music production tools. See how some of our favorite presets in MOVEMENT, REV, Analog Strings, and more can take the ideas in your head and turn them into full-fledged tracks!
Thermal
THERMAL is a distortion FX engine with a super interactive interface, which makes our favorite presets the perfect jumping-off point to crafting a sound that is just right. Watch how we take a dry sound and turn it into something dynamic and full with the Club Clipper preset. The Crush Morph preset wakes up subtle glitchy sounds, but if you want to take it a step further, the Particle Waves preset completely transforms the sample.
If you love the sound you've created but just need to add more intensity, use a clean preset like Flex Bounce, which adds a powerful punch to each attack in this loop.
Analog Brass & Winds
Analog Brass & Winds has hundreds of orchestral sounds that you can layer to your heart's content. In this video, we used 10 presets to demonstrate how one melody can flip and transform into different moods. Watch how switching from Dreamy Pop Pad and Voyager Beacon to Whispy Buzz and Dragonfly pivots from a pop moment to a dramatic and tense instrumental.
Analog Strings
Analog Strings is another tool that brings the orchestra to life. All you have to do is open up your computer. These are the 10 next-level presets we're currently using in our tracks. Listen to how each preset brings a brand-new flavor to a simple melody and chord progression. Clear as Day and Small Staccato create a sound perfectly suited for a dreamy video game score. But when we switch the presets to Sad and Cool and Refraction Of Light, that same sound becomes the pulsating start of a house beat.
Rev
REV is an entire library of playable reversed sounds. It's a fan favorite VST plugin, used in Kanye West's ultra hit "Ultralight Beam." The reverse button doesn't even come close. Create a driving drum loop, lay down a melody, and throw REV on to make a radio-ready pop hit in seconds. Follow along with us while we explore presets like Mario and Earth Tones. There's everything from robot-like sounds to futuristic synth pads. All in reverse.
Portal
PORTAL is Output's FX engine for granular synthesis. You can get down to the nitty-gritty with this plugin. The best part is that our favorite presets can still be tweaked. Drag the macros and micros around to create stutters, oscillation, and super-wide panning. The Arp O Matic preset brings a twinkly sparkle to an otherwise dull melody, and Cloud Spray can turn your melody into an ambient background sound. Play around and pull apart every sound.
Movement
MOVEMENT's name speaks for itself. This powerful engine is so much more than just a tool for panning and stereo imaging. The Pandora Riffs and Downhill 2-Step presets turn our piano melody into a psychedelic trip through a utopian soundscape.
Exhale
A playable vocal engine like EXHALE is a priceless tool to use in your studio setup when you don't want to record your own vocal chops. With EXHALE, every single preset is customizable. In the video above, check out how we used the Skyward and Loopy presets to create a Drake-like backing track emphasized by sliding reverse effects.
Signal
SIGNAL is a fully customizable pulse engine that brings life to flat sounds. The Zap n' Stab preset paired with Mermaid Valley combine to make a melancholic pop feeling. If you want to give SIGNAL a try, download the free version to add breath and pulse to your tracks.
Substance
There's nothing quite like a funky, impactful bassline, and SUBSTANCE delivers just that. This bass engine has hundreds of presets to explore, and we outlined some of our favorites in this video. Like Butter cuts through the mix and guarantees your track won't sound muddy in the end, and 8n Heat Beat is an energetic staccato bass that blends seamlessly as a double to your piano melody.
Output's VST plugins don't just make sounds — they create feeling and atmosphere. (It helps that they're stacked with next-level presets so you can hit the ground running.) Give some of these presets a try and grab the entire Output bundle for endless inspiration.