How Do You Make Custom Vinyl Records?
So, you want to get a record pressed. What does it cost? Do you need to prep your audio? Do you choose lacquer or lathe cut? We explore the details.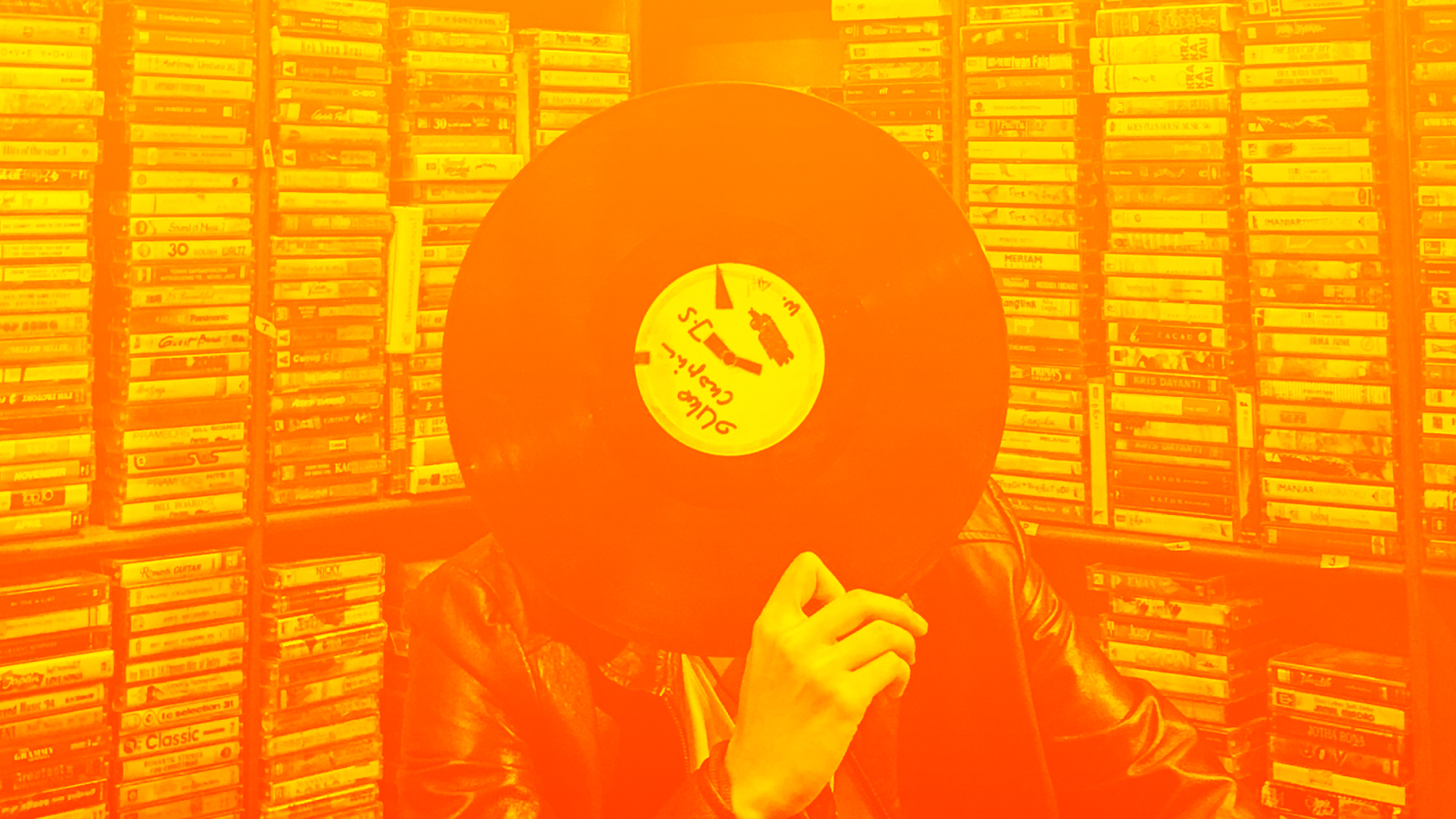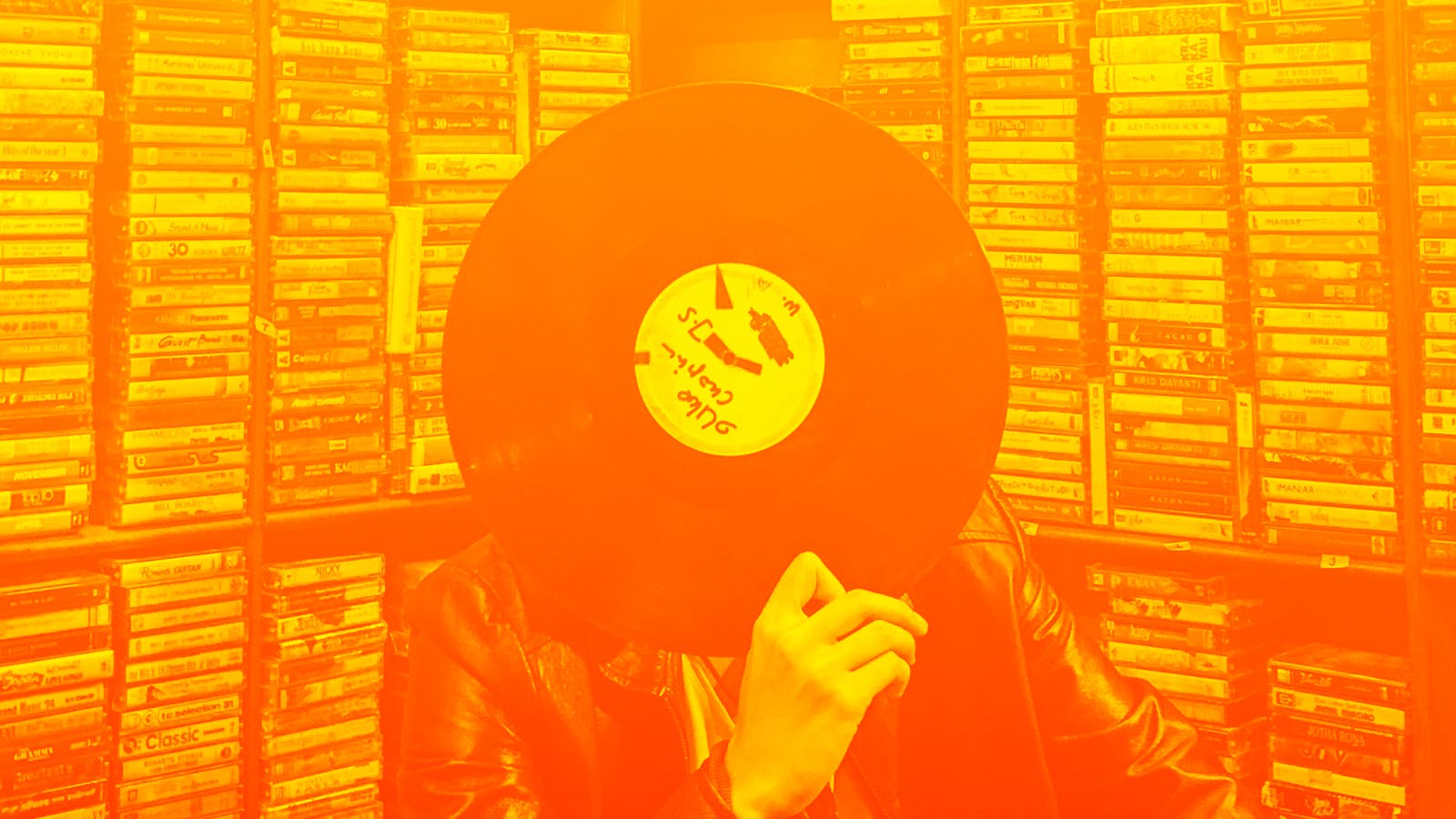 In case you haven't noticed, the vinyl record revival is on an upward trend. According to the RIAA, vinyl record revenue shot up 61 percent between 2020 and 2021, resulting in $1 billion in revenue in 2021 (the first time it's done that since 1986)! Vinyl's growing popularity can make it a strategically sound physical merchandise album to focus on. But how does an artist without a record deal go about making custom vinyl records? And what do you need to know to get your own music pressed to wax (or, more accurately, polyvinyl chloride)?
We're here to demystify some of the facts behind custom vinyl records, including how they're made, why they're popular (even in the streaming era), and what crucial items you need to check off your list before you're ready to press your musical work to vinyl.
Why is vinyl so popular again?
Vinyl's comeback is long in the making. After its popularity peaked in the late '70s, vinyl slowly lost its grip as the dominant medium. Cassettes and then CDs became the main way people listened to music in subsequent decades, and vinyl faded away. By the '90s, vinyl was basically dead.
Vinyl started to creep into popularity again in the mid-aughts, fueled by new demographics (millennials, and later, Gen Z) who weren't around for vinyl's heyday. Today, it's the most popular physical medium for listening to music by a long shot.
There are a few theories as to why the vinyl revival is happening. One answer you'll receive from record aficionados is that it just sounds better. This is true if you're comparing the quality of vinyl to the streaming quality of a service like Spotify, which is noticeably worse than CD-quality audio at "High" audio quality settings.
Another reason is that vinyl offers music fans a tangible product, a real-life representation of the music. You can hold your phone, but you can't hold an album you love through a streaming service. Nor can you hold a digital download. To own a piece of art is to have a different relationship to it than just listening to it.
Where and how are custom vinyl records made?
Traditionally, a vinyl pressing plant or mastering facility uses a lathe to cut a groove into a master disc made of lacquer or metal. That master disc is used to create a metal stamper, which then presses the copies that go into a vinyl run. The amount can range anywhere from several hundred copies for a small band to tens of thousands of copies if you're Adele or Taylor Swift.
Certain operations offer the ability to create bespoke, one-of-a-kind custom vinyl records. These operations usually use a process called lathe cut, which involves manually making each copy one at a time, by hand. The custom vinyl records from plants such as Cryptic Carousel, Tangible Formats, or American Vinyl Co. come in many sizes, color options, and price ranges.
Watch this video from Ohio-based Culture Clash Records explaining the difference between traditional records and lathe cut records:
One-off custom vinyl records are great as novelty gifts for the musicians in your life. However, if you want to actually sell vinyl to your fans, you obviously need to press more than one! Pressing more copies will drive down the price you're paying per copy.
While there aren't as many pressing plants as there used to be, there are multiple reputable independent plants across the United States you can ask to take on your project. The minimum order amount you need to hit will vary by the plant. Examples of some great pressing plants for vinyl record runs include:
For more, check out Total Sonic Media's extensive directory of vinyl record pressing plants around the globe.
What kind of artist can benefit from pressing vinyl records?
All kinds of artists, of all levels and genres! If you're unfamiliar with the medium, you might think that vinyl is reserved for certain styles of music. But this isn't the case! Rock and folk sell well, but so does rap, hip-hop, pop, and electronic music.
The important thing is to find your niche: Where are your fans? How many of them would purchase a record? This can help you determine whether pressing vinyl makes sense and what sort of release you might want to do a custom vinyl record run around.
For example: In dance music, a white label is a term used to describe small-quantity vinyl runs of singles, pressed to be played in DJ sets at club venues. These are oftentimes physical-only releases, some of which are never digitally distributed at all.
What do I need to prepare to press custom vinyl records?
There are several items you have to have in place before you're ready to order any custom vinyl records.
1. Have vinyl-ready audio masters in hand. Heavy or improperly balanced bass frequencies can make the needle jump when a record is played. Many mastering engineers will offer a mastered-for-vinyl option to optimize your music for the format.
If you need to remaster a release for vinyl and don't know where to turn, ask the pressing plant or lathe cut operation you're interested in working with for mastering engineer recommendations.
Watch this video by mastering legend Bernie Grundman (Michael Jackson, Prince, Steely Dan, Carole King, and more) explaining the process of mastering and cutting vinyl:
2. High-resolution artwork is key. Remember, a 12" LP is a large physical object! Many pressing plants that do their own packaging will not accept low-quality artwork, so if you're working with a designer, make sure you have the source project files readily available. If you're planning on including other content, like liner notes, you'll want that finalized as well.
3. If your music uses samples, make sure they're cleared. This is an important one. Pressing plants take copyright infringement seriously, and you'll be asked to fill out an Intellectual Property Rights (IPR) to confirm that your work is your own.
4. Acquire mechanical licenses for cover songs. A mechanical license ensures that the appropriate copyright holders are compensated for your cover. You can obtain one via a cover song licensing service like EasySong or SongFile.
What are other popular physical mediums?
While vinyl records are the most dominant physical medium for recorded music, others like CDs and cassette tapes are back on the rise as well. In 2021, CD sales actually increased for the first time in almost two decades, driven by pop culture nostalgia. They're significantly less expensive to produce than vinyl records and have great audio quality.
Cassette tape, like vinyl, is an analog medium that requires additional steps to ensure the music translates properly. To learn more, check out Missouri-based National Audio Company's full guide to prepping your release for tape.
When you think about it, it's pretty remarkable that vinyl records — a way of listening to music that uses 100-year-old technology — remains the most popular physical medium. In an era when over 60,000 tracks are added to Spotify every single day, pressing your music to custom vinyl records is a great way to distinguish it from everything else that's out there.
Want to learn more about digital music distribution? Check out our quick guide to choosing a music distributor.