How to Make a Two-Times Platinum Song With Scribz Riley
Scribz Riley explains what it took to create "Ring," the hit song from Cardi B's debut album and how he used ARCADE to make it happen.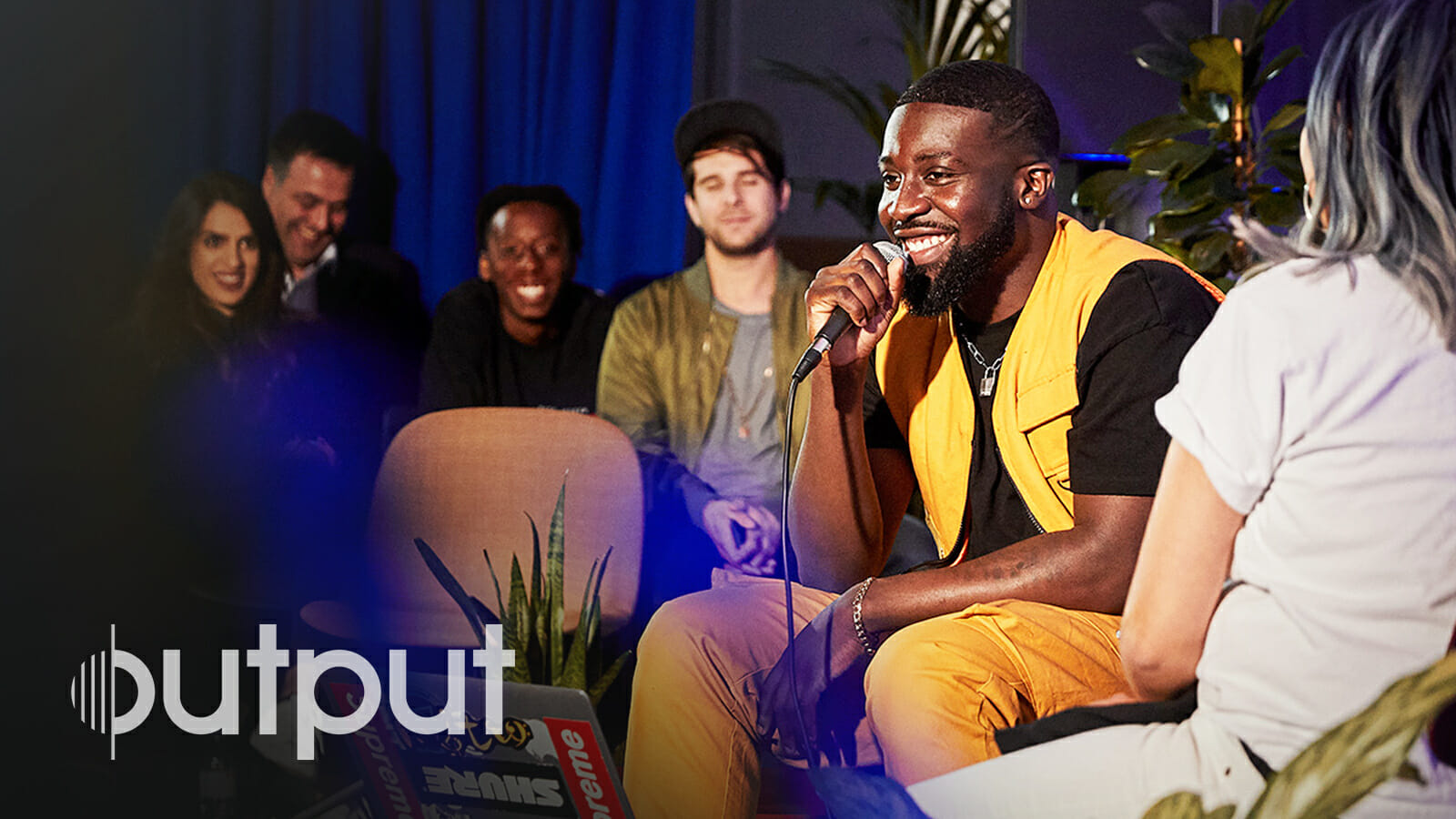 Scribz Riley is a sweet, humble, extremely talented British songwriter, musician, and producer who has worked with the likes of Kendrick Lamar, H.E.R., and Khalid, among others. But it was his banger "Ring" with Cardi B and Kehlani that we wanted to pick his brain on.
You can see the entire half-hour interview above, but here are some of the highlights with Riley.
Riley started off working with music as a teenager in England and quickly saw success
"I remember I did a song with a good friend of mine Dayo called 'Reload' by Wiley. I didn't know anything about the music business. It went number seven. And they gave me a production fee right away. I was a little guy. They paid me some money and I just lost my mind," he tells Output about the single that was released in 2013.

"So from there I was like, 'whatever this is, I'm going to do this,'" he says.
The experience of socializing and working with fellow creative artists motivated Riley (who was born Michael Orabiyi) to make a career of it.
"I got to see them do music and saw how they were able to chase their dreams. And that kind of inspired me to just take my shot. So, now we're here," he says.
The last time Riley chatted with Output, he said that he was about to work with Cardi B and Kehlani
It was a totally new experience for him. It was his first time working in LA, it was his first time doing "urban" music compared to electronic.
It was even his first time using Uber.
"I was a little bit late [to the session] because, believe it or not, I never really used Uber in those times, and I got in an Uber Pool by accident," he admitted. "So they took me to the other person's destination first."
By the time he finally got to the studio there were a lot of strangers in there and he hastily tried to find a little corner where he could quickly set up, red-faced and embarrassed.
Fun fact: neither Cardi B nor Kehlani was in the studio
"Who was in the room with you?" we ask.
"Nija, who I wrote the song with, Needlz who I co-produced it with, both of their managers, and some A&R people," he said. "I've never actually met Cardi B and Kehlani, which is crazy. But yeah, there were a lot of people in the room and I found my little corner and set up my laptop," he explains.
Riley and Needle don't talk when making beats: they compete
"When you're co-producing with somebody, how do you delegate roles?" we ask. "Or do you look for each other's specialties? Like, are you more of the melodic person and Needle is more rhythmic?"
Riley explains that it's more natural than that.
"It was interesting because we kind of never had a conversation. We started making the beats. He'd do a kick and I'd do a snare. He'd do a hi-hat and I'd do another hi-hat. It was like a competition, but not really," he says.
"So we're just kinda trying to fill out the track. He started doing the drum groove and then he was using an interesting old-school way of producing. He had an MPC. So I worked with him on that," he said.
After all the elements are laid down, that's when Skribz opens up Arcade to add piano
"I kind of felt like because I had used the vocal sample and that was the main part of the song… [that] I was cheating," Riley explains, noting that he wanted an original Scribz Riley flavor.
"Not anything against them or anything," he makes sure to add.
"This is where it got fun. I opened…" he starts to say, but we recognize it immediately.
"Kontakt" Output says. "Hm. Looks familiar."
Riley keeps smiling. "What's this plugin over here? What could this be? Oh look, surprise. I opened SIGNAL, which you guys know." he says.
"I was actually looking for a piano. I pulled this up and I was like, 'Okay, this kind of sounds better than a piano because it's doing a little bit more than the piano,'" he says. "And I did another sound layer of that from REV," he notes, because, "it's got a reversed feel. So I was like, okay!"
Riley loved the piano preset so much he barely touched it
"I'll be honest with you guys, I kept this exactly the same," he says of the Simple Piano Loops preset. "But with the REV sound… I remember taking off the delay… and I messed with the release just so it was following the piano."
Riley was satisfied. "It was working, man. It wasn't broken. I wasn't trying to fix it."
Once the track was made, Riley had to wait, and wait, and wait
"I was like, when is it coming out?" he says. He'd hear Cardi tell her fans a new single was dropping, so he'd tell his friends and then become embarrassed because a different single would get released, not his.

"I remember there was one time we felt like she was dropping it. And then all we heard was 'I Like It Like That.' I was so pissed. Oh, I was so pissed." he says of Cardi B's smash hit "I Like It" featuring Bad Bunny and J Balvin. "I was like, 'This is not coming out. I need to get a job.'"
Then it was his turn. Finally.
"And it came out. It's crazy. I remember I was in LA and I went on YouTube, just to check, and I saw 'Ring' and was so excited," he beams.
"I didn't even watch it. I called my manager. I was like, 'It's out!' And then I watched it. I was like, 'Oh wow. It really happened. It's really out. There's a video and everything,'" he recalls.
"So from there it was just like, it was a sick moment, man. But I was anticipating it for so long. I'm kind of happy that caught me off guard, you know?" he says. "So it was definitely a good time."
If you'd rather listen to our Scribz Riley chat in podcast format, use the SoundCloud link below!
Feeling inspired? Check out this talk with violinist, composer, and live show designer Laura Escudé on her creative process.