5 VST Plugins Under $50 To Use With Arcade
Want to create the next big sound? We've compiled a list of our five favorite plugins under $50 that work seamlessly with ARCADE.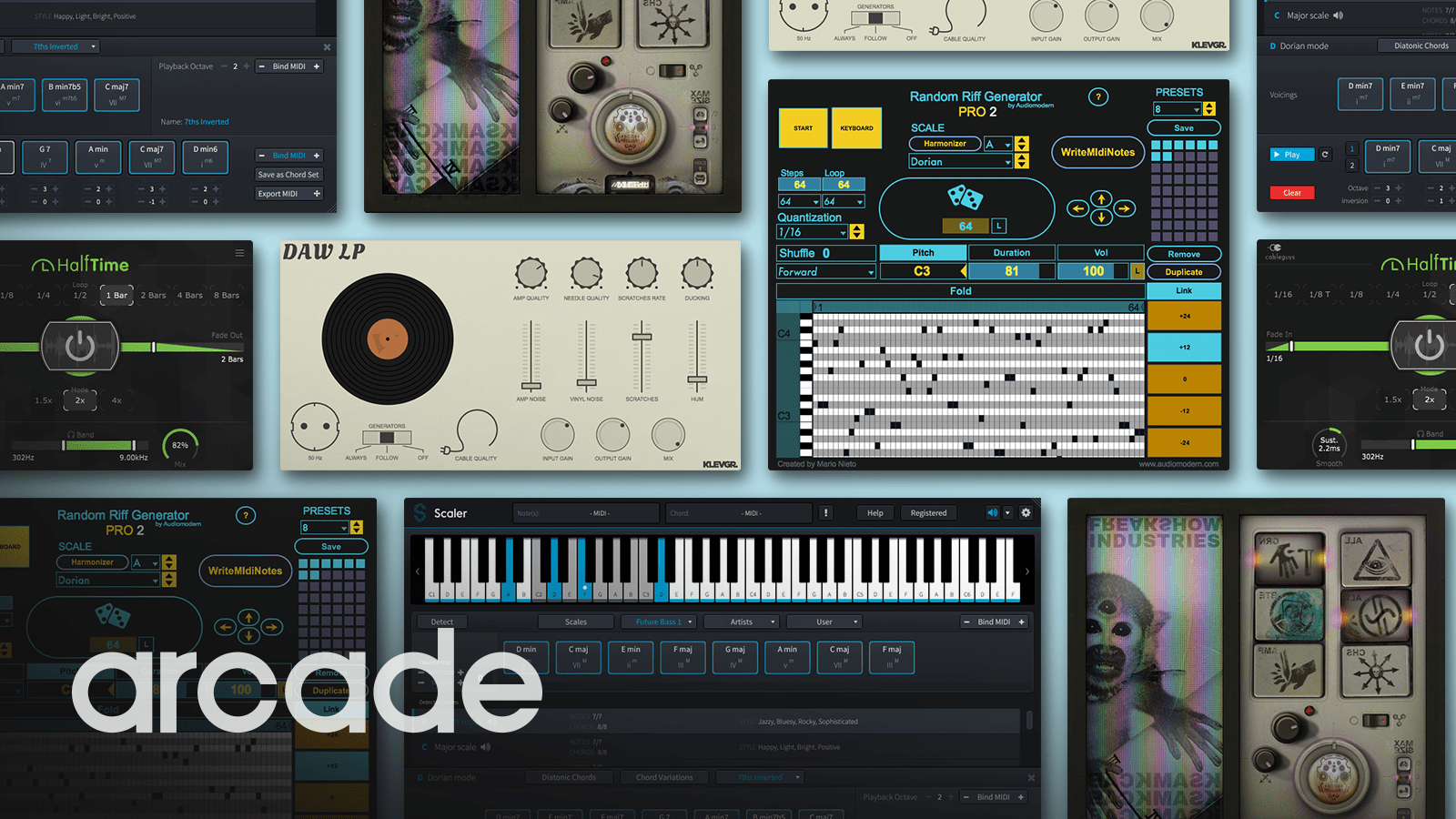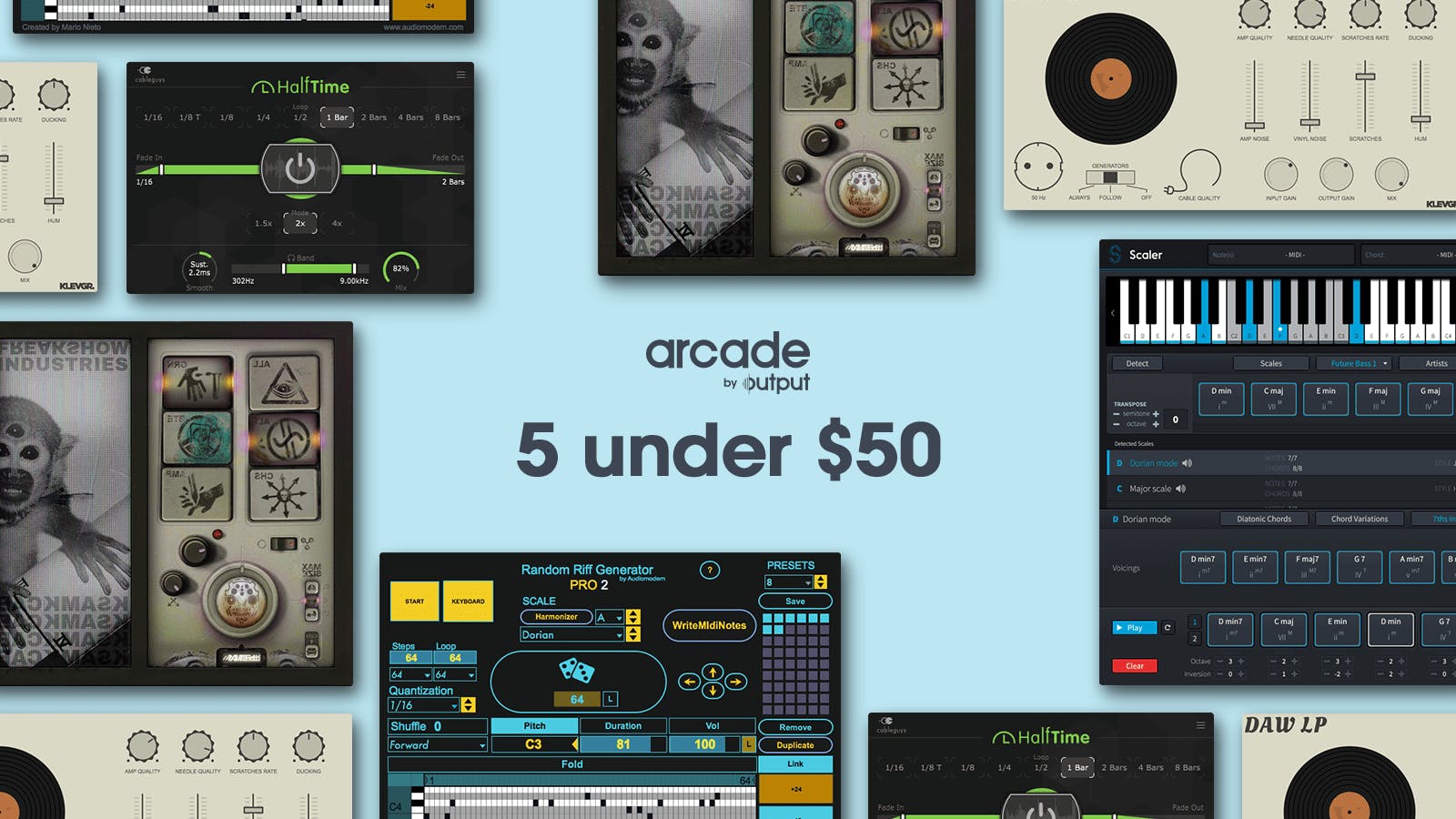 Looking for cheap plugins? You've come to the right spot. You don't have to spend hundreds of dollars to get great sounds, and that starts with Arcade, which new users can try for free! We've compiled a list of our five favorite plugins under $50 that work seamlessly with Arcade.
From vinyl simulation to sequence generators, these cheap plugins add an extra layer of oomph to your track. So the next time you're in a production session or creating the next big sound, do it with adaptive options that won't break the bank.
Don't have Arcade? Get the free trial.
1. Riffer ($7.99 for iOS)
Riffer by Audiomodern is a plugin and iOS app that generates sequences and riffs. The sequel to Random Riff Generator, Riffer is compatible with practically anything that accepts a MIDI signal (like synths and drum machines). Try using it with Arcade — bring tasty grooves or melodies to life by simply holding down a single key.
When using any kind of arp or riff generator with Arcade, set the scale to C major/A minor (only white keys). This ensures that every note generated from your device will trigger a loop in Arcade.
 
2. DAW LP ($40)
Some producers love the flexibility and convenience of digital, but there are others who embrace the warmth that's inherent with analog. DAW LP by Klevgränd is a vinyl player simulation plugin with countless fine-tuning possibilities. Pair it with Arcade to simulate the low-frequency hum, crackle, and amp noise that give songs a uniquely vintage vibe.
3. HalfTime ($12)
The Cableguys HalfTime VST is one of our favorite cheap plugins. It takes any audio track and converts it into a decelerated, moodier version of itself. Use it with Arcade to create the trap/hip-hop sound heard in music by producers like Armin van Buuren, David Guetta, Metro Boomin, and 808 Mafia. Alternatively, throw it into a mix for an instant Chemical Brothers-like mood.
HalfTime is just $12, so it's a compelling alternative to Gross Beat by Studio FL (which costs nearly $100). If you have a Benjamin in your budget, consider Cableguys' Shaper Box Bundle since it includes HalfTime.
For more fun, pair HalfTime with Arcade's Playhead modifier to give yourself increased control. Playhead can be used to perform quick reverses, change speeds, or to jump to a particular point in a Loop — all with the press of a key.
4. Backmask ($20)
We are obviously big fans of playing audio in reverse, and Freakshow Industries' Backmask VST plugin takes things to a new, weird level. As their marketing team jokes, "We eliminate the learning curve by making it impossible to learn." Naturally, it had to make our plugins under $50 list.
Load it with Arcade, start twisting some knobs, and enjoy the wild ride. They offer a free version, but it's well worth the $20 price tag. When they say they have no intention of making "safe and traditional, baby-food smooth, color-by-numbers effects," they're not kidding.
 
5. Scaler 2 upgrade ($29)
Scaler 2 by Plugin Boutique is an effortless means to writing chord progressions, thanks to note detection and chord suggestions. Once you're satisfied with your chord progressions in Scaler 2, just drag the MIDI into any other virtual instrument to start testing out sounds (like Analog Brass & Winds).
For first-time users, Scaler 2 costs $59. But, if you previously bought Scaler 1, the upgrade to Scaler 2 is only $29. If you like the idea of Scaler 2 but you want to explore even more MIDI tricks, check out Mixed In Key's Captain Plugins.