Exhale by Output: Walkthrough Video
Create sounds from scratch or explore an impressive selection of vocal samples with EXHALE. Learn how in this EXHALE walkthrough video.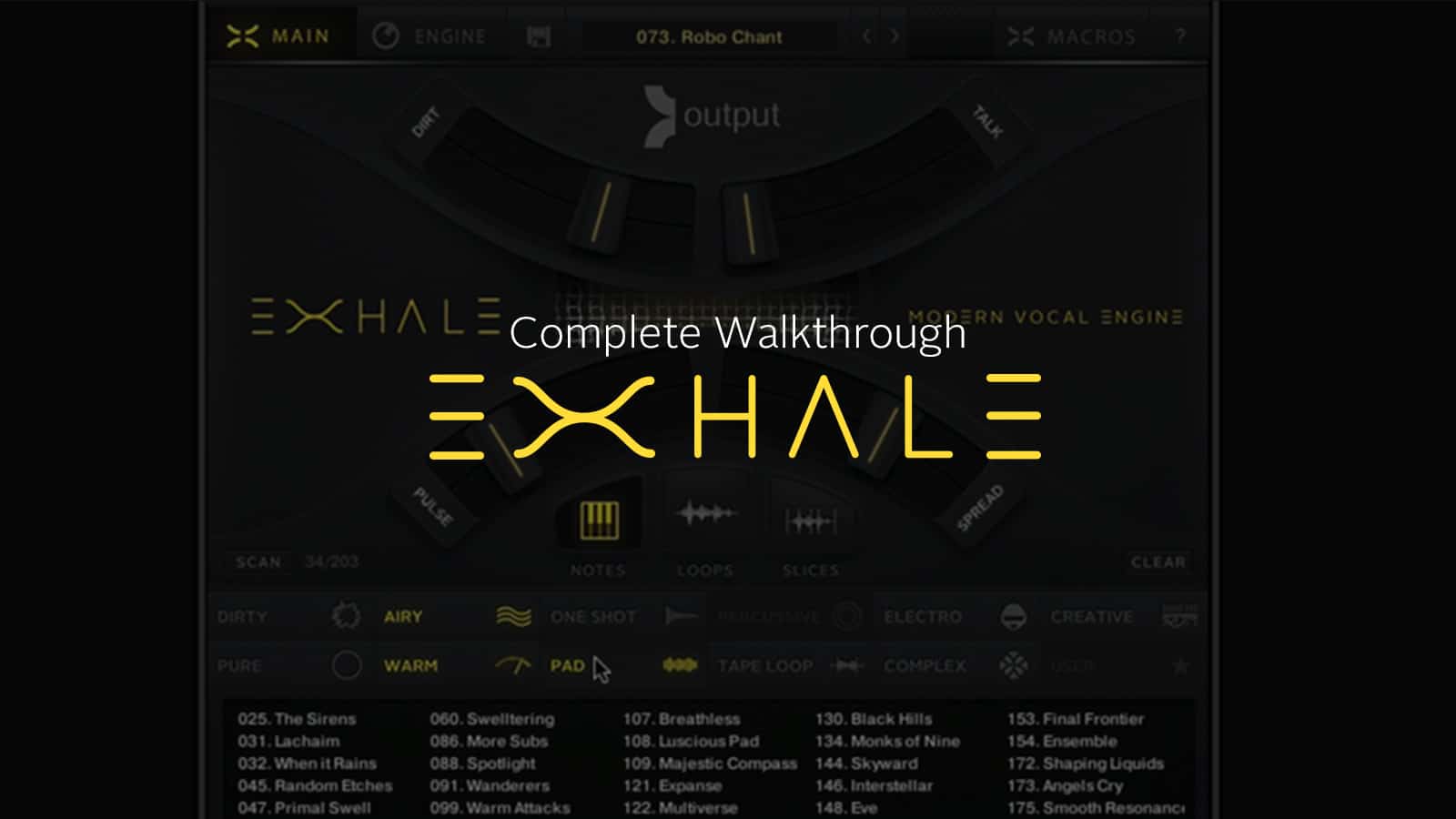 In this EXHALE walkthrough video, you'll learn the basics of navigating Output's truly modern vocal engine. This quick EXHALE tutorial will show you how to use this plugin as a valuable tool for any artist, producer, and composer seeking cutting-edge sounds. Let's get to it!
Navigating Exhale
With EXHALE, it's never been easier to tweak presets, manipulate macros, or design your own sounds from scratch. The engine comes with three unique Modes — Notes, Loops, and Slices — which are accessed through a single Kontakt interface.
Once you've selected a Mode, navigating EXHALE is a breeze. The list of presets is located at the bottom of the screen. Choose a few of the engine's 12 filter tags to quickly narrow down the list and find the specific style you're after.
Similar to Output's SIGNAL, EXHALE features four macro sliders that are unique to each preset. Use these to manipulate the main character of the sound with your mouse or MIDI controller.
Notes Mode
EXHALE Notes Mode works by taking sound sources and chromatically mapping them across the MIDI keyboard. For example, when you press the note D3, your sound source will play in D3.
Notes Mode allows you to create chords or melodies that fit perfectly in your track. Layer different vocal sources and shape each sound by accessing the volume, EQ, pan, and ADSR controls.
Loops Mode
The Loops Mode in EXHALE takes 13 different loops and matches each to a different note on the keyboard (specifically C2-C3). Each preset provides 13 different loops to play with. Use individual ones or layer them for even more creative results.
For each note in EXHALE Loops, adjust the tune, pan, volume, reverse, and playback controls. For even more customization, consider adjusting the formant shift, ADSR, playback speed, and EQ. Take things one step further with a number of advanced settings like monophonic mode and velocity sensitivity.
Slices Mode
Slices Mode has 13 unique sounds, each of them mapped to a note ranging from C2-C3. Unlike Loops Mode, however, sounds here are generated differently. In this mode, the initial sample is sliced up into a number of different bits, enabling an entirely new set of ways to play your sounds.
Discover how to use these three modes to create a track in Ableton Live with EXHALE.
Creating and tweaking presets with Exhale
For novice gearheads, EXHALE has compiled everything you need with its intuitive main page. Navigate the four macro sliders (each mapped to the main parameters), presets browser, and the engine's three Modes.
If you're eager to get under the hood of EXHALE, head over to the engine tab. This incredibly powerful tool allows you to create and manipulate your own vocal-style samples from scratch.
The engine is further split up into 3 different panels: Sources, Rhythm, and Effects.
Sources
Each preset in EXHALE — whether custom or from the library — can have two separate sound sources: source A and source B. Within each source, it's simple to control the pan, volume, EQ, tuning, and ADSR envelope.
If you're in Notes Mode, select from four different pages of source sounds (namely one-shot, pads, tape 1, and tape 2). To access these sounds, just click on the source menu in the panel window.
Rhythm
This specially-designed panel regulates the rhythmic modulation in your sound. Based on the mod effects you set up, it'll determine what this modulation changes.
Within the panel, change the pan, volume, and filter, as well as modulate a number of EXHALE-specific effects. You can further adjust the speed, fluctuation, and shape of the modulation.
Effects
The Effects panel in EXHALE is all about the insert effects that happen right at the end of the processing chain. These aren't affected by the rhythm panel modulation and include effects such as delays, reverb, tone, pitch, distortion, compression, and motion.
If you found this EXHALE walkthrough helpful, go even deeper and see how to use EXHALE and ARCADE together.