Mastering the Loops Mode in Exhale
What makes EXHALE the most powerful vocal instrument out there is the diversity of modes, parameters and FX it offers. Let's take a look at the Loops Mode.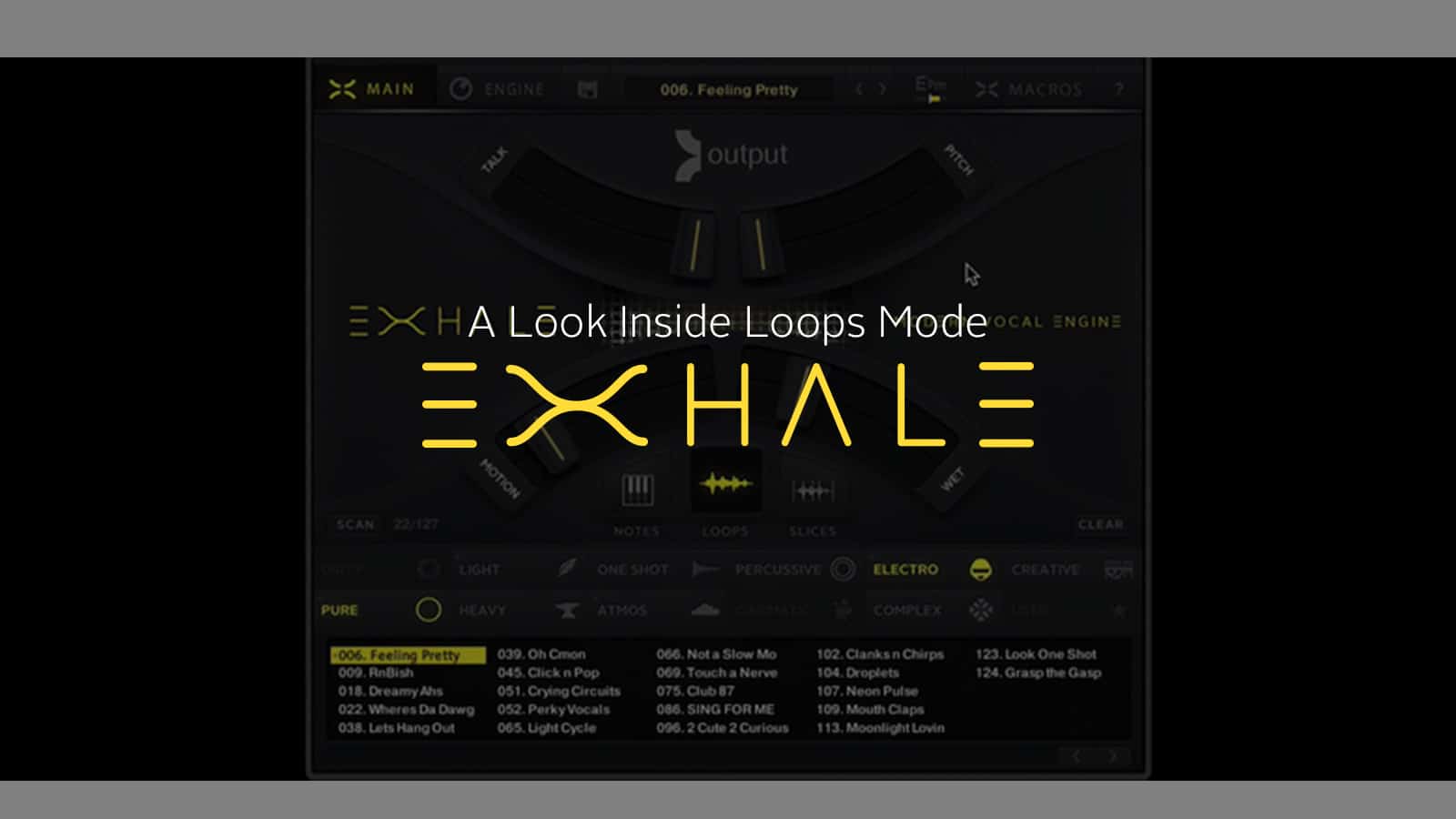 Output's vocal-driven engine EXHALE is a vast universe of vocal samples sung in various placements, vowels, and registers. From choir pads to vocoder-like synth leads, it delivers on both lush and organic textures.
But perhaps what makes EXHALE the most powerful vocal instrument out there is the diversity of modes, parameters, and FX it offers.
Take the Loops Mode, for example. After watching this tutorial video, can you imagine a better tool to create vocal chops with?
Let's take a look at what's going on here.
All Exhale vocal loops play back at the tempo of your session
When you open EXHALE, you'll see presets that fall under the Notes tab. You can play those presets chromatically, just like most other soft synths.
The presets in Loops Mode, on the other hand, function in a way that'll remind you of ARCADE. Basically, by playing any key between C2 and C3 on your keyboard, you can trigger various vocal loops. Just like ARCADE, EXHALE automatically adapts to the tempo of your session.
With predetermined macros, manipulating sounds is easy and fun!
As soon as you start playing with a few presets in EXHALE, you'll notice that the macro sliders keep changing. This is because the experts behind EXHALE take into consideration which FX might be the most useful for each preset. One macro might control the pitch, while another allows you to shift the motion.
Though the macros for each preset come pre-assigned, they're still fully editable. Just head over to the Macros button in the top right and swap whichever FX you like!
When in Loops Mode, don't forget to select the key of your track in Exhale
Sometimes you might intentionally play a vocal loop that's not in the key of your track and find that it adds a certain eeriness. But in most cases, you'll want to work with samples and loops that fit your track perfectly.
This is why selecting the right key is crucial. Once you do this, EXHALE will then change the key of any selected preset automatically without altering the speed of the loop.
Exhale tags help you narrow down your choices
EXHALE comes with over 500 unique presets. Can you imagine how long it would take to go through all of them?
But having so many choices is never a bad thing when you have a great system in place to sort them out!
Dirty, Pure, Cinematic and Electro are just a few of the tags we offer to help you find what you're looking for quickly.
You can select multiple tags or just one. Either way, as soon as you click on a tag, you'll notice that EXHALE displays only the presets you might be interested in. You may liken this to listening to a genre-specific playlist on a music platform.
Looking for a Dirty and Atmospheric vocal loop? Well, the preset The One sounds like it fits the bill, doesn't it?
Start with an empty preset to chop vocals up to your liking
The first preset that's listed under EXHALE's Loops Mode gives you a blank slate.
Select it, head over to the Engine tab and take a look at the Source Menu.
With unique waveforms and titles, this page displays all the vocal loops that are available in EXHALE. This means that you can assign any one of them to any key between C2 and C3!
The key to incorporating vocal chops into any track is to approach them not just from a melodic angle, but also a rhythmic angle. Sure, the pitch of each loop is important. But where each loop starts to play and how long it lasts are two significant decisions you have to make.
With EXHALE, all those tasks are a breeze to take care of. You can select the vocal loops you're most attracted to and get to editing them right away.
One of the best ways to make a loop work for you is to choose the part you want to play. In EXHALE, you can use the slider under the sample window to change the starting point of each loop. If you like the middle part only, then that's all you're going to get!
Another way to tweak vocal loops in EXHALE is to shift their pitch. The Tune parameter lets you pitch any sample in semitones.
Then, there are the small yet powerful adjustments you can make with the Pan slider and Reverse button.
If you end up working on the loops for a long time and decide you need a fresh start, there's a solution for that, too. All you have to do is click on Reset ALL under the Edit All drop-down menu, and you're good to go!
Polish your vocal chops with the FX engine
With global FX like Reverb and Delays, you can easily take your vocal chops from dry to atmospheric.
With Mod Sends like Filter and Phaser empowered by the step sequencer of the Rhythm engine, you can instantly insert exciting rhythmic variations into your vocal textures.
Our advice? Start with picking your favorite vocal loops, play them like you're on a drum machine and polish your theme at the end.