Hey bedroom producers — looking for cheap music studio desks that won't break the bank? We've done the research for you. From IKEA-affordable to bespoke surfaces, here's a handpicked list of our 10 studio favorites.
Everyone has an ideal setup, but most of us compromise our home studio desks by using "whatever we can find" or overspending on furniture we don't love. Your desk should be the centerpiece of your studio space. Not only is it essential for optimizing your workflow, but it also secures your precious gear and sets the stage for your best work.
---
1. Platform Studio Desk by Output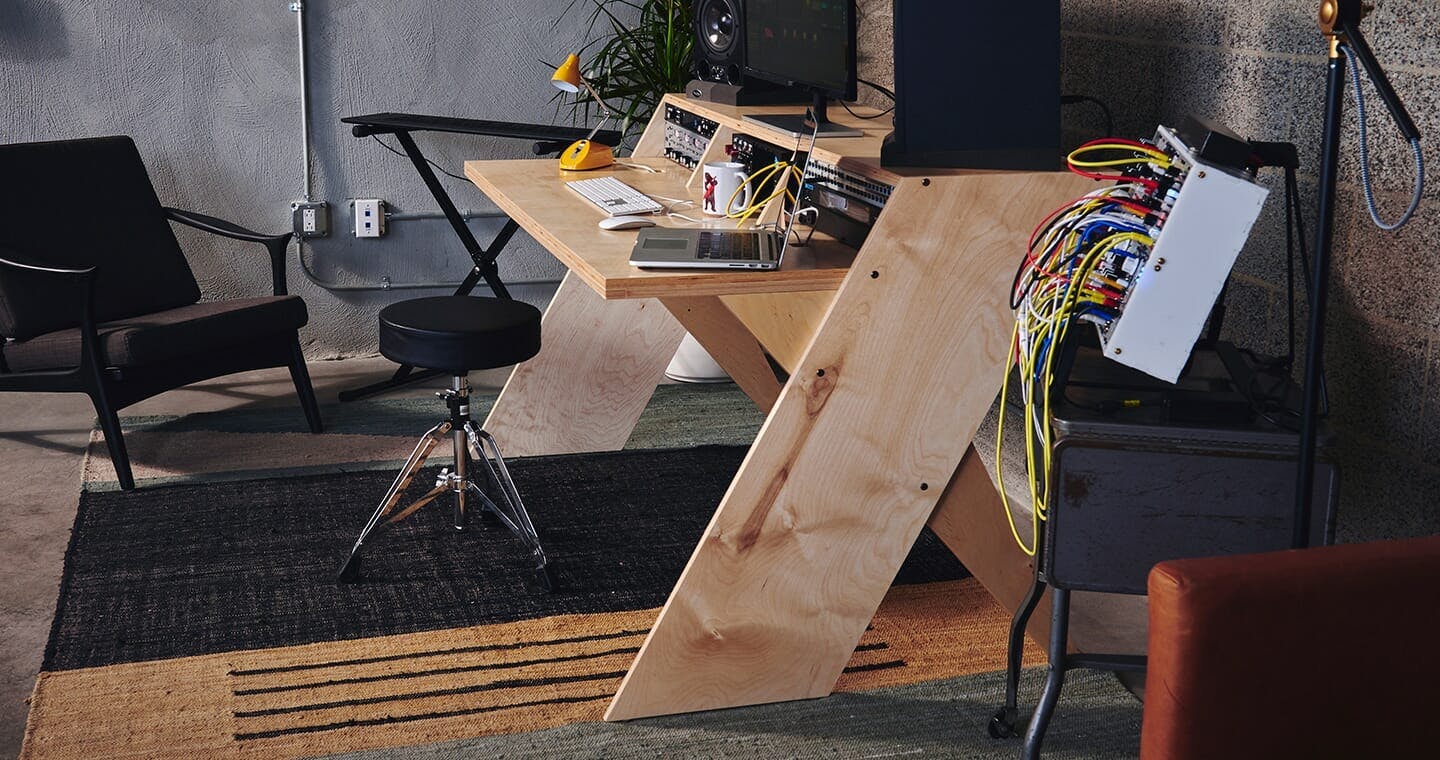 Output's goal is to help you make the best music in every way possible. It seemed like there was a lack of stylish, functional, and affordable designs crafted with your studio needs in mind. That's why we designed Platform by Output, a desk made by musicians, for musicians.
Taking our users' clever DIY tricks into account, we obsessed over every detail and function. Constructed from 100 percent real wood and manufactured in the USA, each desk boasts 9U of rack space for music gear, a bridge for your monitors/display, sleek cable management, and height-adjustable options. And, who doesn't need a desk with a keyboard tray?
Just like the same ground-up approach for all Output software, our Platform prototypes were test-driven by our entire team. Platform is a labor of love, and now you don't have to choose between style or function — you can have it all.
Output Platform Studio Desk price: $549
2. IKEA studio desk hack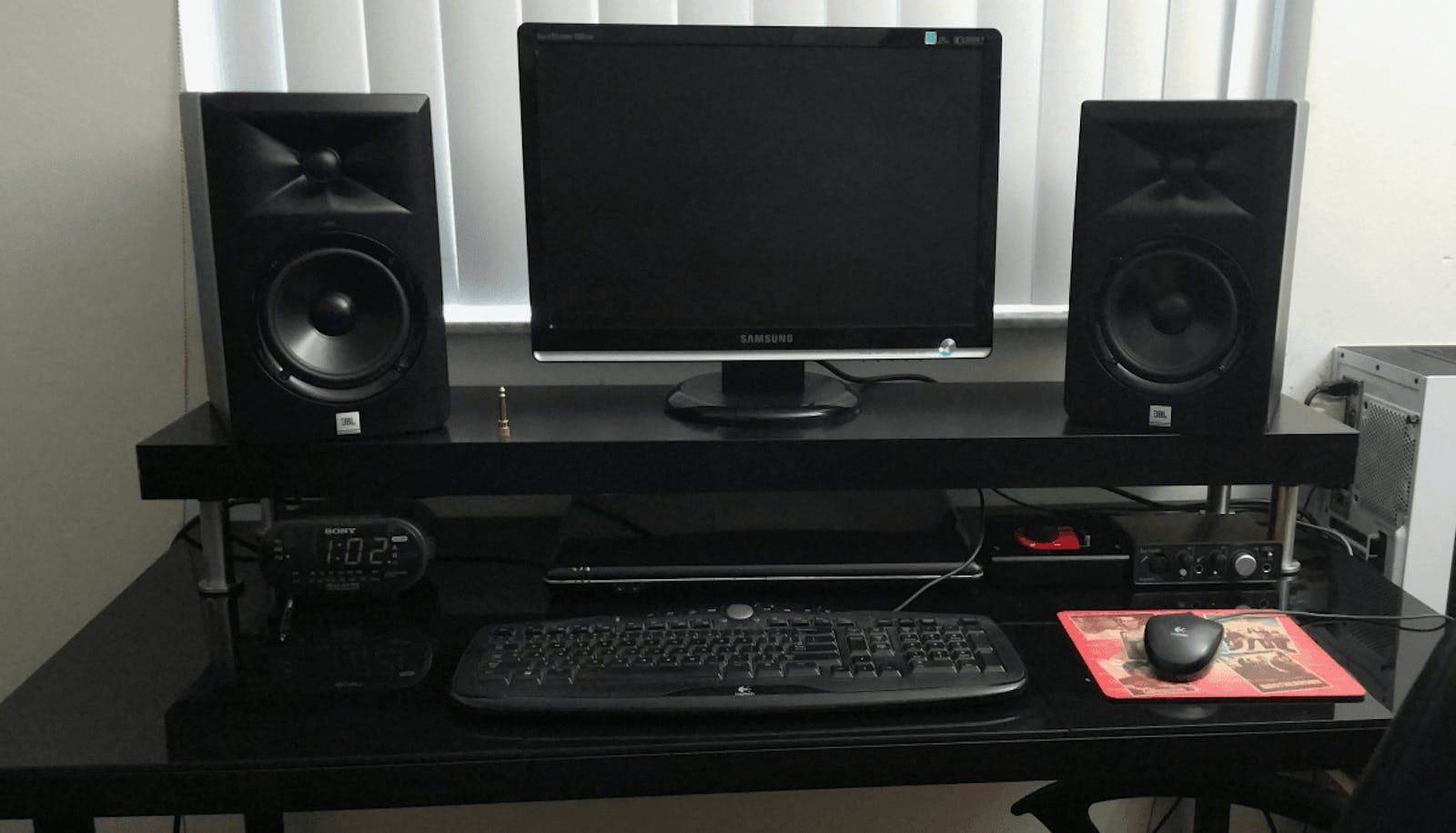 Swedish furniture giant IKEA makes great furniture at an affordable price. The company doesn't make an off-the-shelf option that's perfect for music folks, but, you can put together multiple pieces to create an IKEA studio desk hack that includes shelving for your studio speakers and a computer monitor.
To start, pick a base desk like the LINNMON. The two things you need to consider are the color, and depth of the desk. Most of IKEA's desks are 23 5/8" deep, which may be too shallow once you add a shelf. We recommend choosing one with a depth of 25 5/8" or 29 1/2" if you have space.
Next, pick your shelf. IKEA has several options, but the EKBY ALEX is a favorite since it comes with two drawers to hide cords. Last, use IKEA CAPITA legs to attach the shelf to the desk. Voilà! You now have a two-tier home studio desk.
Since this is DIY, the desk can be customized. If you like, cut the IKEA shelf to create squares and then screw CAPITA legs to each pedestal. These can be affixed to the sides of the desk, creating two small shelves for your studio monitors with space in the middle for your computer monitor.
IKEA desk hack parts price: $102
3. Nucleus 2 by Ultimate Support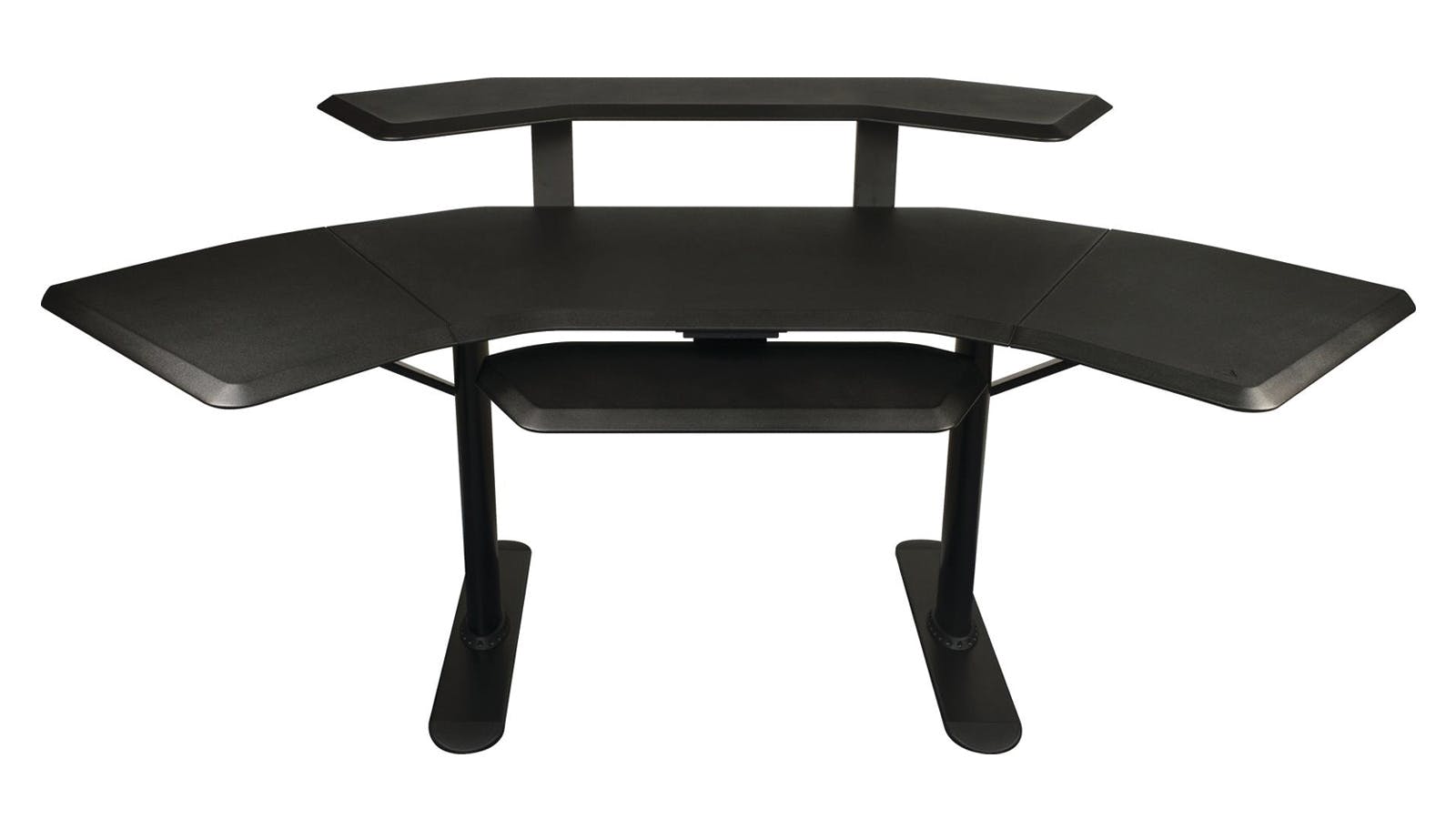 Ultimate Support's Nucleus Series are modular workstations that can expand as your gear collection grows. The Nucleus 2 takes the company's base producer desk and adds a keyboard tray and second tier. There are tons of other accessories to tack on, like a keyboard shelf, space racks, monitor mounts, and even a lighting kit to add some rainbow glow. If you're starting out, this is a desk that can grow with your studio.
Ultimate Support Nucleus 2 price: $1,200
4. Studio Trends by Guitar Center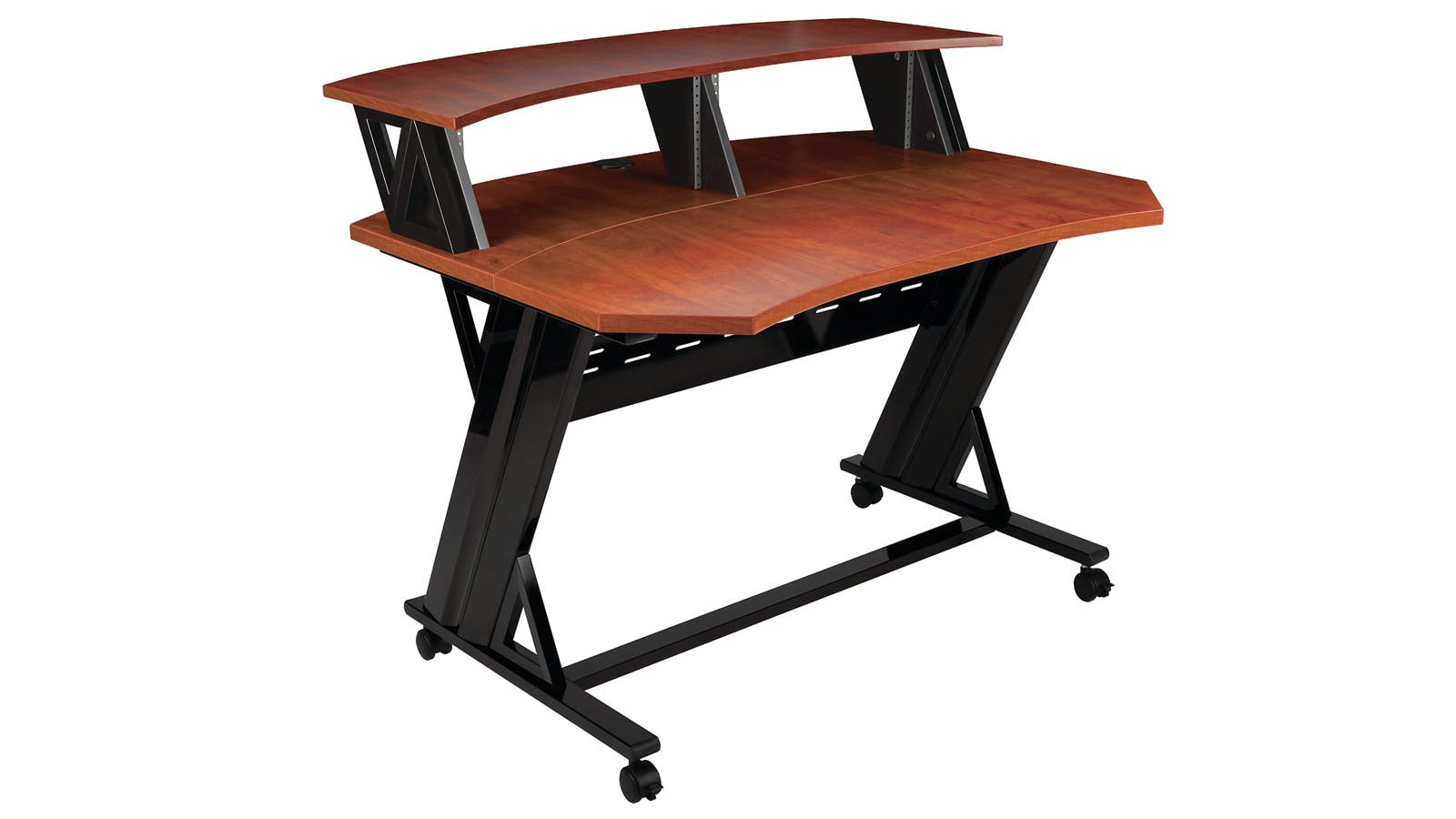 There aren't a lot of specialty studio desks for making music that cost under $1,000, which is precisely why Guitar Center created this recording desk. It's sturdy, functional, and — most importantly — affordable. It comes in two width options — 30" and 46" — but we recommend the 46" version so it can accommodate a full-sized keyboard controller. This is a solid desk all around.
Guitar Center Studio Trends desk price: $400
5. Commander V2 by Studio Desk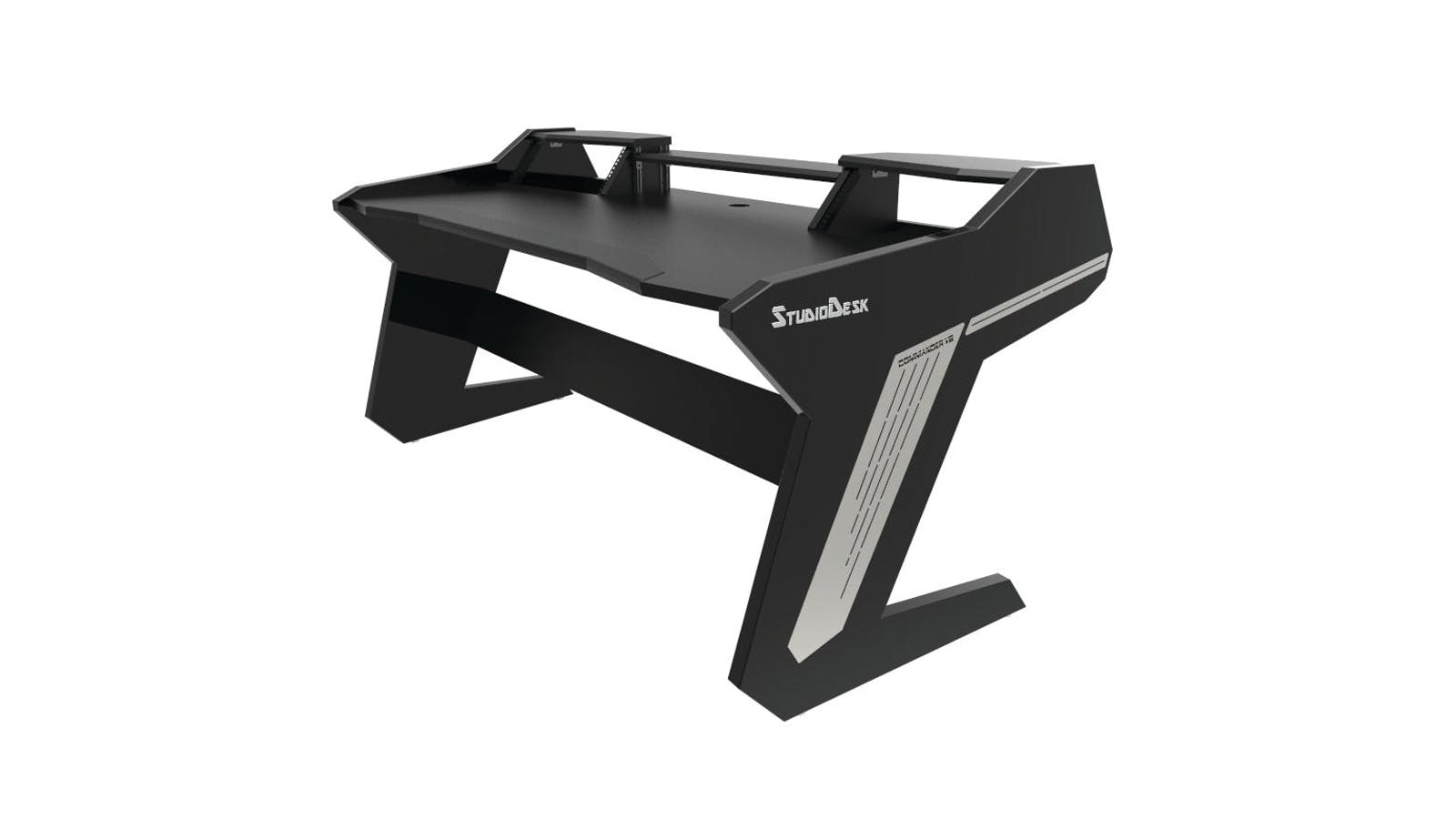 Once you get above $1,000, the music producer desk options come pouring in. Variations in pricey desks tend to center around materials, rack space number/placement, and room for a full-sized keyboard. Slovenian company Studio Desk offers radical desks with creative functionality — perfect for a small space, no matter the size of your mixing console. Check out the Commander V2 desk's multiple space-saving functionalities, and consider expanding to the keyboard stand and rack unit as your studio grows.
Studio Desk Commander V2 price: $2,100
6. Standing Desk by Evodesk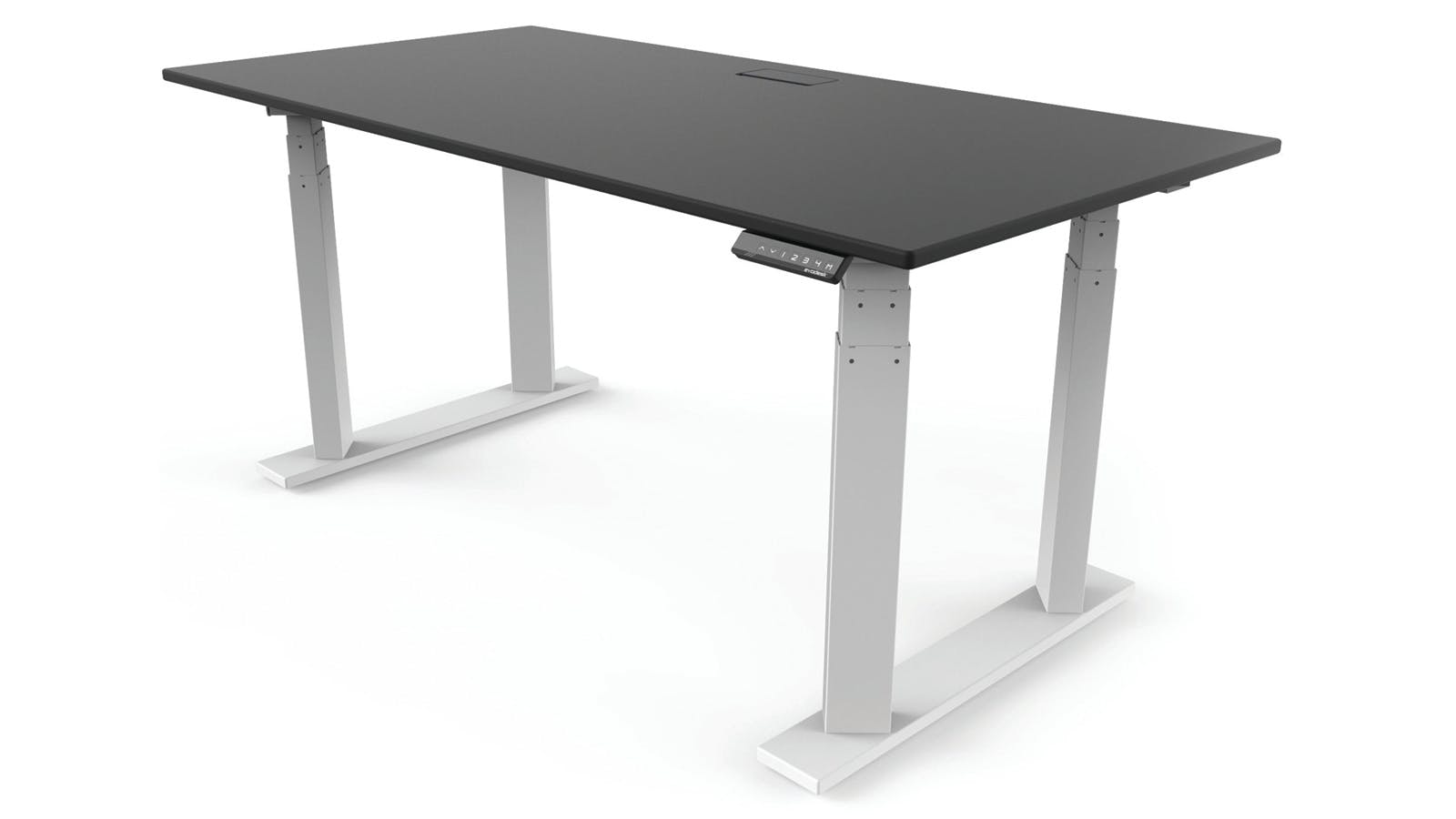 Height adjustable desks offer considerable health benefits. An electric adjustable standing desk with a scratch-resistant top, cable management, and a slew of available customizations is the icing on the cake.
If you choose a product like the Evodesk Standing Desk, the obvious challenge will lie in your studio's acoustic treatment. Make sure any acoustic panels to the left and right of your workspace cover the entire height span of your desk. And, remember that things may sound slightly different closer to the ceiling.
The best desks for music production have great cable management. You'll need a single power cable (with lots of slack) to feed the desk, and all of the power cables linking your gear and computer should connect to a power strip attached to the underside of the desk. This way, you'll avoid slack issues when the desk moves up and down. You'll need to have your studio monitors on the desk (not on a stand behind), so make sure they're stable.
Evodesk Standing Desk price: Upon request
7. WS7500 System by On-Stage Stands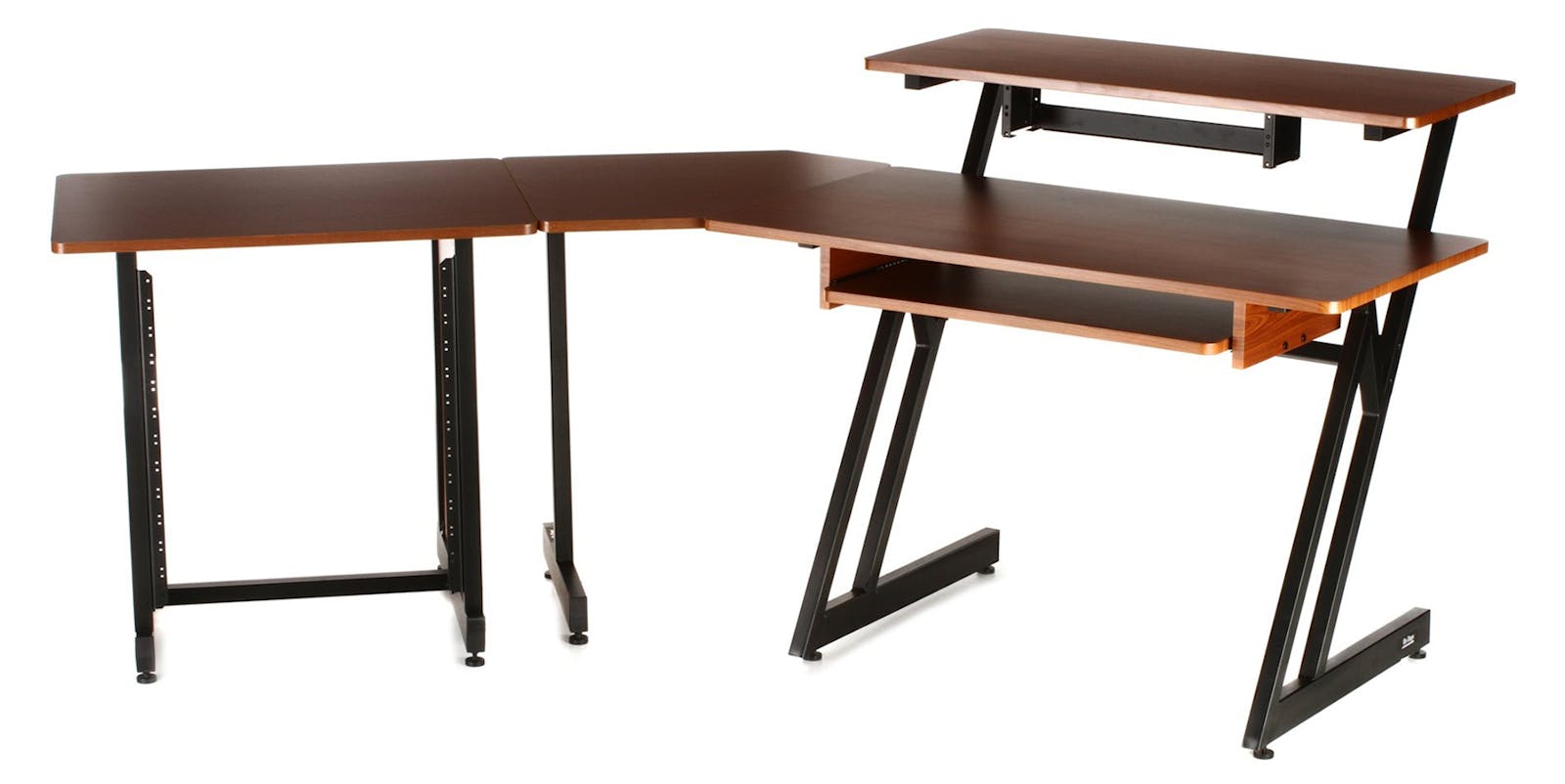 The On-Stage Stands WS7500 System lets you cobble together different modular pieces together depending on your needs. There's a main workstation, a corner piece, and a rack cabinet that can be placed together for an L-shaped desk. The affordability is a key selling point if you're on a budget and, while it's stripped-down, it does come with a keyboard tray and an under-table rack.
On-Stage Stands WS7500 System price: $720
8. SD61 Studio Desk by Monkwood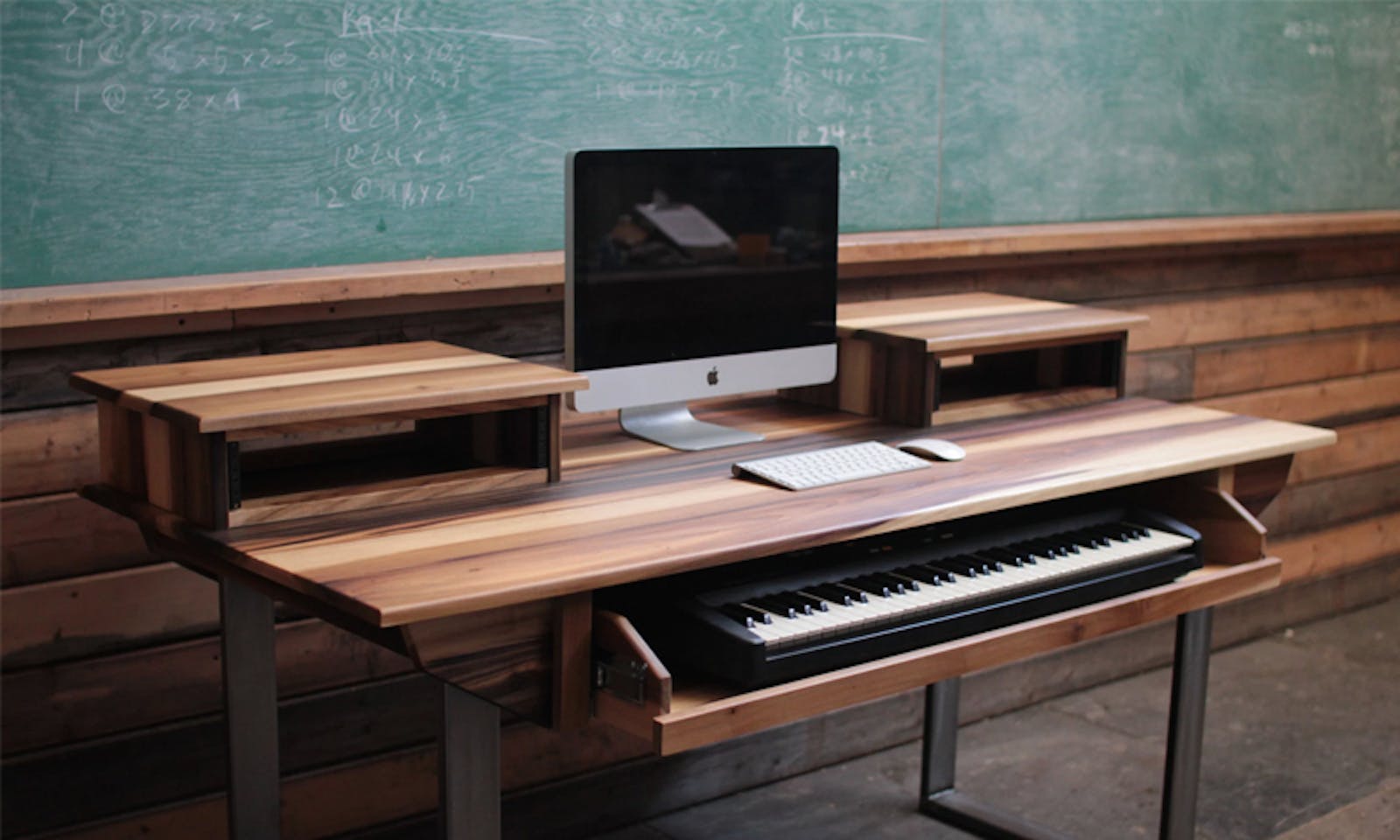 Monkwood Studio design is based in Fullerton, California, and specializes in desks for audio and video professionals. The company makes desks out of reclaimed wood, and each one is custom-made in collaboration with the buyer. They might be pricey, but we just can't resist the charm.
Monkwood SD61 Studio Desk price: $4,450
9. Custom Beijer Workstation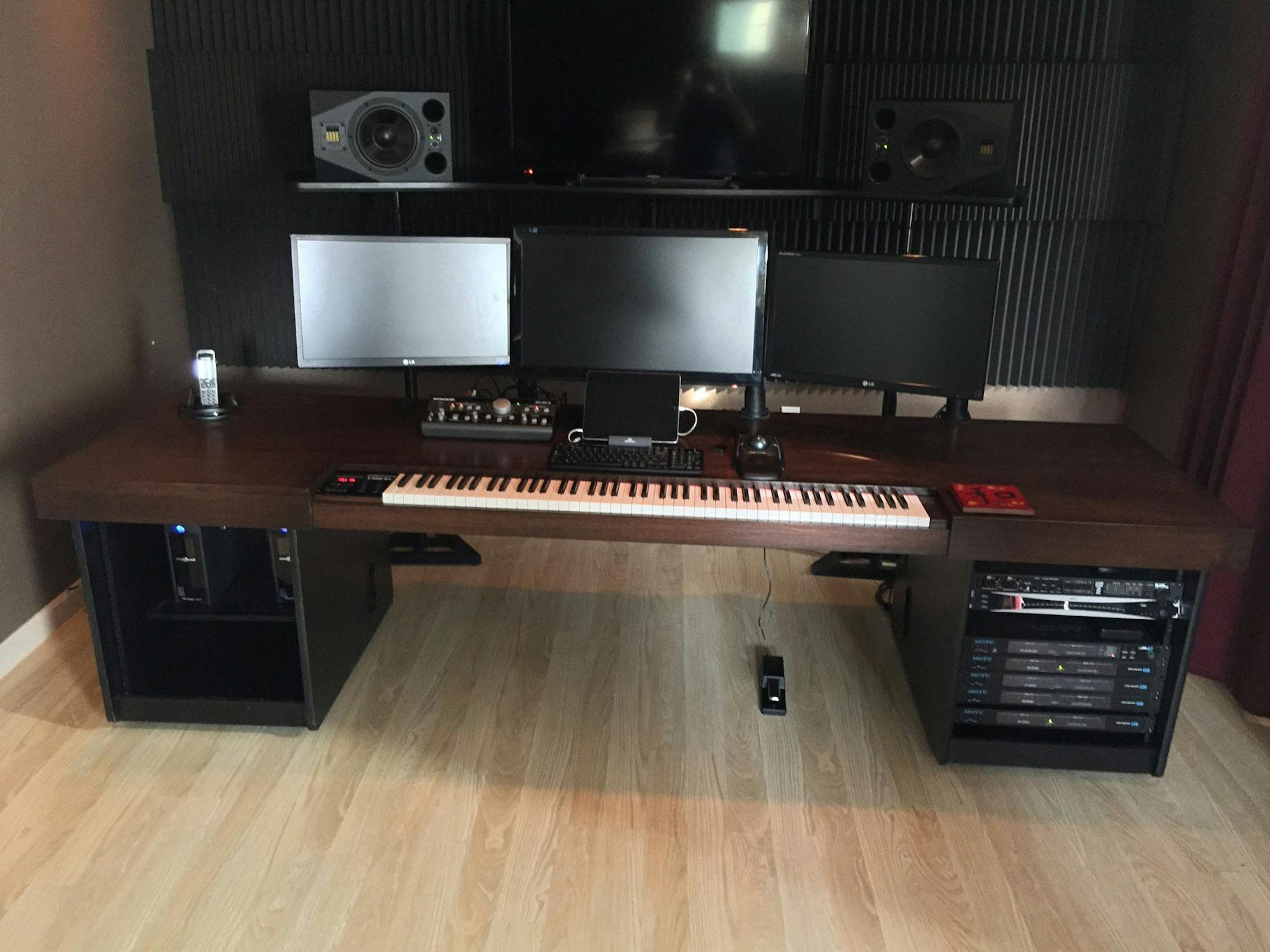 For those who crave the VIP treatment, every Beijer Workstation is custom, built-to-order, and jaw-droppingly beautiful. Predictably, these desks can be found in the studios of many of the world's leading composers. Though many of their pieces are built with an embedded keyboard for composers, they build music producer desks, too.
Beijer Workstation price: Upon request
10. Build your own standing desk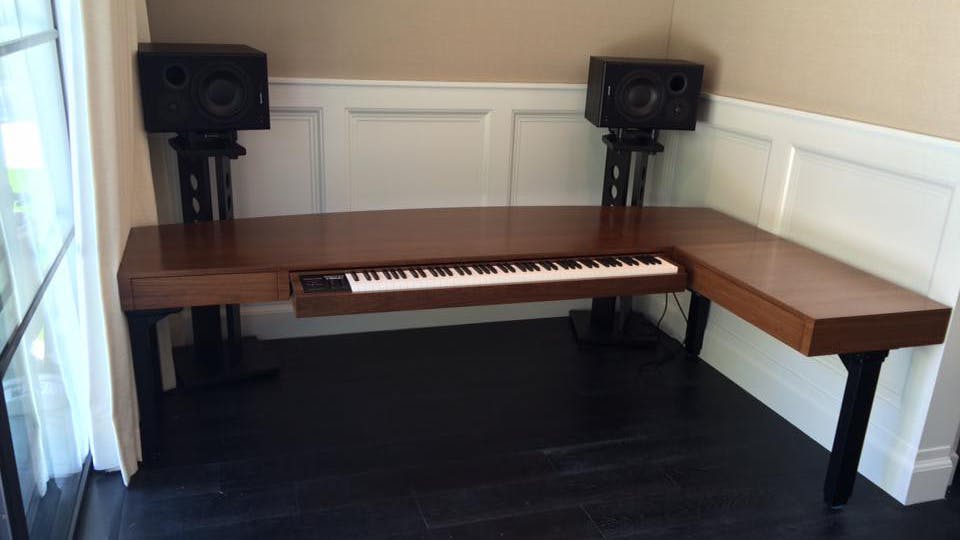 There are multiple standing desk options out on the market so if you're interested in the concept, definitely do your research. Autonomous makes the SmartDesk for $300, which looks very sleek. Ron Eigen built his own using an Uplift Desk base and a custom top from It's Not Trash Designs (pictured). Since it's not a typical studio solution, you may have to get creative.
Honorable mentions
For the minimalist
Finding a simple yet sturdy workstation can be tricky, but the Eldon Gaming Desk with Hutch by Symple Stuff has a lot in a small package. It might be called a gaming desk, but its features are also appealing for musicians. It comes with a raised monitor shelf, a USB hub, and a cable management system. And of course, RGB LED lights!
Symple Stuff Eldon Gaming Desk with Hutch price: $420
For the secret maximalist
The Blue Lounge StudioDesk appears deceptively simple, but a hidden compartment tucked under the tabletop provides just the right amount of storage space for just about anything you can think of.
Blue Lounge StudioDesk price: $649
For people with a small space
We're a fan of simplicity, and the Loring Writing Desk is a perfect choice for just about any aesthetic and room size. Even better, the two outlets and two USB ports are hidden along the back, which means this is one of the best studio desk options for a music producer's home.
Loring Writing Desk price: $120
Take your home desk to the next level
With Output's studio collection, you'll discover gear that's designed by musicians for musicians. Discover how to streamline your home studio with our expert products.