10 Best Affordable MIDI Keyboards Under $300 in 2022
We went through the wide range of MIDI keyboards on the market today to help you find your perfect keyboard match.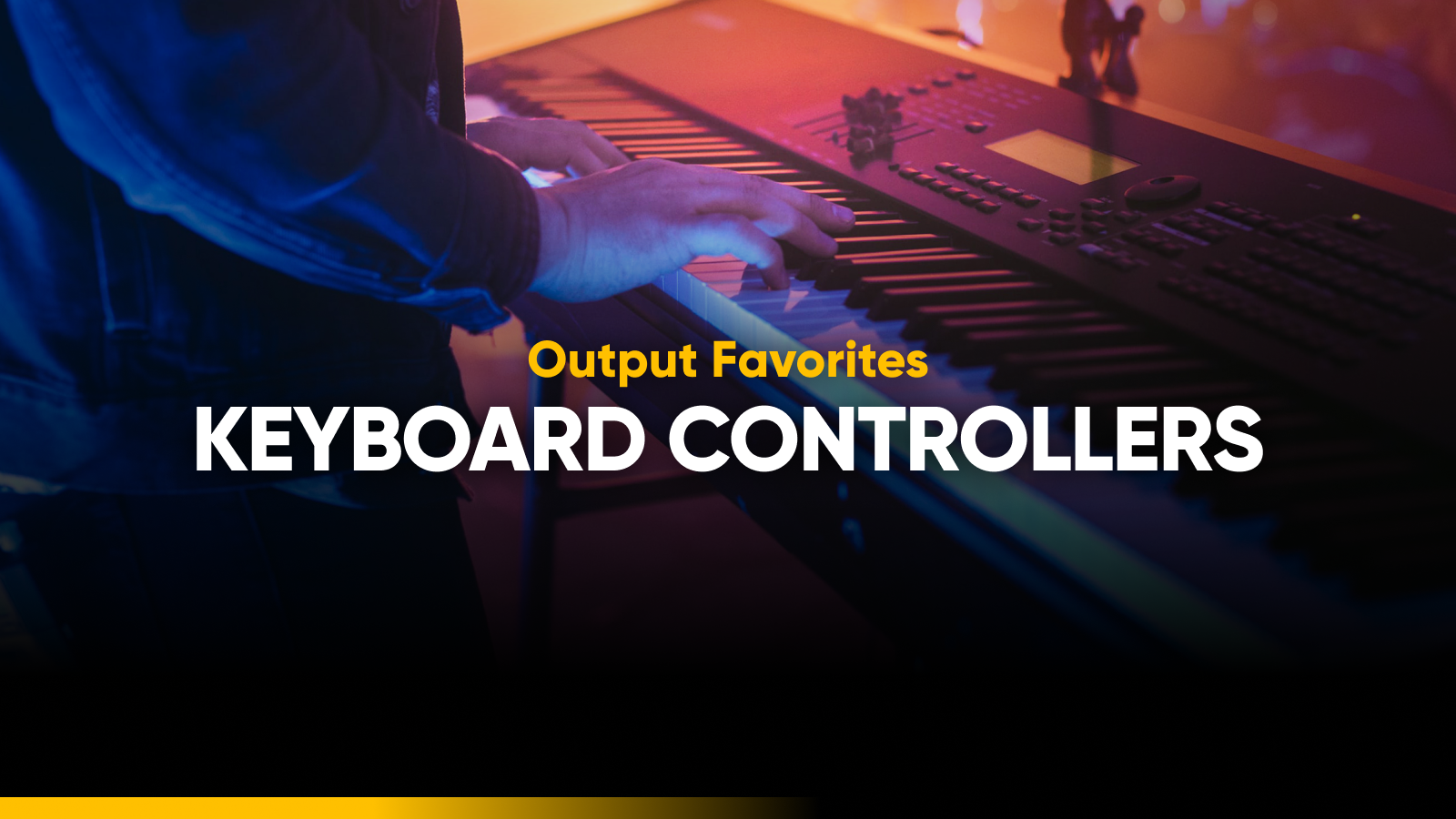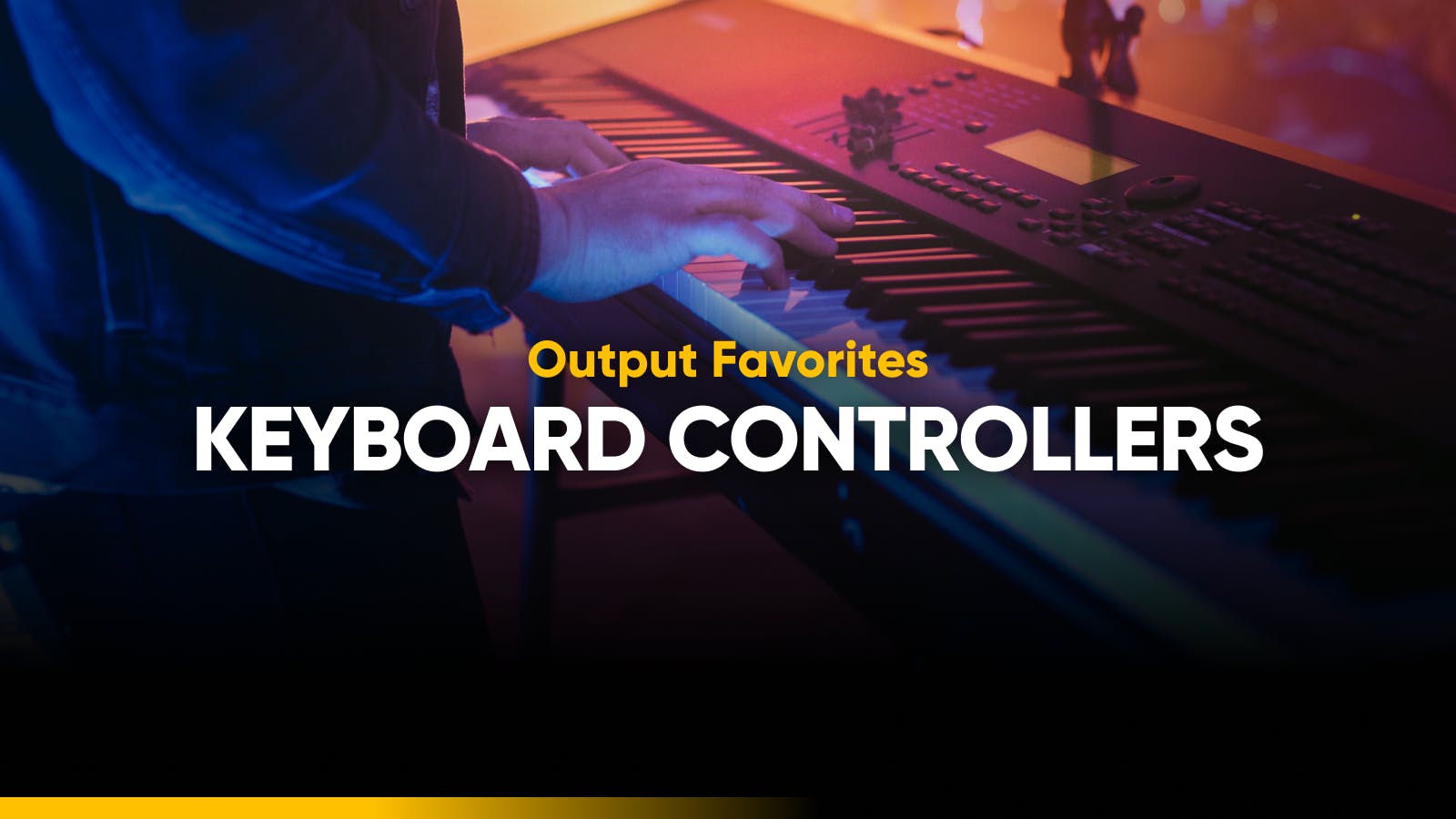 As a music producer, your MIDI keyboard is one of the most versatile tools in the studio. It often acts as the creative conduit between you and your software, turning musical ideas into real things. MIDI keyboards can plug into your Mac or PC to record software instruments, sequence drums, trigger sample loops, and so much more. But with so many out there, how do you pick the right model for you? The last time we counted, more than 20 mainstream brands were making controllers. And countless others are releasing new keyboards every month.
We went through the wide range of affordable MIDI keyboards on the market today and picked the top 10 that cost $300 or less, with considerations for size, type of keys, and extra features.
MIDI keyboards usually come with 25, 49, 61, or a full 88 keys. Piano players usually go for the full 88 keys. But, most producers don't need an entire piano keyboard. Oftentimes a 49-key model will do the trick. Even smaller keyboards work for many producers, especially if portability is a big concern.
As for the type of keys, there are three different kinds. Non-weighted or "synth-action" keys are common for most MIDI keyboards. They use springs and have very little resistance when you press on them. Semi-weighted keys have some resistance, and weighted keys replicate the heaviness of pressing real piano keys. Weighted keys are more important if you're learning to play the piano (or if you prefer the way they feel). But they're more expensive.
When it comes to extra features, beat pads, programmable knobs, modulation wheels, and DAW-specific goodies are all possibilities. Most MIDI keyboards play nice with all digital audio workstations (DAWs), but some are streamlined to use with particular DAWs. These might come with templates for programs like Ableton Live or FL Studio to cut down on setup time. Other MIDI keyboards are no frills. Just plug and play.
All of that is to say: There are a lot of MIDI keyboards out there and it can be tough to know what you need.
This guide breaks down the pros and cons of models from each of the most popular brands. They all offer something different, and in cases where a brand offers multiple models, we added a mention. Find your perfect keyboard match below.
1. Novation Launchkey Mk3 (37-key)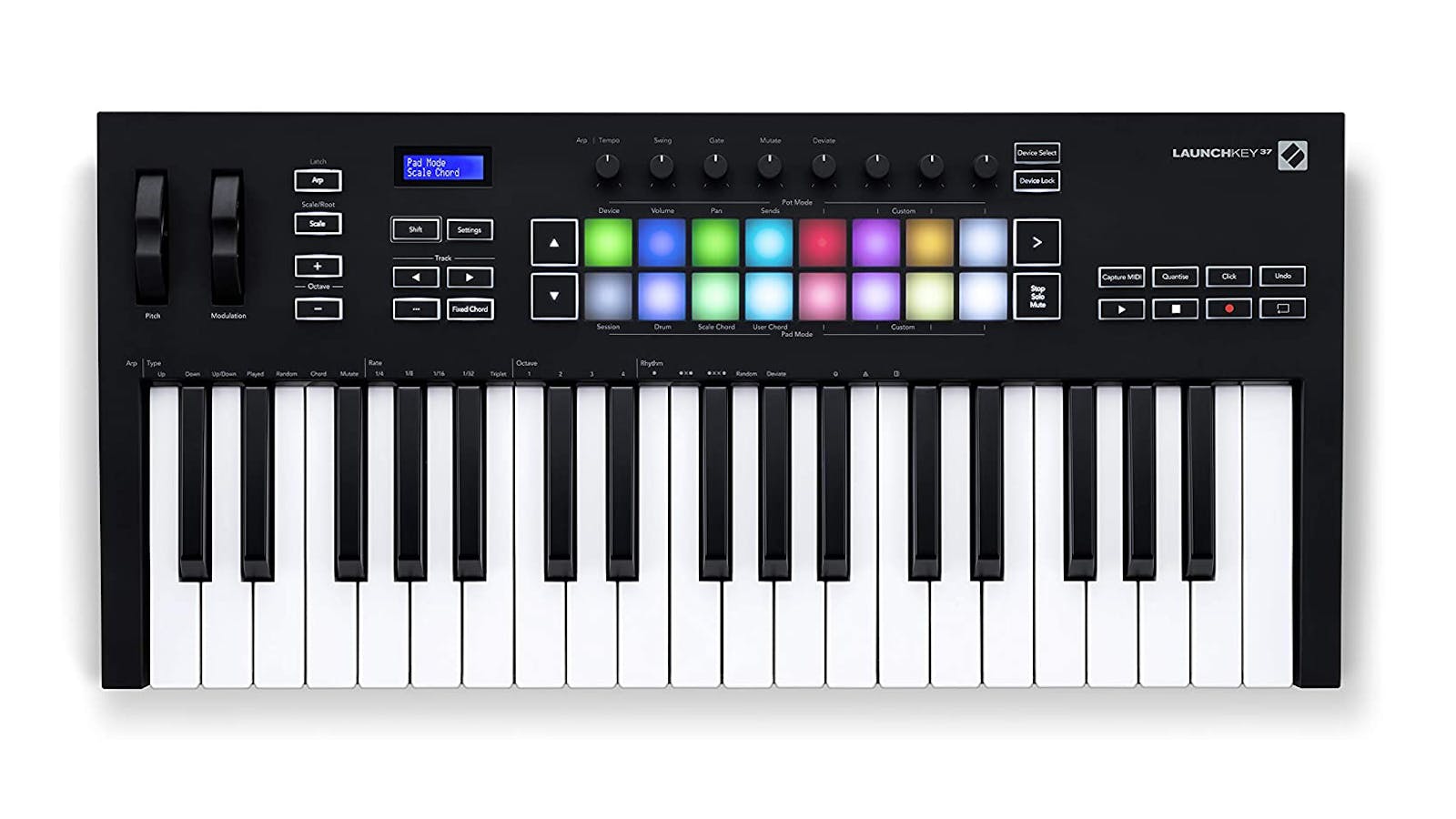 Key type: Synth-action
Controls: 16 velocity-sensitive pads, 8 knobs, octave up and down buttons, arp, scale, and fixed chord buttons, pitch and mod wheels
Pros: Built for Ableton Live users, MIDI output for external hardware
Cons: No faders
Novation's Launchkey Mk3 is the company's flagship keyboard line. The 37-key version makes for a perfect first controller — it comes with full-sized piano keys, 16 velocity-sensitive, RGB-lit drum pads, and tight Ableton Live integration right out of the box. Not an Ableton Live user? Don't worry: the Launchkey will detect what software you're using and automatically map its controls, meaning minimal fuss with custom mappings.
Design-wise, the Launchkey takes cues from Ableton's own Push hardware, using streamlined fonts and a clear, easy-to-use button layout. The 37-key model comes with 8 knobs for synth and plugin control, while the larger ones feature rotary encoders. These turn infinitely in both directions for a greater degree of flexibility when switching between different software. The controller itself also boasts a powerful arpeggiator and a built-in Scale mode to transpose your performance into any chosen key in real-time. Solo away — you'll never be out of tune.
The smaller 37-key and 25-key versions are solid budget options, but if you opt for the 45-key or 61-key versions, you'll also get a panel of 9 faders. All the Novation Launchkeys come bundled with Live 10 Lite, XLN Audio's Addictive Keys, Klevgrand's DAW Cassette tape emulator, and other useful software. This is one of the best keyboards on the market, whether you're a beginner or pro.

2. Akai Professional MPK Mini MK III (25-key)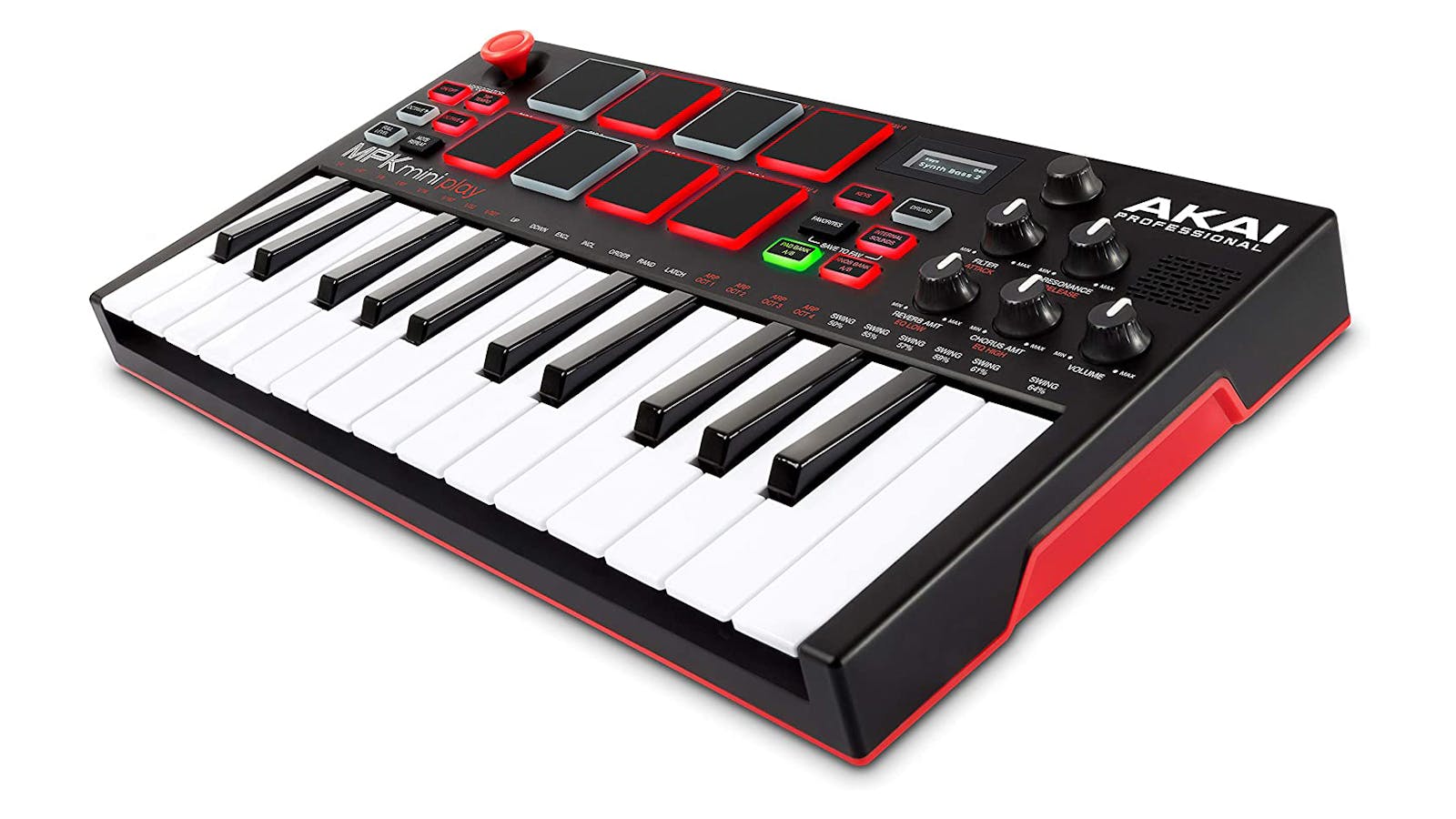 Key type: Synth-action
Controls: 8 assignable encoders, 8 MPC pads, full transport controls, X/Y joystick
Pros: Ultra-portable, rotary encoders, great-feeling keys
Cons: X/Y joystick for pitch and modulation not for everyone
Akai's Professional MPK Mini MK III has been the company's best-selling MIDI keyboard for some time, and with good reason. It's got a small footprint thanks to its mini keys, meaning it can fit in any studio or backpack. And it pulls this off without sacrificing features. There are 8 pads, 8 control knobs, and a unique X/Y axis thumbstick for controlling pitch and mod functions.
This MIDI keyboard is small, but it's mighty. The keys and MPC-style pads (thanks, Akai!) are velocity-sensitive, there's an adjustable, onboard arpeggiator, and you can map the encoder knobs to any parameter you please. Mini-sized keys can be an annoyance for those with big paws, but if they're not a bother, this tiny production powerhouse might be right for you.
As a bonus, it also comes with the Complete Music Production Starter Kit. This contains over 1,500 downloadable sounds and virtual instruments like Tubesynth and Mini Grand. No matter if you're finger drumming or laying down a piano line, this is a MIDI keyboard that's great for music-makers on the go.
For the aesthetically minded producers: The MPK Mini MK III comes in inverted and all-black colorways. Of course, the color variants don't change the feature set, but they do look dang cool.

3. CME XKey (25-key)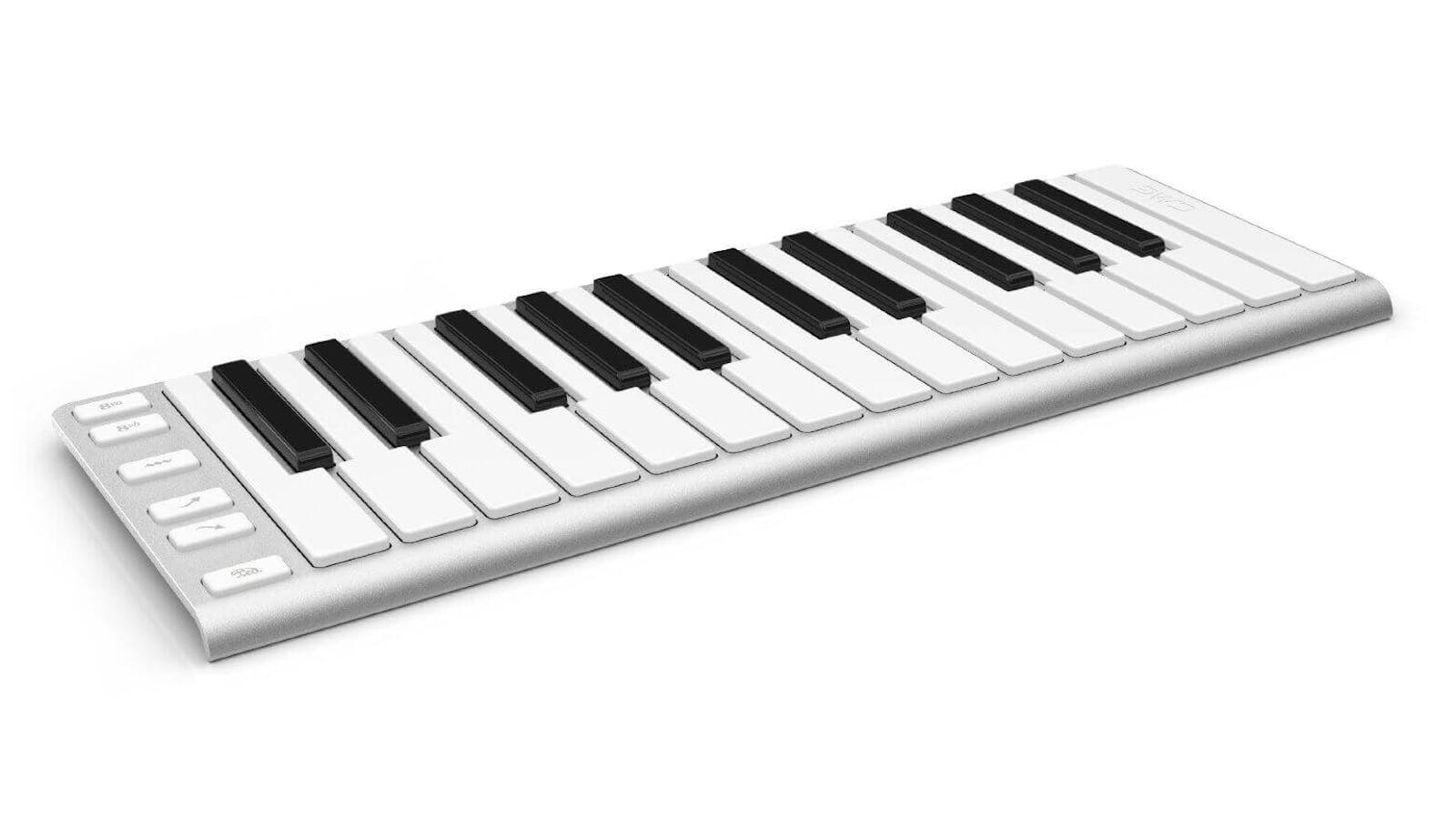 Key type: Synth-action
Controls: Pitch bend modulation buttons, octave up and down buttons
Pros: Low profile, fun to play, minimalist design, can easily fit in a bag
Cons: No knobs or faders for you
CME's XKey controller is often compared to Apple hardware, and it's easy to see why. It's ultra-thin (3.6mm thick, believe it or not), with a low-profile keybed unlike those found on any other keyboard. The keys are "chiclet-style," similar to some computer keyboards, but this isn't a case of aesthetics over functionality.
These 25 full-sized keys are entirely velocity-sensitive and have polyphonic aftertouch, which gives you greater expressive control over synthesizers and other instruments. This feature is crucial to the sound of iconic albums like Vangelis' Blade Runner soundtrack, which made wide use of the Yamaha CS-80's aftertouch.
There isn't a lot of "travel" with every key press, but because each one de-presses evenly no matter where you're pressing down, the whole keyboard is very playable for anyone used to synth-action keys. The small form-factor means the XKey 25 will fit easily on most studio desks.
The normal CME XKey connects over USB, but for mobile producers or beatmakers using iOS, there's also a Bluetooth-capable version and an expanded 37-inch edition of the keyboard.
4. M-Audio Oxygen Pro (49-key)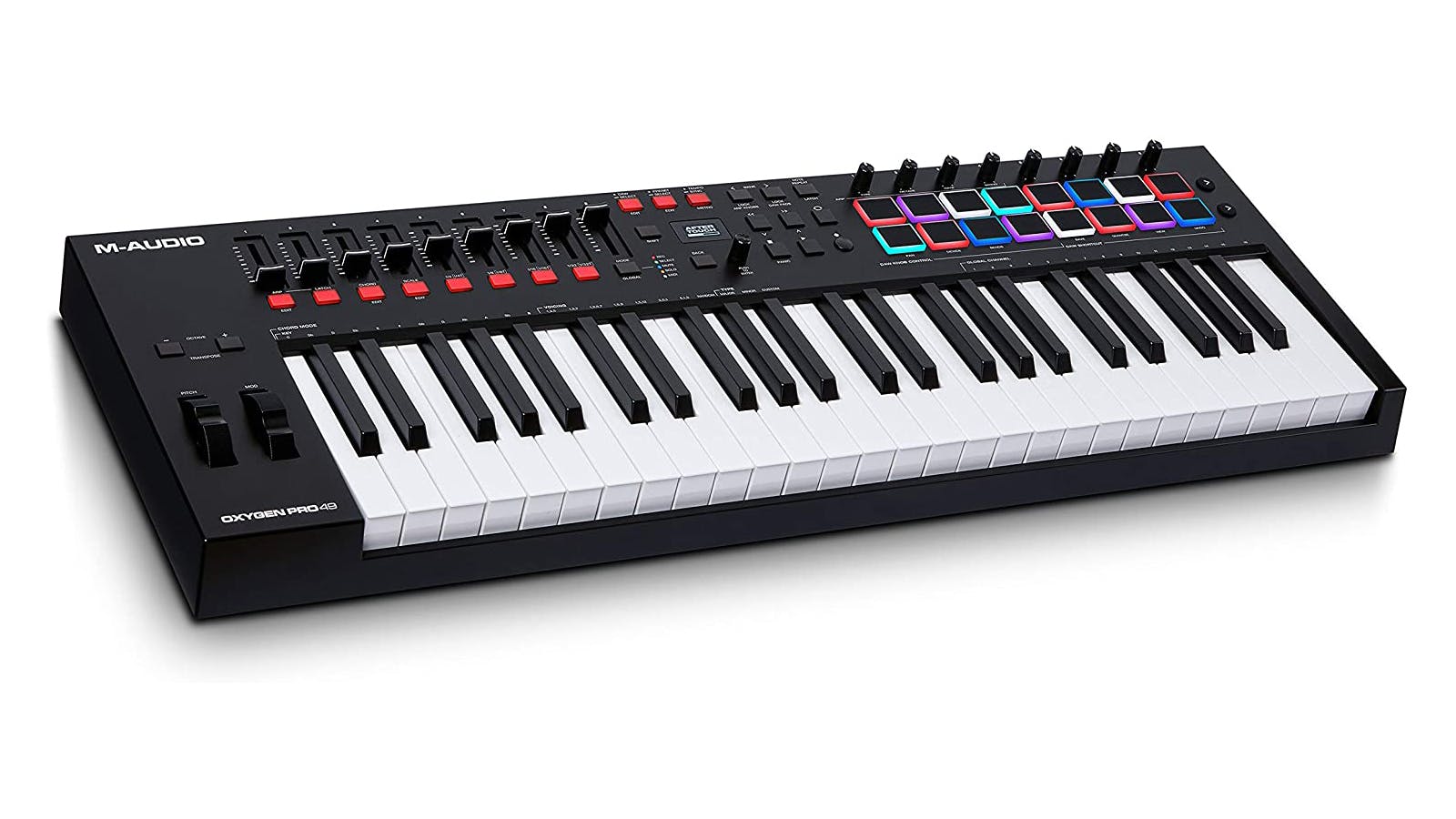 Key type: Semi-weighted
Controls: 16 velocity-sensitive pads, 9 faders, 8 assignable knobs and buttons, pitch and mod wheels
Pros: Aftertouch, Smart Chord mode means you're never out of key
Cons: Paying a premium for semi-weighted keys
Most of the other keyboards on this list are synth-action keys, meaning they're spring-loaded and bounce back quickly when played — perfect for leads and drum programming. M-Audio's Oxygen Pro series keyboards have semi-weighted keys, which are more similar to the fully-weighted feeling of traditional piano keys, making them more comfortable for players accustomed to that expressivity.
M-Audio Oxygen Pro controllers also feature an arpeggiator and Smart Chord/Scale functions. Smart Chord mode allows you to assign different voicings to individual keys and play full chords with just one touch. Smart Scale mode is similar to the Novation Launchkey's Scale mode, letting you play freely without ever falling out of key.
The Pro 49 is no slouch in other areas: 16 drum pads, 9 faders, and 8 knobs mean it's very competitive with other models in its size range. The RGB-lit pads also feature Note Repeat, which is an MPC feature that lets you lay down quick staccato drum patterns with swiftness.
5. Nektar Impact LX49+ (49-key)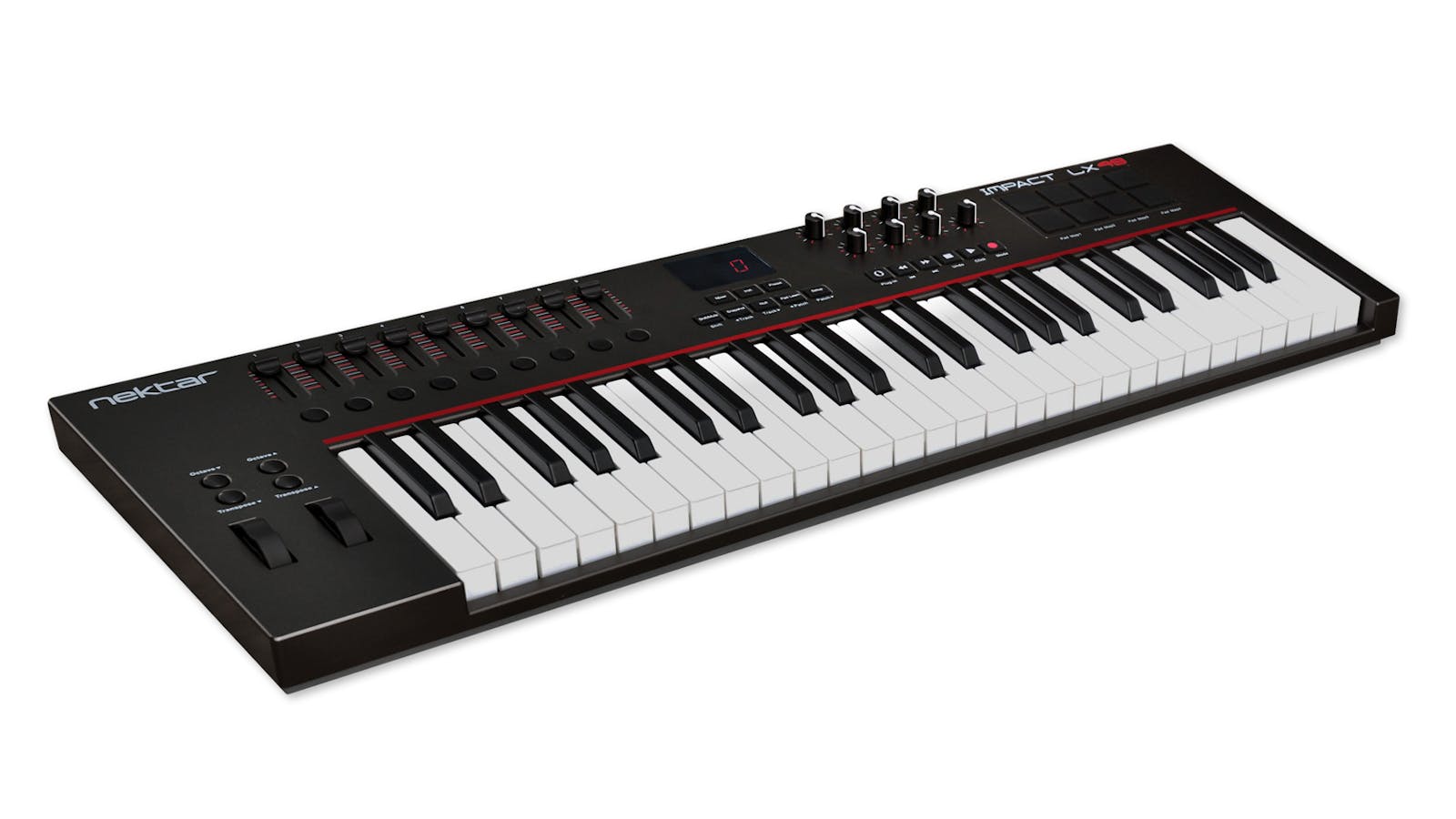 Key type: Synth-action
Controls: 8 performance pads, 9 control faders, 8 control knobs, full transport controls, pitch and mod wheels
Pros: Great bang for the buck, out-of-the-box DAW integration
Cons: No pre-mapped Ableton Live configuration
If you need a MIDI keyboard but you're uninterested in building out custom mappings, the Nektar Impact series can get you straight to making music. The keyboard comes with Nektar DAW Integration, so it works out-of-the-box with Logic Pro, GarageBand, Cubase, Bitwig, FL Studio, Reaper, and other audio workstation software.
This means that the LX49+'s 9 sliders, 8-knob bank, and 8 drum pads will correspond automatically to what you see on screen. The custom mappings also let you easily navigate your DAW, set loop markers, pull up the mix window, and other tricks that you might otherwise have to use key commands for.
If you're a non-Ableton Live user looking for tight software integration, this keyboard series may provide the answer. The Nektar Impact LX49+ is also priced very competitively compared to other similarly-sized keyboards in the field — many less expensive 49-key controllers lack the extra features, like drum pads or faders. Likewise, the smaller LX25+ also makes for a great value pick.
6. Native Instruments Komplete Kontrol A49 (49-key)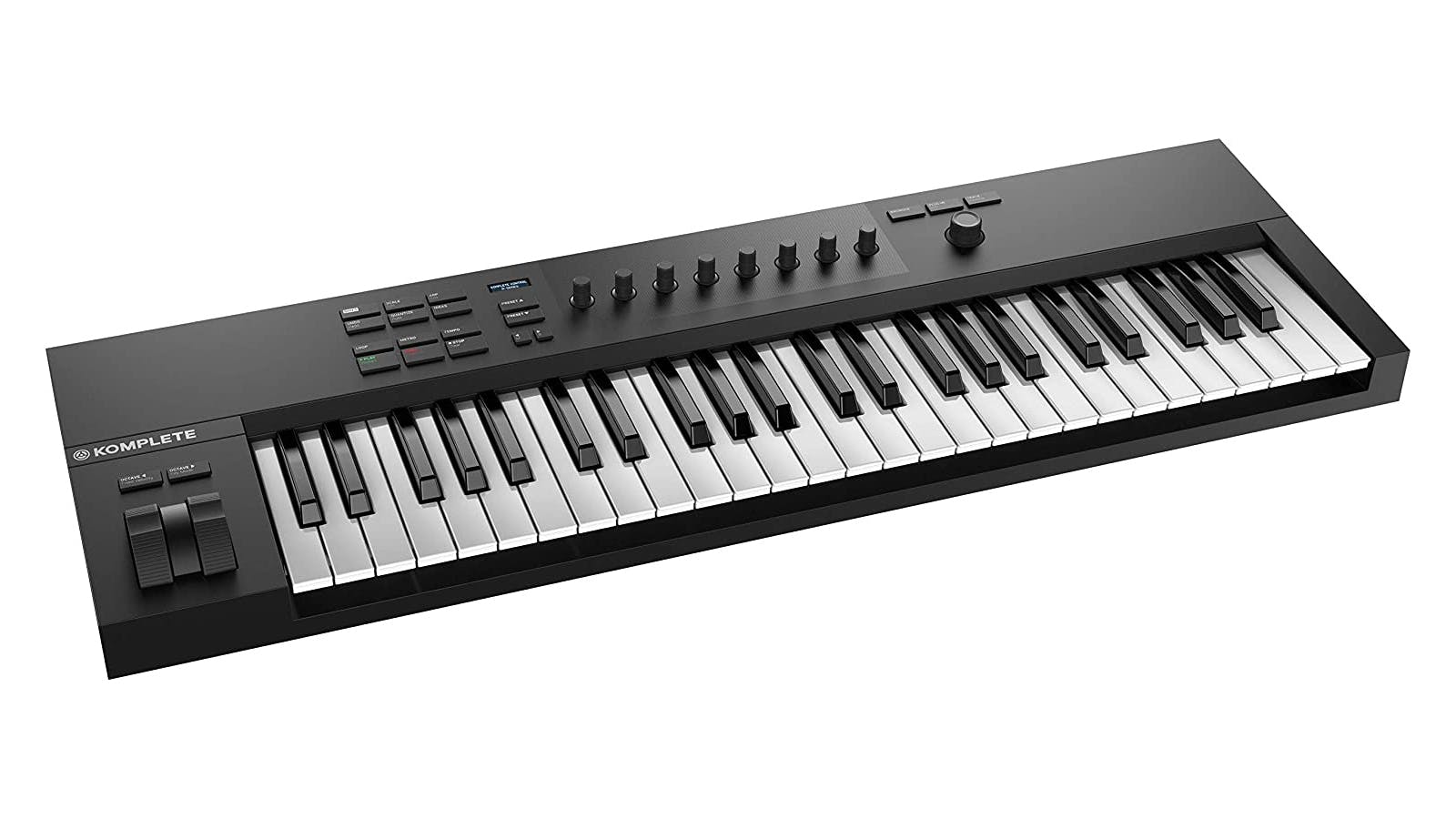 Key type: Semi-weighted
Controls: 8 touch-sensitive control knobs, quad-directional push encoder, pitch and mod wheels
Pros: Perfect entry point to NI plug-ins, solid build quality
Cons: Not quite as much functionality as other models
Native Instruments' Komplete Kontrol controllers are geared towards perfect integration with the company's signature Komplete software bundle. You lose the RGB lighting of the pricier models, but instead, you get all the classic NI attention to detail at a great value.
If you don't have a ton of plugins yet, Komplete Kontrol is the perfect entry point. The keyboard comes pre-bundled with Maschine Essentials beat-making software, the Monark polysynth, The Gentleman upright piano, Reaktor Prism, Scarbee Mark I electric piano, and Kontakt/Reaktor/Guitar Rig Players — more than enough for you to dig in.
Whether you're already all-in on NI or looking to dip your toes into their plugin ecosystem, the fluid ease-of-use with the Kontrol A-series is its most appealing draw. The onboard OLED display can show you what menus you're browsing or what parameters you're adjusting in real-time, so you can distance yourself from peering at your laptop and focus on the creative process.
7. Arturia KeyLab Essential (49-key)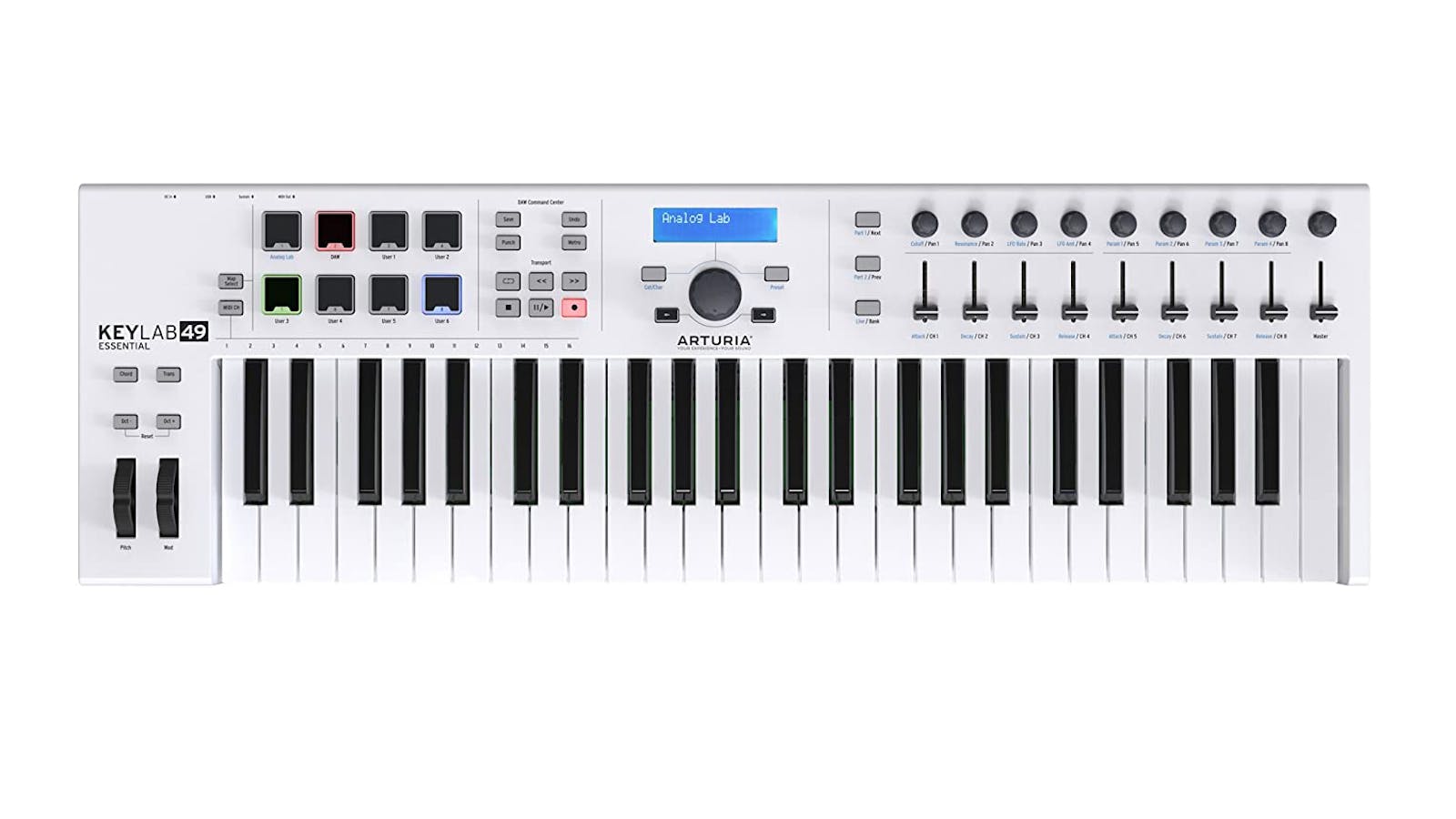 Key type: Synth-action
Controls: 8 pads, 10 encoders, 9 sliders, 6-button transport section, 4 command switches, pitch and mod wheels
Pros: Lightweight, rotary encoders instead of knobs, Analog Lab integration
Cons: Plays nicer with Ableton than other DAWs
Arturia's KeyLab Essential series is a good pick for anyone who's looking to add 49 keys to their home studio while picking up thousands of new synth sounds while they're at it (who doesn't love freebies?). This MIDI controller comes bundled with Arturia's celebrated Analog Lab plugin, which gives you access to over 6,000 presets from two dozen vintage synth, organ, and keyboard emulations.
Even a total synth novice will recognize some of the models included in Analog Lab; the Minimoog, Yamaha DX7 and CS-80, and Roland Jupiter 8 are just a few of the classics represented in this collection. Among the keyboards: the clavinet, the Wurlitzer electric piano, the iconic Mellotron, and so many more.
Like with other software-integrated controllers, the knobs and faders on the KeyLab will correspond tightly with the different synth parameters, meaning it'll feel much more like you're interfacing with an instrument rather than a computer.
Outside of the Analog Lab integration, the KeyLab also has a transport panel. There's a central rotary encoder you can use to scroll through your project timeline, meaning you could control your whole DAW from just this keyboard.

8. Alesis V49 (49-key)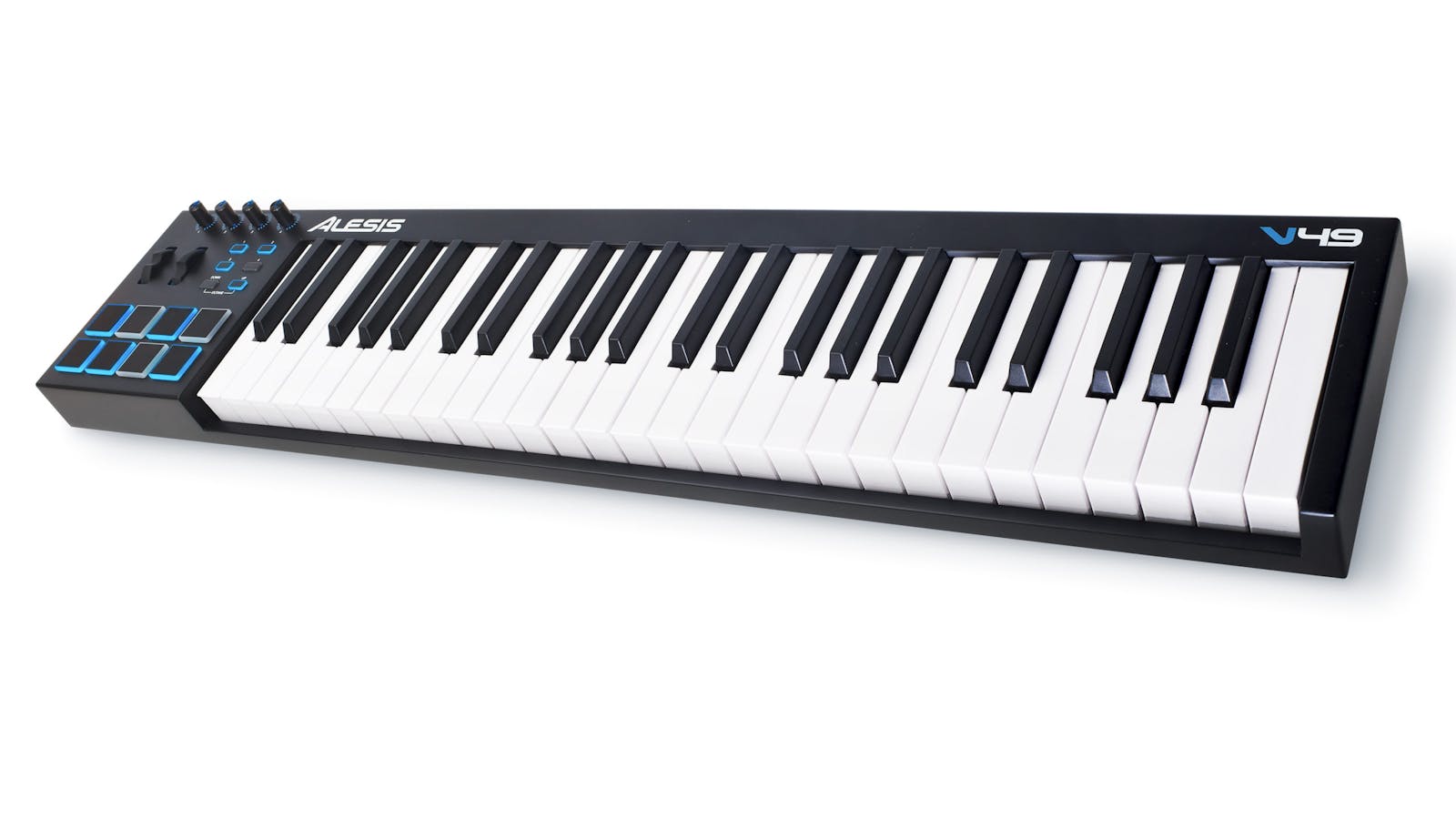 Key type: Synth-action
Controls: 8 velocity and pressure-sensitive pads, 4 assignable knobs, 4 assignable buttons, pitch and mod wheels
Pros: Budget pick, well-built for the price and weight
Cons: Knobs can feel a bit flimsy after time, keys can feel cheap
The Alesis V49 is a bare-bones, get-it-done MIDI keyboard. Yes, there are 4 knobs and 8 velocity-sensitive drum pads, but if it's expanded functionality you're looking for, you're better off with another controller on this list. However, if you're on a tight budget and need reliable keys above all else — look no further.
The V49 excels in its simplicity. Other keyboards at a similar price point might experience some expected key wiggle, but the V49 proves surprisingly sturdy, with a plastic chassis that's lightweight without feeling cheap.
For the true newbies, Alesis also packages the V49 with light versions of Pro Tools and Ableton Live, giving you everything you need to make music right away.
9. ROLI LUMI Keys Studio Edition (24-key)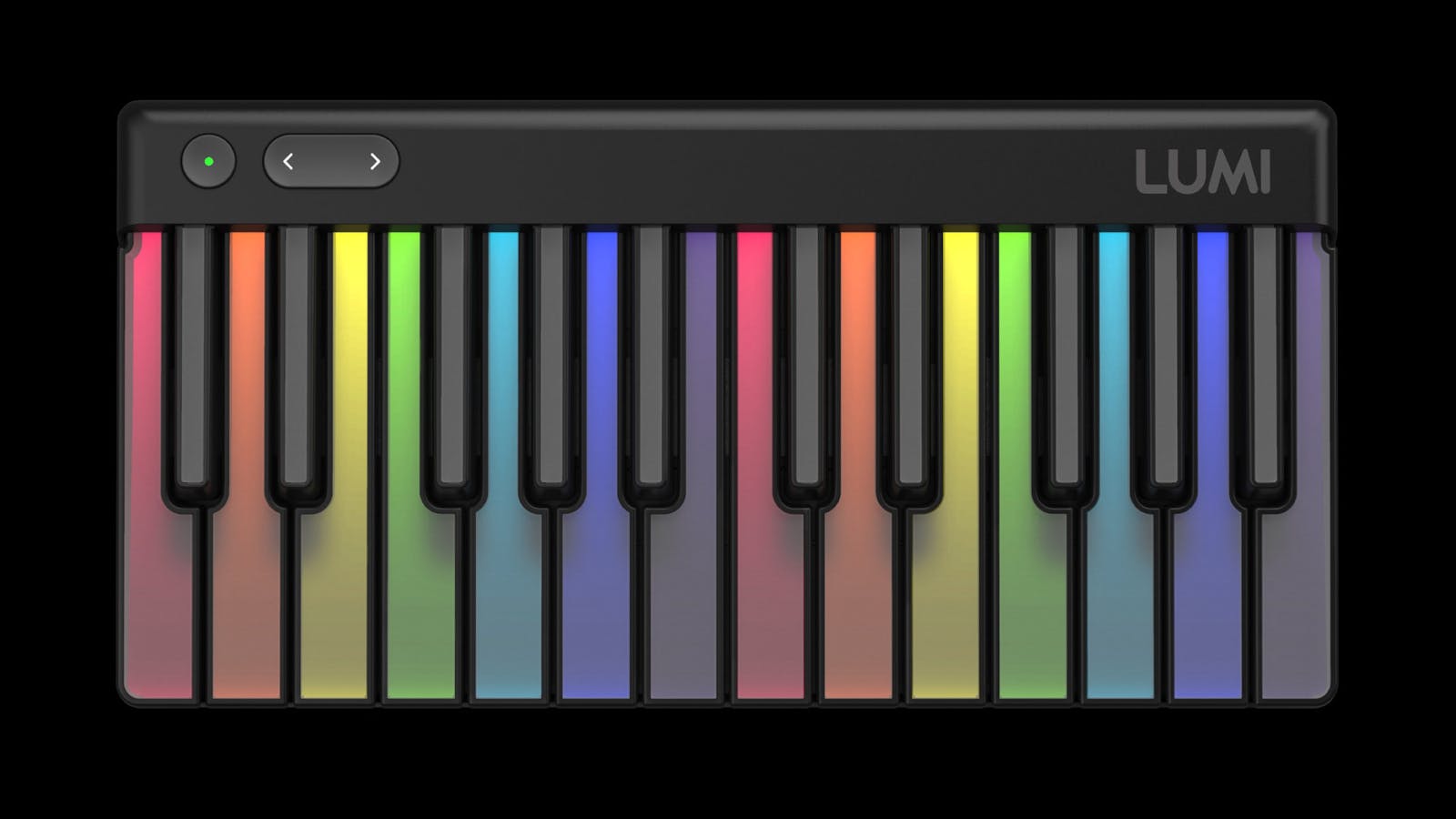 Key type: Synth-action
Controls: Controls?
Pros: RGB keys, has ROLI's MPE-enabled "4-D sound" tech for pitch-bending notes
Cons: Price tag, Bluetooth mandatory, no controls beyond keyboard unless you buy Lightpad Blocks
ROLI took their LUMI Keys concept — featuring the MPE-enabled control possibilities in the company's signature Seaboard controller — and applied it to a new MIDI keyboard, ready for both studio and educational purposes.
MPE (MIDI Polyphonic Expression) is an advancement of MIDI pioneered in part by ROLI that allows for more nuanced performances when playing individual notes on MIDI instruments. In the case of Lumi Keys, you can do per-note pitch bends with select software instruments by moving your fingers left or right while pressing down on a key.
For those focused on learning how to play, the light-up keys make it possible for anyone to quickly learn their way around a keyboard. The LUMI Keys Studio Edition keyboard is compatible with the Lumi iOS app and ROLI Studio, giving light-assisted composition. Scales, chords, and arpeggios can light up on the keyboard to guide you through writing melodies and complex chord harmonies.
The keyboard also comes with true polyphonic aftertouch — a welcome feature given the high price of admission. This is definitely not the most practical MIDI keyboard on this list, but it might be the most fun. (It's certainly the most colorful.)
The keyboard has limited onboard controls, but can attach with ROLI's Lightpad and Control Blocks. This unlocks an array of control parameters (depending on which Block is used.)

10. M-Audio Keystation 88 Mk3 (88-key)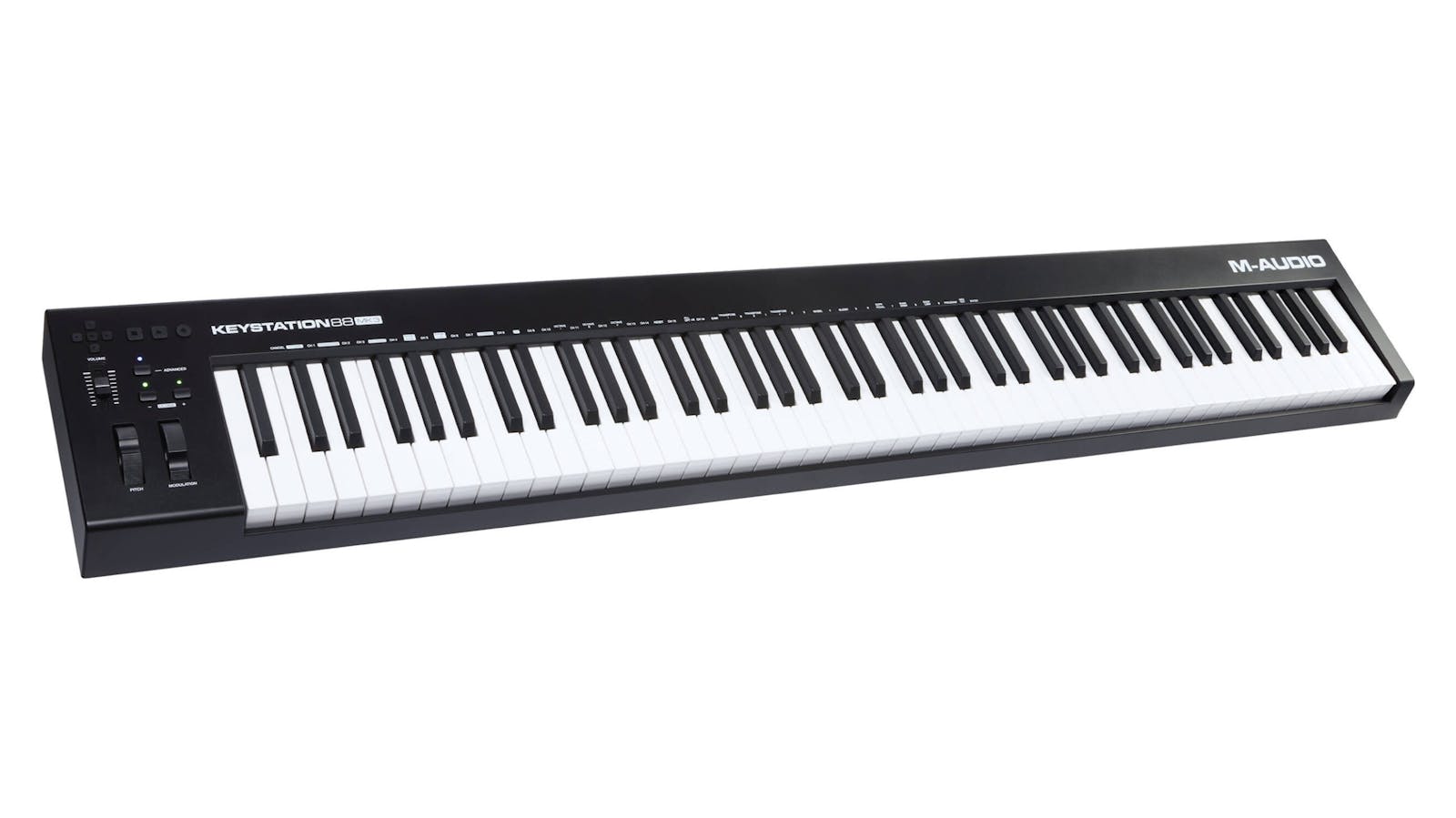 Key type: Semi-weighted
Controls: Volume fader, transport and directional controls, pitch and mod wheels
Pros: Full-size, simple setup, no drivers required
Cons: Not a lot of extra features, no splits or layer functionality
Typically, the more keys you want, the more dough you have to cough up. The biggest entry in M-Audio's KeyStation series puts 88 semi-weighted keys at your fingertips for less than $300. If you're trying to get into composing or hate flipping through octaves on a smaller keyboard, this controller is the answer.
The M-Audio Keystation 88 Mk3 is simple but ultra-functional. There are directional buttons to navigate your DAW, a set of transport controls, and one channel slider that you can map to volume or other parameters. Setup is equally straightforward, with no drivers required out of the box, and there's a MIDI output for controlling external gear as well.
For the latest iteration of the Keystation 88, M-Audio debuted an improved, looser-feeling set of semi-weighted keys, similar to the more-expensive Code series of keyboards. (For producers seeking a MIDI keyboard of similar size with fully weighted keys, check out the M-Audio Hammer 88.)
Complete your setup with our recommendations for the best affordable studio chairs. And, here are our picks for the best external hard drives for home producers.