In the Studio: Mitch Dane
Grammy-winning producer and engineer Mitch Dane is also the founder of Sptunik Sound, where he's amassed a large collection of vintage gear.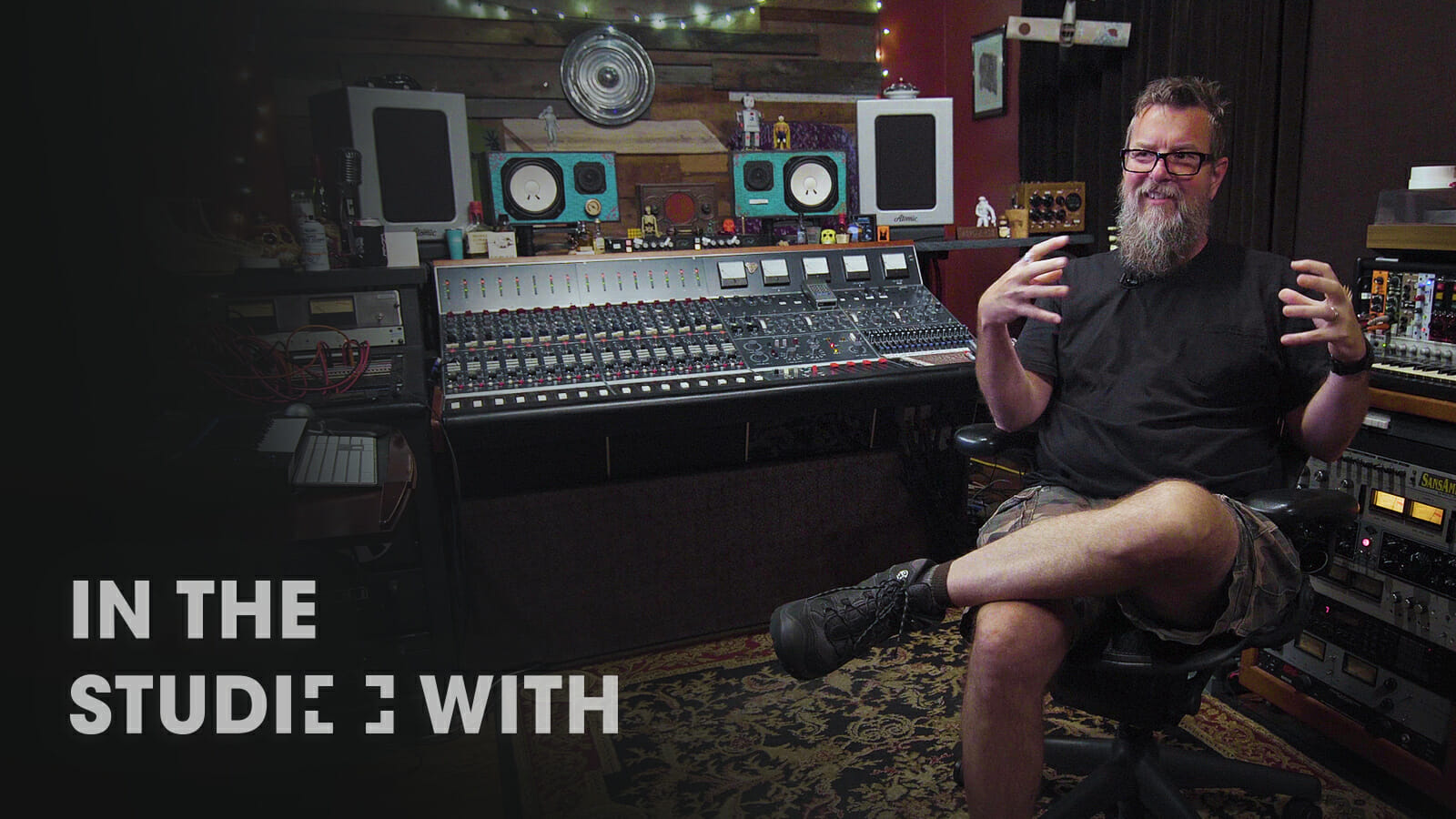 From rock to gospel, Grammy-winning producer and engineer Mitch Dane focuses on full band recordings and crafting the perfect vocals. He's also the founder of Sptunik Sound, where he's amassed a large collection of vintage gear. Explore some of his go-to pieces of equipment and learn a few tricks along the way.
The road to Music City
The soft-spoken Mitch Dane sits cross-legged in camouflage shorts and a plain black T-shirt in his studio. He exudes both Midwestern charm and Southern hospitality. He met the band he'd eventually earn a Grammy Award with at church, for crying out loud.
He lives and works in Nashville because it's the combination of things he adores: facilitating beautiful music, hiking, fishing, and being part of a real-life community.
Originally from Southeast Missouri, Dane moved to Music City three decades ago.
"I ride my motorcycles on the gravel roads, but it's also a great arts community, even for engineers and producers," the engineer and producer says of Nashville.
"I was told when we bought this place that there are over 50 studios in one square mile, and everyone's making music. It's not uncommon for a studio down the street to come to borrow a guitar or a mic. It doesn't feel like a competition," Dane states. "It feels like we're all doing the same thing and helping each other get there."
Dane's workspace, Sputnik Sound, is tidy and clean, accented with a plastic army man over here, some lava lamps over there. A completed Rubik's cube atop finely maintained machinery. It's a healthy mix of gently-used, and classic — a throwback to when things were built to last.
"I built this place mostly as a tracking studio and I'll probably do 10 to 15 records a year," he casually says. Those records have included LPs with Jars of Clay (with whom he earned that Grammy Award in 2002), The Blind Boys of Alabama, The Young Fables, and many others.
"I think as a producer, I'm not one of those guys who can — or should be — doing everything at every point," he continues. "I love bringing in other players to work together, even tracking live in the same room. I may have an idea of what drum feel I want, but they may bring someone to the table that I never thought of. And that's what I want."
How does he stretch a song in the studio?
Sometimes, by just letting it happen.
"Watching a guitar player, a bass player, and a drummer work out parts together… Sometimes I'm just sitting here quietly, watching it all unfold. Something special happens when you let that energy in the room," Dane explains.
Singer-songwriter Treva Blomquist hired him to produce and engineer her 2016 album, The Risk & The Gift and raved that "with Mitch, I got a partner that truly wanted to see this project shine. It's wonderful to learn new skills and try new things, but it's not a very progressive idea to believe that I have to do everything by myself. A more functional DIY happens when skills and resources are used together so that we do it ourselves."
While some producers egotistically attempt to imprint their sound and vision on a project, Dane takes a different path.
"I view what I do as a service industry. My goal is to provide the artists a record that they can use as something that reflects who they are," he says. "Something that can sell. Something that can be used to further their career. If I can pull out the best version of their song in the studio, I've succeeded. If they can walk away feeling like they have something they can use, that's the goal."
But that doesn't mean he doesn't have some studio tricks up his sleeve when needed.
Select gear of Sputnik Studios
"I like equipment that takes a normal sound and makes it not-so-normal. I have a couple of custom pieces like this: It's an analog delay with an optical thing that was made by an engineer who is also an artist," he says of a piece of gear that nearly looks like a prop, it's so perfect.
Next he shows off a colorful device that was once sold for home hi-fi systems.
"This is an old Sansui RA-500 reverb, made for stereo systems. Back in the '70s for some reason, they gave consumers the ability to pick their own reverb for their sound systems. It's actually a really dirty sounding reverb," he admits. "It might be cool on some things, but not on everything."
Then Dane points out two vintage Roland tape delays.
"The RE-301 has a couple of different features. It has a chorus on it, which is cool, especially for vocals," he says of the iconic piece that can set you back $2,000 if you can find a nice one. He also has a RE-150 Space Echo at his disposal.
"This is the Korg MS-10, which is the little brother of the MS-20," Dane says, continuing the tour. "The 20 just has more batching. You could use the filters separate from the keyboard, play guitars through it or whatnot. Sometimes I use this as a swell to slingshot into a chorus. I can pick the key. I can just adjust the tactile. Fade in as it goes, and we'll take the feedback up."
Dane's console is a Neve 8014. You might have heard that Robbie Robertson is selling the 8014 he used to record The Band, Aaron Neville, Neil Young, The Meters, Eric Clapton, and Tom Morello. A cool $300k and it's yours.
"It's one of the first ones that were built by hand," he says of the board. "It's been modded for my workflow. It has 16 tape returns for 24 compressors. It's perfect for the size of projects that I do and the size of this studio."
Before the tour ends he pulls out an instrument that Che Pope fawned over on his studio tour with us a while back. "Another cool thing to use is an Omnichord, which I use quite often. It's an instrument from the '70s. It's very handy because you can strum it, and you can make different arrangements with chords," Dane says.
With a few twists of a dial on the Omnichord, Dane demonstrates where the Gorillaz probably got the idea for "Clint Eastwood," the group's first single off their 2001 debut. He shows that it was the Omnichord that provided that strolling beat that's at the root of what NME magazine ranked as one of the 500 best songs of all time.
"You may recognize this," he says with a smile and taps a button.
Want to take a peek inside another chart-topping producer's studio? Check out this tour of Om'Mas Keith's inner sanctum.