In the Studio: Om'Mas Keith
In an exclusive chat with Output, Om'Mas Keith talks production philosophy and creative workflow.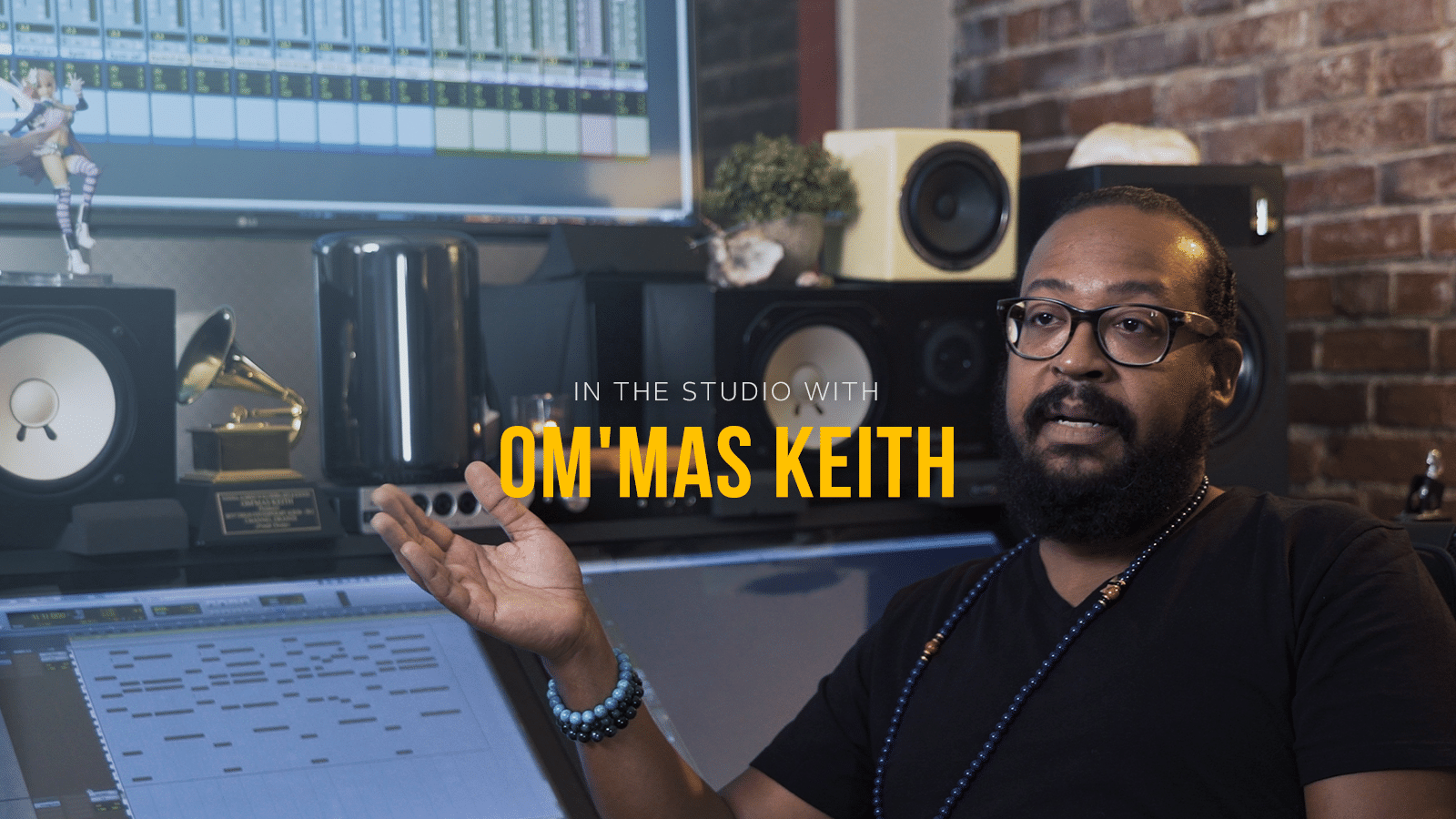 If you want songwriting tips, who better to ask than Om'Mas Keith? Keith is a songwriter, arranger, multi-instrumentalist, engineer, and the Grammy Award-winning producer for Frank Ocean's channel ORANGE. In an exclusive chat with Output about production philosophy, Keith doles out advice with a soothing, welcoming baritone. That's not the only thing that's welcoming. Keith has created a remarkable studio space focused on bringing the most out of its artists.
As 1/3 of the mighty Sa-Ra Creative Partners, Keith shares intimate details about his creative workflow and how he cultivates a warm environment for trailblazing artists like Jay-Z, Kanye West, Erykah Badu, Jurassic 5, Ice-T, Chance the Rapper, and Vic Mensa.
Setting the right tone
To the outside world, it can seem like music production music is a glamorous, easy-going process where you hit record and let the artistry flow. In reality, the seamless results that we hear are often the product of trial and error, experience, honed skills, and even physical exertion.
"Making music is not just a task — your life is going into it. In the studio, we have to deal with life," Keith shares. This is why it's so important that the studio is a safe space "where no one feels scared to say anything as it pertains to their contribution."
A key to being a successful partner in the recording studio is establishing trust and setting a peaceful tone. Keith's songwriting tips are less technical and more about creating a vibe.
"What I bring to producing is a sense of calm," says Keith, pointing out the sunlight that bathes the room through tall glass windows. The lack of a voice-over booth. Even nice rugs.
"I like to create an environment for people to trust me. I can't do this without the trust of somebody, nor will they allow you to do it. Because I tend to work with artists who are almost solely in control of their creative destiny. They are powerful artists, they work that for themselves," Keith says.
So, to kickstart the creative process, Keith encourages sharing and listening to different pieces. Whenever possible he imparts some wisdom, noting, for example that, "Chords come from the fucking air, man!"
However, he admits that this is not the only way to go about writing music. Some artists prefer "coming in fresh, sitting at the piano, and just vibing on chords that are in their repertoire."
Being an award-winning producer
Born into a musical family, Keith has been experimenting with cassette machines and tape loops since he was a kid. "Any output from me, musically, was initially based on beat-making," he says.
Keith has a particular penchant for stand-alone beat machines, which he can easily carry anywhere. "The drum machine has a more experimental aspect to it. You may be quantizing a kick drum — or one aspect of the loop — to keep things grounded. Then the rest is just nature, banging on pads."
Because every session calls for different sounds, Keith has an old-school organ at the ready. "My Wurlitzer has been a go-to since I was 20 years old. It's the first thing I ever bought with real money, and that was only $300 when I bought it," he beams.
He's also a great fan of modern technology, and uses digital audio workstation (DAW) Pro Tools. "I'm part of the mouse-click, beat-making generation and I love it," says Keith. "It's like the final frontier of precision and really getting what you want."
In his role as a producer, Keith is continuously striving to bring out the best in an artist. "I'm here to do a task," he explains. "It's not my show — a great artist always shines through. You just do your service to the artist, for the artist, to art, to creativity."
Why he ditched the voice-over booth
"For the past nine years there's been a gradual shift from people using vocal booths. Now we basically see no one in a booth anymore because it's ultimately very impersonal," Keith explains.
"When I worked with Frank Ocean on channel ORANGE, there would be times where we would be cutting vocals and I would literally be right there, next to him. You don't want this barrier. You're working with a star, you can't have hindrances and things getting in your way of getting things down."
Never forget the oldest tech: your heart
As a multi-talented songwriter and musician, Keith believes the key to success is following your heart and intuition.
"On your journey into music, just follow your heart, follow your intuition. That's what I've done, and I've seen a bunch of successful people do that," he advises. He likes to keep his Grammy Award right next to his Slate Media RAVEN as a "constant reminder of what can happen if you just work."
Ready for more inspiration? Take a private tour of composer Mychael Danna's Hollywood studio oasis and into his creative mind.