In the Studio: Trevor Lawrence Jr.
Drummer and producer Trevor Lawrence Jr. invites us into his studio to talk about performing at the Super Bowl and how he uses Arcade to spark creativity.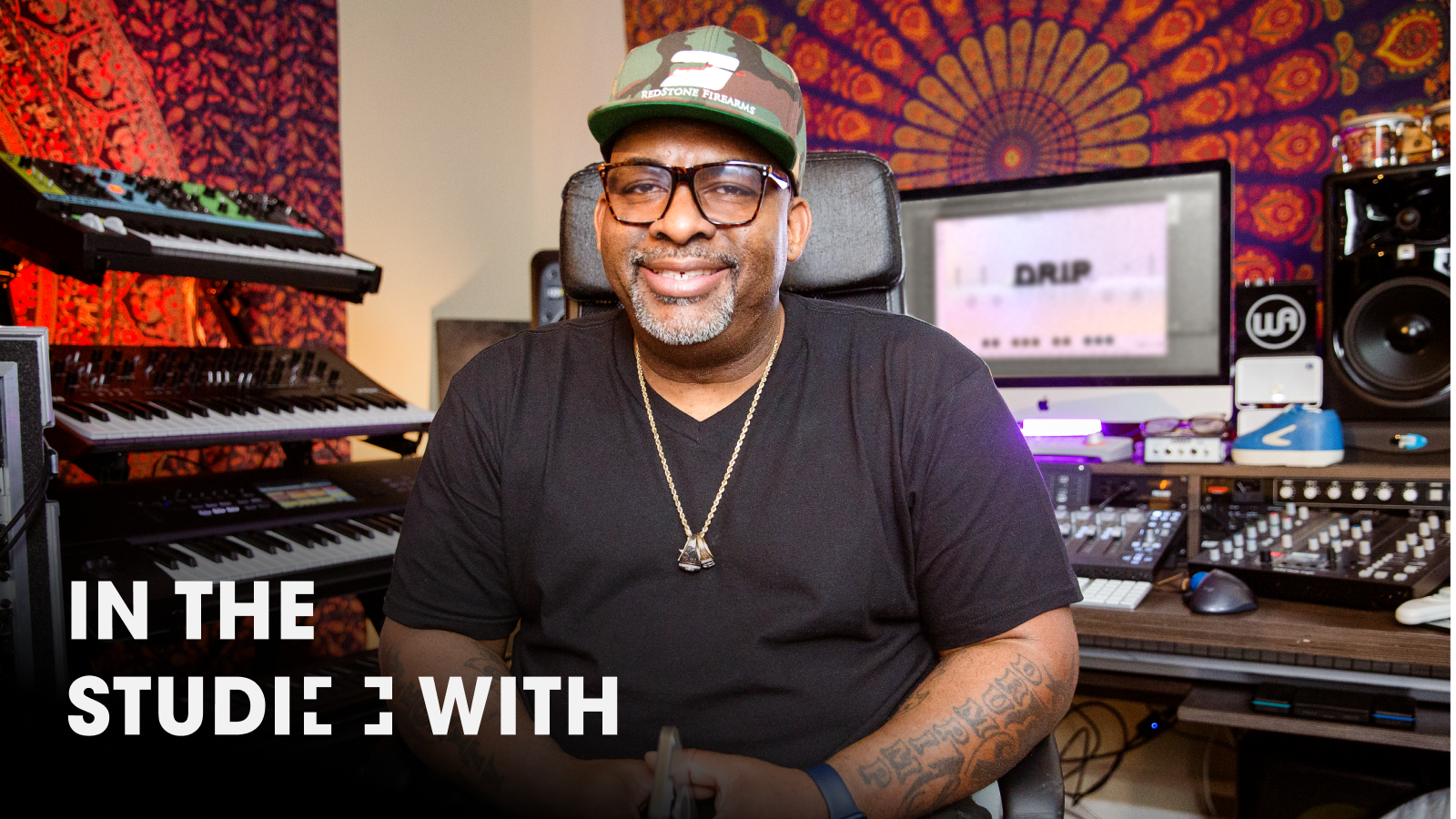 Trevor Lawrence Jr. is the embodiment of the modern drummer. And then some.
Over the course of his life, he's provided the beat with an eclectic mix of artists including a memorable performance with Dizzy Gillespie when he was just 15 years old. That led to work with Stevie Wonder, Mariah Carey, and Lionel Richie among many others.
He's appeared on worldwide television twice with longtime collaborators Dr. Dre, Eminem, and Snoop Dogg: first in 1999 on Saturday Night Live and most recently during the 2022 Super Bowl performance — which many rank as one of the most exciting halftime spectacles of all time.
What makes this native Los Angeles artist different is he's also a forward-thinking producer, arranger, and inventor.
It probably helps that Lawrence Jr. has music in his DNA. His father, Lawrence Sr., is a saxophone player who performed at the original Woodstock and has played with the Rolling Stones, John Lennon, and Marvin Gaye. Not to be outdone, his mother was in the Supremes in the 1970s.
So when Jr. (also known as TrevBeats) says, "This is what I do. It's either sink or swim doing this," it's because making funky music is literally in his blood.
A reflection of his creativity can be found in his 21st-century equipment. Lawrence often uses two snares that can also be toms, or what are called "snoms" or floor snares. But it doesn't end there.
He also invented a trio of cymbals forged together that create a clapping sound. Fans of Ed Sheeran's multi-platinum 2017 single "Galway Girl" may have been under the impression that those are handclaps in the background, but nope, that's Trevor's "clap stack."
When writing and producing he's no stranger to Output's invention, Arcade, or our modular studio furniture, including the Sidecar gear rack and Platform desk. All of which keeps him on brand as a modern musician.
"This is the main cockpit area," Lawrence says, gesturing to the production workstation in his densely-packed home studio.
"It's sitting on my Output Platform desk and my Output Sidecar right here. I can just pull out the 88-key controller," he said while sliding out the optional keyboard tray, "which is really, really handy for composing everything. I love the configuration. There's a lot of thought in it."
Get yourself a cloud sampler with incredible built-in FX macros. Arcade gets fresh loops and samples every day. Play it today for free.
Now it's time to work. Lawrence had a loop he'd made of an intricate original beat he created from one of his kits. That works as an outline for what he wants to do next using Arcade.
"Sometimes when I have a drum thing, I'll turn to Arcade and I'll start skimming through and see if I like anything," he said while clicking on Brain Waves, a perfect option for someone like Lawrence whose style often pushes the envelope of hip-hop and R&B.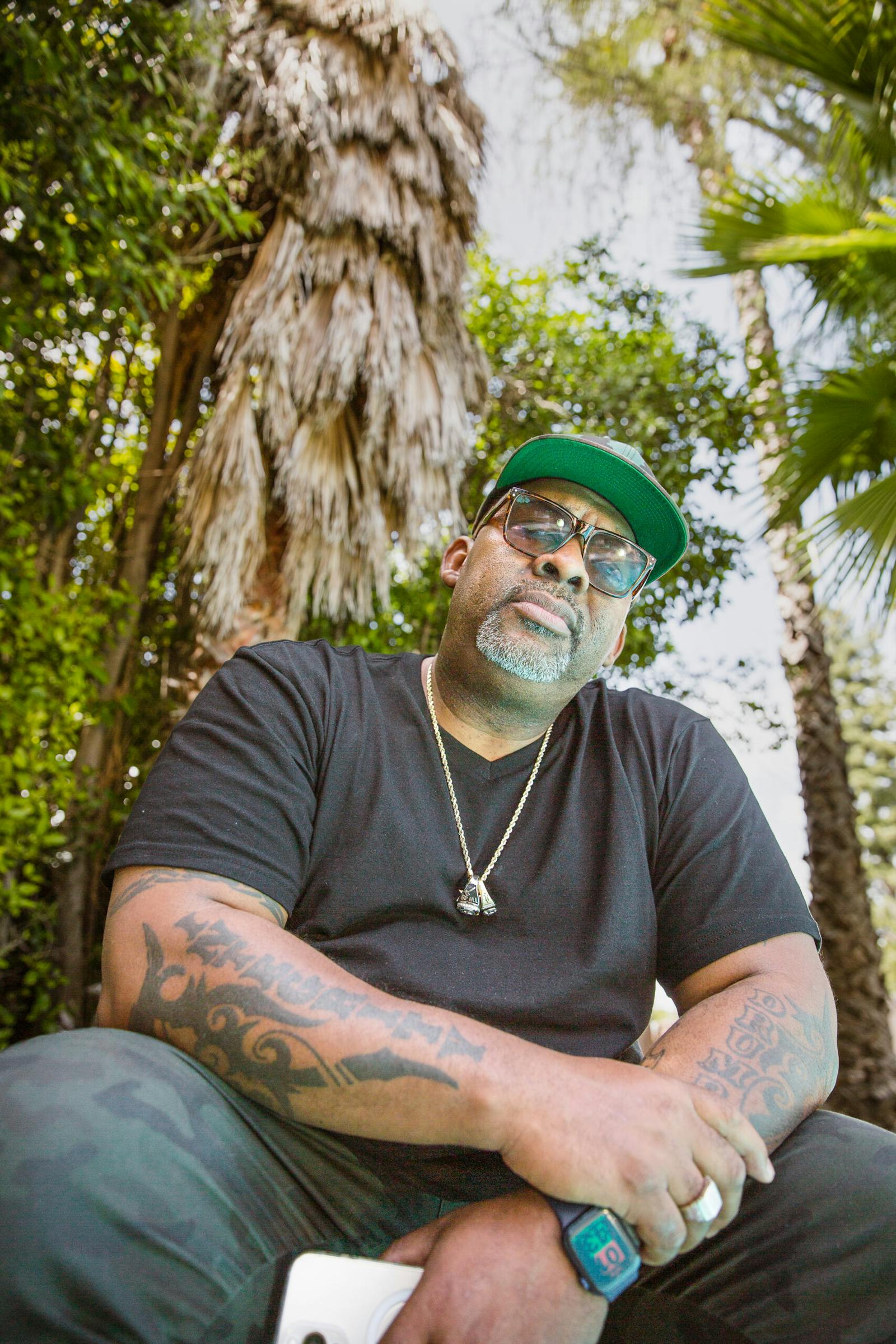 "I pulled this up in Arcade and I just started auditioning," he explains, listening to each effect within the Brain Waves Line. Quickly, he finds an obscure sound that clicks with him.
"That's crazy. That hit me right away," he says while playing back the short sample several times over his intricate beat. "To some people that might sound like noise, but I heard a pocket in it. I was like, 'Okay this will go good with that drum.' That sounds very hip-hop to me."
Lawrence knows plenty about hip-hop. One reason he was included on that Super Bowl stage with all of those legendary rappers is because he produced and co-wrote multiple tracks by Eminem, Kendrick Lamar, Snoop Dogg, and Dr. Dre. So, who better to provide the drums for their moment in front of 100+ million TV viewers?
Writing, he says, is what got him to that higher level of respect and reward.
Want to use drums from every genre in your own tracks? Get all of the sounds you need in Arcade — 55,000+ loops, samples, instruments, and counting, with more added every week. Try it free.
"My story that even got me to Dr. Dre started [with] the drums," he says while sitting on his stool, surrounded by countless sneakers, all perfectly organized in clear plastic cases.
"I was working with Dre doing sessions way before any producing or writing. But one day, I decided to bring my rig with my iMac into the control room and I was making tracks when I wasn't sitting behind the drums. Unbeknownst to me, the engineers had plugged the outputs in so they could hear that."
They loved what they heard and invited him into the control room to collaborate.
"I came into the control room and I never left," Lawrence, who is also a Cal St. Northridge Music Dept. lecturer, says. Also, he notes that the writing credits substantially increased his income.
"My first number one song was 'Crack a Bottle,' by Eminem," Lawrence says, not far from a framed gold record for the Relapse album which the single came from. He has seven co-writing credits on the Detroit rapper's record, which won the Grammy that year for Best Rap Album.
"I'm playing live drums on that as well as the programming stuff," Lawrence explained. "I'm a part of that record, but it started with the drums."
Before Lawrence goes back to work he adds, "your instrument can get you in the room, and then from there it's up to you how you proceed."