In the Studio: Flosstradamus
Producer and DJ Flosstradamus invites us into his Los Angeles studio to talk about the art of remixing and how he uses Arcade to capture ideas, fast.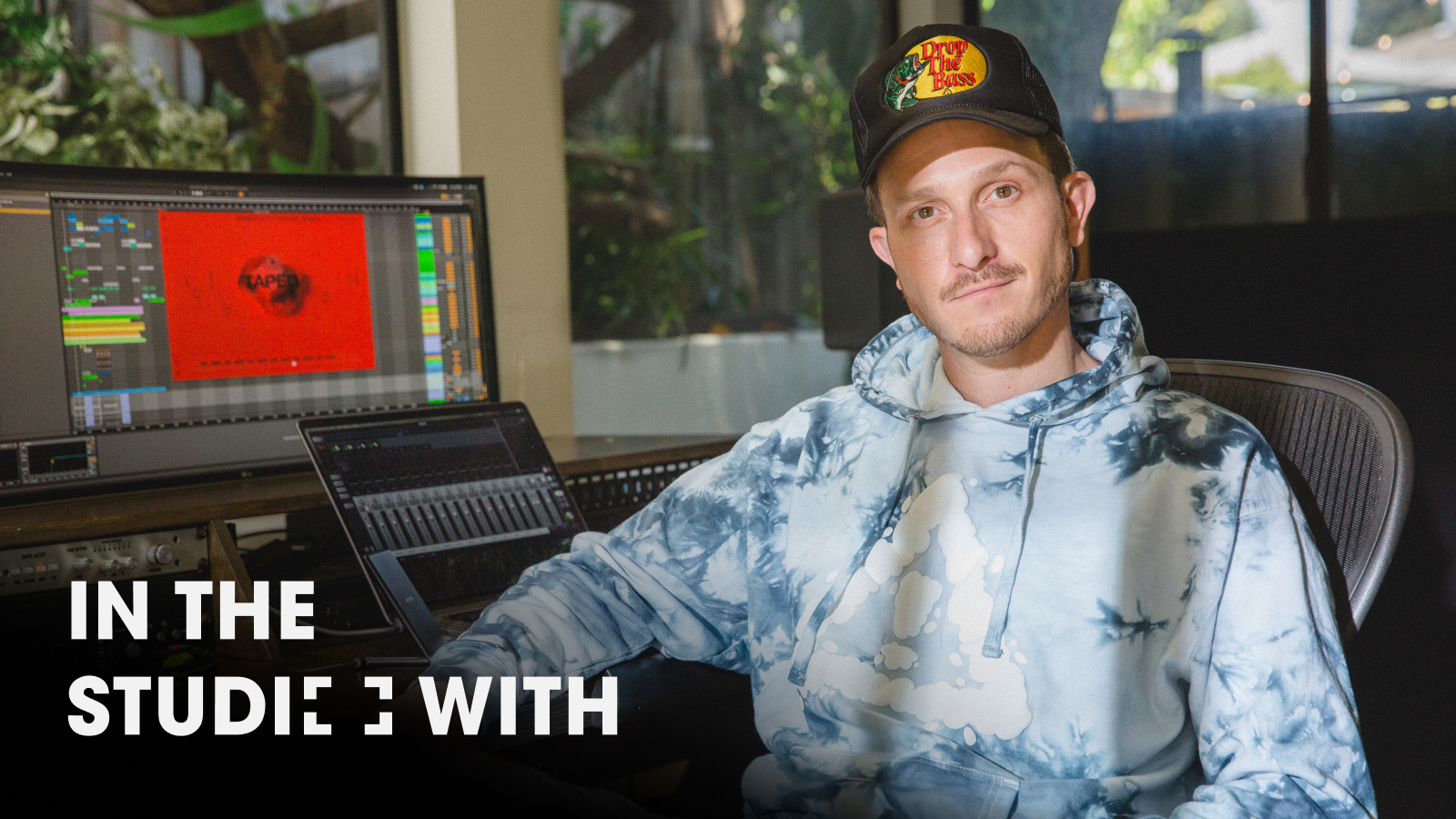 Of all the names to emerge in the 2010s EDM trap wave, few are as instantly recognizable as Flosstradamus, aka producer/DJ Curt Cameruci. Over the years, Cameruci has played on some of the world's biggest stages; as a remixer, he's worked on official remixes for iconic artists like Rihanna, Major Lazer, and Young Thug.
As the '20s began, Flosstradamus was preparing to take a break from non-stop touring. But then, as he put it: "The world took a break as well." With the pandemic gaining steam, Cameruci retreated to the confines of his home, unsure of what would happen next.
It was during this down period that Cameruci discovered something that tour life and EDM fame had not granted him before: Balance.
"For the first few months, I was in my garden picking up all sorts of random hobbies, just like everyone else," he tells Output in his yard on one sunny Los Angeles afternoon. "After taking a pause for a year, I realized I should find a little more balance in my life. It was probably one of the best things I could have done. It's a lot more inspiring just to take a breath away from it."
---
The Importance of Creating Space
Cameruci leads us indoors, where he's built out a proper home studio for himself in his living room. Keenly aware of the importance of atmosphere in the creative space – "Vibes are first priority for me" — It only made sense that he outfitted the space with the full Output Studio Collection. There's the roomy Platform desk and companion Sidecar gear rack, paired with best-in-class Output Frontier studio monitors and our hand-crafted speaker Stands.
The centerpiece of this setup is the Platform, which boasts a total 9U of rack space for interfaces, external gear, and other equipment. Cameruci, who's rocking the desk in Kodiak Brown, keeps an analog summing mixer on his left — the Dangerous Music D-Box — and a modular patch bay for flexible routing on his right. His laptop sits on the desk, plugged into a widescreen monitor that rests on the top console.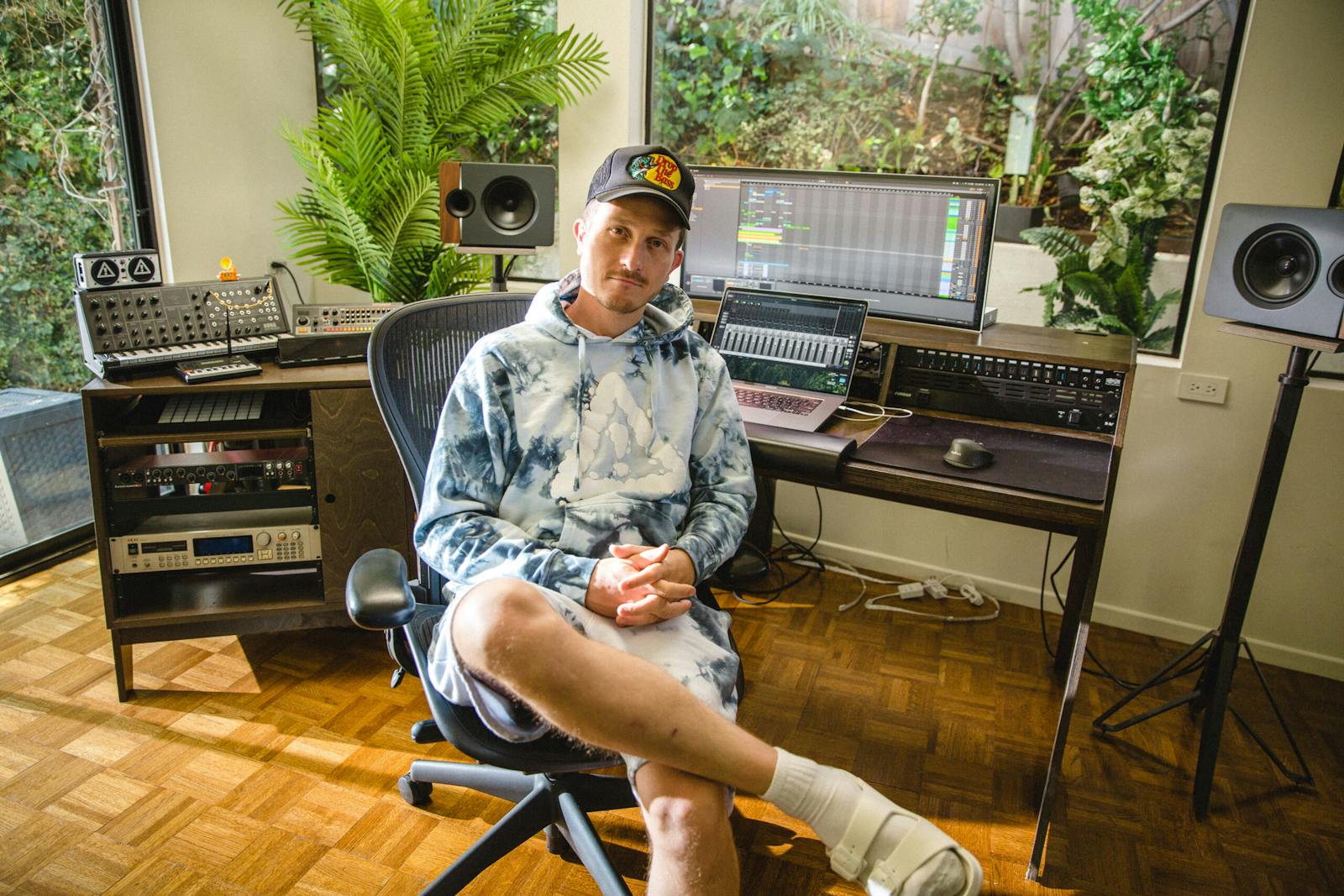 Walking us through the space, Cameruci swings open the tray table of his Sidecar to reveal an Ableton Push 2, his primary MIDI controller. Shelving the Push here keeps his space neat: "I don't like a lot of clutter," he says. "So I try to keep things hidden, keep things out of the way." The Sidecar is a flexible gear organizer, and Cameruci also uses it to store cables, headphones, and other components within arm's reach.
Cameruci gestures towards the Output Frontier studio monitors that flank each side of the Platform. "They sound amazing. They're super, crystal clear. When I do mixdowns, I do them at a low volume, and the clarity of these at a low volume is perfect."
This is a great tip for producers, especially those starting out: Because of the way the human ear is attuned to loudness, turning the volume higher on your mix will often "sound better." But if your mix doesn't work at a low volume, that means you need to revisit it. Some monitors lose clarity at low volumes, but not Frontier. (Although we can attest that they sound great cranked up, too.)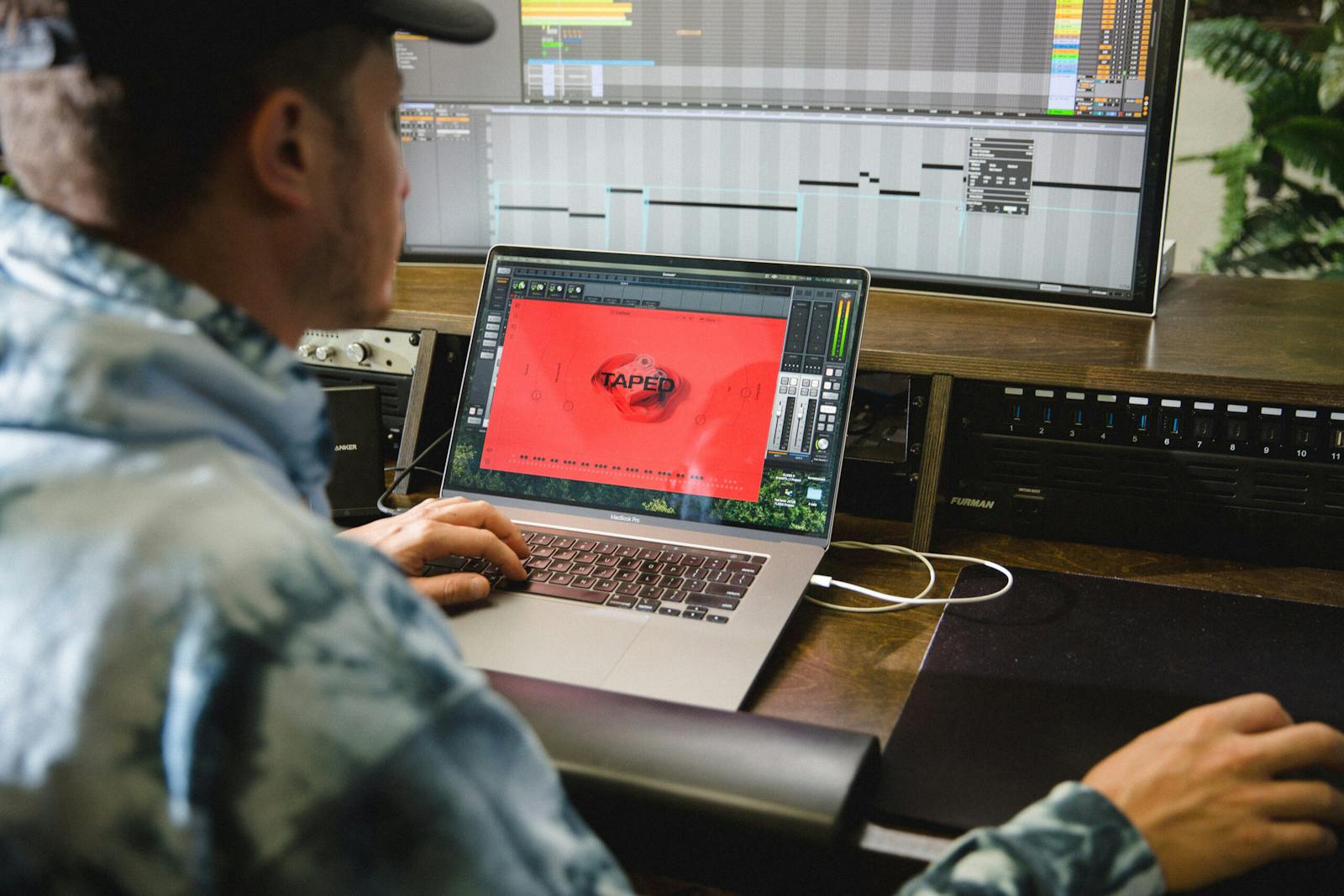 In the Flow
When we finally sit at the desk, it's easy to see how this kind of environment could lead to great songs. Cameruci browses through his project files before pulling up one of his most recent sessions: an official remix of Akon's 2004 hit "Locked Up," commissioned for a new reissue project.
"They asked me to remix one of his songs, and I got to choose," he says. "Since we're coming out of this pandemic, and we've all been locked up for a while, I chose 'Locked Up' — one of his bigger songs."
Tasked with flipping a classic, Cameruci turns to Arcade: Output's signature inspiration machine. "So I had these UK garage chords, and then I wrote this synth line in Arcade," he explains as he pulls up the Taped Line, packed with tape-saturated instruments like wobbly leads and warm drums. He mouses over Arcade's Macros: the four FX preset sliders in every Sampler and Instrument. "Right here is where I chose a bit of movement, a little bit of degradation."
The Flosstradamus producer says he's a fan of the new Instruments in Arcade 2.0, the biggest update in Arcade's history. He uses the Instrument "Listless," off Taped, to write a supporting line for Akon's melody in the chorus: "I like how it's just ready to go," he says. "Click a preset and go. I like the path of least resistance from my idea to the page, and that's why I like Arcade."
Cameruci shows us some more tricks, from taking the metallic clank of a prison door slam in the original song and turning it into a stab, to layering different "cheesy" vocal samples to create a melodic lead. In the years since Flosstradamus first came to prominence, his style has grown to encompass more genres.
"This really feels like '90s house, on the breakdown, and kind of ties it into the nostalgic side," he says, scrolling through the Live session. "Then you bring in Akon's vocals, which are nostalgic…"
Cameruci grabs the volume control, momentarily ignoring his own advice. "Then it builds upon that early 2000s buildup, that just keeps going, and going, and going…and then goes up…drops again… And yeah, we're back."
Check out more: Watch Sudan Archives give a tour of her studio and break down how she produces with a MIDI violin.