Building Suspenseful Moments With Composer Nestor Estrada
In this video, watch how the terrifying ARCADE Nightmare Line was used to construct the score for Soma Helmi's horror film "Echo."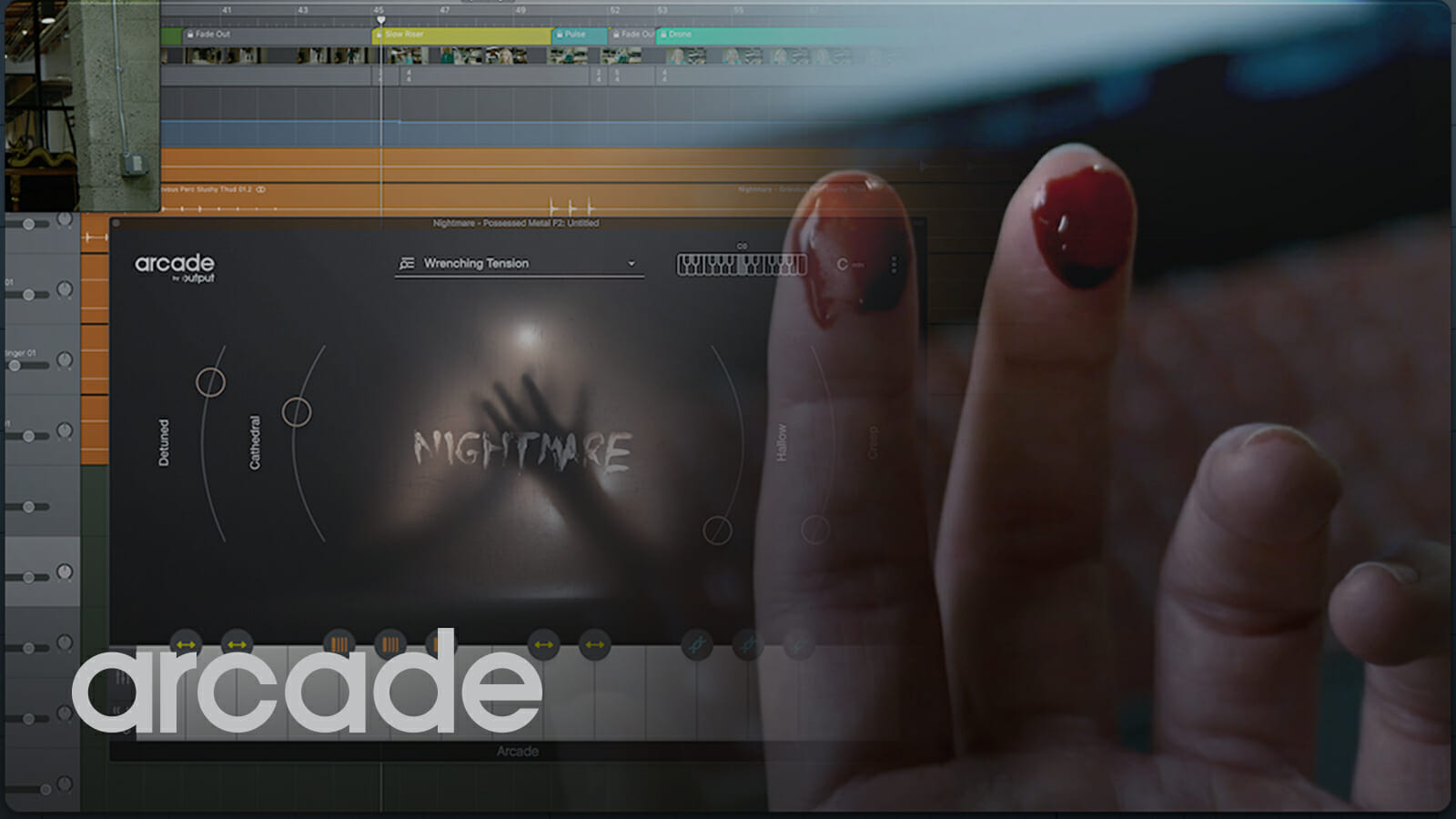 Nestor Estrada is a Los Angeles-based composer who works in scoring at Outlier Studios. He's also a sound designer and production coordinator for us here at Output, where he creates new samples for our cloud-based loop manipulating plugin, Arcade. In this video, Estrada takes us through how he used the terrifying Arcade Nightmare Line to construct the score for Soma Helmi's 2018 horror short Echo.
Sound to picture
"I enjoy working so much on horror films, but at the same time, it can be tricky," says Estrada. "The biggest thing for me is you don't want to give away a scare. That means you have to work closely with the director in figuring out the key moments to scare the audience."
While you can't edit video in Logic Pro, you can open QuickTime format videos in the DAW to easily replace music, overdubs, and FX within Logic. This is how Nestor arranged the sound behind Echo.
Check out some of his good production practices: We can see that he's using arrangement markers at the top of the window to demarcate the different sections of the scene he's working on. He's also printing the audio from ARCADE's Nightmare Line to new audio tracks, which can cut down on excess CPU usage and open up new creative possibilities.
Layering for impact
In one pivotal scene in Echo, the main character, believing she is alone, has a fright when she hears another voice echo in her building: "Hello?" In an instant, Estrada's haunting sound cue hits with a jolt.
"I combined Loops from Nightmare to create this thing," he explains, opening up Arcade to peel back the layers of his creepy hit. "The first is from the Cursed Possessions Sampler, which has a punchy sound. The second is from the Wrenching Tension Sampler. Together, they created the sound I was looking for, in addition to strings."
In another moment, Nestor lifts a heartbeat Loop from the Grievous Actions Sampler and uses it as a recurring motif to indicate the most dramatic moments. "For example, the heartbeat plays once more during the climax of the short. This is the biggest moment that everything else is building towards."
Following the director
When you're scoring or crafting sound design for a film, an important thing to keep in mind is that you are making arrangement decisions based on the film — meaning you're very much taking lead from the director and film editor. The best film scores enhance and even transcend the visuals they soundtrack.
"Writing a score is a form of storytelling that I absolutely love," concludes Estrada. "Getting to collaborate with a director closely makes the story and the score more cohesive."
Watch Echo here.