Output Presents UnMute Episode 3: Finance in Music
Output presents UnMute, a series of online conversations that covers hard-hitting, often undiscussed topics in the music industry.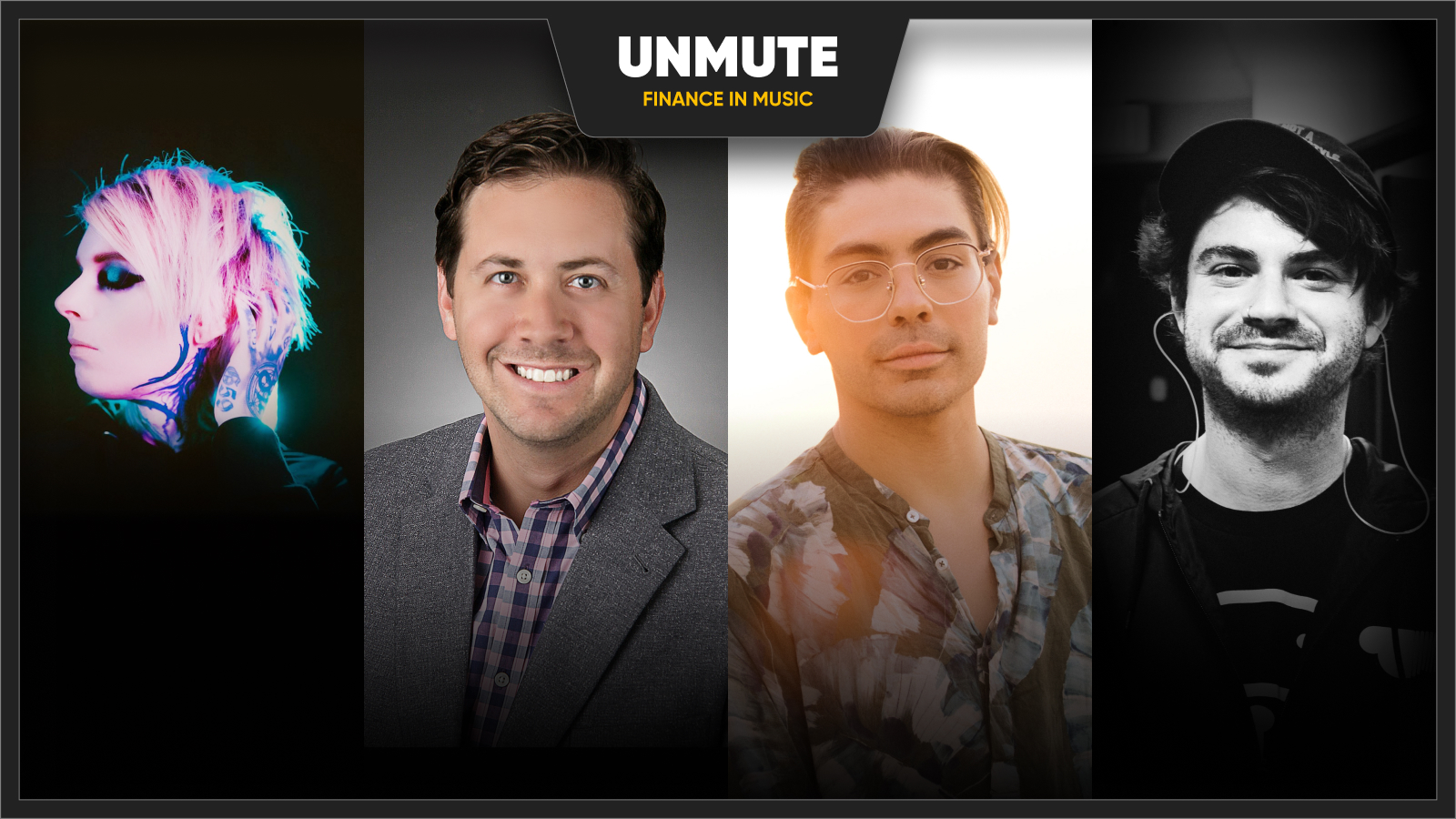 Almost every musician navigates unseen barriers in their life and career. In order to shine a light on these issues, Output presents UnMute, a series of online conversations that cover hard-hitting, often undiscussed topics in the music industry. For our third episode, we focused on finance in music, and what it means to be an artist who pays the bills with their work.
Being a working artist has long been associated with financial precarity. The absence of live shows in the past year led to more artists wanting to take control of their financial lives, in as many ways as possible. If you don't have an understanding of finance in music, you won't be able to effectively work on your craft. Whether you're a producer, a bandleader, or a solo singer-songwriter, it's more important than ever to equip yourself with the right tools and knowledge to ensure that you can continue making art in a sustainable way.
We invited producer/composer Varien, Mikul Wing of electronic duo Autograf, artist manager/Moving Castle label manager Brett Blackman, and music lawyer Jeff Becker (one of 2021's top music lawyers, according to Billboard) to join us at the (virtual) table and discuss some of the financial realities of being a music artist in the modern age, and what artists starting out now can do to set themselves up for success.
Watch the conversation in full or read excerpts from it below. And, make sure to follow Output on Twitch to watch further episodes of UnMute.
This interview has been edited for brevity and clarity.
---
Why do you think artists have trouble monetizing themselves?
Autograf: It's a passion project when you start out. You're not really thinking about it in a monetary sense when you're first going at it. You're probably taking a lot of work that's not paying well just because you want to get your art out there to people. We probably lost money the first three years of Autograf because we were doing remixes of artists that were unofficial and stuff we wanted to do for fun.
Jeff Becker: Artists are artistic. They use a certain side of their brain that allows them to focus on creating things in a much more talented way than I ever could. But when they're focusing on that, a lot of times, they're not aware of all the crazy things we have to do to jump through to collect all their money. That's really a difficult way for artists to operate because if you're spending all your time trying to figure out where to go to get your money, you're not creating the content you need to generate more money.
Varien: And sometimes those buckets don't weigh very much — maybe not as much as they should if you think about the amount of work that's put into learning this craft. Technically, that's sweat equity. It's weird to become a master at something and then not be able to make more than just the average salary for the American household.
How can artists treat their work more like a business?
Varien: I always tell people that you should learn a little bit of entertainment law, because you're going to be signing contracts. Be keen about who you bring on, what the contracts say, and what responsibilities you owe to each other.
Jeff Becker: You gotta remember, you're in the music business. It's not the music fun, not the music hobby. Hobbies are things you do to relax, not to make money. And if you want to be an artist that makes money, you need to understand how that works.
You're a business when you start forming a team around you. And that could be your lawyer, your business manager, your personal manager, your agent. They come at the naturally proper time for you and your business. But artists sometimes have this weird tendency to not want to bring people on because they have to pay them. What I say is, "Look, you as an artist need to focus on your art — what makes you money."
I use the example of the muffin man. If you're a muffin man and you want to sell muffins, you have to perfect the recipe, perfect the ingredients, and come out with new, creative muffins. Pay somebody else to clean the floor, to pay the rent, to mow the lawn.
Learn more: This study breaks down how much musicians actually earn and where revenue comes from.
What should artists read to learn more about finance in music?
Jeff Becker: [Veteran music lawyer] Don Passman's All You Need to Know About the Music Business. I tell every artist to look at it. It's an easy read and it gives you some basic information about what different team members do, how labels work, and the newest edition gets into digital stuff. It's a great starting point.
I would also mention the book Music, Money, and Success, by Jeffrey Brabec [senior VP of business and legal affairs at BMG]. It tells you a lot about revenue streams, especially on the publishing side of things.
What non-music tools or resources should artists use to improve their business?
Brett Blackman: It sounds dumb, but you should have an Excel sheet that shows all of your sources of income. There are other ways to do your accounting but sometimes you just need to know what you're being paid whether it's monthly, quarterly, semi-annually, annually, what have you. A spreadsheet allows you to know what your cash flow is at any given point.
Autograf: One of the first things we did when we started the LLC for our band was go to the SBA (Small Business Administration). They have a lot of free resources, and they'll even connect yout to retired small business owners. When we first started, just having the chance to talk to some of those people and getting guidance from them was a big help.
Learn more: Check out the SBA Learning Platform, with free courses on how to start and grow your small business.
Artists are often told to invest in themselves. What should they prioritize?
Jeff Becker: Generally speaking, as you're starting out, the best place to put your money is into creating the actual music, to create the tangible asset. You have to find the right people to work with, who can help you create a great product — but you also need to have a product to pitch as a starting point. Once you've got that down, then you want to spend some money on getting it out into the world and getting it through the noise.
Brett Blackman: What I tell any artist starting out is to invest in their branding. Photos, graphic design, videos. Also: You do not need a $10,000+ music video. Like, you do not need that. You can get a camcorder and come up with something.
So my answer is branding, but then it builds into: Will this branding help you get booked for shows? Do you have a good press shot? Will you get an agent? I think there are many levels to it.
Varien: As someone who's done this for a decade, the three most important letters to me are: ROI. What is my return on investment? What do you consider an investment and what do you consider a reasonable return?
Not everything will fit this thinking; you can be informed about exactly what you're doing and still not have stuff pan out. There are people who spent $0 on something and are going to perform better than you. But you can figure out the stuff that is important to you.
For example, I've got to buy some new monitors. The ones I have now are still kicking, but I can hear them hissing a lot more. If a new pair of speakers will provide better sound, which is going to bump up the quality of my mixes by 5 percent — who knows where that single thing will take me?
Learn more: If you're in the market for new studio speakers, don't sleep on Output Frontier monitors.
What are some ways that musicians can diversify their income or increase their revenue?
Autograf: I think it depends on your strengths as an artist. If you're an amazing producer, you can produce for others. If you're strong on the tech side, maybe you can get a side gig building things in music tech. Or if you're a DJ, you can pursue open format DJ gigs while building your artist brand. There are so many different routes.
Brett Blackman: The whole adage of, "If you have 1,000 true fans, you're successful for life" is a little different now. But 1,000 diehard fans who will buy your merch and vinyl and CDs do go a long way, and there are other ways you can leverage that intense fanbase. I think remixes and shows were the two most lucrative things that actually helped my artists get by in the beginning days.
Jeff Becker: I think the one truth is: Figuring out ways to increase and engage with your fan base is a way that you will absolutely increase your revenue. If you can find a way with your social media to be creative and come out with something — whether it's a meet and greet or a limited edition physical product — if it is something you can send out to certain fans, then you can potentially bring some more fans into your world.
To close that out with Brett's point: Once you hit that level where you've got the number of fans that are true fans will follow you around and go to your shows and buy your limited drops, you can make revenue from them for a very long time. They're engaged with you. They're committed to you. I would say spending some time right now to increase that fan base and engage with them would be very essential.