Our Favorite Blogs Chime in on Analog Brass & Winds
The verdicts are in: Analog Brass & Winds is a winner. Don't take it from us, here's what some of our favorite blogs had to say.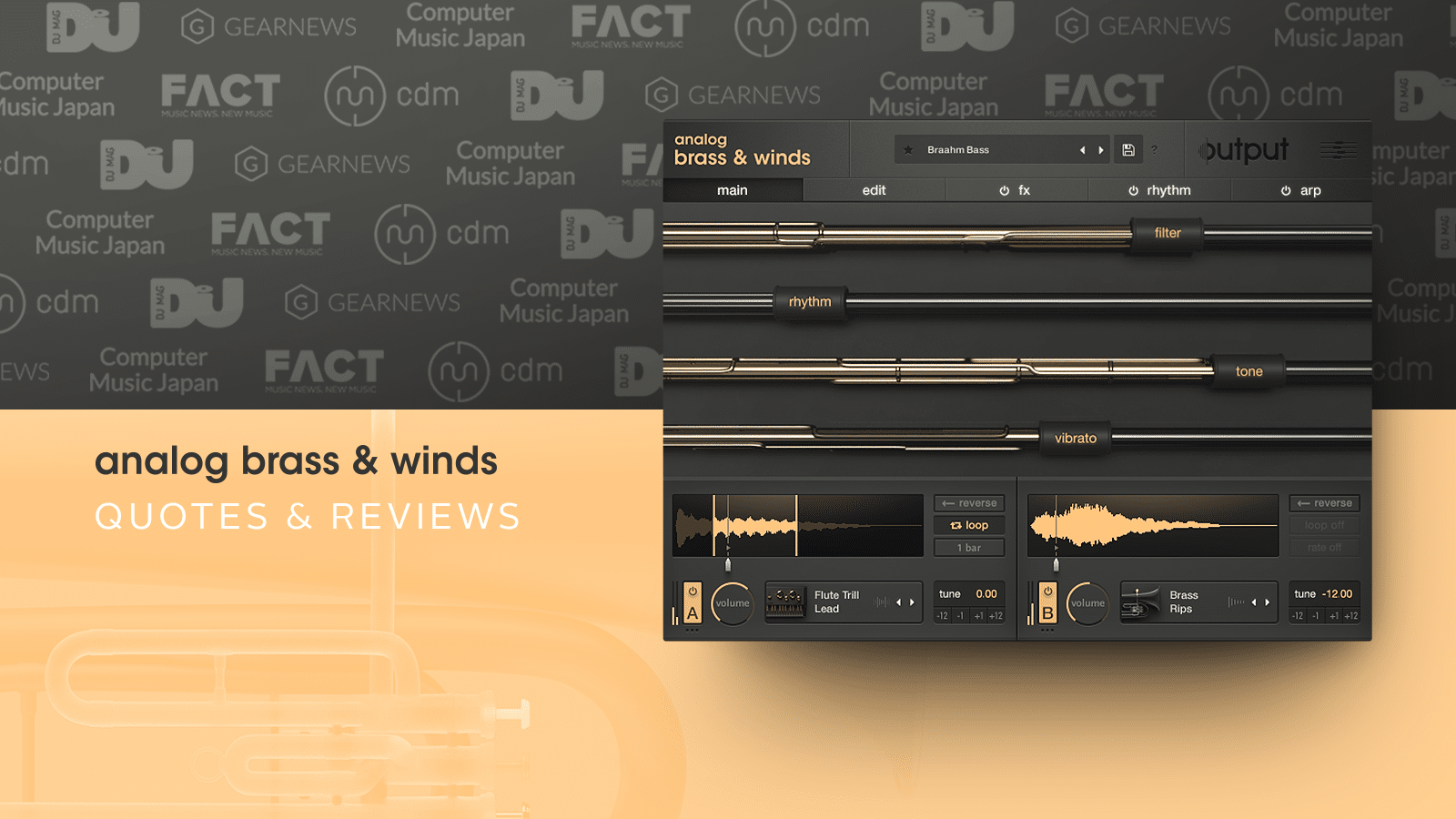 The verdicts are in: Analog Brass & Winds is a winner. A virtual instrument that combines orchestral sounds with epic synths, this Output tool creates hybrids for your studio inspiration in a snap. Don't take it from us, here's what some of our favorite blogs had to say.
Fact Magazine
"Make unusual sonic hybrids by blending audio samples with synthesized tones… Output's plugins are generally made with performance and ease of use in mind, and Analog Brass & Winds is no different." Read more here.
Create Digital Music
"Bringing the analog and acoustic blend to wind and brass may be even more vital because, well, brass and winds are a fairly particular thing to have to design… I mean, let's be honest, how many people really look forward to brass and winds? So, what you get are sounds that will genuinely get you excited instead of make you cringe. And oddly, combining in tape loops and vintage instruments makes this category sounds more contemporary." Read more here.
Sample Library Review
"Analog Brass & Winds is like a breath of fresh air. With the same great engine as Analog Strings and a massive amount of samples and presets, this is clearly leader-of-the-hybrid pack for 2018 thus far."
DJ Mag
"With Output's reputation for pushing the envelope, we expect Analog Brass and Wind to go beyond the usual orchestral library offerings. Twist and contort sounds for everything from 'Blade Runner' synth brass to realistic, symphonic orchestra tones." Read more here.
Bedroom Producers Blog
"Both the user experience and the audio quality are state of the art. Brass and woodwind never sounded so modern."
Sound on Sound
"Words don't really do this instrument justice as it is capable, on the one hand, of creating beautiful, organic sounds, but on the other, it can do scary brass blasts, throbbing bass parts, and driving rhythms. You can interact with it on many levels, too, using just the macro sliders, maybe swapping some sound sources, or diving right in to edit sounds in detail. There's a lot to love here and a visit to the Output website to hear some of the examples is well worth it." Read more here.
Magnetic Magazine
"Following on the success of their string instrument, Output puts the pedal to the metal. For those of you familiar with their Analog Strings, this new plugin builds on the success of that by introducing a whole new spectrum of sound, combining samples of live instruments with virtual synths to create vast sound designing capabilities." Read more here.
Time+Space
"One of Output's most impressive and surprisingly flexible instruments to date!"
Check out Analog Brass & Winds for yourself and start tickling your brain with new and unique sonic possibilities.