The Minimoog: Re-Create the Synth With VST Plugins
Buying an original Minimoog will burn a hole in your pocket, but snapping up a soundalike plugin won't.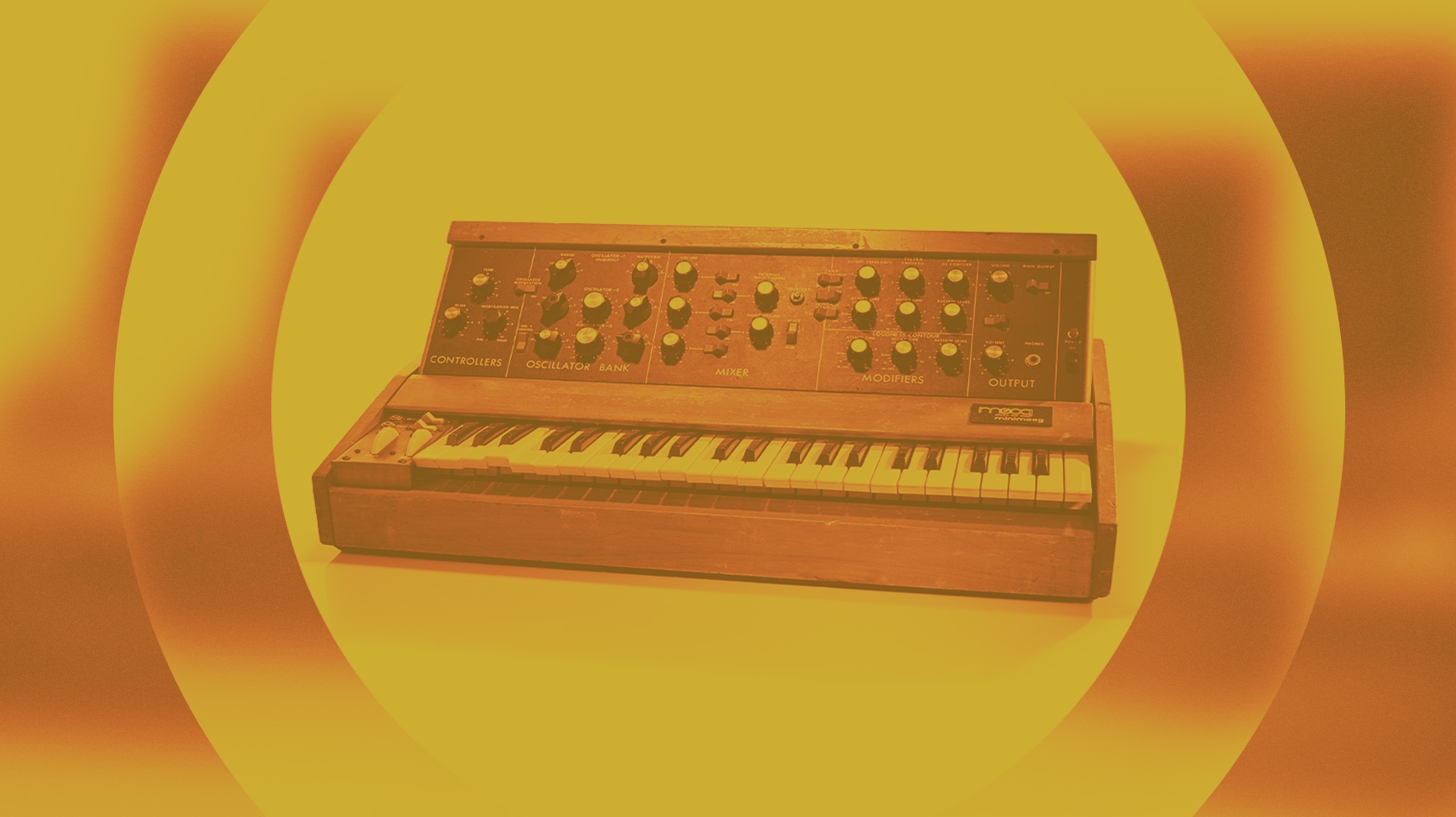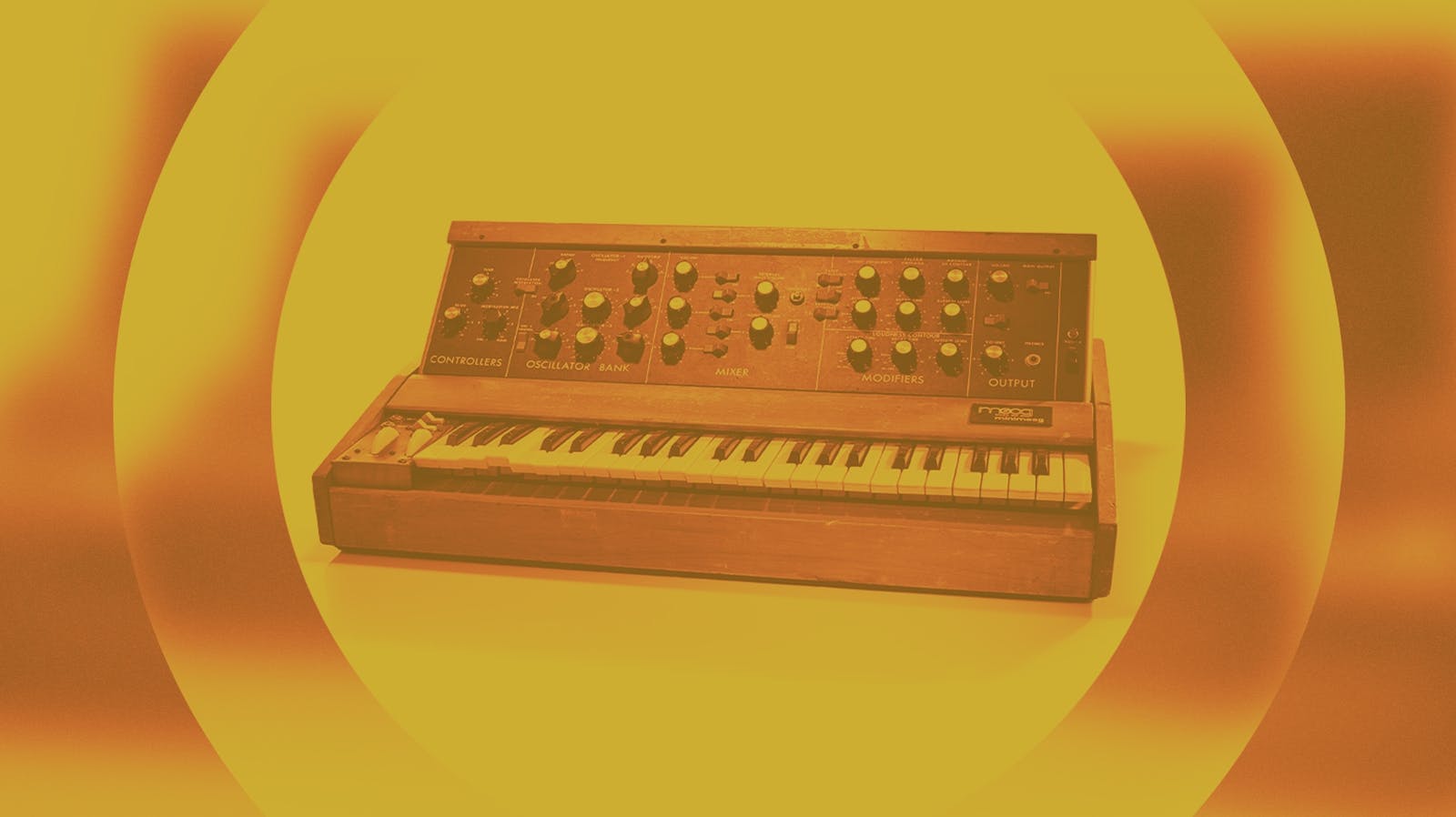 Since 1970, the Minimoog has endured as one of the most iconic hardware synths ever produced. Created by Moog engineer Bill Hemsath, the Minimoog has touched every genre with a sound that's as sonically diverse as the musicians that have used it.
From Kraftwork's "Autobahn" to Georgio Moroder and Donna Summer's "I Feel Love," Pink Floyd's "Shine on You Crazy Diamond" to the Parliament-inspired West Coast hip-hop of Dr. Dre, it's remained an indelible part of modern music for decades. Even Trent Reznor and the late J-Dilla heavily relied on the Minimoog to craft their trademark sounds.
Buying an original Minimoog will burn a hole in your pocket, but snapping up a soundalike plugin won't. Below, we outline some of our favorites, like Arcade, and delve into the history of what makes this little powerhouse synth such an indelible part of music history.
History of the Minimoog
Hemsath wanted to create a portable version of the modular giants that Dr. Bob Moog and company first invented in the '60s. So, he cobbled the first version together on his lunch breaks with discarded parts from the company's "synthesizer graveyard," a room filled with spare parts and broken odds and ends.
The boneyard became a pick-n-pull for his pet project. Zeroing in on one keyboard that was relatively intact, Hemsath hacksawed three usable octaves off and bolted it to a modular control panel, creating the framework for what would become the Minimoog. Everything in the original Minimoog came from the graveyard, except the modular controller, which Hemsath stole from the company stockroom.
The Minimoog created the blueprint for nearly every synth to follow. It was the first true portable synthesizer, which made it easy to incorporate into music studios and bring on tour. And its three powerful oscillators meant it was a versatile instrument with the capability to produce alien soundscapes. But what made it truly unique was a series of unintentional production quirks.
For one, the Minimoog's voltage-controlled filter was unintentionally overdriven, but the mistake was only discovered after the synth was in commercial production. On top of that, Moog engineers never found a way to properly stabilize the instrument's power supply, so its oscillators couldn't stay in phase. This combination resulted in a happy accident, producing the rich and expressive sound the Minimoog is famous for.
Legacy of the Minimoog
The Minimoog's portability, funky distortions, and singular warmth quickly made it a staple in the emerging wave of psychedelic rock during the '70s. Bands like Pink Floyd and Yes fused the otherworldly sounds of the Minimoog with more traditional instruments, creating wild soundscapes. And it was later vital in establishing trademark sounds in genres that followed, like funk, disco, hip-hop, and electronic music. Songs like Donna Summer's disco anthem "I Feel Love" and Dr. Dre's "Nuthin' But A G Thang," wouldn't be the same without the Minimoog's quirky harmonics and wacky effects.
There is still a hearty appetite for the Minimoog's classic sounds, but the price tag for such an iconic piece of gear makes it out of reach for most musicians (an original Minimoog can easily fetch over $10,000 on the market!).
But, if you're itching to use a Minimoog in your next track, it's now possible to get similar sounds without breaking the bank. Numerous digital emulations of the Minimoog have emerged over the years, and we've gathered some of the most faithful VSTs below! Grab one and get your groove on.
For more, check out this playlist of hit songs that all use the Minimoog, from Kraftwerk to Nine Inch Nails.
1. Arcade by Output
Pros: Variety of strings, brass, and percussion, pro-quality Macro FX
Cons: Cons? 😉
Price: Free trial, then monthly subscription
We already know that Arcade is a powerhouse for sample manipulation, but it becomes a full-fledged playable synth with Instruments. And, there are more than a few options to play around with that harken back to classic sounds.
Arcade's lo-fi Line, Taped, is filled with thick and saturated sawtooth sounds. And even more aggressive saws can be found in another Line called Lead. There are even Minimoog-like sounds in unexpected places, like the R&B Line, Honey. (Pro tip: Make sure to grab an Instrument called Classic Touch. It's a wide triangle waveform with built-in macros that add complex delay and gooey, pulsating warbles.)
Things get really interesting inside Arcade's Tweak menu, which gives you more control over a sound's filters and envelopes than Moog and friends could have ever imagined 50 years ago. There are loads of modulation options, a randomizer, and even the ability to mix and match waveform layers to give sounds more depth and oomph.
No matter if you're using Arcade's Samplers or Instruments, it's a great tool for churning out song ideas in a quick and intuitive way. Bonus: You can try it risk-free. Get the free trial for instant access to tens of thousands of royalty-free loops, patches, and one-shots that go way beyond the Minimoog.
2. Diva by u-he
Pros: Flexible, allows you to mix and match sounds from various pieces of gear
Cons: A CPU beast
Price: ~$186
At just under $200, u-he's Diva is the priciest of the Minimoog emulators, yet still doesn't come close to the cost of swooping an original up (they sell for upwards of $12,000).
Diva stands for Dinosaur Impersonating Virtual Analog, and u-he claims it packs 40 years of synthesizer history into one shiny red rectangle. Each of its filter and oscillator banks has dropdown menus that allow you to mix and match recreations of vintage analog gear.
In its default mode, it's pretty faithful to the Minimoog with a similar range of sound and timbre. To start toying around, check out the Trimmer and Modifications panels. This is where you can achieve some of the inherent variances that make hardware so much fun. Each circuit board is slightly different, leading to tiny tweaks in how a modulation affects the sound.
Options to invert, quantize, and add lag take the Diva beyond the original instruments it was intended to recreate.
3. Monark by Native Instruments
Pros: Wide and deep sounds
Cons: Reaktor or Reaktor Player required, no external input
Price: $99
A longtime part of the Native Instruments core line of VSTs, Monark is a digital reproduction of the Minimoog for under $100. Although it's a sonic copycat, there are some aesthetic adjustments. The Minimoog's vintage woodgrain is replaced with a sleek slate gray interface, with the key oscillators, filters, and envelopes in roughly the same place.
Monark shines in its lively, full-bodied reinterpretation of the Minimoog's classic sound, and each oscillator has a sheen and harmonic presence. If you want to dirty up the sounds, Monark has a feedback control that gets pretty grimy at its most extreme.
One drawback of Monark is that it isn't a standalone synth. Instead, you have to use it with Reaktor or the free Reaktor Player. It's also not for those who expect banks of pristine presets. Be prepared to put in some work to sculpt the sounds you want.
4. Mini V by Arturia
Pros: Mostly sounds like an authentic Minimoog
Cons: Eats up CPU fast and can overload
Price: $149
Arturia leaned in hard to create a 100 percent digital faithful recreation of the Minimoog (probably because the company collaborated directly with Robert Moog to create it).
As a company, Arturia prides itself on authentic analog modeling. It's a complicated process to coax analog warmth, bite, and scream out of a digital instrument. But Arturia unlocked the code (quite literally) and found a way to recreate Robert Moog's famous ladder filter.
And, while Arturia sought to stay faithful to the original Minimoog in both design and sound, they did add some extras. The most obvious is that Arturia's Mini V is polyphonic instead of monophonic. It also comes with a fully fleshed-out set of additional modulation options to bring the sound of the Minimoog into the modern era.
Want more great plugins for the low, low price of free? Check out our round-ups of the best free piano and guitar VSTs.