The 6 Best USB Microphones of 2022
If you're a singer-songwriter, podcaster, or content creator, a great USB mic can help you take your work to a new level. Check out our list of favorites.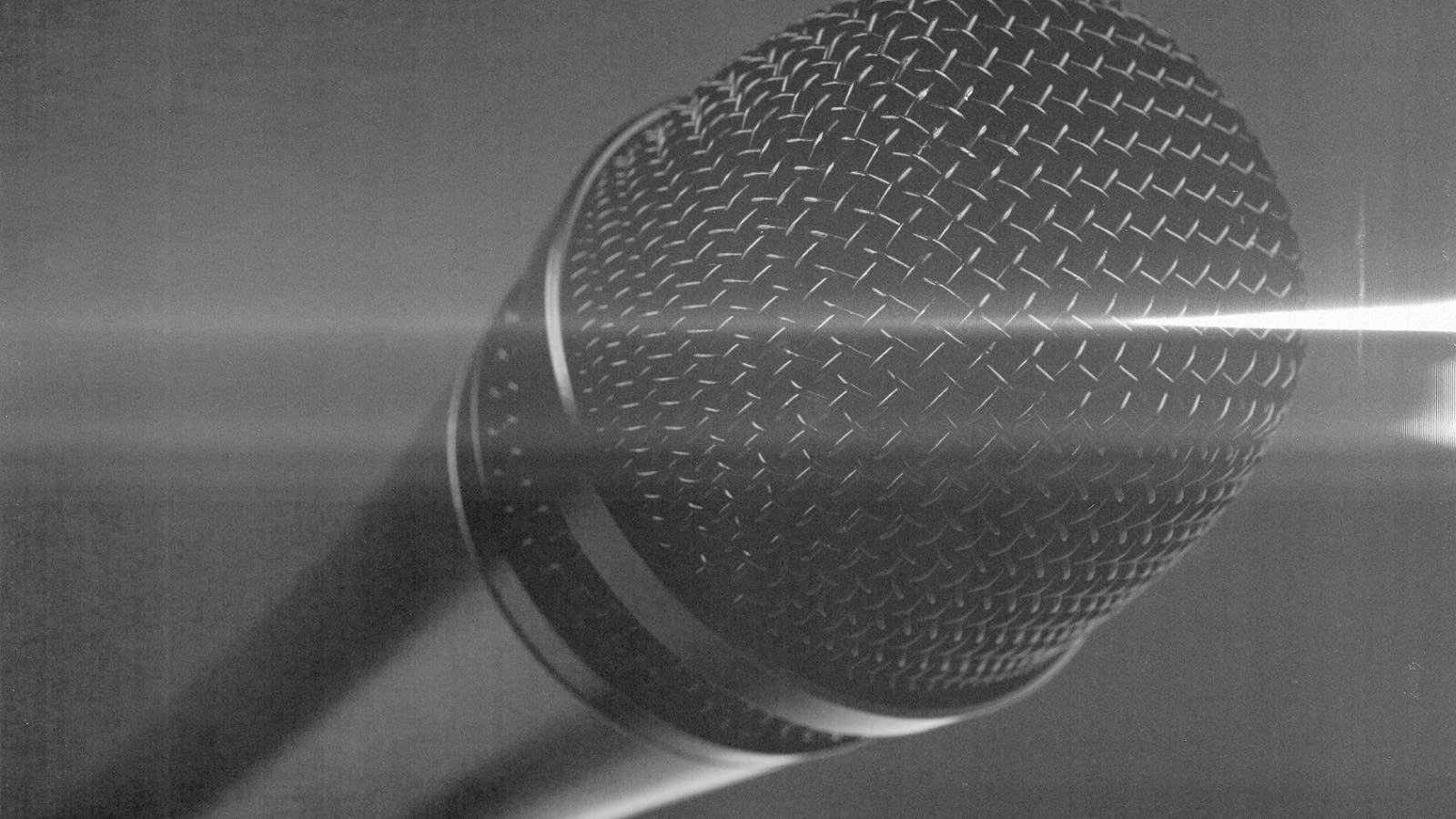 Microphones can come in all shapes, sizes, and prices. Historically, microphones use XLR connections to plug into preamps and audio interfaces. But today, USB microphones are a common choice for content creators, and there are plentiful options for everyone from hobbyists to pros. What you deem to be the best USB microphone will depend on your needs.
Since you can plug them directly into your computer or phone, USB microphones are often the first choice for newer artists who want to start recording without having to buy too much equipment. This doesn't mean seasoned producers should shy away. Convenience and accessibility don't always mean "amateur" quality: USB microphones can prove useful, especially when you need a mic to take outside your studio.
For those who work in a traditional studio environment with an audio interface, there are USB microphones that also have XLR outputs. Plus, out-of-the-box compatibility with iOS recording apps means you can capture high-quality recordings anywhere — very handy in a pinch, whether you're recording a song or trying to get better audio for your next TikTok.
But how do you know which features you absolutely need when you buy a USB microphone? What's a reasonable price to pay for a USB mic, and what kinds of specs should you expect to find?
Today, let's take a look at some of the best popular USB microphones at several different price points. We'll break down the specs and best features of each model, including latency, available polar patterns, included accessories, and more.
Want access to instant samples? Tap into the 55,000+ sounds in Arcade. Download it for free and play today. No recording necessary.
1. Shure MV7
Specs: USB/XLR | Dynamic | Cardioid | 24-bit/48kHZ
Pros: Sturdy build, built-in DSP, great companion app, can record over USB and XLR simultaneously
Cons: Micro-USB port, no Micro-USB to Lightning cable included
The more affordable cousin of the beloved Shure SM7B dynamic microphone, the Shure MV7 is a top-notch addition to any budget home studio setup. This USB microphone comes with an additional XLR output and a headphone jack output for monitoring your signal in real-time. While it's marketed as a mic for streamers and gamers, it's also a great vocal mic, especially for beginners.
The Shure MV7's coolest features are related to how you can control it. On the microphone body, you'll find a mute toggle switch and an innovative touch strip to control input gain. More useful features – like EQ, monitor mix level, and even compression – can be controlled over the bundled ShurePlus MOTIV app. (This is a plus or minus depending on whether you're down to use the app, which is available on both iOS and desktop and was recently updated to support the new M1 Macs.)
2. Samson Q9U XLR/USB Microphone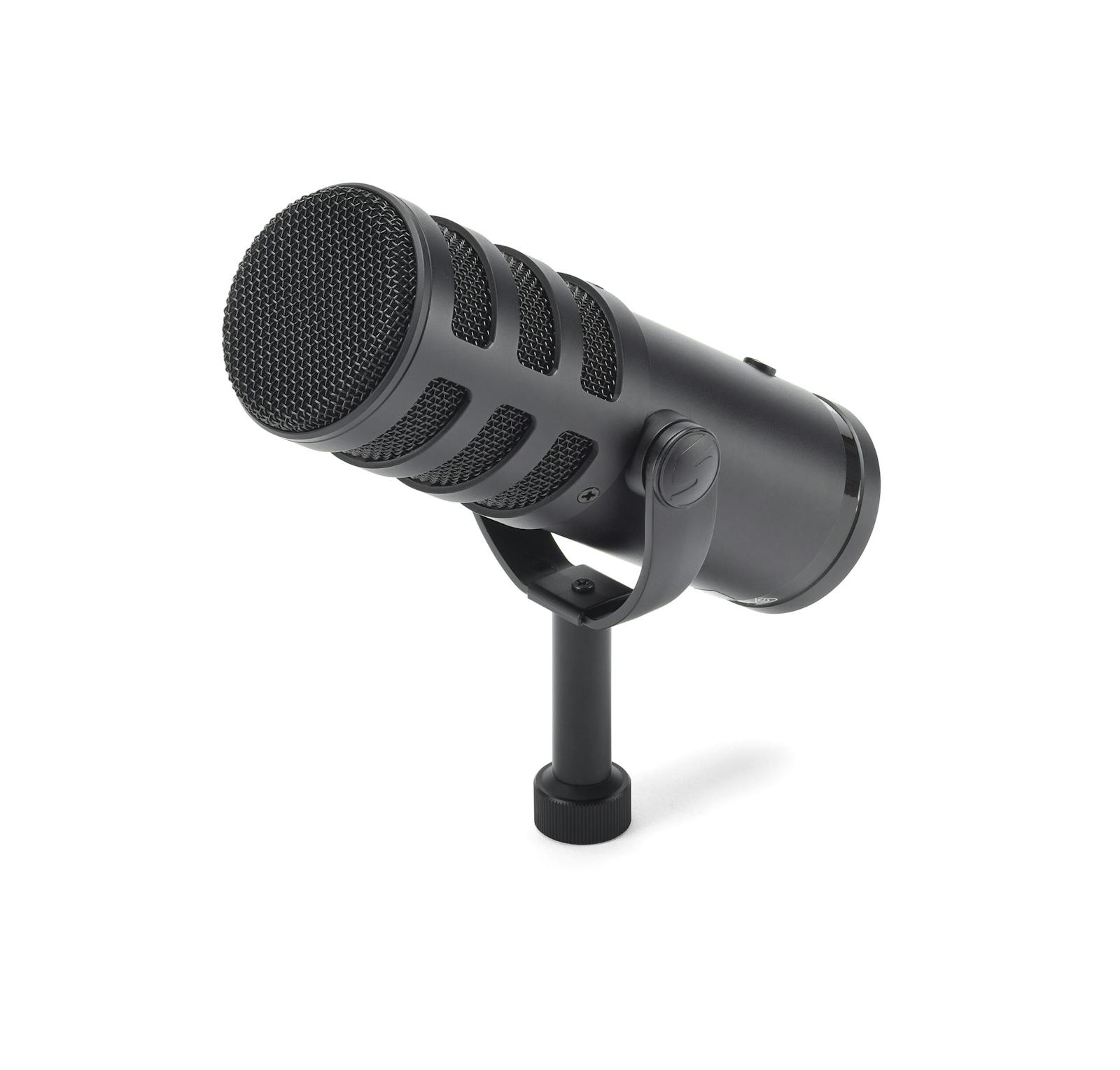 Specs: USB/XLR | Dynamic | Cardioid | 24-bit/96kHz
Pros: USB-C, physical low-pass filter and mid boost switches, clean design, plug 'n' play
Cons: Mute button only works over USB
Released this year as a studio-quality broadcast microphone for content creators, the Samson Q9U is a worthy addition to most home recording studios. A dynamic mic in the style of famous models like the Shure SM7B and Electro-Voice RE20 — mics of choice for vocalists and podcasters alike — this USB microphone punches above its weight class. It uses both USB-C and XLR connections as well as a 3.5mm headphone output for real-time monitoring.
Whether you're searching for your first vocal mic or looking to expand your mic locker on a budget, the Samson Q9U USB microphone is a reliable, wallet-friendly, and relatively future-proof choice. Hard to beat that trifecta of awesome!
3. PreSonus Revelator
Specs: USB | Condenser | three polar patterns: cardioid, omnidirectional, figure-8 | 24-bit/96kHz
Pros: Onboard digital FX processing with custom Revelator software, loopback, lots of useful bundled software, ideal for beginners
Cons: Would be great if it had an XLR output
For total beginners who want a microphone that delivers studio-quality sound without buying any additional software, we recommend the PreSonus Revelator USB microphone.
In addition to multiple polar patterns and a built-in headphone output for monitor, it's got an easy-to-reach "Preset" button that lets you flip between different signal chains with one press. Essentially: You can build FX chains on PreSonus' Revelator mixer software and switch between them right on the microphone itself by pressing the "Preset" button.
If you're a streamer or other type of content creator, you'll also enjoy the loopback feature, which allows you to "loop" other audio output from your computer (say, from your DAW) back into a broadcast or recording. This is useful if you're dealing with a bunch of different audio sources and need to capture them all.
4. Audio-Technica ATR2500x-USB Microphone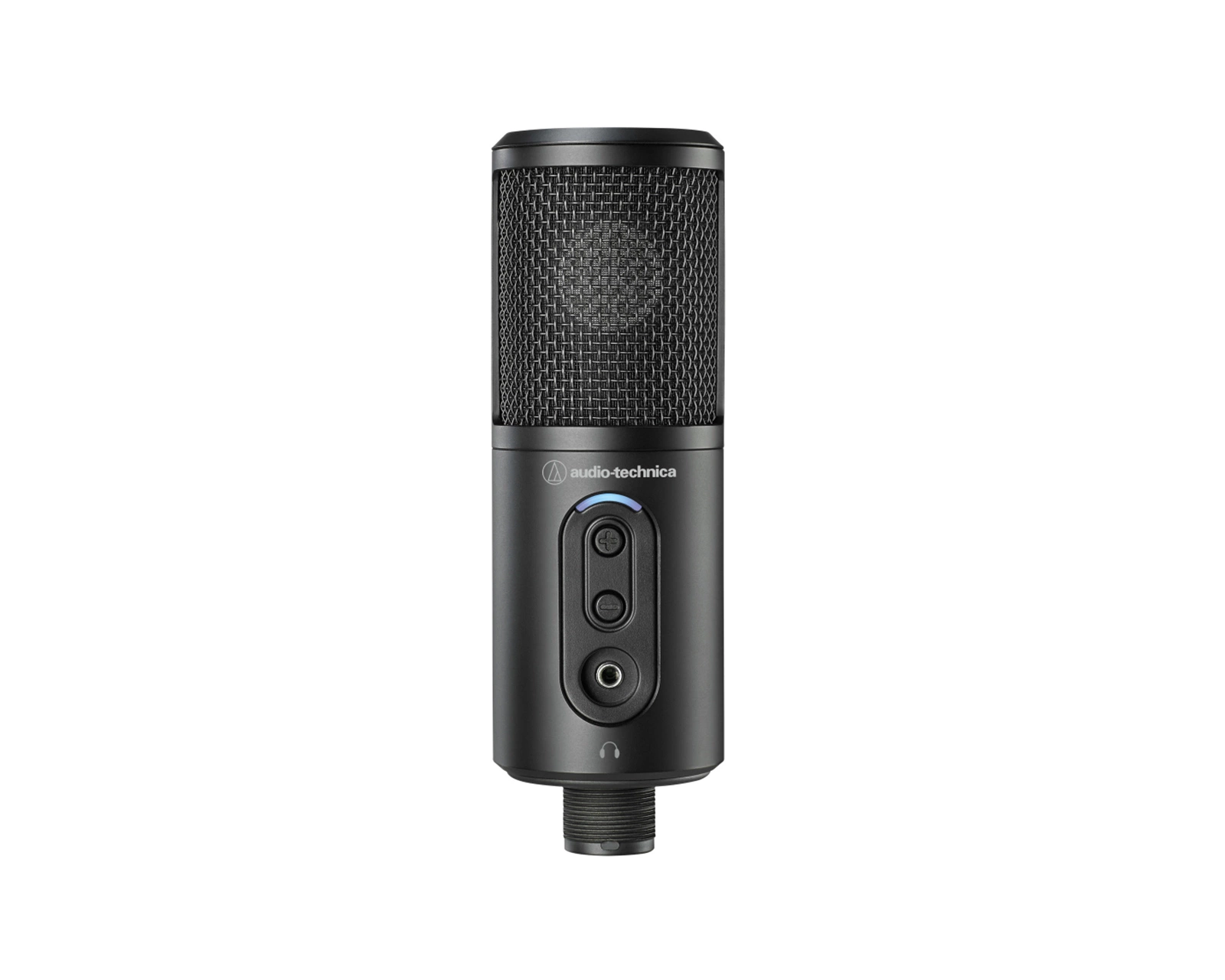 Specs: USB | Condenser | Cardioid | 24-bit/192kHZ
Pros: USB-C, support for high sample rates, comes with a desktop stand
Cons: No control over direct monitoring level, no USB-C to Lightning cable
Audio-Technica's latest update to the long-running ATR USB microphone series brings it into the modern day with some small tweaks. It boasts a USB-C port and minimal onboard controls for adjusting headphone output volume. As a result, all gain adjustments can be done in your recording software instead of on the microphone itself, which is useful if you don't like fiddling with hardware controls.
In our experience, the ATR2500x-USB fares well on vocals but lags behind the competition on signal sources like guitar. That said, if you're looking for an ultra-affordable workhorse condenser microphone for vocals that uses USB (whew!), this USB microphone from Audio-Technica is worth a look.
5. AKG Lyra
Specs: USB | Condenser | four polar patterns: front, front and back, tight stereo, wide stereo | 24-bit/192kHZ
Pros: Sleek vintage-inspired design, multiple mic style selector can give you different results, hardware mute switch, plug 'n' play
Cons: Direct monitoring level tied to headphone output, compatibility issues with M1 Macs
Get a glimpse of the AKG Lyra and you'll immediately understand the vibe. This is a modern USB microphone that's inspired by the design and functionality of vintage broadcast hardware. The feature that distinguishes Lyra from its peers is the switchable mic capsule, with four different polar patterns to change how the microphone sounds.
"Front" gives you a cardioid pattern that favors whatever sound is in front of the mic. "Front+Back" is for when you have two performers, one on either side of the mic. Then, there's "Tight Stereo" to capture stereo in front and "Wide Stereo" to capture stereo in both front and back for a more ambient and all-encompassing sound.
This versatility makes Lyra a real treasure for situations where you want to record more than one musician at once, like a group vocal, a real live performance, or any other situation where a simple cardioid pattern wouldn't cut it. Recording the same instrument with different polar patterns can also net some surprising results — try it out and see for yourself.
6. Apogee HypeMic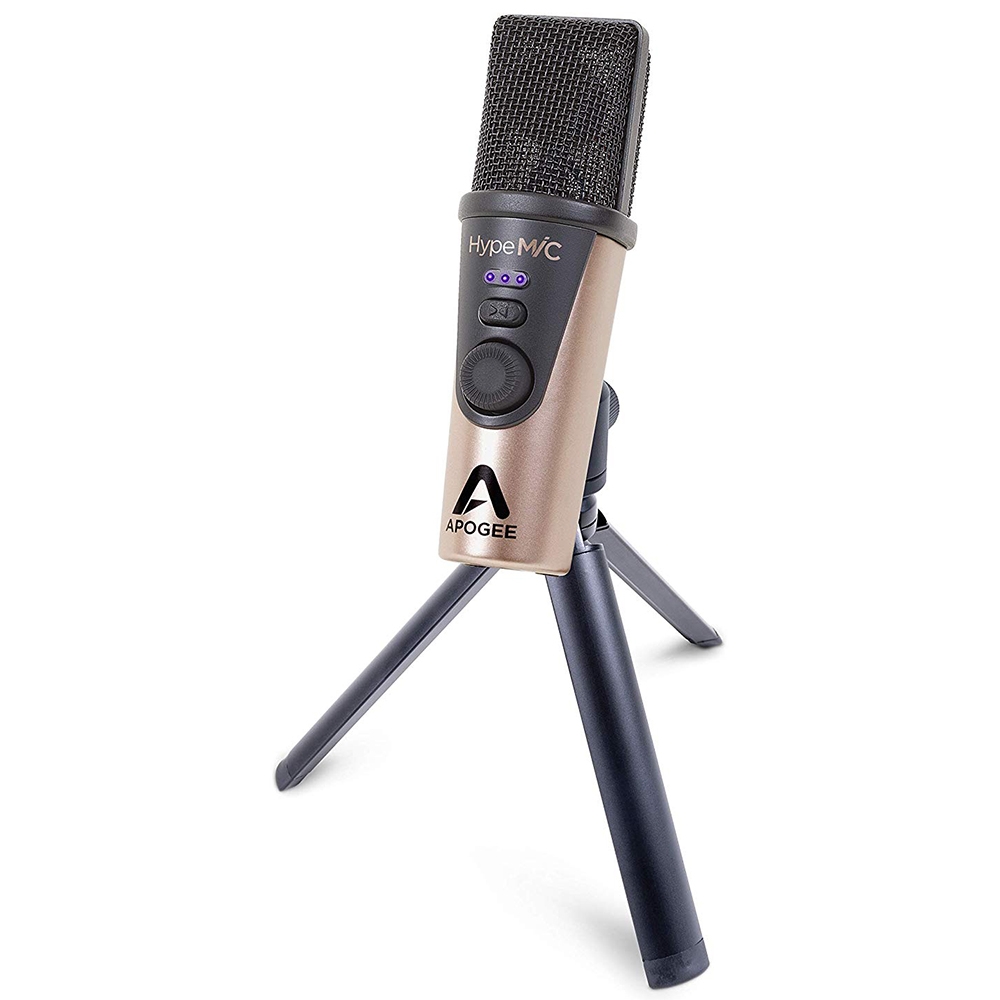 Specs: USB | Condenser | Cardioid | 24-bit/96kHz
Pros: Real built-in analog compression, Apogee's fantastic converters, great set of accessories including Lightning cable
Cons: High price point, Micro-USB port
Apogee HypeMic is the Cadillac of USB microphones, the cream of the crop. The draw here (and the reason for the higher price tag) is real analog compression, which is built into the internal signal chain. You can choose between three compression modes — "Shape," "Squeeze," and "Smash" — which will put increasingly noticeable compression on your signal before it's recorded.
The relatively small size and durable design of the HypeMic make it a particularly popular choice for iOS recording enthusiasts who want something portable and reliable without sacrificing audio quality. It comes with a desktop stand, pop filter, and necessary cables, so if you're a total novice who's just starting out, you can get started with it immediately.
Looking for last-minute holiday gifts? Check out our musician's gift guide for everything you need, from stocking stuffers to field recorders and beyond.