The Output Holiday Gift Guide for Music Producers
Every artist deserves the best cable ties, earplugs, speakers, and more. Check out our guide to the best gifts for musicians this holiday season.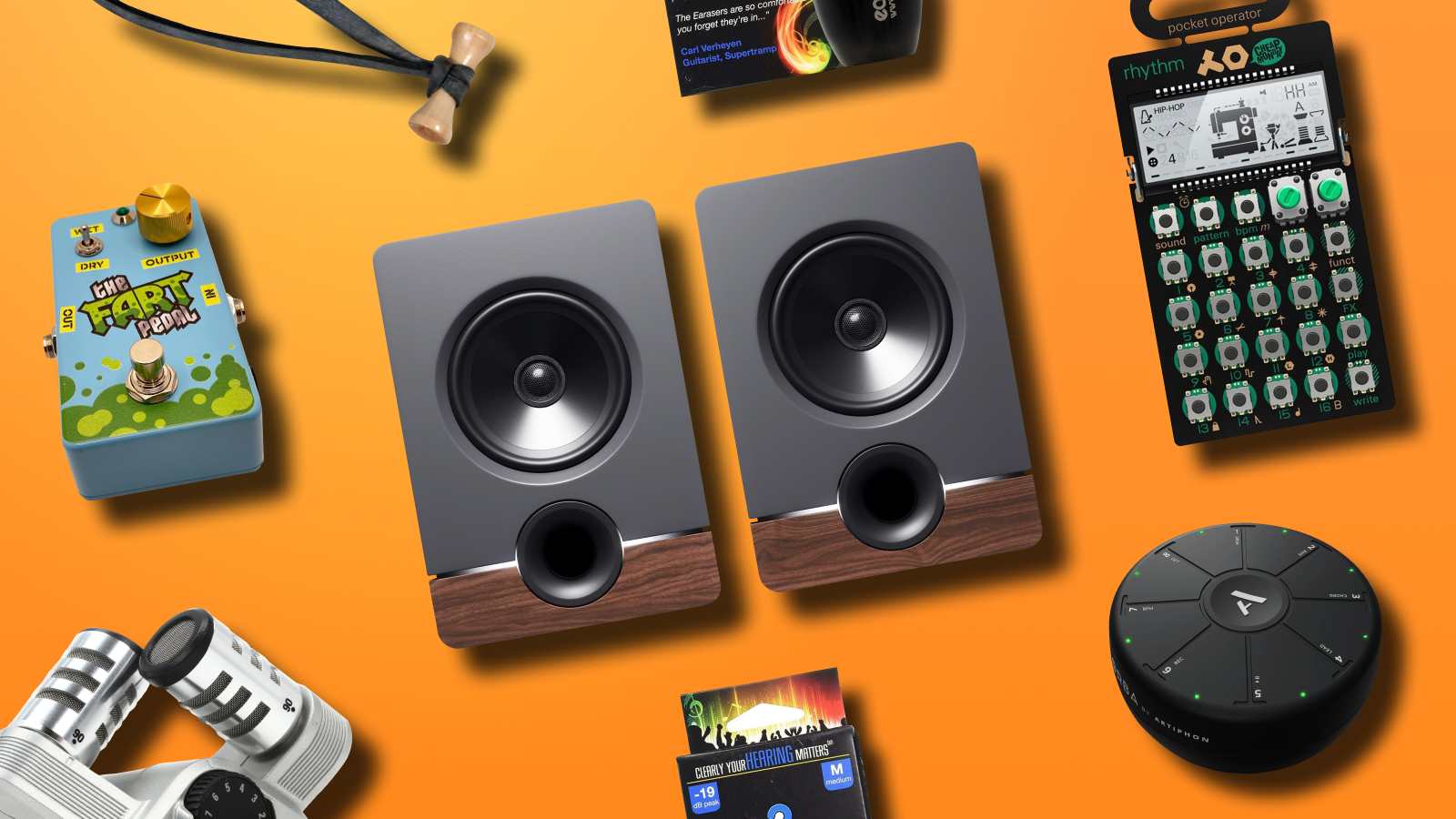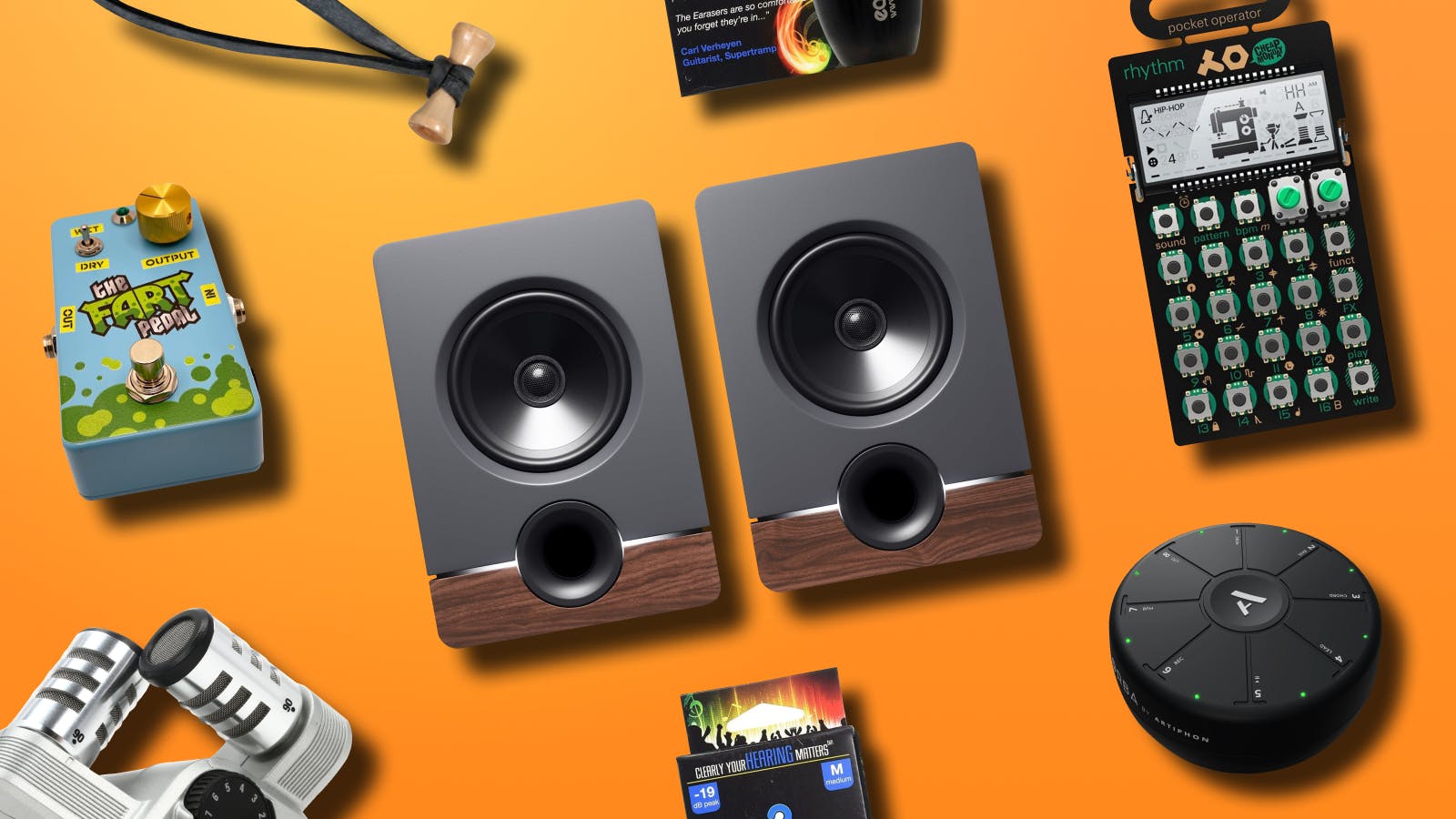 The holidays are here! It's time to check out the best gifts for musicians, artists, music producers, or singer-songwriters in your life. (Or, let's be honest, for yourself. You deserve it.)
Music is a deeply personal craft. So, we put together this guide to the best gifts for musicians with a focus on gear and equipment for anyone who plays or records music, regardless of skill level or style. Several of these picks are also ideal for musically inclined kids and teenagers!
In this list, you'll find some unique and handy items: The best musicians earplugs, a nifty mobile drum machine, a field recording necessity, environmentally-friendly cable ties, and much more. Have a happy, music-filled holiday season!
Give the gift of Arcade: Refer a friend to Arcade today and receive a month free.
1. Artiphon Orba
For: Beatmakers looking for a fun new studio tool, younger users with a knack for music
Artiphon's Orba is a clever digital instrument with a surprising amount of power. This pod is a synth, a looper, and a MIDI controller that fits in the palm of your hand.
It has eight capacitive touch sensitive pads for playing notes or drums, four different synth modes — drums, bass, chord, and lead — and a built-in accelerometer and gyroscope that lets you map different gestures to MIDI controls. Make sounds by tapping on its surface, bumping it against objects, or even waving it in the air.
You can load various presets into Orba using the Orba App for iOS/Android, or pair it with a DAW (over USB-C/ Bluetooth). Although that beefs up the Orba's capabilities, none of that is necessary — it's pre-stocked with sounds so it's usable and fun right out of the box.
This is the perfect entry point to making digital music and a fun studio tool for collaborating, which is why it leads this list of the best gifts for musicians. As a bonus, every Orba comes with 100 days of Output's sample and loop-based instrument Arcade for free. Now that's pretty cool.
2. Frontier Studio Montiors by Output
For: Producers looking to upgrade from their starter monitors, producers who want elite Barefoot Sound quality at an accessible price
Output Frontier studio monitors were developed by Output in collaboration with inventor and engineer Thomas Barefoot, the founder of Barefoot Sound. Barefoot's monitors are the cream of the crop when it comes to studio reference monitors, used by many of the world's leading musicians and recording facilities.
Barefoot quality comes at a price, with systems ranging from roughly $3,000 to a whopping $54,745 for the most premium speakers. But you can breathe easy — we worked with Barefoot to bring that same world-class audio technology into a speaker at a fraction of the cost. With Frontier, you get Barefoot engineering principles infused with Output aesthetics (look at that walnut grain and barely there LED glow!)
Our Frontier studio monitors can upgrade any home studio or production room to the next level. Sound on Sound magazine puts it best: "While there's no shortage of competition in this price range, the [Frontier Studio Monitors] give a very good account of themselves. They have all the benefits of a dual‑concentric design, and the fact that they look gorgeous doesn't hurt either."
Don't sleep — make sure to order your Frontier monitors with enough time so they can make it under the tree!
3. Bongo Ties
For: Any musician or producer who uses cables (so…all of them)
Any producer or engineer will tell you that managing cables can be a pain — but it doesn't have to be. Forget about normal rubber bands: Bongo Ties use a patented button-type closure design that lets you easily wrap your cables.
Whether they're storing your 1/4-inch and XLR cables or managing the mess behind your desk, these reusable, environmentally friendly ties can save the bedroom producer in your life a lot of grief. Plus, they make for a functional fashion accessory in a pinch.
Don't just take our word for it: Bongo Ties are hugely popular with professionals in sound, film, and TV. Pick up a bag or two today.
4. Earasers
For: Musicians who play loud or attend concerts
There are a lot of earplug options out there. For anyone who can't break the bank on custom molded earplugs, the best alternative is Earasers.
Normal earplugs can be uncomfortable to wear for long stretches of time, and oftentimes reduce the clarity of the sound you hear.
By comparison, Earasers use a special filtering design to attenuate (or turn down) the volume, as opposed to bringing it down by muffling the high frequencies. Plus, they're inconspicuous.
One of the best parts of Earasers: They come in a study metal carrying case that can be attached to your keys, so you'll never be caught out at a loud venue or rehearsal without them. Protect your ears!
5. Zoom iQ6 Stereo X/Y Microphone for iOS
For: Anyone interested in field recording or making your own drum samples
The built-in iPhone microphone is great for voice memos and songwriting ideas, but when it comes to proper mobile audio recording, you want to use an external microphone.
Enter: the Zoom iQ6, a stereo X/Y microphone that attaches directly to the bottom of your iPhone or iOS device via Lightning. These are the same high quality condenser mics you'll find on Zoom's flagship H4n Handy Recorder, a longtime favorite among field recording specialists, at a more affordable price.
The Zoom iQ6 microphone is one of the most useful pieces of hardware in this list of gifts for musicians. Use it to capture drums, sound effects, textures, ambiance — the possibilities are endless!
Want more? Check out this list of mobile music-making apps you can use with the iQ6.
6. Peterson StroboClip HD Tuner
For: Guitar and bass players who want to play in tune
Don't settle for the cheapo tuners you see at the checkout counter of big box music stores.​​ The Peterson Stroboclip clip-on tuner is 20-30 times more precise than many of its rivals. With its solid build quality and bright, easy-to-see display, this might be the last tuner a player ever has to buy.
The most innovative quality is the inclusion of what Peterson call "Sweetened" tuning presets, which let you tap into custom, non-equal temperament tuning settings. These tunings compensate for the natural intonation of your instrument to make certain chord voicings sound more harmonically pleasing. If you play a lot of open chords, you can choose a setting that will make those sound even better. If you play a lot of barre chords, there's an option for that, too.
Nonsense, you say? Check out this video from popular guitar YouTuber Rhett Shull and listen for yourself:
For guitarists, bassists, and other stringed instrument players, being in tune is of utmost importance. Don't settle for less!
7. Teenage Engineering Pocket Operator PO-12 Rhythm
For: Producers, solo singer-songwriters without a band, kids
If you know them, you love them: Teenage Engineering Pocket Operators make a great addition to any gear collection. The PO-12 Rhythm is a 16-sound drum machine and sequencer with different onboard FX and a surprisingly loud built-in speaker.
Like the name implies, Pocket Operators are tiny, but mighty. On the PO-12 Rhythm, you can play drum beats, sequence drums manually, apply effects, chain together patterns, and even sync up with other Pocket Operators for jam sessions. It's smaller than a Game Boy and yet it punches like a TR-808.
There are a lot of buttons on this little device, but with a wealth of learning resources available online, it's easy to learn how to make it sing.
8. Meinl Percussion Mini Steel Tongue Drum
For: Producers, composers, kids, adults, non-musicians — anyone!
The steel tongue drum is a unique instrument made by cutting precise slits (or "tongues") that ring out a bell-like tone when struck. Because the slits are pre-cut into the drum based on specific scales, it's impossible to play "out of tune," making it a great instrument for beginners.
Steel tongue drums usually run upwards of $100, but Meinl's miniature version makes this beautiful sound affordable to anyone. It comes in multiple scales and ships with a pair of soft mallets. Perfectly for anyone musically inclined, or even a little bit musically curious. (Left unplayed, it can even make for a nice decoration piece.)
9. TC Electronic June-60v2 Vintage-Analog Chorus Pedal
For: Synth players and guitarists who want to thicken their tone
The most iconic chorus sound of the '80s in a box — now new and improved, decades on. TC Electronic iterates on their stompbox version of the famous Juno-60 chorus circuit with a new version that's reworked to sound better with synthesizers. It's also got a newly refined stereo output, making it all the more useful in the studio for getting that wide, washy effect.
This is a great pedal to get for the guitar player or keyboardist in your life — but don't count it out for the studio rats! The Juno chorus effect can be tough to replicate, so having it available at the touch of a button is a big win.
10. Fart Pedal
For: The person in your band you like the least
Sorry, we had to. The Fart Pedal, a viral Kickstarter product developed by Steve Gadlin, is a custom-made guitar pedal that does one thing and one thing only: Bring the sound of human flatulence to your signal chain. It is as gross and as hilarious as it sounds.
The Fart Pedal has one wet/dry switch (yes, it is what you think) and an output knob for controlling volume. Gift it to the guitarist in your circle of friends who refuses to turn down, no matter how loud they are.
[Editor's Note: Folks interested in the Fart Pedal can now join a waiting list for this very special product.]