Movement
Your Sounds, Powerful Rhythms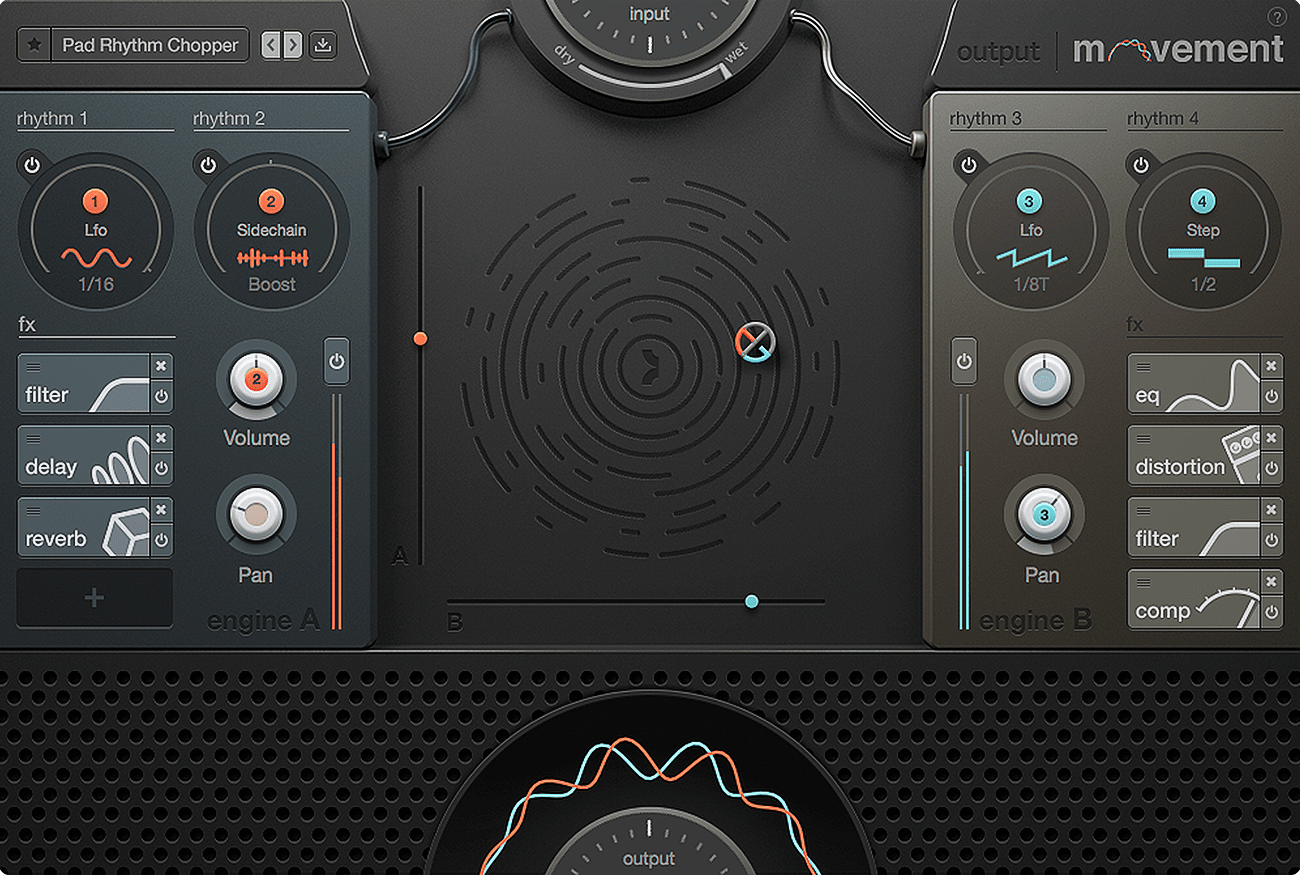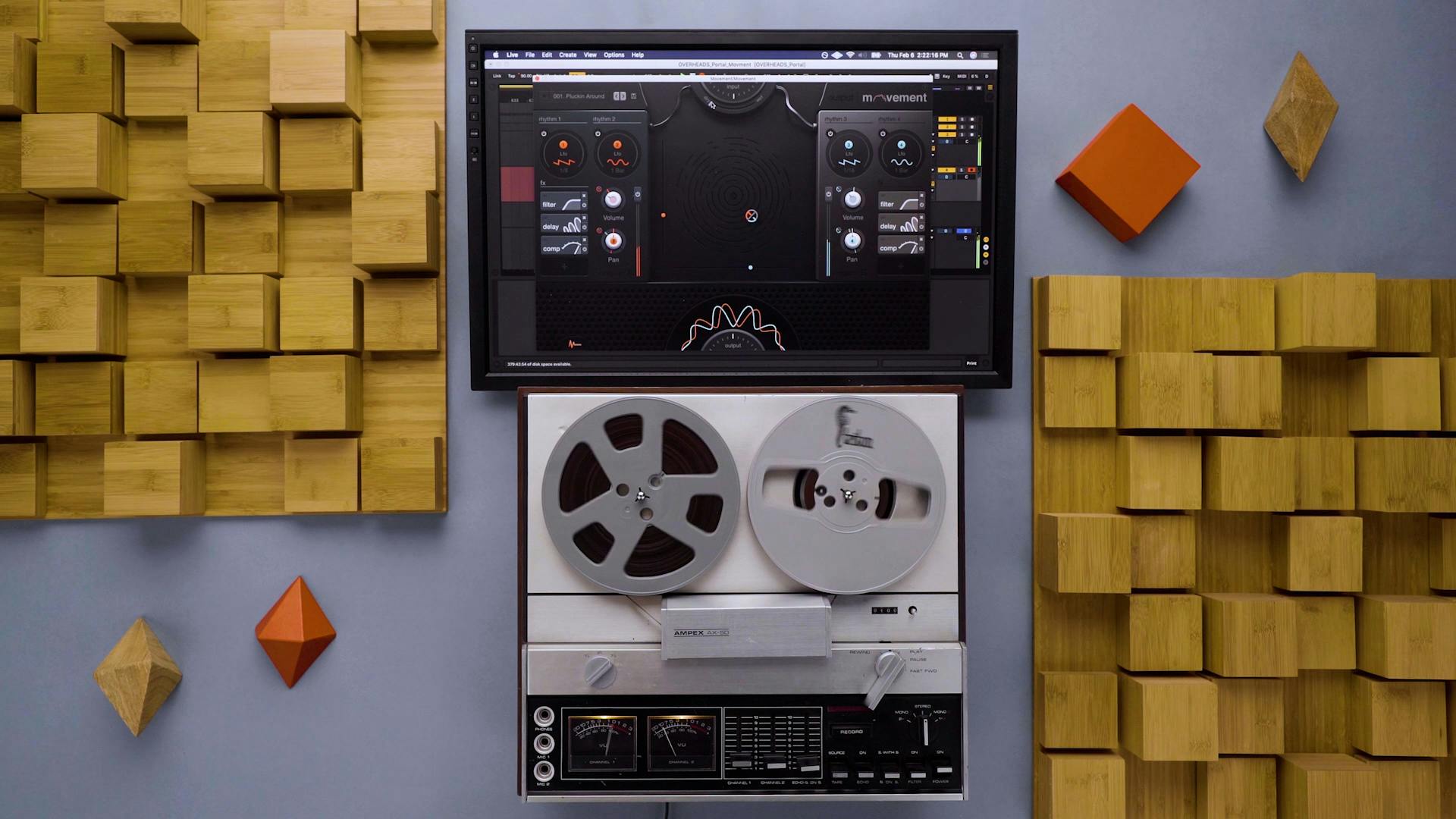 Hear it in action
Hear It In Action

MOVEMENT By Output

Live Bass with MOVEMENT

The Glitch Mob Producing With MOVEMENT

Walkthrough

Live Harp With MOVEMENT

Our Favorite Presets

Live Piano with MOVEMENT
See all videos
Powerful engine, powerful rhythms
Your sounds, insane rhythms. Add extreme effects to any input in real time, in the studio or on the stage.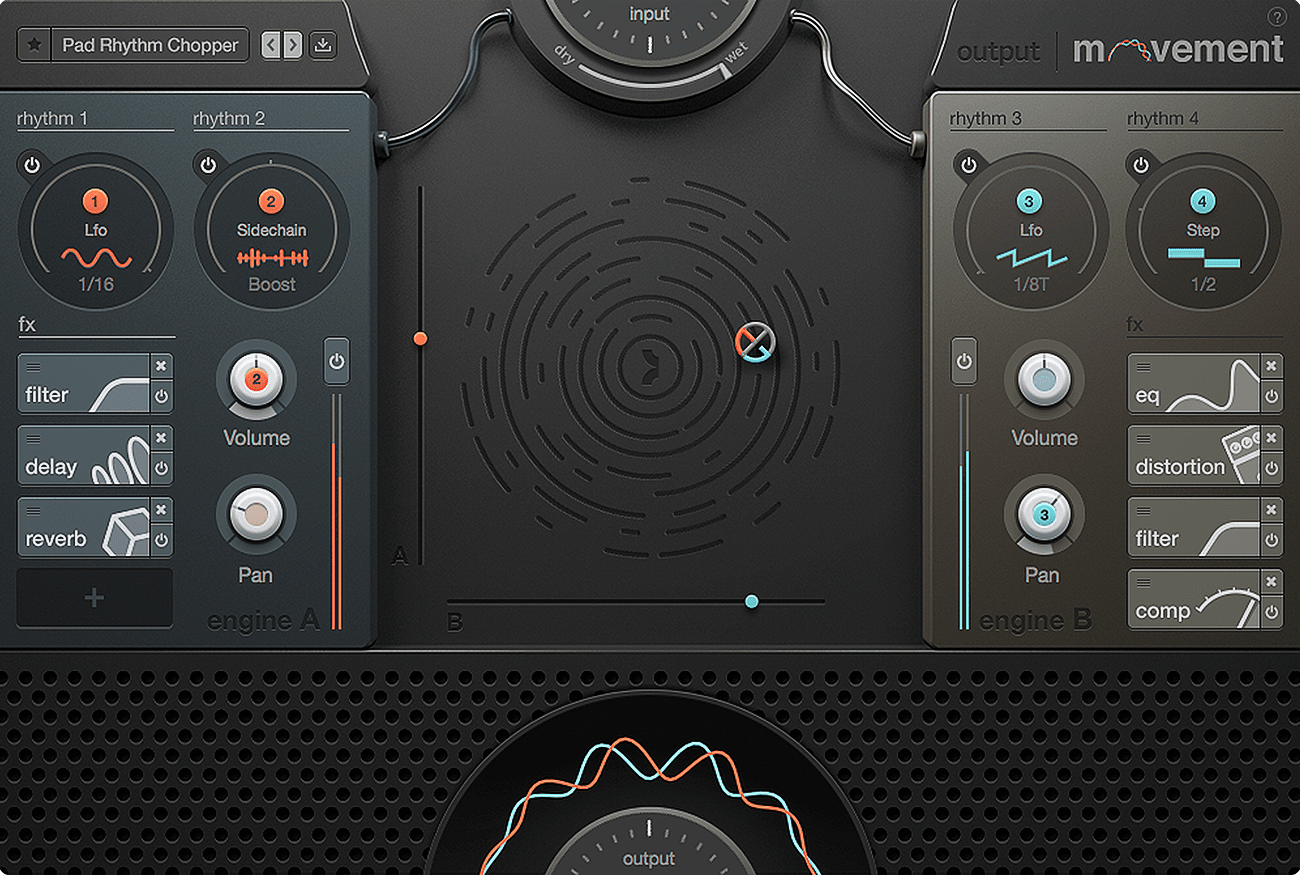 Deus Ex Machina
Four synchronized rhythm engines united in the fight against stale sounds. LFO, Step Sequencers, Sidechains, Macro Controls, and Output's proprietary flux mode come together in rhythmic serendipity.
Form Follows Function
Control up to 152 parameters on the fly with MOVEMENT's groundbreaking XY macro pad.
Kinetic FX
Even the FX can't stay still. Pumping reverb and compression, morphing delays, heat waves of distortion, and filters that open and close create an ocean of perpetual motion.
More to Discover
Explore randomized modulation with a simple drag and drop, or dig in deep to build your own complex rhythms.
Don't just take our word for it
"I'm hooked already. It is seriously good. It works great on vocals and makes cheap synths sound huge."
"Might be my favourite Output product yet. It's like someone handed me a set of cheat codes."
Key Features
300+ Presets for instant playability
Input any sound, instrument or track
Modulate any parameter with any rhythm
Sidechain, LFO, Step Sequencer rhythm modulation
Output's proprietary Flux and Randomizer
Advanced sidechain modulation – modulate any parameter
Analog filters, EQ, delay, distortion, compression and reverb effects
XY pad for performance
Built for live performance and for the studio
System Requirements
AAX, AU, VST, VST3 versions included
32 and 64 bit compatible
Mac OS X 10.9 or higher
Windows 7 or later
At least 4 GB of RAM, 8 GB is recommended
At least 500 MB of free drive space

DAW Support
Ableton Live 9.2.2+ / 10.1 (Mac & PC: AU, VST)
Bitwig 1.3.9 + (Mac & PC: AU, VST)
Cubase 8 + (Mac & PC: VST)
Digital Performer 8 + (Mac & PC: AU, VST)*
FL Studio 12 + (PC: VST, VST3)
Garageband 10+ (AU)
Logic Pro 9+ (Mac: AU)
Native Instruments Maschine 2.4 + (Mac & PC: AU, VST)
Pro Tools 10.3.5 – 12 (Mac & PC: AAX)
Presonus Studio One 3.2.2 (Mac and PC: AU, VST, and VST3)
Propellerhead Reason 9.5+ (Mac & PC: VST)
Reaper (PC: VST)
Cakewalk by BandLab (PC: VST3)*
Product Manual
Download the product manual for MOVEMENT here.
Add expansions to Movement

Bundle it all
Output Bundle
Output Bundle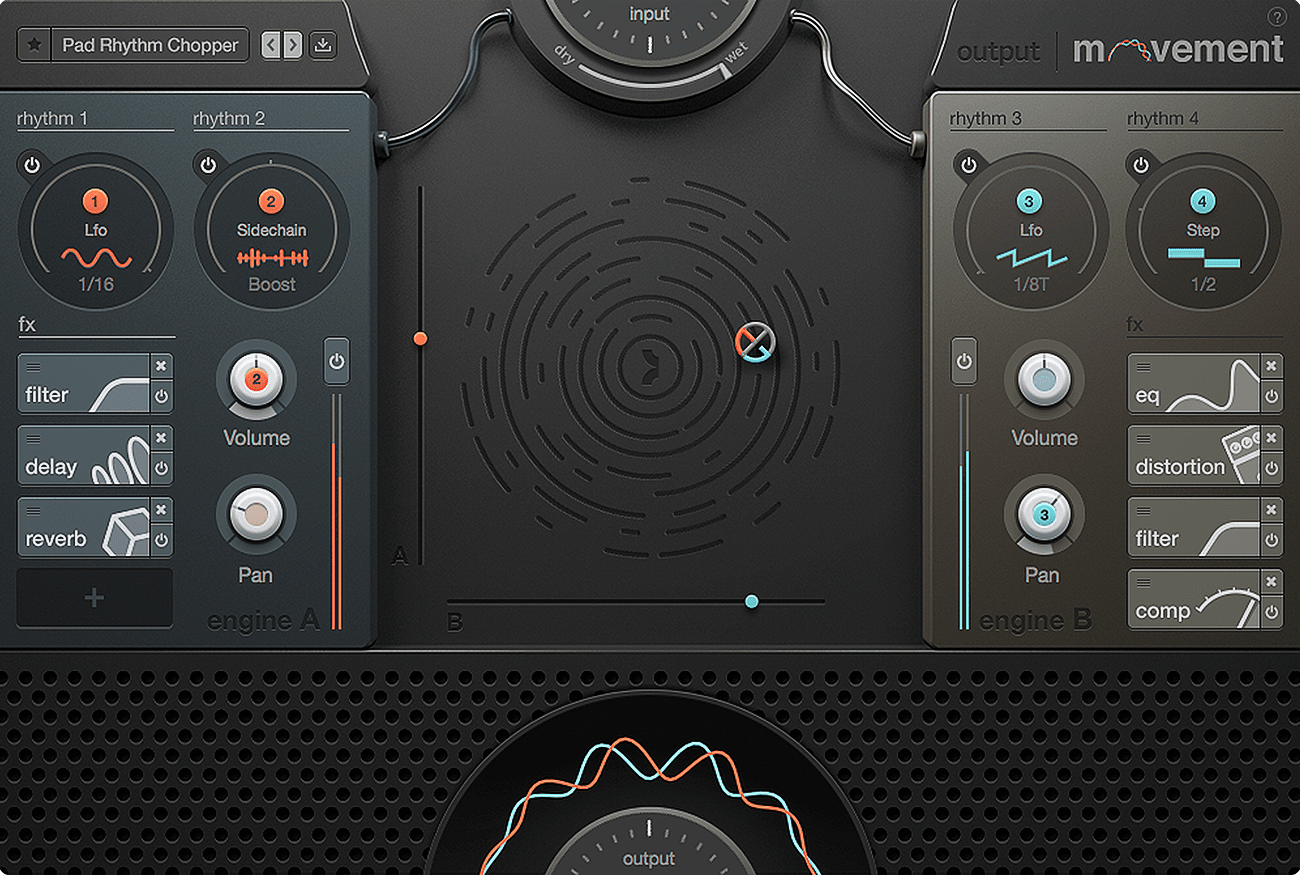 Output Bundle
Includes 10 Engines + 22 Expansions
We help
you make music
70 or so musicians, our pets, and at least 4 espresso machines wake up every day and head to our WFH offices to make sounds with cutting edge technology so you can focus on being creative.
---