How To Make Epic Transitions in Trailer Music
Curious about creating great trailer music transitions? Learn more about transforming your sounds using Stitch in ARCADE.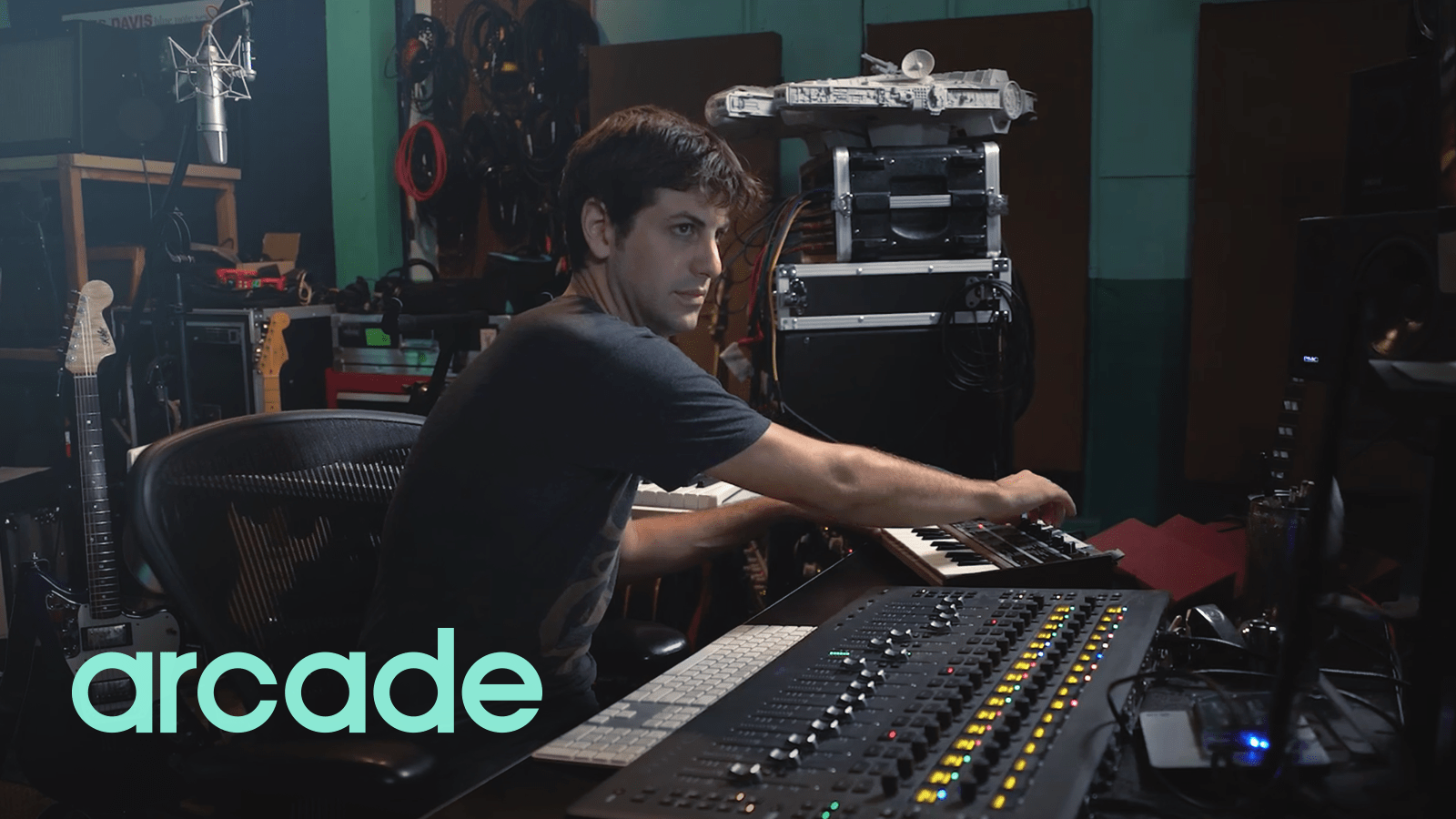 Transitions in trailer music are crucial in order to craft the perfect moment of drama. Who better to talk to about this than the Confidential Music team, which has scored some of the world's biggest movie trailers. We're talking Star Wars: The Force Awakens, Suicide Squad, Mad Max: Fury Road, Interstellar, Disney's The BFG, Jurassic World, The LEGO Batman Movie, and Avengers: Age of Ultron, to name a few. They even did the Stranger Things 3 trailer. The secret sauce? Using Stitch in Arcade to create energy and tension.
Arcade is a revolutionary sample playground that allows you to perform and transform loops of sound in real-time. It delivers exclusive and carefully curated content every day, creating an extensive built-in library for you to choose from. Stitch, one of Arcade's product lines, offers a game-changing collection of epic rises, fluid fades, and suspenseful swells.
Building anticipation and creating a sense of urgency are among the distinguishing characteristics of epic trailer music.
In this video, producer and mixer Kyle Biane reimagines the flow of the track "Fringe Authority" by manipulating his own live drums and guitar, creating a synth lead to build more momentum, and working with rises and FX using the Mega Waves 8 Beat Sampler in Stitch.
 
Using Arcade elements to update the track and give it a facelift
"A trailer is always proposing a question musically," Biane explains sitting at the board, preparing to freshen up the 2014 track from the Confidential Music library. "It's really important, especially with dealing with the rhythmic tracks of a trailer, to keep that emotion…that energy flowing through it."
Before you start creating transitions in trailer music, Biane suggests looking for any "pockets" in the sample where acceleration can be added or where things can be pushed towards the rises, downbeats, or drones. This is very big in trailers, he points out.
"My process is very simple: I start going through and listen to everything, just to kind of get a grasp of what's going on."
He auditions all of the sounds in the Sampler, searching carefully for ideas he can work with.
"I listen to everything."
When he finds a sound, he tweaks it, tuning it down for "a little aggression." He then adds a flutter macro to intensify the effect. Now he has created a foundation or fundamental sound that he can replicate in other parts of the trailer.
Modify tracks using Stitch
Once identified, you can modify these pockets — or any other Loops — by using your MIDI keyboard or the macro sliders, effects, and modulation in Stitch. To further ensure unique, seamless transitions, Biane suggests playing back your sounds to hear the changes you've made and then applying modulations and effects where needed.
He adds: "What's really useful about Stitch in Arcade is that you can take one thing and reinterpret it as you go down the path of the trailer, all while keeping the energy and allowing that same idea to reinvent itself."
When it comes to programming the Stitch macros and all the Arcade controls, Biane says that it "puts a little bit more emphasis on the performance on your effects. This way, we're actually creating what we feel, playing against the drums, adding a bit of human feeling."
Manipulating and organizing your own sounds
Biane creates two tracks that feed into one instance of Arcade. "The top one is just the drum groove, and the bottom one is where I input all my modulation and all my effects," he explains, noting his organization. "That allows me to easily turn off and on all my effects that I'm applying to the track."
In order to give a single drum pattern a uniqueness, he uses a glitch tool in the repeat modifier, or a stutter effect, which gives the sound a new life.
He also refreshes other sounds. "I had this guitar that was just this boring guitar, it wasn't doing too much," he says. "So I took that guitar and I resampled it in Stitch."
Using the repeater modifier he built a pattern with it, which added more movement, and suddenly the boring guitar part was anything but.
Adding that human touch
This pro mixer really likes the big macros and the "very clean sounding" delay which has "good bounce" to it.
"One thing that's really fun about being able to program these macros — and all the controls for that matter — is that it puts a little bit more of a performance base into applying your FX versus just tweaking something over and over again. This way we're actually writing in what we feel, playing against the drums, and I think it leads to a little bit more of a human feel," he says.
Creating a synth lead
In order to get a high-energy vibe with a synthesizer sound, Baine has a go-to modifier in Arcade.
"My favorite of the modifiers that I found is this resequencer," he says, which lets him "make things as crazy as you want with it. The way that it goes in and chops up the sample lends itself to some really fun and cool sounds."
If you don't have Arcade, new users can try it out free — toy around with Stitch for yourself!