Rev Reverse Engine by Output Walkthrough: Loops and Rises
REV by Output is the world's first reverse audio software. Learn how to modify loops and create perfectly-timed rises with REV.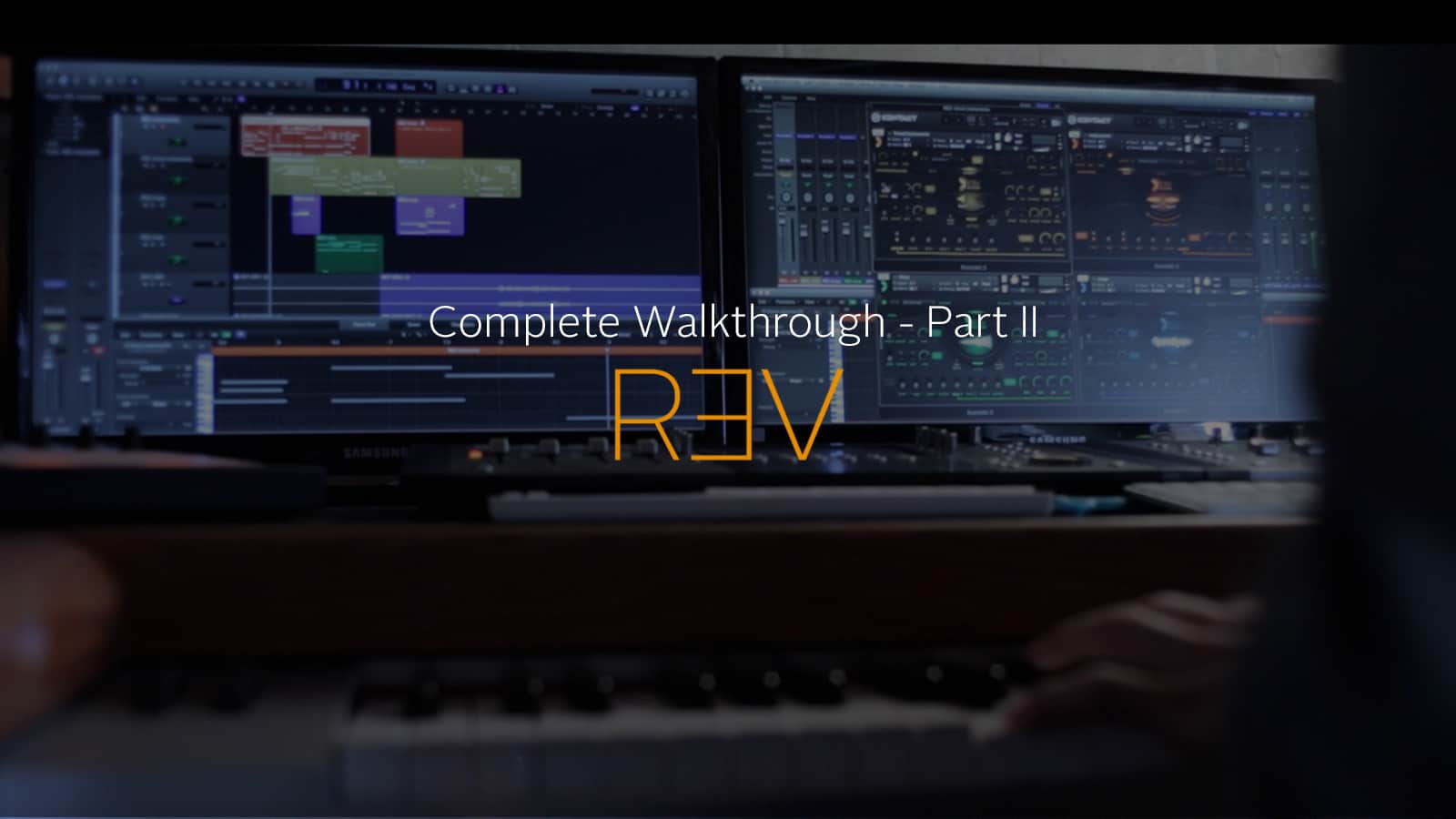 In part one of the REV tutorial, we showed you how to play instruments and create your own sounds using REV's Instruments and Timed Instruments engines. In this article, we're diving deeper into the software's Loops and Rises engines. Order REV by Output today and experience the world's first instrument dedicated to reverse audio!
Rev's Loops engine
In Loops, everything has been condensed into a single page, so finding your way around is easy.
On the top left side, you'll find the menu with 15 loop banks (divided up by instrument category). The categories include acoustic piano, guitar, percussion, guitar harmonics, pulses, shakers, and more.
Once you select a loop bank, you'll see 24 different loops on the right-hand side. Each loop can be played within two octaves of keys and it always locks into the tempo of the host.
What's truly unique about REV's Loops engine is that each loop has been originally created and recorded by Output's team of expert sound designers — using nothing but live instruments.
Similar to REV's other engines, the global effects, stutters, and filters in Loops are located at the bottom of the interface.
Rev's Rises engine
Creating rises is a major production element for many electronic artists and composers. The Rises engine comes with three distinct sound banks: A, B, and C. Each bank is separated by duration and type.
The sound lengths range from a quarter note to four bars. If you include the half- and double-speed options, the length can actually be spread from an eighth note all the way up to eight bars.
The Rises engine has three types of rises to choose from: rises that end abruptly, rises with a tail, and electro rises (which includes an effect such as a building filter sweep).
REV's Rises engine is an incredible tool for making perfectly-timed rises quickly, which is extremely useful when working in the studio or performing live. Hook REV up to your Native Instruments Maschine (or any other pads) and start tweaking and assigning all your knobs to different filters, stutters, and envelopes.
Creating patches with Rev
Creating a new patch with REV is incredibly simple. Start by hitting "Clear" on the main screen, turn off the second layer, and open up a new source in the first layer.
When selecting a source, choose between dry (a raw sound backwards), wet (a sound with reverb added before being flipped backwards), pad (a continuous loop version), and forwards (an instrument played forwards).
Tip: When moving on to the second layer, we recommend leaving the first layer on. This way, you'll be able to hear how the layers blend with each other. To dial in the exact sound length you want — or set, tune, and pan levels — simply head back to the main page.
Now go have fun with Loops and Rises! Want to take REV further? Check out how David Carbone uses it for drum and bass.