How To Make Tracks Like M83 and Trent Reznor Using Rev
Thanks to bold composers like Trent Reznor, Clint Mansell, and M83, the definition of the word "cinematic" in music is ever-evolving.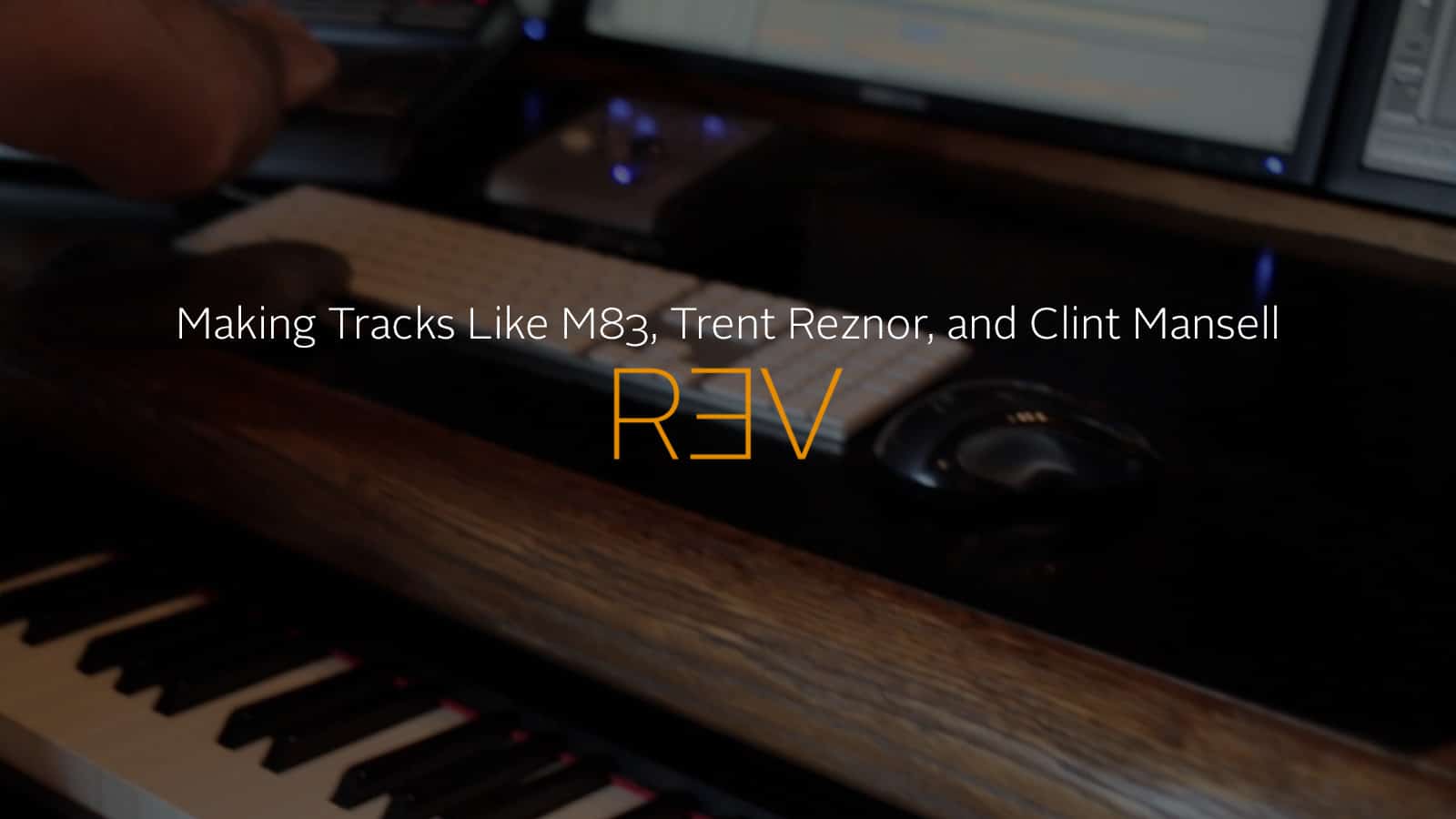 Within the past two decades, something magical happened in the world of film music. Classical instruments got dressed up in electronic, ambient, and rock sounds. The line between acoustic instruments and synthesizers got blurry. We even heard some scores that combined a drum set, drum machine, and orchestral percussion in a single cue.
Today, film directors feel drawn to composers who are just as interested in sound design as they are in classical music. Thanks to bold composers like Trent Reznor, Clint Mansell, and M83, the definition of the word "cinematic" in music is ever-evolving.
But how did these composers manage to make a name for themselves with their genre-defying creations?
Rock music background
If these composers feel compelled to grab an electric guitar while working on a string arrangement today, it's thanks to their strong rock music backgrounds.
The members of M83 established themselves as an alternative electronic band. But they often take inspiration from post-rock and dream pop in their songs as well as the music they compose for films.
Trent Reznor got his start with the legendary industrial rock band Nine Inch Nails. Before he formed the band he'll forever be famous for, he had joined other bands and played every instrument he could get his hands on. Eventually, he met English musician Atticus Ross. Together, they scored films such as The Social Network, The Girl with the Dragon Tattoo, and Gone Girl. Reznor's collaborations with Ross took his music to a more electro-industrial direction.
Clint Mansell owes his fame to his film scoring career. But before providing the soundtrack for the cult film Requiem for a Dream, he was in the indie rock band Pop Will Eat Itself. Most of Mansell's compositions fall into the category of neoclassical. But there's no denying that he takes inspiration from his rock background. At first listen, a cue composed by Mansell might seem like a minimalistic piano tune. But a wall of sound will hit you when you least expect it.
Creating electro-cinematic soundscapes with Rev
Few composers have the budget to record a symphony orchestra and own all kinds of hardware synthesizers to boot. Sadly, most don't have access to these kinds of opportunities.
At Output, we enjoy blending acoustic and electronic sounds with our software instruments. In Analog Strings, you can grab a solo violin sample and layer it with retro synth strings. In EXHALE, you can take an expressive choir and embellish it with pitch-shifted vocal chops. REV in particular opens up a world where you can discover textures beyond your wildest imaginations.
REV offers a tastefully curated collection of reversed audio samples. Sure, you can hit the reverse button in your DAW instead. But creating tempo-synced playable instruments out of multiple reversed samples? Who's got the time for that? (Not us.)
This engine comes packed with a wide range of sounds and FX. You can take a reversed electric guitar sample, turn the stutter on and even pitch shift its grains in one place! Combining two layers? You can decide how long each layer should play. Whole note? Half note? It's up to you!
This is why we turned to REV to make a sophisticated electro-cinematic track that's inspired by M83, Reznor, and Mansell's work.
Stutter Bass, Piano Reverse, Synth Crunch and more
In our interpretation of the style, you'll hear the driving groove of the Stutter Bass preset carrying the track. The guitar-like synth pad in the background could have been a simple pedal point. But the pitch bend adds a sense of urgency and eeriness. In juxtaposition, the calming chords played by the reversed piano samples suggest there's a light at the end of the tunnel.
You might be wondering how we got here.
Well, one thing that's quite noticeable in M83, Reznor, and Mansell's respective compositional styles is that they often use drones. These drones can be anything from an atmospheric synth to a string quartet playing one sustained note for a long period of time. Eventually, other melodic, harmonic, and percussive textures are introduced.
With this in mind, we decided to check out REV X-Loops to create the drone basis for our track. We went with the Pulses Low and Aggressive presets from the loop bank. Then, we opened up REV to establish the chordal elements. The Piano Sling preset in particular turned out to be a great fit.
At that point, it was crucial to incorporate subtle percussive details in the harmony before the drums came in.
With an instrument like REV, you can infuse melodic and harmonic rhythm to any track in various different ways. Sometimes you play a bass line in 8th notes. Other times it's the stutter and delay FX working in conjunction that adds movement to a synth pluck.
In this case, the Sine Pluck preset with pitch-shifting stutters became the ear candy we were looking for. The Spread Out Flutter preset added another layer of sparkle on top, preparing our ears for the risers that were about to come in.
Many producers love using REV to create transitional elements in their tracks. For us, a combination of reversed cymbals and electric guitar did the trick.
Because we tempo-locked every sample we worked with inside REV, all the layers fit the drums like a glove in the end. Heavily reverberated drums brought in the indie rock color we wanted to hear. But this production could have easily sounded like a mess if it wasn't for the driving quality of the rhythmic textures from REV.
If you liked the sounds from our video, we've got great news for you. The patches are available for free download for all the REV owners out there! Click here to discover the Electro-Cinematic Production Elements now.