Samples as Inspiration: Pop Songwriting & Vocal Production
Watch how a single vocal chop inspires a full song, along with a variety of vocal production techniques to help achieve a big pop sound.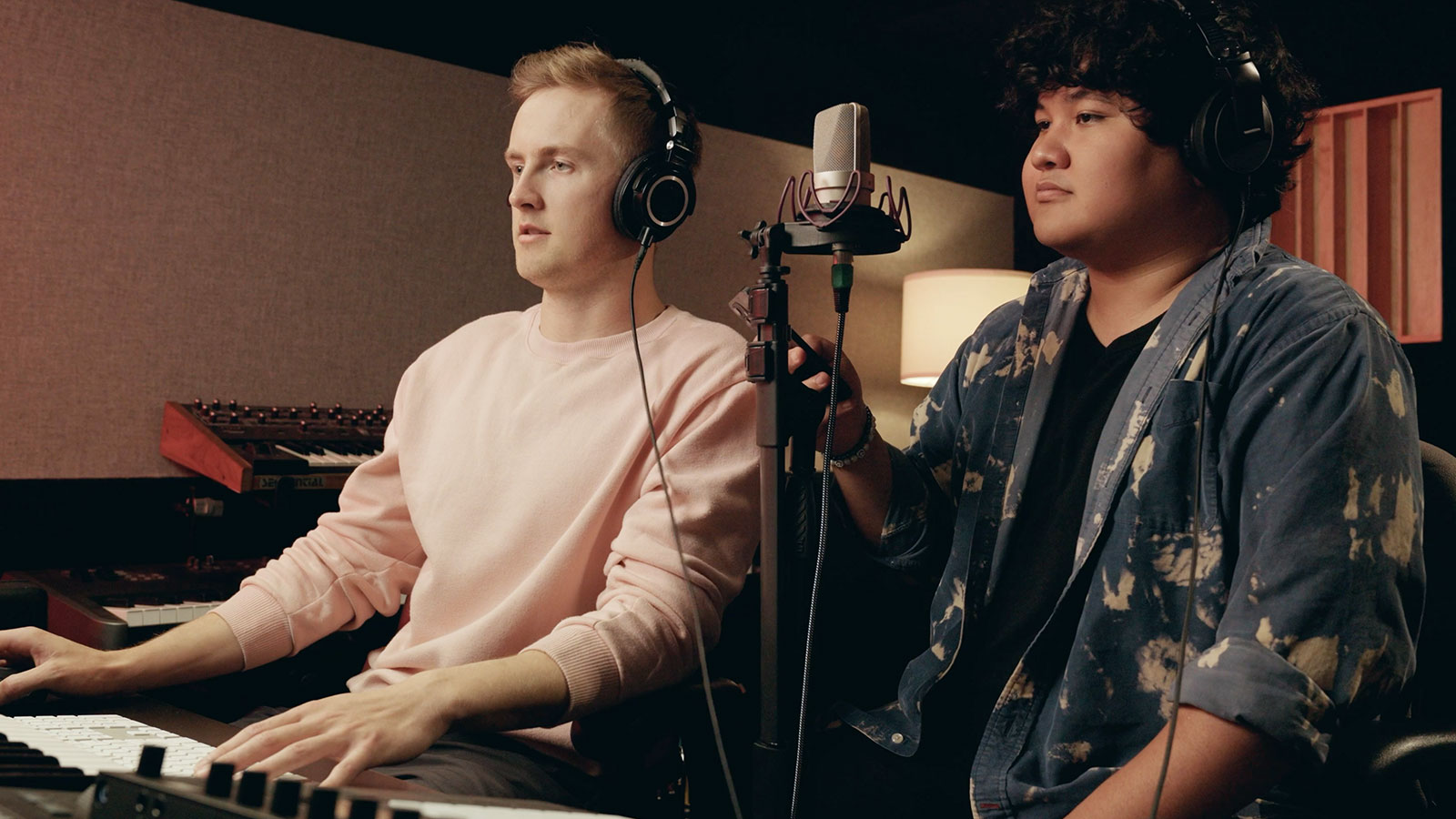 To grow as an artist, songwriter, composer, or producer the main advice is to always be creating. For those who are committed to doing this, understanding that inspiration can come from anywhere, and remaining open-minded during the process will often lead to discovery. Collabs, writers' rooms, and producer/artist sessions can generate brilliant ideas through creative collisions — and having a few strategies for starting from scratch together will go a long way towards getting something done. 
In this video series, we document a session with producer Alex Wilke and artist Francis Karel. Alex brought a beat he made to the session, and their goal was to use that beat to write and record a whole demo track. To do this, they turned to Arcade. A vocal sample in the Hooked Line caught their attention, and from that single vocal chop grew an entire song. Once they had the bones of the track in place, Alex prioritized his time with Francis, a skilled vocalist, to create a big, pop vocal sound. 
From Vocal Chop to Full Song
Inspiration for a song can come from anywhere — life experience, nature, a good book. Sounds can also jolt new ideas into existence. Using Arcade, Alex and Francis demonstrate how to turn a vocal sample that caught their ear into an entire song — from the first spark of inspiration to building out the sections, lyrics and all. This is an excellent technique to try if you are starting from a blank slate — find a sound that inspires you and let things grow from there.
Making it Pop with Background Vocals
Recording background vocals can make your lead vocal shine and give your track a distinctive sound. Simply doubling the lead can add width and emotion — and moving it up or down an octave expands that range and dimension. Using a whisper track can create an entirely new sonic character and emphasize certain words in the lyrics. To add more color, a close harmony will thicken the texture — while using a pedal tone provides a similar effect with more space. Finally, vowel tracks can add vocal ear candy that captivates listeners. Even if you aren't able to record all these layers, you can mine alternate takes from your session with the vocalist, use samples from Hooked, and pitch shift existing material to a similar effect.
Crowd Vocals (With Only Two People)
Crowd vocals invite people into your song and encourage listeners to sing along while also elevating the lead vocal. But what if you only have a couple people to record on hand? Alex and Francis demonstrate how to sound like a big crowd by recording multiple layers that experiment with space, tone and timbre. Combined, these layers are different enough to sound like a huge room of people singing along. This strategy is affectionately coined the "babies and sailors" technique. Alex then shows off how to process these vocals against the lead for a full, energetic sound.
Pop Vocal Processing
After recording and comping the lead vocal, laying down doubles, and layering in background vocals — editing and processing all of these tracks appropriately will give your track the polish it needs. Alex digs into his dry vocal chain, his favorite reverbs and delays, how he edits and processes vocal doubles, and a few of his favorite tricks using creative effects.
Listen to the final result: https://s.disco.ac/hbpxhlnyscgl
Keep up with Alex Wilke and Francis Karel.
Try Arcade free.