Behind the Scenes: Recording Sitar Sounds for Arcade
World music artist Rajib Karmakar explains the process of recording sitar sounds for loop synthesizer ARCADE.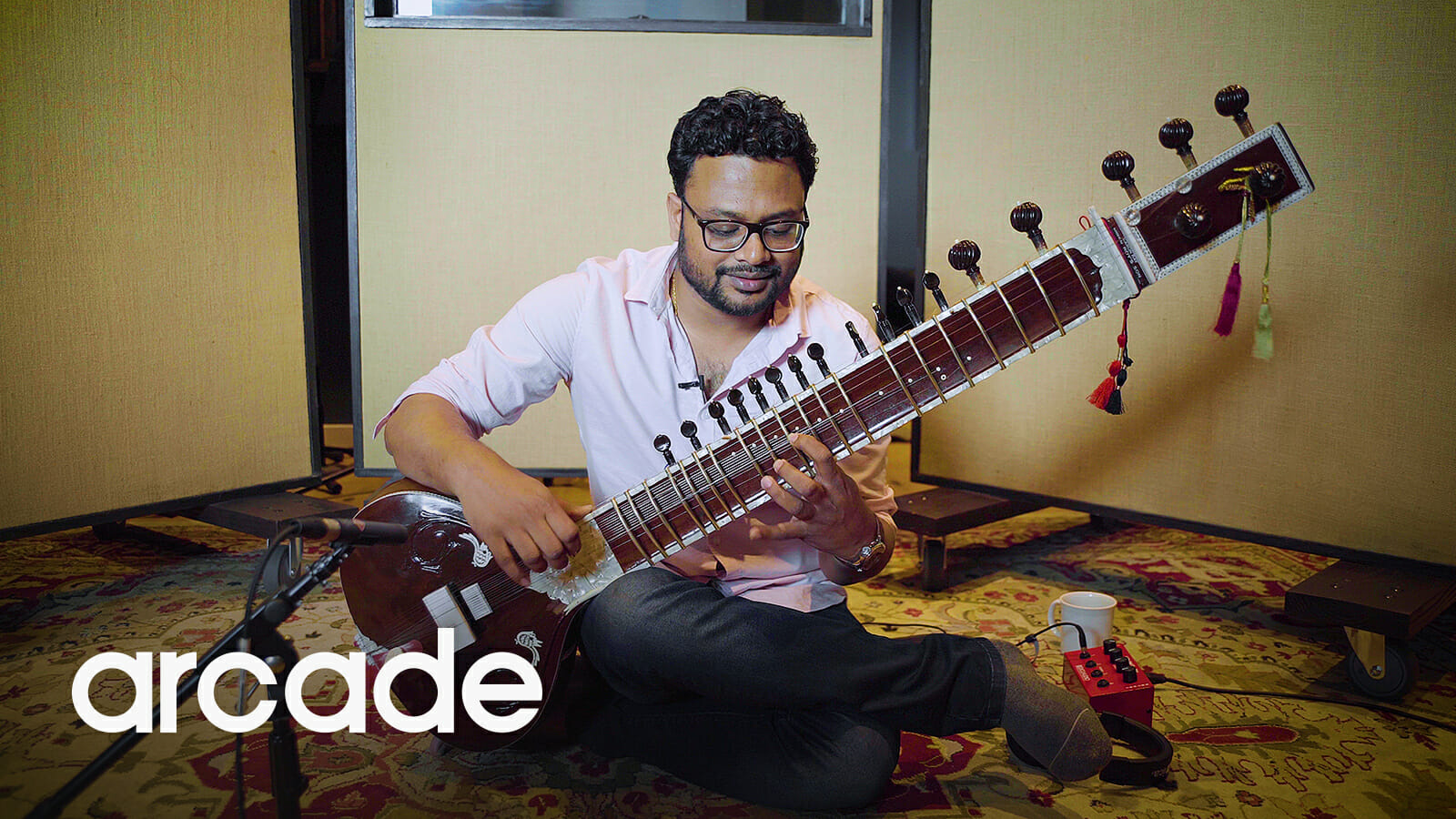 Rajib Karmakar is one of the brightest stars in world music, with his sitar sounds heard in performances around the world. He's known for his dexterity and speed along the frets, along with a willingness to experiment by blending different modern styles with traditional ones.
When he's not touring the world performing solo, he can be heard in several groups including WAHH, which blends India's classic sounds with jazz, funk, and rock.
Who better to lay down a variety of sitar sounds and riffs for the Sunrise in Manali Sampler in Arcade's Passport, than a man so inventive that he created the world's first double-necked electric sitar, the Mayur Tantri?
Get a peek into the creation of our Arcade Line, Passport. And, new users can try it free.
Travel the world, musically, without leaving your studio
Passport is what you reach for when you want 30 different ways to circle the globe. Fluttering Arabian cane flutes, peppy European accordions, Asian tapping cups, bone dry bouzoukis, or otherworldly didgeridoos are all at your fingertips.
Hopefully you will quickly fall in love with it as hard as Karmakar says he fell for his go-to sitar.
"Sometimes you find things… and you really get a nice connection with it from the first get-go, and that's what your instrument is," he says.
Karmakar was in the Output studio recording a sweet collection of sitar sounds that corresponded with different parts of the day when we asked him to describe his unique sounds.
Meet some of the different melodies
The Morning Melody is the feeling of "when you wake up, you have that energy but you're like, 'let me sleep five more minutes,'" he says, "but it has that burst of energy because we're starting the day."
The Afternoon Melody is in a different key and has a different vibe. "You feel like there's that energy, but you need a siesta," Karmakar explains, playing the exotic sounds of someone who had a full, heavy lunch and now wants a quick power nap.
There's also Midnight Rock which is energetic, but feels like you're losing a bit of steam from the long day. "We're still partying," he says with a knowing smile, "but let's get it done and go to sleep."