9 Incredible Home Recording Studio Ideas on Houzz
We gathered our favorite in-home studios posted by owners, architects, and designers on Houzz.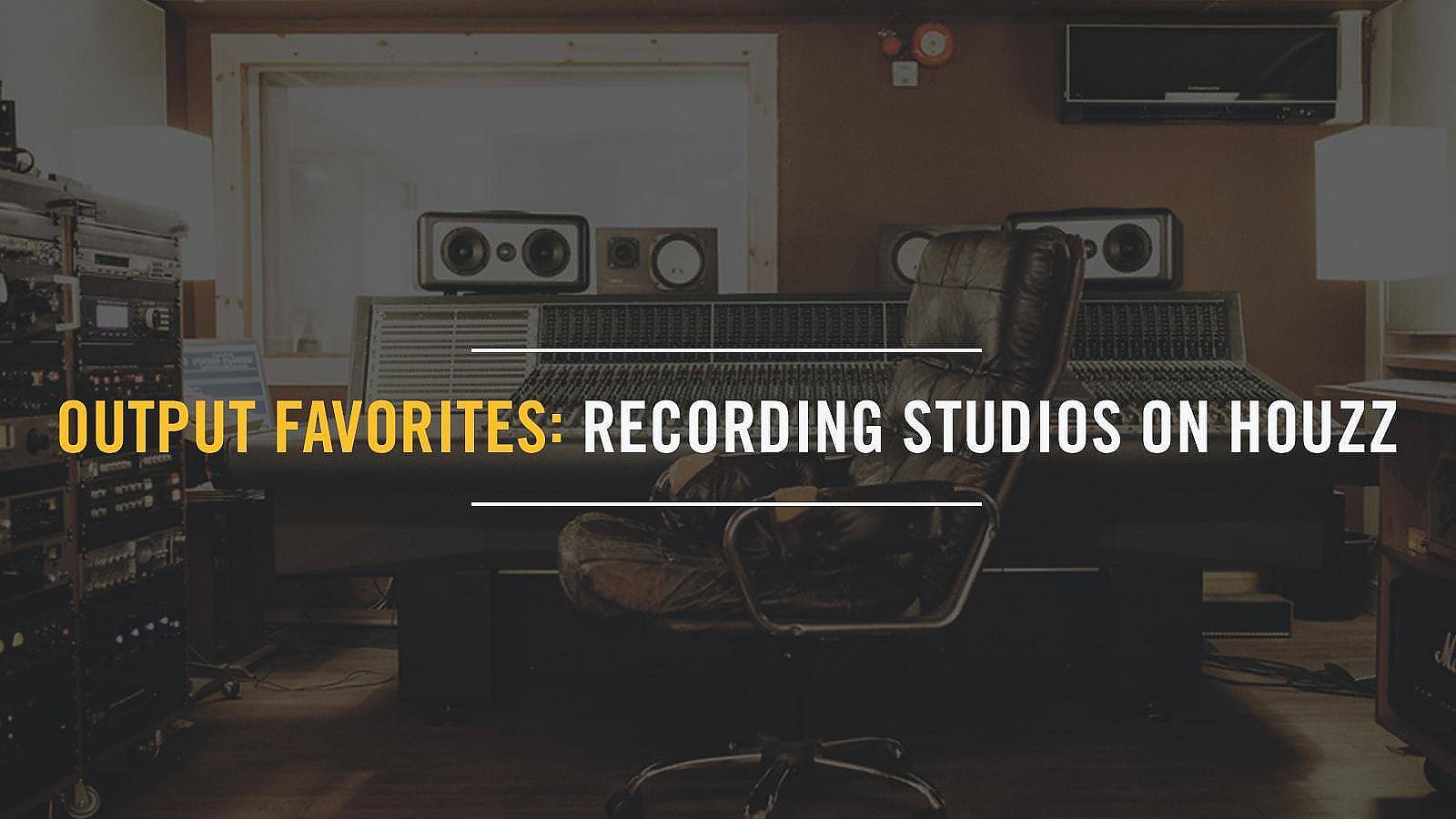 You might have already spent hours browsing Houzz for home design ideas. We recently stumbled upon some gorgeous in-home studios posted by owners, architects, and designers.
These gorgeous spaces provide loads of inspiration for new ways to freshen up our own setups. Some of them are admittedly purely aspirational, but there's nothing wrong with daydreaming in-between sessions. We put together a few of our favorites below. If you happen to have a unique setup, make sure to drop us a line on Instagram or Twitter!
1. Visita Privata a casa di Eugenio e Lucia, Rome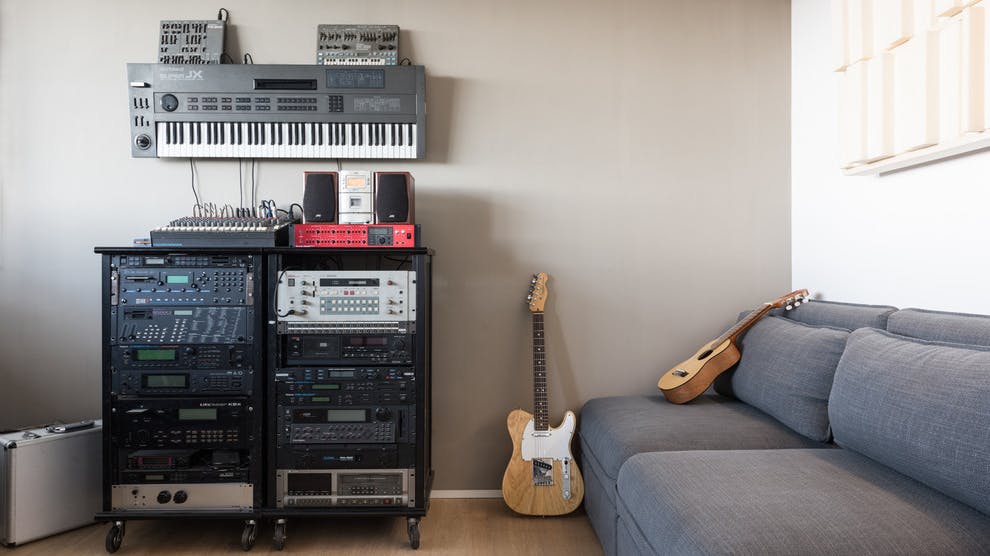 This home studio in Rome, Italy is clean, simple, and full of light. It's great for those long sessions when you may not normally see the sun. It also scores extra points for the vintage Roland JX-10 on the wall. What a great space-saving idea. More photos.
2. Multimedia office, San Francisco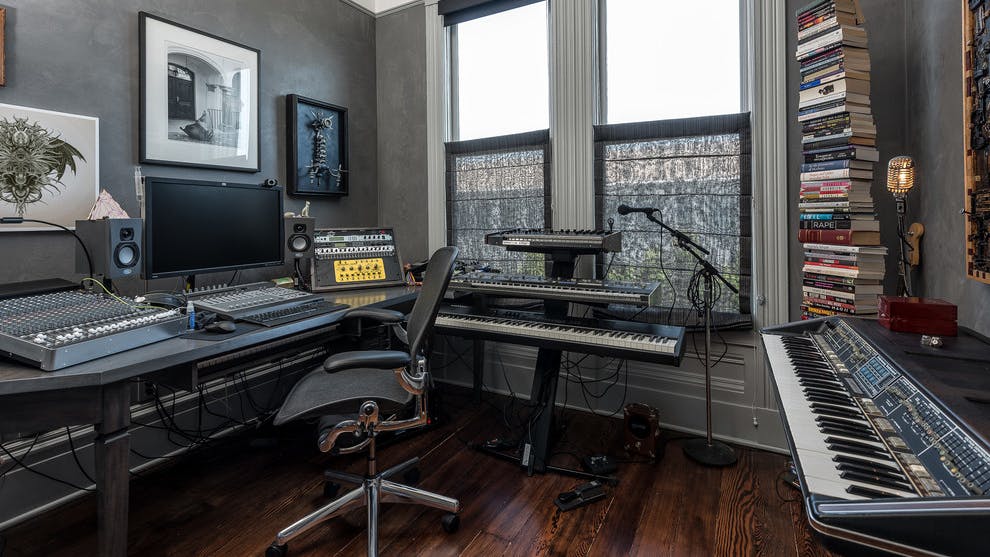 Beautifully decorated and designed, this California studio is a keyboard player's dream. Everything you need is right at your fingertips. And check out that vintage microphone lamp! This Etsy shop makes custom pieces similar to the one pictured. More photos.
3. Eclectic basement recording studio, Charlotte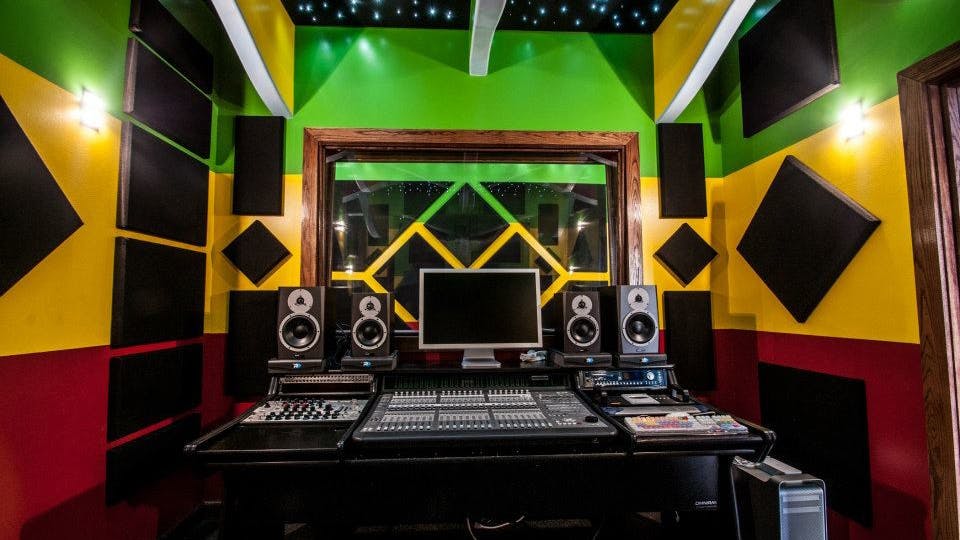 The basement can be a great space to build a studio. This one in Charlotte makes great use of the space. The colors and lighting are gorgeous. And they make an otherwise dark room feel bright and spacious. More photos.
4. Spyglass studio control room, Austin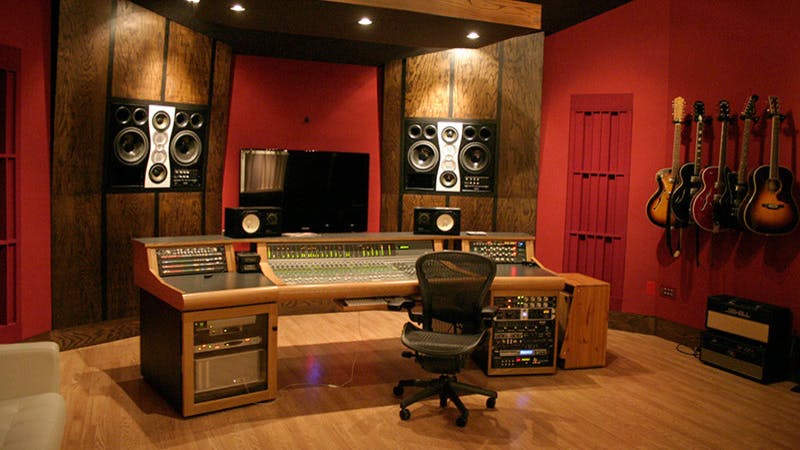 This aspirational control room was built with precise angles in mind to account for the acoustics. It's probably due in large part to tune the room for those Adam Audio S6X monitors that retail for just under $20,000 (!). If you want more affordable monitor options, we have you covered. More photos.
5. Contemporary basement, Northcliff
While something like this may be out of reach for many, it is easy on the eyes. Half retreat, half workspace. It'd be easy to spend a few days locked away here. More photos.
6. Sonoma recording studio, Vancouver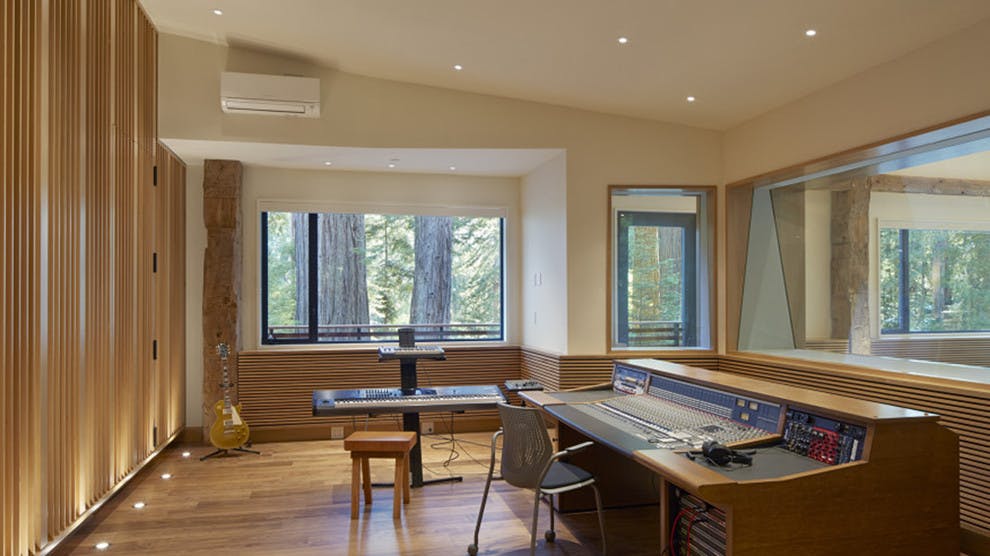 Vancouver, B.C. is full of majestic trees and natural wonders. This studio lets you enjoy the beauty of the outdoors while cozied up inside. The modern design and organic materials gorgeously blend in with the studio's surrounding views. More photos.
7. Fischer recording studio, Austin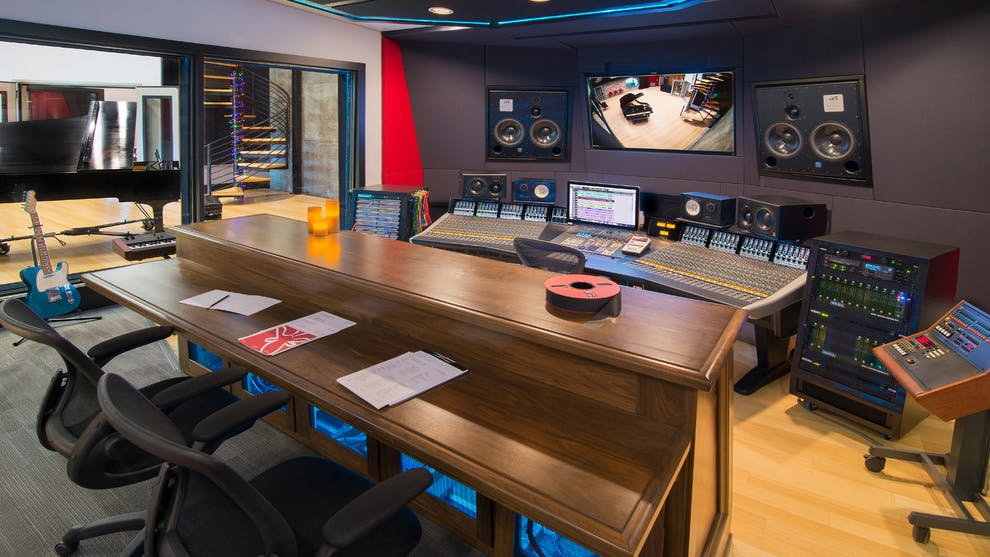 This is about as pro as it gets. The lighting is fantastic. The referencing speaker options are more than anyone could ask for. And that view of the recording room is a small glimpse at how beautiful the entire space is. More photos.
8. Amplified tiny house, Fayetteville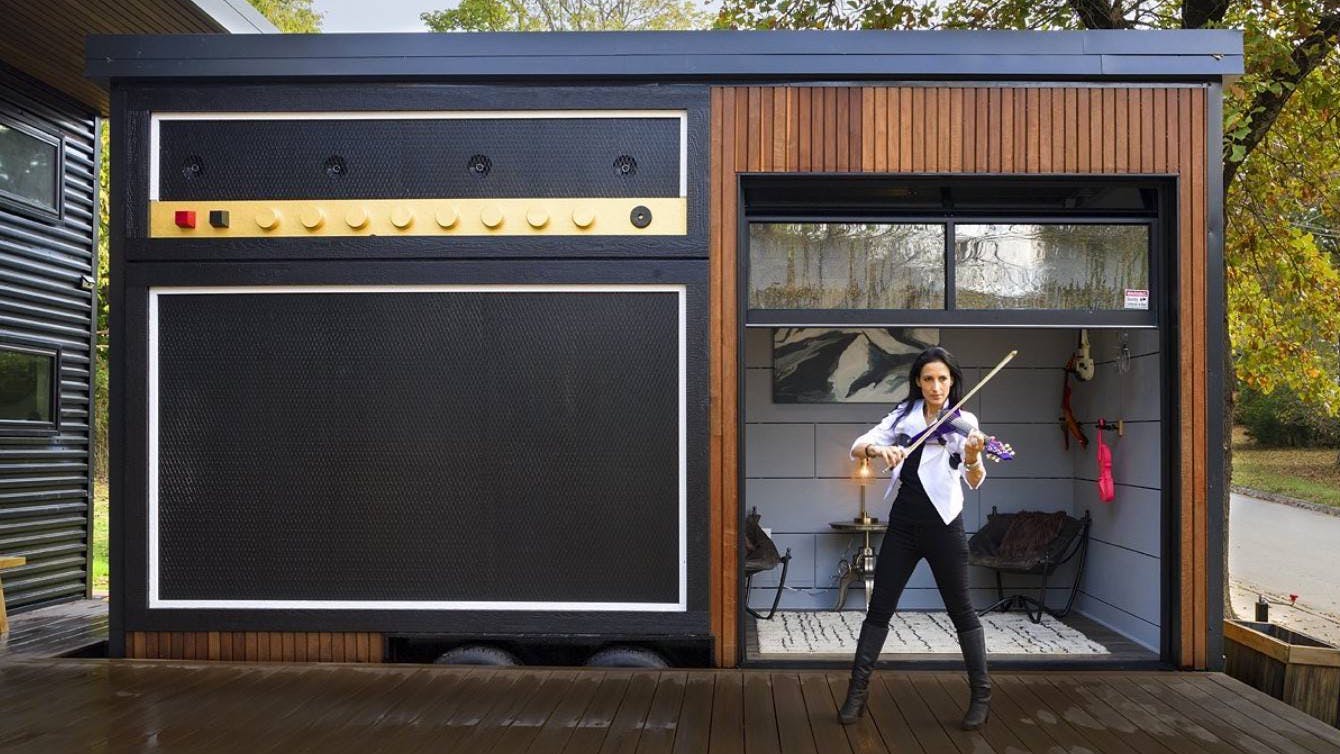 Violinist Asha Mevlana's "Amplified" tiny house was built on her brother's property in Fayetteville, Arkansas. This is the exterior of the second building, which operates both as a mobile recording studio and as a performance space for Asha and a community of local musicians. It's designed to look like a giant amp, but there are waterproof outdoor speakers hidden inside. She chronicled the build of it on her website. More photos.
9. El Cerrito private residence, San Francisco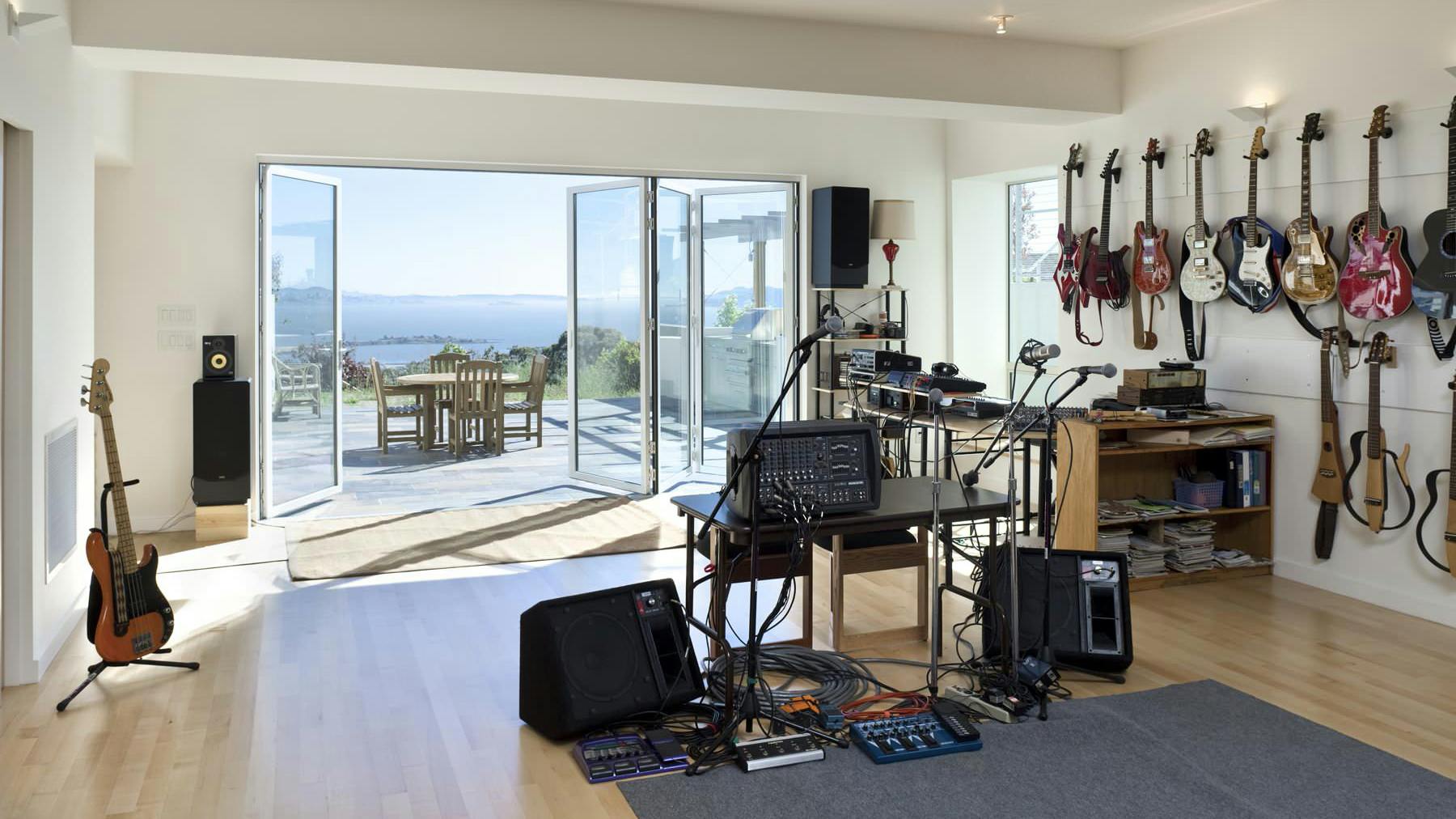 The actual setup for this studio is probably similar to what a lot of Output fans already have at home. It's nothing that would be out of reach. But can you imagine recording with that breathtaking view? More photos.
For even more studio inspiration, check out these photos of Output's Platform desk spotted in the wild.