New in Arcade: High-Energy Electro and Lovelorn Instrumentals
Need classic electro for your next track? What aboutheart-crushing pads? Or gritty saw pulses that amp up the energy? Check out what's new in ARCADE.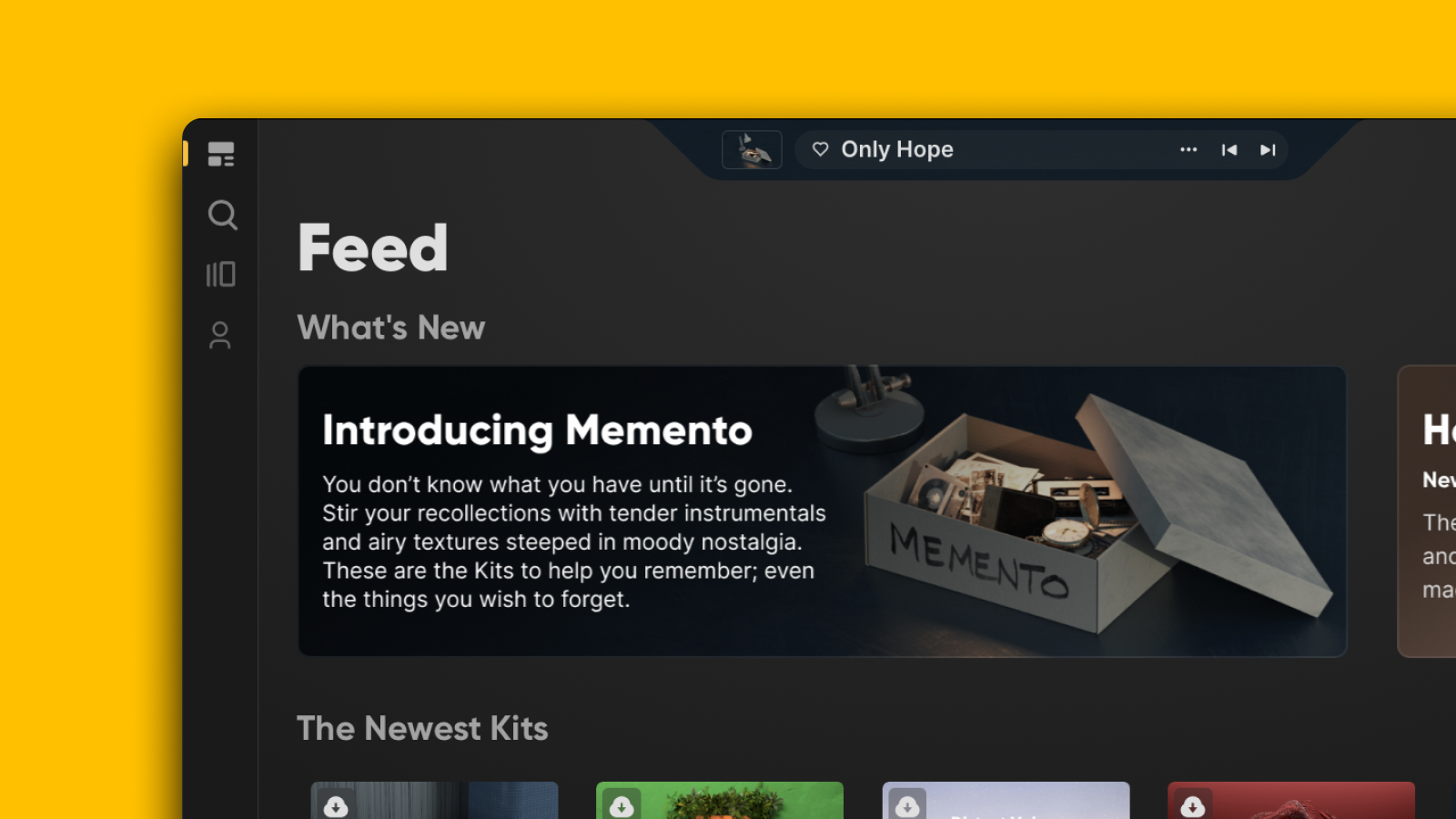 Need high-energy electro samples for your next track? What about moody and heart-crushing pads? Or gritty saw pulses that amp up the energy? No matter what you're looking for, Arcade has you covered. We've debuted a new Line and loads of new Samplers across an array of genres and styles that will inspire your next session and take you in new directions. Whether you're into future bass, hardstyle, ambient lo-fi, or R&B, you're sure to run into sounds that bend your ear and make you want to dig deeper.
Arcade by Output is a loop synthesizer that releases new content every single day. From vaporwave vibes to cinematic swells that would be at home in any movie trailer, Arcade has it all. Check out some of the freshest sounds recently added to Arcade, including Memento, a brand-new Line that is built to give you all the feels, whether you want them or not.
New Line: Memento
You don't know what you have until it's gone. Stir your recollections with tender instrumentals and airy textures steeped in moody nostalgia. From softly muted felt piano to warm kicks that mimic the pulse of a heartbeat, these sounds are perfect for stirring up a good cry. Peruse shimmering chords, somber flutes, lonesome bells, and more. Who's cutting onions? These are the Samplers to help you remember; even the things you wish to forget.
New Samplers for Hooked: Hooked Refresh
We're back with some fresh goods. These new vocal Samplers span a variety of tones and styles, complete with newly envisioned macro effects to get your freak on. If you need vocal stabs that can act as ear candy or be manipulated into melodies on their own, these new Samplers are for you. My Love My Love, Confess, and Spread Your Wings have every ooh, ahh, yes, and nah nah you would ever need to create voice-driven textures that beef up any track.
New Samplers for Sazón: Hot Latin
Sazón is back with a follow-up, this time with some Top 40 vibes. Four new Samplers will get you radio-ready in no time. Sal y Pimienta has kick, clap, and rim patterns with clave rhythms to give your tune instant salsa or rumba flair. Repiqueteo brings syncopation with shakers, plucked bass, and hyped ad libs for extra juice.
Activo bumps up the tempo with a dance-infused sound that uses everything from rhythmic marimba chords to energetic shouts. Last, Suavecito turns up the heat with big and bold brass that pairs with bright shakers and in-your-face toms. Infused with radio-ready pop sensibility, these Samplers will get you started on some on-repeat type productions in no time.
New Samplers for After Hours: High Energy
These new quick track-style electronic Samplers bring the heat. Bombarded is packed with bold, wobbled, and sharp leads that contrast against progressive-leaning plucks. For those with an inner UK raver, Overnight Workout delivers with big saws, hyper basslines, shuffled drums, and harder kicks that will transport any listener to a warehouse at 4am.
Within Range dials it back a bit with xylophone-like instrumentals and grooves that go with the flow (but with some extra punch). And last, Staying Power is all about future bass. Think Disclosure's "White Noise," but dirty it up. A lot. These Samplers infuse malleable classic and tech house sounds that also feel at home in dubstep, festival trap, and future bass productions.
New Samplers for Zero Hour: Future Electro
Pulsing basses, shimmery pads, and rapid-fire arps define these new electronic Samplers sent straight from the future. There's four new Samplers to choose from that are perfect for any electro fan (when we say electro think Kraftwerk, not Wolfgang Gartner).
Cruise Control is full of wandering sounds, from spacey bass to filtered pads. Cyberdelic is a trip back in time with trippy bass and mellow pulses that will make you want to watch Stranger Things for the 10th time. Intangible and Instantaneous go all out with descending pulses and fast and trickling leads that dance across the keybed.
If you enjoyed exploring the sounds of these unique Samplers, play around with them for yourself. New users can try Arcade for free.