Navigating NFTs and Web3 as a Musician with White Lights
Are NFTs a viable way for artists to make a living? Artist and blockchain engineer Johnny Shankman (aka White Lights) breaks down the basics.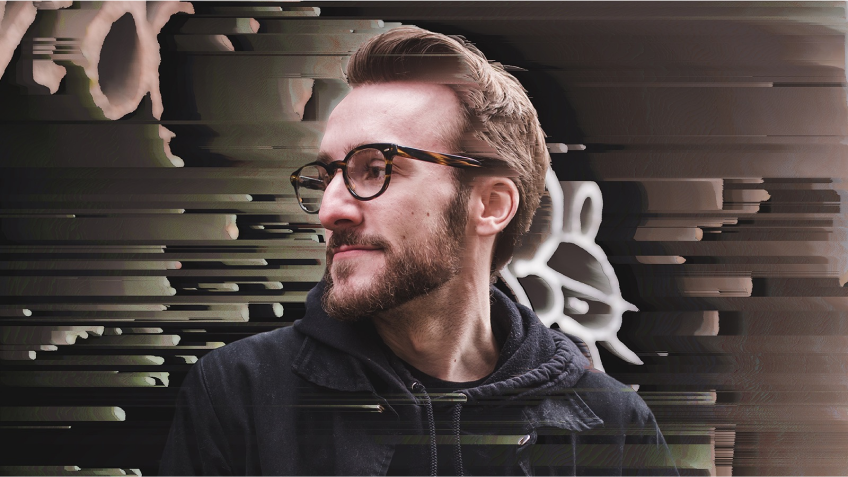 When you hear "NFTs," your brain probably thinks of cartoon ape profile pictures or flashy 3D digital art. NFTs (aka non-fungible tokens) seem to be on the tip of everyone's tongue these days. During the pandemic, this sector of cryptocurrency asset trading exploded in popularity, going from niche Internet topic to mainstream late-night American TV convo in a matter of months.
But how do NFTs work for musical artists? With so many NFT-related websites out there, how do you know which ones are legit? Output sat down with Johnny Shankman, aka White Lights — a producer/songwriter turned cryptoartist and blockchain developer who currently works for the Web3 company manifold.xyz — to explain how he got into the NFT space, and how artists who are interested in them can dip their toes into the water. But first…
What the heck is an NFT, again?
For newcomers: An NFT is a digital asset, like an image or a piece of music, that you can buy and verify ownership of using a cryptocurrency like Ethereum. This is a rather complicated topic, so if you're still confused, check out this great explainer courtesy of our friends at The Verge.
The sheer amount of money being thrown around in the NFT market is mind-boggling. According to Reuters, NFT sales generated approximately $25 billion in 2021. That same report also notes that 10 percent of traders made up a whopping 85 percent of the year's NFT transactions, meaning a handful of people are responsible for most of the money changing hands. There's still a long way to go before NFTs see mass adoption.
Although it's an emerging market, the traditional music industry has perked up and taken notice. "Technologies like blockchain and cryptocurrency still need a lot of development and legitimacy in the market," Dennis Kooker, Sony's President of Global Digital Business, recently said. "Some of the attitudes and behaviors we see in these emerging areas remind me of the Napster era. Already we've seen a couple of instances where you can imagine piracy and consumer fraud on a mass-market level. Those are of concern for us."
In the midst of this turmoil, artists and technologists are trying to imagine how musicians may be able to produce and sell NFTs to make a meaningful living. Some artists who are deeply embedded in the crypto space, like Holly Herndon, have found success with AI-powered art, sold as NFTs; others, like Mike Shinoda of Linkin Park, are leveraging their huge, pre-existing fanbases to sell new work that might not otherwise have found a home.
However, other artists are opposed to selling NFTs. This is partly because they can feel overtly financialized, prioritizing commerce over art. But it's also because historically, music artists are often the first to have their livelihoods stripped from them when the prevailing technology shifts.
For every crypto or NFT success story, there are dozens (if not hundreds) of cautionary tales. Scams and fraudulent schemes are everywhere — so if you're an artist who is curious about NFTs, how do you know where you should invest your time, energy, and money?
There are few people who can speak about this topic as effectively as White Lights. A musician with a degree in computer science, Johnny Shankman dove into the world of blockchain tech during the pandemic, quickly realizing that his dual passions of art and coding made him a prime candidate for developing useful NFT tools for artists.
Read on for an in-depth chat with Shankman about the most promising and problematic aspects of NFTs, and how his Web3 experiences changed how he thinks about releasing new music. He also explains how to avoid potential scams ("If you can't explain the project to someone else, don't participate in it") and how to get started as a total novice.
---
Output: How did you get into the cryptoart space?
Johnny Shankman: Around the end of 2019, I left my day job at a new media startup to commit to my artist project White Lights for a year. You can probably guess what happened next — the pandemic hit, and I had to adjust to the moment, releasing an album while the world was shut down and trying to play shows on Twitch.
I ended up burning out super hard on music, and so near the end of 2020 I began spending time on audiovisual art and 3D modeling, which I'd gotten into while building visuals for my shows. This was right before NFTs were really beginning to go mainstream.
I first learned about the NFT marketplace Foundation through my friend Nam Mac (aka @lordstingray), who'd done some Playstation-style visuals for [Swedish artist] Bladee. The website was invite-only at the time, so I hounded him for one, and I spent the next few months diving into the platform, its artist community, and familiarizing myself with the basics of cryptoart. I went on to sell a few pieces and found myself making more income off my handful of cryptoartworks than my music streams for the year. That made me want to see how I could push myself in the medium.
Eventually, I realized that the actual tech that makes NFTs work is relatively simple, and that I could build this stuff on my own without the constraints of a platform. I started working on an audiovisual website as a unique art piece, and while I was asking around for some technical advice, I was introduced to Richerd Chan, co-founder of Manifold. He helped me out, and at the end of our chat, asked me if I was interested in interviewing for the company.
For an artist whose main medium is music: How would they go about minting an NFT? What would the NFT itself be?
What's so exciting about Web3 is that there are so many approaches, depending on what kind of artist you are. For example: there's one website called Catalog where artists can sell individual singles as 1 of 1 NFTs and get walked through the whole minting process. Or, if you're more of a sound designer than a songwriter, you could create or collaborate on an audiovisual piece and then mint it on a platform like Foundation.
I've also seen more established artists find success with what's called a "social token" — a custom fungible cryptocurrency that fans can buy for access to, well, whatever the artist wants to give! I'd compare it to letting people buy stock in your artistry.
Want to learn how to get your music out there? Check out our explainer on how to choose the right music distributor.
Do you think NFTs will become a viable alternative to traditional sources of recorded music revenue?
Eventually, but it will require a massive mentality change. Previously, your song was essentially your Bat Signal. You put the song out to hopefully gain attention, and monetize it however you can, but the bulk of your earnings were going to come from other avenues. Songs have become a loss leader, a marketing ploy for your art that you need to do in order to actually make money.
[NFTs] offer the exact opposite. The song can become an important asset. This is good for people who are very premeditated about their work, but there's a flipside, too. I've spoken with a few Web3 artists who've told me that they now regard their songs as opportunities for people to invest in them, and I don't think many artists are comfortable with that financialized mindset — hell, sometimes it rubs me the wrong way.
Most people pay for streaming services instead of buying music now. But a lot of artists and fans are deeply opposed to selling their work as NFTs — are you empathetic to that?
Definitely. There is so much headline-drawing negative stuff — scams, low-effort projects where the art clearly just sucks, etc. — and it makes people feel like all of these projects must be the same way. But for every scam, there's another small, independent artist who just made a couple thousand bucks off their work that they couldn't have made otherwise. Now they can reinvest back into their art career, and I think that counts for something.
What do you think is the most misunderstood aspect of NFTs?
I think the big one is that "right click and save" isn't the slam dunk that people think it is. Think about it: Is the Louvre Museum opposed to the millions of postcards with the Mona Lisa on them, or are they pleased because they drive ticket sales for the museum? The image is just a representation.
Even if someone pirates a copy of your song after someone else has paid you handsomely for it, it doesn't matter — you're still getting paid! And cultural relevance has inherent value, as influencers have shown us.
How do you know whether a platform or project is worth your time and resources?
If you can't explain the project to someone else who isn't involved or knowledgable, then you shouldn't participate in it. And the same goes for SoundCloud, Facebook, Instagram, any website, right? If you can't explain why you're on that platform, you're probably wasting your time there!
Don't waste time recording music in an untreated room. Learn how to upgrade the sound of your recording environment with our new Eco Acoustic Panels.
Let's say I'm new to all of this: I hold no crypto, and I don't know what I need to get started minting NFTs, but I'm curious about it. Where do I start?
How I started was with a platform with art I liked. For me, that was Foundation. You've got to get an understanding of how the platform works: what kind of work goes for what price, how auctions work, that type of thing.
The next thing you need is a cryptocurrency wallet, which is a depository for your cryptocurrency that also essentially acts like a login for compatible Web3 platforms. The most popular one that I always recommend is MetaMask, which works as a Chrome extension.
And lastly: You buy cryptocurrency, which is used to purchase NFTs and pay for minting fees. There are a few cryptocurrency exchanges out there. I personally use Coinbase, and transfer my cryptocurrency from my Coinbase account to my wallet.
What kind of artist should look into whether NFTs are a viable way of making a living with their art?
Any artist who prioritizes streaming revenue would need to sit down and go over the numbers. How many Spotify plays would it take to match the financial gains of a single NFT sale, whatever that dollar amount may be? Is it worth investigating an alternative way to create that income?
The answer will really depend on the artist and their career goals. If you have a small fandom of supporters who would love to spend more on you than just a stream or a T-shirt, in exchange for something substantial, this is a great avenue for that. Web3 is less of a marketing tool and more of a new distribution model.
One of the biggest focuses at Manifold for me, right now, is making Web3 tools accessible for more artists. I want to help artists have a career, and I feel like Web3 offers us an incredible way to do it correctly. I've seen it happen! But it's still early days, and people are still trying to figure out what "correctly" means. I think that's exciting. The possibilities feel endless.