How Nathalie Joachim Is Bringing Haiti To Classical Music: Interview
Haitian-American composer Nathalie Joachim is breaking down monolithic ideas about classical music through what she knows best: herself.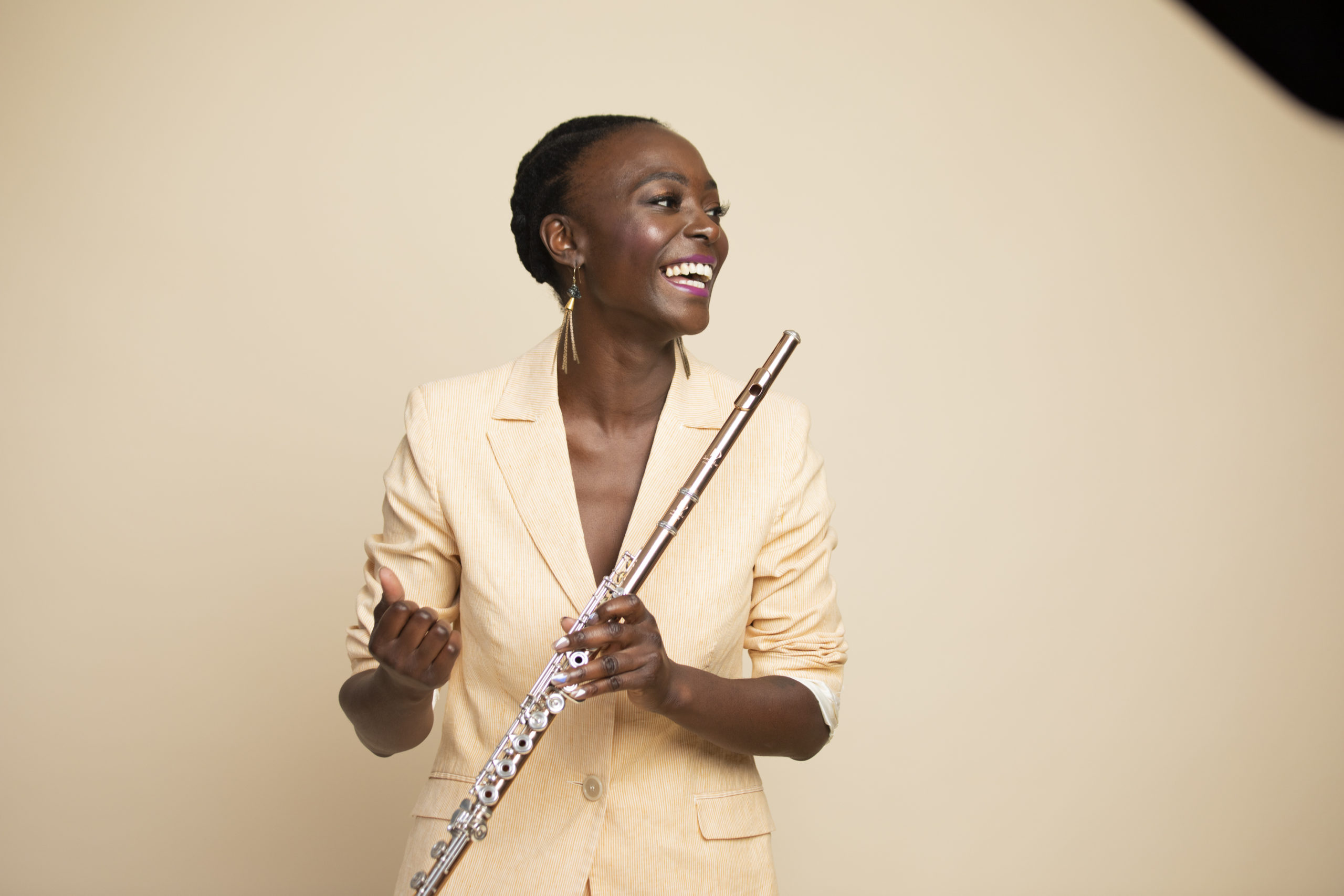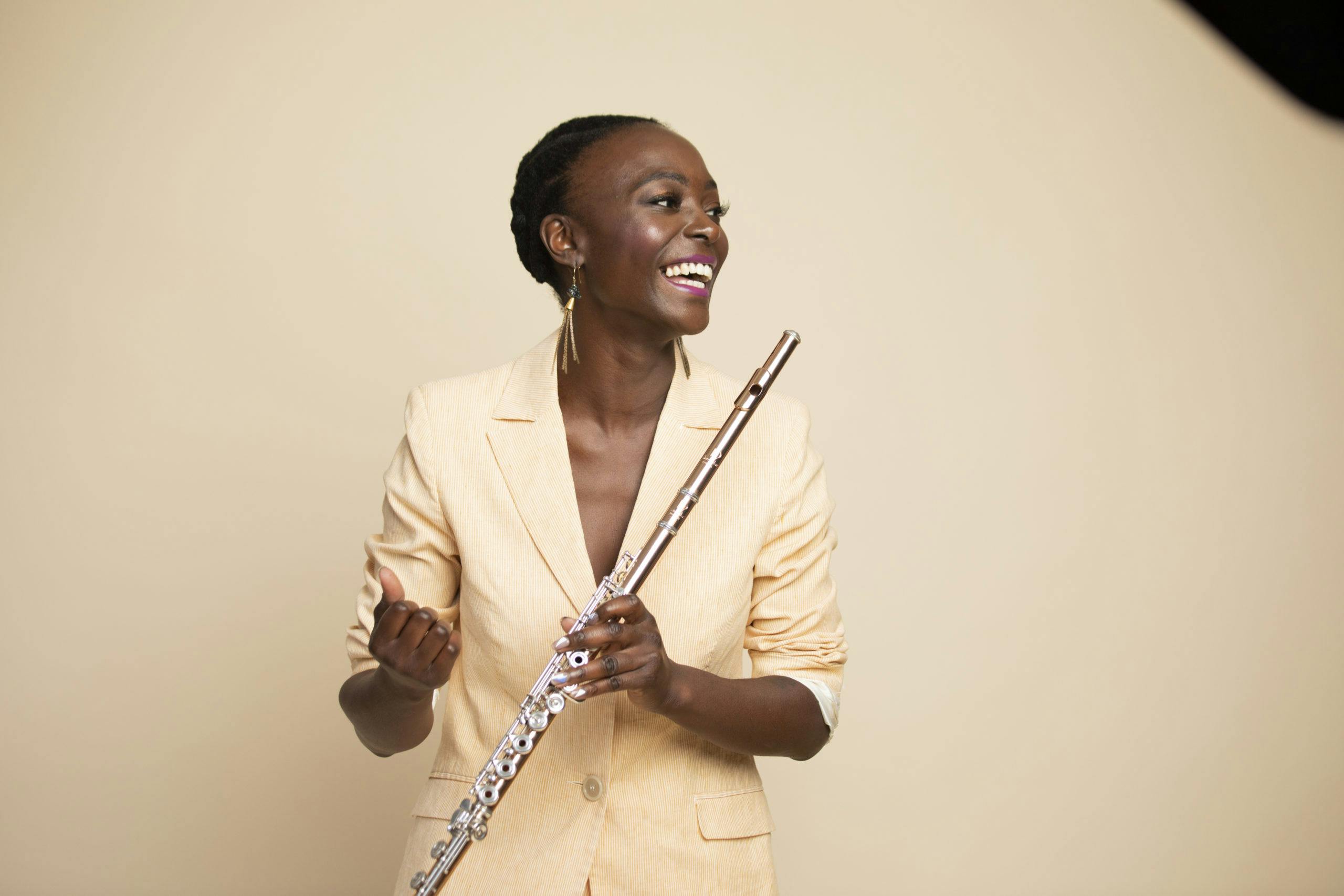 Nathalie Joachim isn't content with boundaries. But then again, she shouldn't be. The Brooklyn-born Haitian-American composer found success by tapping into the well of her own history to create modern classical music that dances across the lines of genres. With an endless list of accolades (including a Grammy nomination), Joachim is breaking down monolithic ideas about classical music through what she knows best: herself.
---
A drum 'n' bass a capella session is an unexpected twist when speaking with an acclaimed classical artist. But if Nathalie Joachim is anything, it's multi-faceted. Joachim — one of the few living American composers who are Black women and under 50 years old — has built a career off reshaping antiquated views of what classical music "should" sound like, nabbing a Grammy nomination in the process.
A flutist, vocalist, and composer, Joachim counts a wide range of musical styles and influences, from her Haitian-American heritage to her work as an educator at the Kaufman Music Center to the '90s club scene in New York City. Joachim lights up recalling her weekends away from the Juilliard campus, and thus begins the impromptu a capella of Roni Size and Reprazent's "Brown Paper Bag."
Joachim's work breaks classical's long-held "traditional" structures, primarily because most classical compositions are created in the likeness of European musicology. As Joseph Horowitz said to NPR about America's classical music history, "This is a classical music culture built on sand, because it's European sand."
But, Joachim's classical compositions are created in her own personal likeness, one which melds the traditions of Haiti with modern electronic music.
The intertwining of music, family, and her Haitian heritage is at the heart of Joachim's voice. "Music is a huge part of our culture," Joachim explains. "It's just a huge part of our existence, it's how we know what our history is, it's how we share stories, it's how we share time together, so music was always something very central to what [I] experienced in my household."
In particular, Joachim speaks to the bond with her grandmother, Ipheta, and the Haitian oral practice of folk storytelling — tire kont. "My grandmother was very special," says Joachim. "She was truly one of my earliest music teachers in that she brought me into this cultural practice that we [Haitians] have. She wasn't a professional musician herself, but our way of storytelling and sharing in history is rooted in the oral tradition and practice that came from slaves continuing their customs in Haiti."
Joachim's relationship to the dance floor is also integral to her music. While in college, acts like Björk, Tricky, Morcheeba, and the aforementioned Roni Size grabbed her attention. Now, she often uses field recordings and manipulated samples in her work, and utilizes orchestral sounds in unorthodox ways that float the boundaries of genre. Separately, Joachim is also one-half of acoustic-electro techno-flutist duo Flutronix with Allison Loggins-Hull.
The collection of all of these different parts of her personal history and musical tastes crystallized on Joachim's 2019 debut album, Famn d'Ayati (Women of Haiti). Recorded with Chicago-based ensemble Spektral Quartet, Famn d'Ayati is a project that combines flute, voice, string quartet, and electronic elements.
Within the album, pieces of soul, hip-hop, abstract minimalism, noise, ambient, and Haitian folkloric traditions are apparent, all with a classical backbone. It's an artistic achievement The New York Times called "powerful and unpretentious." The effort then earned her a Grammy nomination for Best World Music Album in 2020.
As she explains in the album's liner notes, it was created over the course of several years, through conversations she had in Haiti with family members, female Haitian artists, and "others willing to share their piece of our cultural puzzle." On songs like "Papa Loko," "Fanm d'Ayiti," and all three parts of "Suite pou Dantan," Joachim's love for Haitian tradition meets her love for electronic music and composing. There are plucked orchestral drum patterns, rearranged Haitian folk songs, and the sampled voices of Joachim's grandmother and the girls choir from the family's home village of Dantan. And, the entire album was written and arranged in Kreyòl (Haitian Creole).
For Joachim, it's important to both honor tradition and innovate within it. "I just try to be myself," she says. "I wasn't trying to claim to be a true traditional Haitian local footwork artist. I wasn't gonna put out a konpa record. I just needed Famn d'Ayiti to feel like all of the pieces of me. And it's amazing that the album is able to speak to the Haitian community."
Joachim's follow-up in 2020, Transformation, spans an even greater sonic field. The title track features her soft, yet confident timbre stretching the song's only word — transformation — atop wordless, articulatory harmonies. The arrangements on Transformation as a whole utilize dramatic spatial awareness in each measure. Like Brian Eno or William Basinski, Joachim's work in Transformation sits in a reverberated headspace. At many times, it reads as electronic instead of classical, or alternative, a trick Joachim likely honed as an undergraduate at Juilliard and mastered as a postgraduate at The New School.
Even more impressive are the collaborators who conceptualized Transformation — Joachim's 10th-grade class at the Kaufman Music Center in New York City. During quarantine they wrote, arranged, and performed every song with Joachim, a sonic representation of her influence as an educator.
Despite all the career triumphs, those with a Salieri complex still try to find a way to undermine her existence in the classical space. "I try not to pay them any mind," says Joachim about these micro aggressions. "I just needed [Famn d'Ayiti] to feel like all of the pieces of me."
As the interview winds down, Joachim muses about how her life might be different if, as a child, she saw more people who looked like her in high positions within classical and dance music. She considers this with her students at the Kaufman Music Center. The gravity of teaching music creation and ownership to Brown and Black students as a Black woman and accomplished composer is not lost on Joachim. But, even she grapples with her own success.
"It took a long time for me to claim the title of composer and vocalist," says Joachim. "The people I saw given that title and owning it did not look like me, did not live like me. Their music was not rooted in what [the of soul of my music] was rooted in. So I just never really felt comfortable reclaiming those as titles of mine until very recently in my career…and life."
All creatives, no matter their background, can learn from Nathalie Joachim: lean into your history, embrace self-discovery, and believe in yourself…especially if the proof is written in the sheet music.
Nathalie Joachim's albums, Famn d'Ayati and Transformation, are out now.
Words by Karen Froneberger.