The Ultimate List of Travel Essentials for Musicians
Before you head out on the road, check out Output's list of travel essentials for musicians.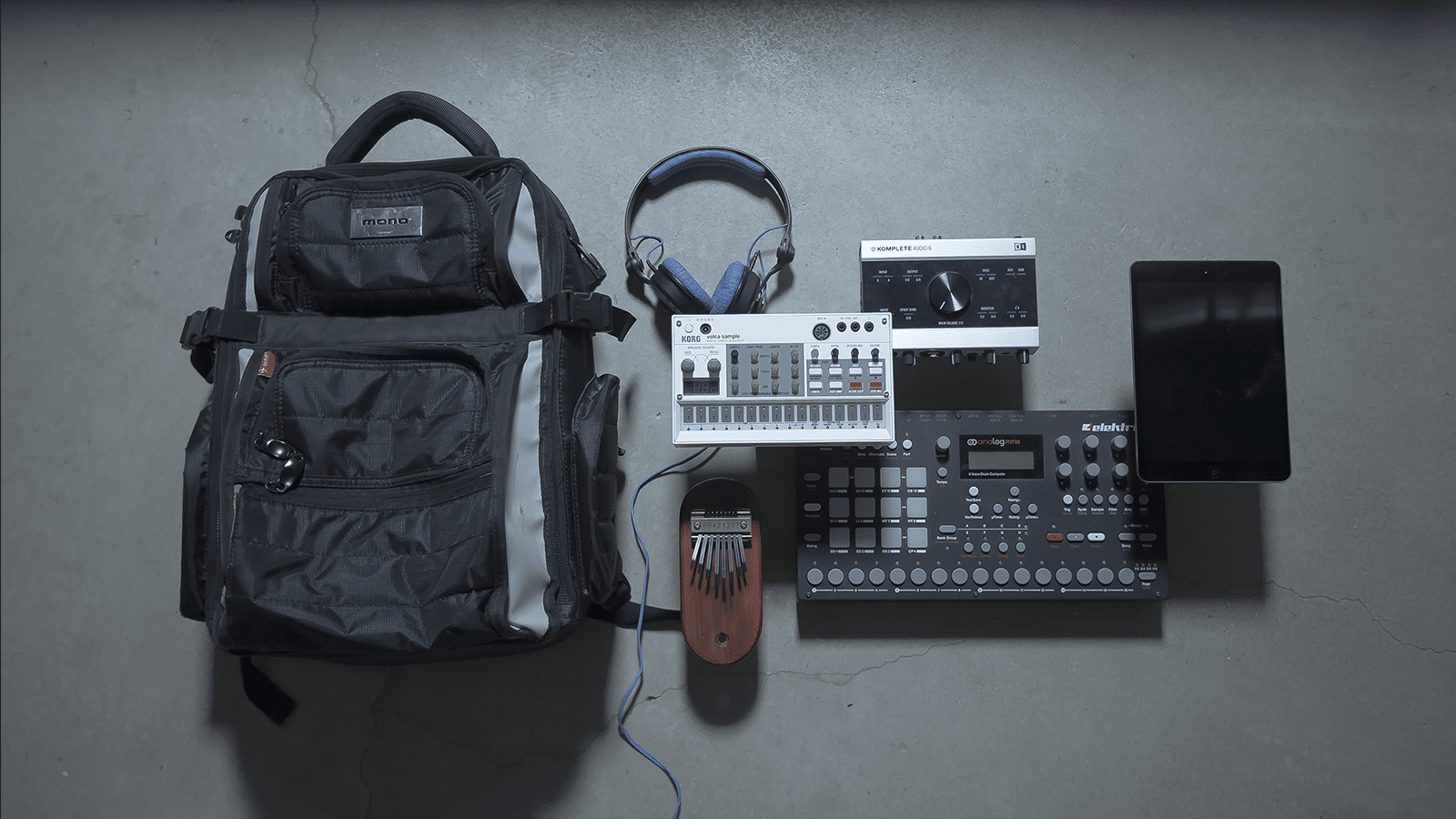 Before you head out on the road, check out Output's list of travel essentials for musicians. We all know what to pack for an overnight getaway, but what do you pack when you want to create music on the go? We asked a composer, laptop DJ, and sound designer at Output what their must-have items are when they travel.
Phil, composer
"The key to my travel gear is creating a setup that conforms to the same workflow as my home studio. I fit everything into one backpack for easy mobility and power it all from my laptop to run from a single outlet. All this gear (except for the computer) is cheap and replaceable in case anything gets damaged on the road."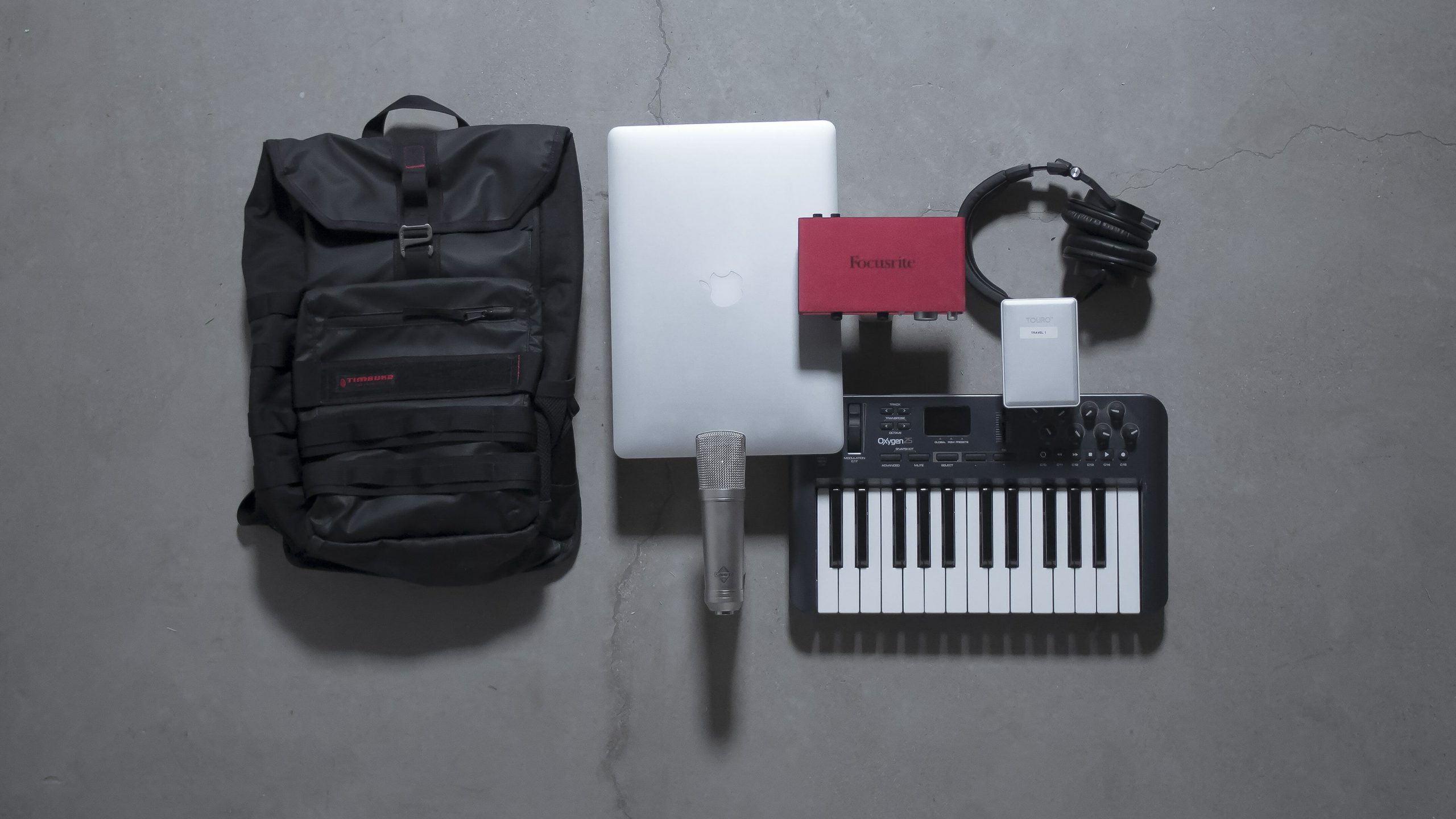 Timbuk2 Spire backpack: This pack contains a protective sleeve to carry a laptop with lots of pockets for other gear.
Focusrite Scarlett 2i2 interface: Though small in size, this interface has some of the better mic preamps on a budget.
Touro 1TB 7200RPM portable drive: A cheap, high-speed portable hard drive for running large sample libraries like Output, Cinesamples, Spitfire, etc.
M-Audio Oxygen 25 MIDI keyboard: A great-feeling portable keyboard with a fader and mod wheel that is essential for mocking up orchestral film scores.
J5create USB3 4-port hub: This hub is travel-friendly in size and does not require its own power adapter, which makes it easy to connect a MIDI keyboard, hard drive, interface, and potentially i-Loks to a single computer.
Gauge-ECM87: A cheap condenser microphone with very little coloring of the sound, making it a decent choice to record anything from vocals to acoustic instruments.
Audio-Technica ATH-M50x headphones: You can't go wrong with my favorite headphones for mixing when your speakers aren't handy.
Jake, laptop DJ
"Playing shows on the road demands a light-weight set up to sort quickly, check out, and get through the door in time to catch that red-eye flight. All portable setups run from laptop power, but spice up your live set by controlling new plugins and FX with an iPad."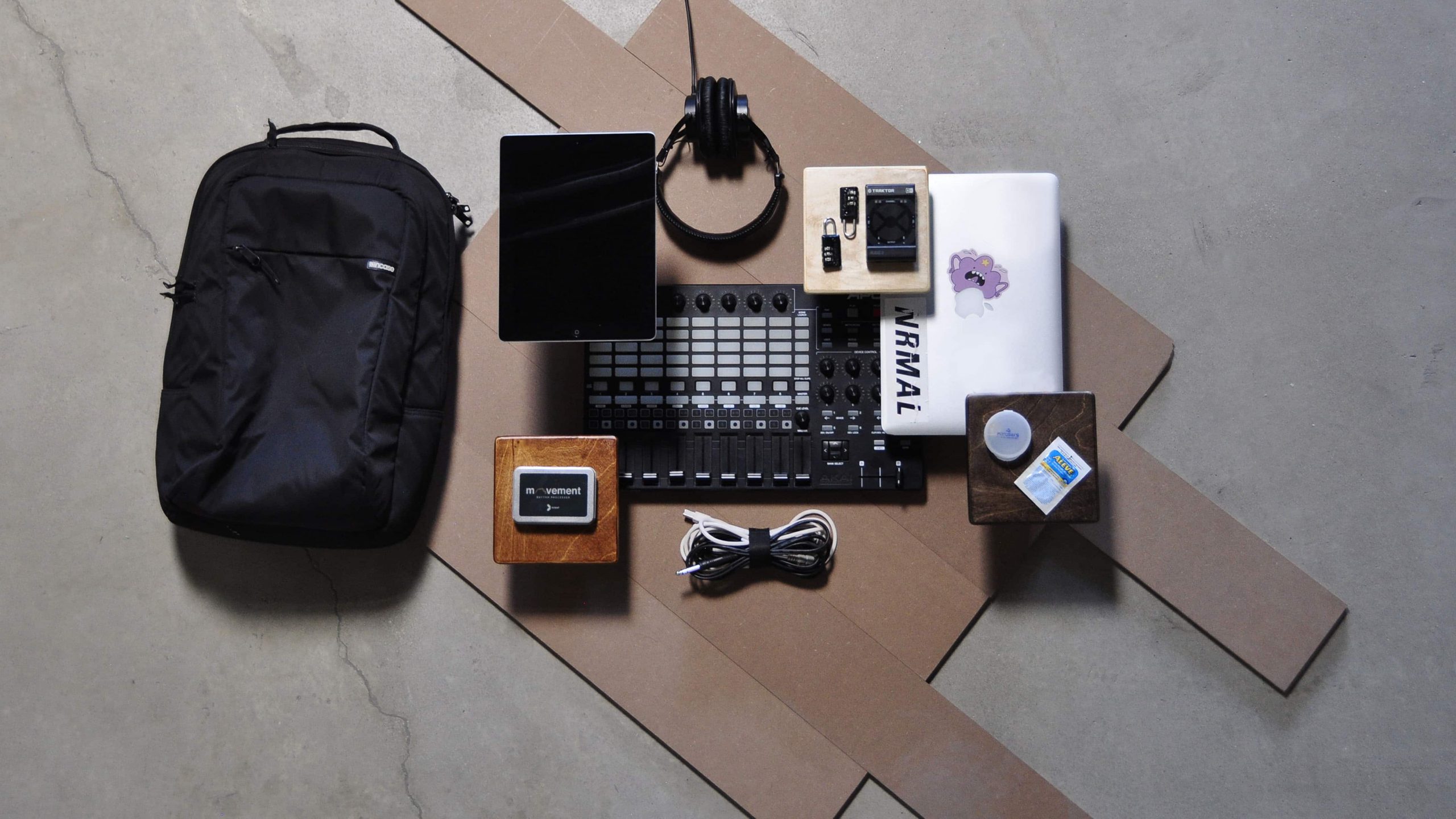 Incase ICON backpack: I got this backpack from my best friend who knows me better than I know myself. It is slim with great pockets on pockets for different gear and sweet chest straps for those moments when the seconds are counting down to your set and you've got to make a run for it!
Akai Pro APC40-MKII: A Swiss Army knife of MIDI controllers that is perfect for launching clips in Ableton Live, processing, manipulating sends and effects, and more.
Native Instruments TRAKTOR Audio 2: The most portable, lightweight sound card with decent loud audio in the market, not necessarily for studio use but on fleek for the modern DJ.
Apple iPad: New applications are always on the rise. An iPad is useful for housing new software and keeping you entertained during layovers. Good apps to check out are Konkreet Performer, which is for manipulating parameters in a natural-sounding way, or OSC controller Lemur.
Earasers: Your ears are your money-makers and earplugs are key. Keep them on for opener DJs and take them off for your set.
Aleve: Nothing is worse than a migraine during your set.
TSA-approved luggage locks: Make sure to secure your goods when traveling abroad.
Velcro straps: Dopest of the dope.
Sony MDRV6 studio monitor headphones: These monitor headphones are good to have during your set and on the road.
Josh, sound designer
"The goal of my travel setup is to keep my gear safe, stay organized, and allow for recording and music-making at a moment's notice. With the Mono bag, all of my equipment is safe and neat. With my laptop, Zoom H6, and MKP Mini mkII, I'm ready to record sounds and create music on a plane or wherever sounds take me."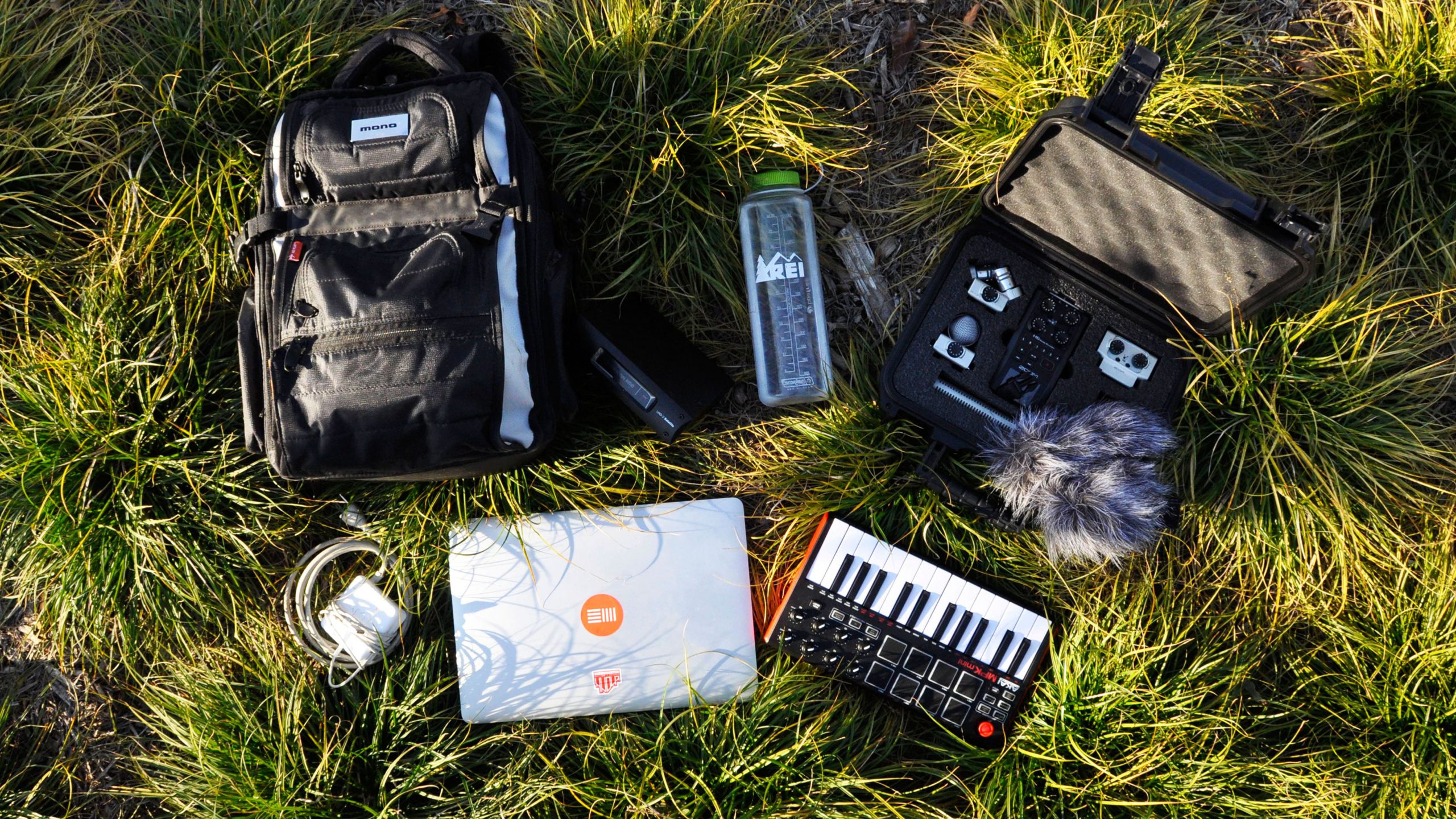 Mono FlyBy Backpack: I love this bag. This modular bag feels like it can fit everything I own, including a whole lot of music gear. It also features a modular breakaway laptop pack.
Apple power supply and cables: Power is everything. Cables are an obvious must-have when traveling with a laptop. Also, an overlooked tip is to bring an extension cord for airport terminals to share the wealth and not have to wait for an open socket.
Apple Macbook Pro: This is where the magic happens. My laptop runs DAWs Ableton Live 9, Pro Tools 11, Logic X, and favorite sample libraries like Output, Spitfire, etc.
Zoom H6: Two words: found sound. With interchangeable input capsules and a windbuster, this is a solid kit to have on hand for any number of sound design and engineering purposes. It's a very versatile little travel case.
Akai MPK Mini mkII: The size makes it a no-brainer for MIDI on the move. As a bonus, you get pads, knobs, and a small joystick (if you're into that kind of stuff).
Universal Audio UAD-2 Satellite Thunderbolt 3: I never leave the house without my UAD plugs. The satellite lets me harness the power of UAD DSP without having to lug around my rackmount Apollo 8.
REI water bottle: Stay hydrated, folks.
Also included: 1TB Lacie Thunderbolt drive, an iLok, Audio-Technica ATH-M50x headphones, 1/4 and 1/8 adapters, a power strip, passport, a change of socks, and a manuscript journal to layout ideas or melodies.
Travel checklist
Although everyone has their favorite pieces of gear, there's a basic checklist to run through when thinking about travel essentials for musicians. The next time you gear up to go out, make sure to tick off the following items. This way, whether you're delayed and stuck at an airport or out inspired by architecture, you'll be able to capture your ideas.
Laptop
A portable, durable, and connectable MIDI controller
Your favorite DAW
In-ear monitors or good, over-ear headphones
A high-speed storage device for large sample libraries
A Zoom H6 or a mobile device/iPad for field recordings
Onboard audio if a USB port is not available
Car/international adapters, extension cords, and a power supply
Safe and sound travels from Output! And to read more about our amazing staff, check out this profile on nine amazing women that work at Output.