How To Make a Migos-Type Beat With Arcade
Introducing: Made With Arcade, a new video series powered by Output's signature instrument plugin. First up: a wavy Migos-type beat with Chu.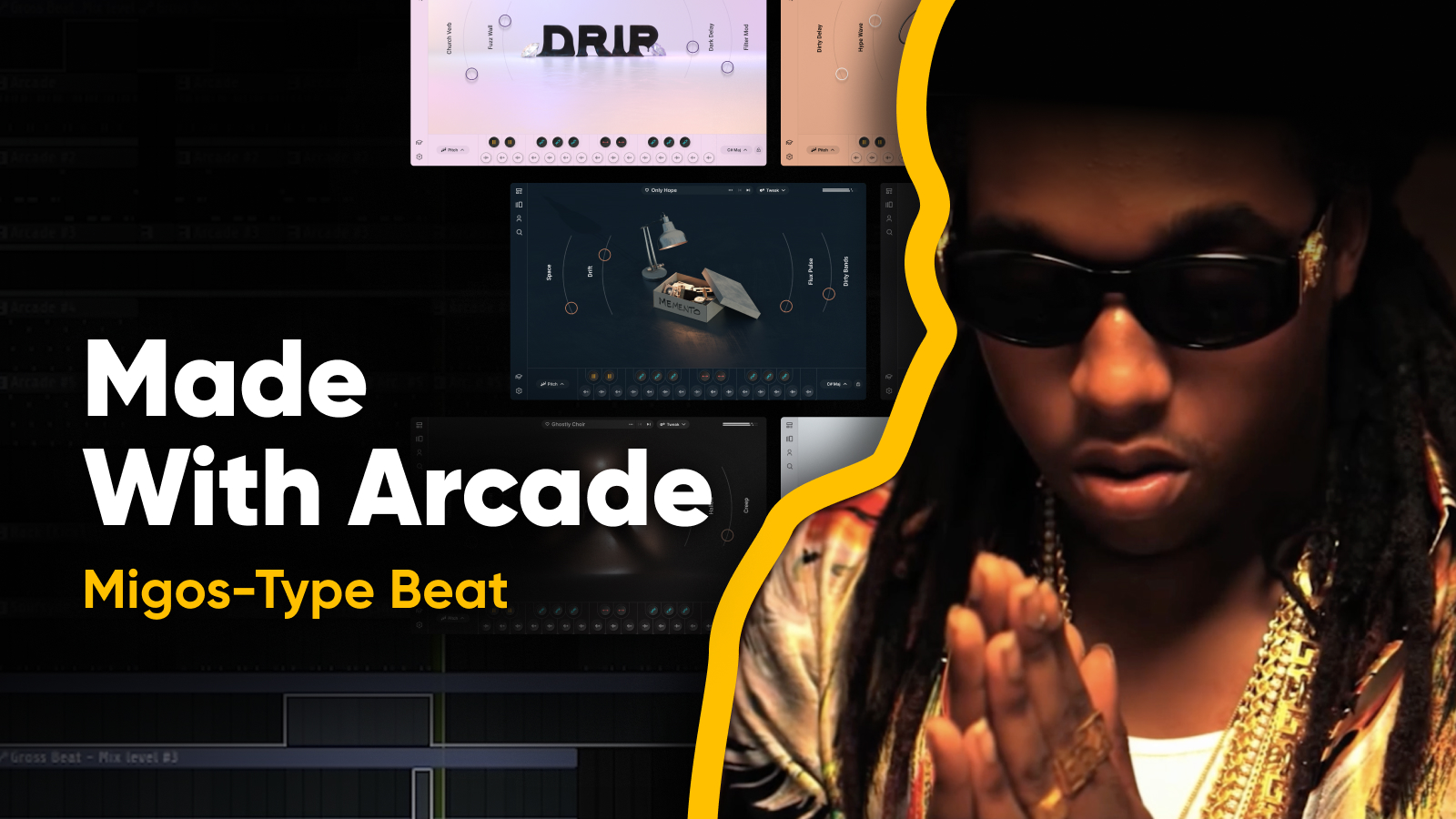 Welcome to Made With Arcade, a new video series from Output. In this first-ever installment, producer and YouTuber Chu (@prodbychu) makes a Migos-type beat using FL Studio and Arcade — all you need to start cooking up incredible music. Almost the entirety of this track was made exclusively with sounds from Arcade, your one-stop shop for bass, pads, plucks, and so much more.
Are you an FL Studio user who wants these sounds? Arcade has over 55,000+ loops, samples, one-shots, and more. Preview them all and download only the ones you want to use, with more instruments coming to Arcade each week. New users get a free trial! (Bonus: Scroll down to download the MIDI files for this beat!)
Arcade is the perfect instrument for starting a new track, making quick beats to rap over in a writing session, or finishing that one masterpiece that's been sitting on your hard drive for months. As Chu shows off, it plays great with other plugins, like FL Studio's Gross Beat or CableGuys' HalfTime.
Chu mentions that a big part of Migos' sound on the reference track "Modern Day" is a cold, ambient pad, which is the main element apart from the vocals, drums, and sub-bass. He creates a similar sound by taking two Kits from Drip — the Sampler "Head in the Clouds" and the Instrument "Celestial Vibes" — and layering them together.
Note that he doesn't just leave the synths as-is! Chu uses a parametric EQ plugin to put low- and high-pass filters on both the pad and pluck. This isolates the frequencies he wants and makes more room in the low and high-frequency ranges (for bass and hi-hats respectively).
Arcade's built to use with a MIDI keyboard — but as Chu shows us, you can also produce with Arcade by clicking different notes into the piano roll of your DAW. Drag notes onto different black keys to experiment with various Modifiers in each Sampler!
Once he gets the main ambient pad going, Chu opens up another instance of Arcade and navigates to "Chimera Sub," one of the Instruments in Bassline. Launched last year with Arcade 2.0, these kits are fully playable, tweak-able sampled instruments. Chu uses Bassline to whip up a "cool, dark, sinister sub-bass pattern."
Want to try making this track for yourself? Click here to download the MIDI files for this Made With Arcade beat.
Arcade is best when you can record! Use multiple instances of Arcade in a DAW to build your next hit. Learn how to load Arcade into popular DAWs like FL Studio, GarageBand, Ableton Live, and more.