Output Presents UnMute Episode 4: LGBTQIA+ in Music
Output presents UnMute, a series of online conversations that covers hard-hitting, often undiscussed topics in the music industry.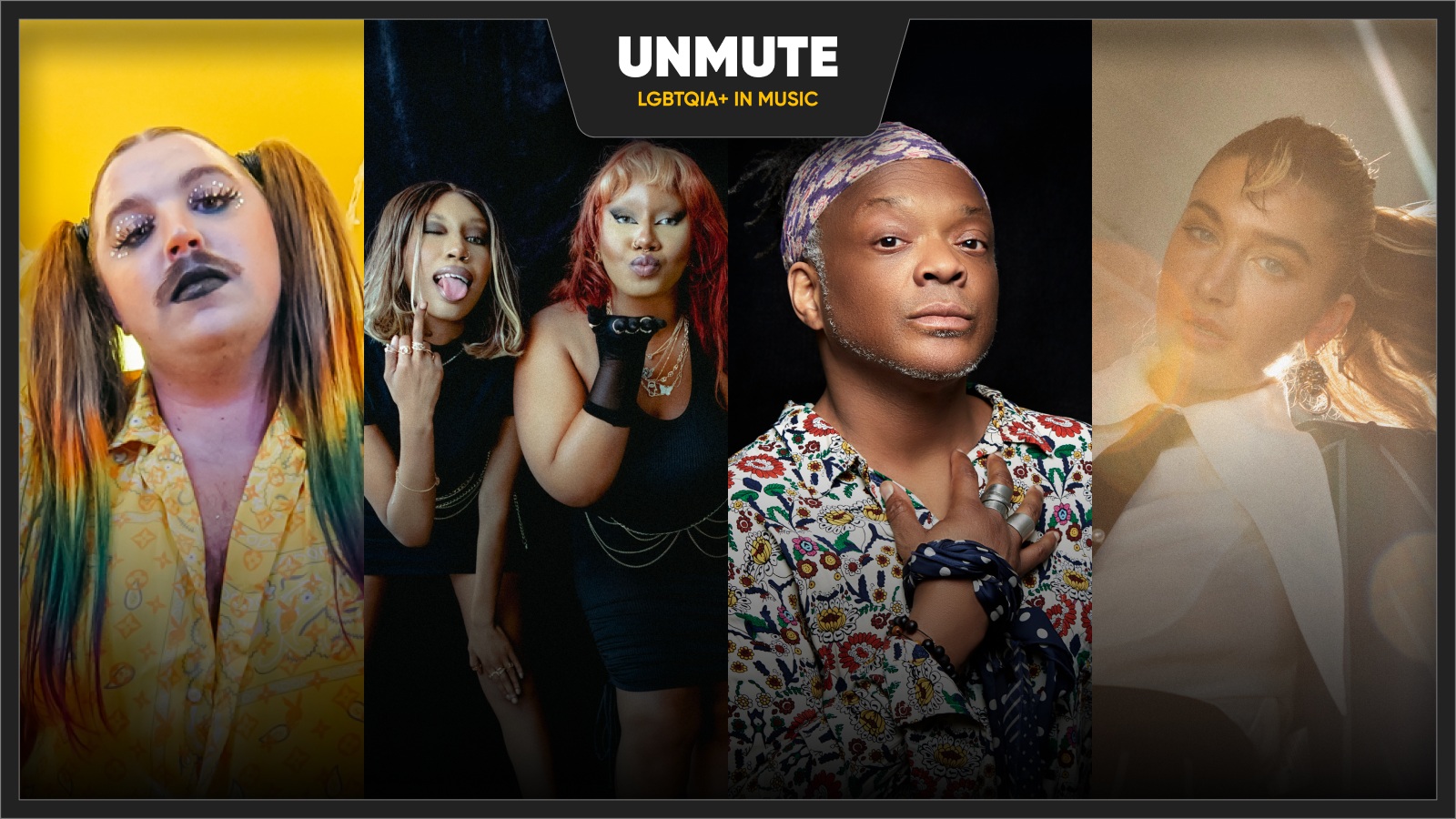 Every musician navigates unseen barriers in their life and career. In order to shine a light on these issues, Output presents UnMute, a series of online conversations that cover hard-hitting, often undiscussed topics in the music industry. For our fourth episode, we focused on the experience of being an artist who identifies as a member of the LGBTQIA+ community in 2021, and both the joys and hardships that come with those identities.
The expression of sexual orientation and gender identity has long been closely tied to popular music. As music writer Sasha Geffen writes in their brilliant 2020 book Glitter Up the Dark: "There have always been more than two genders, and music and gender nonconformity have gone hand in hand since long before pop music emerged as a product — since before the concept of 'product' existed."
U.S.-based LGBTQIA+ artists in 2021 arguably possess more artistic freedom than ever before — and yet continue to face blatant discrimination and other hurdles in the music industry that their straight counterparts often do not. There's also the weight of being looked upon to constantly represent a broader community in one's art and personhood, which can lead to its own unique frustrations.
To discuss these issues and more, we invited Bebi Monsuta (the sister duo of Manami Mao and Akira Ayane), producer/songwriter BIIANCO, Detroit-based queer artist Wreckno, and DJ/Peace Bisquit founder Bill Coleman to come together and speak about their experiences in the music industry to date.
Watch the conversation in full above or read excerpts from it below. And make sure to follow Output on Twitch to watch further episodes of UnMute.
This interview has been edited for brevity and clarity.
---
How have your journeys with identity inspired your creative process?
Bebi Monsuta (Mao): Recently, we've been experimenting more with lyrics when it comes to representation. Music can really change people's spirit and soul. That's something we've both been grappling with.
Bebi Monsuta (Ayane): Not changing a lyric just because we want it to be universally appealing. When we were younger, we didn't have proper representation on television — we want to really make sure we're properly telling our story and not cutting corners or hiding who we are.
Wreckno: When I first started out, I played a lot in the EDM bass scene. I liked to say that no matter what club it was, if I was playing, it was a gay club during my set — even though I wasn't using my voice yet — because you could just feel the energy compared to other EDM sets.
Since then I've been writing and using my voice more. My collaboration with Griz ("Medusa") was all about queer empowerment. Since that song was released last year, a lot of people have come up to me and said, "Thank you, this helped me, this made me feel seen in this EDM world that I care about so much." That's pushed me to create even more and be unapologetic.
What have you learned about making music a more inclusive space?
Bill Coleman: When you see certain projects or managers get more budget or space than you, even once you're successful, you think: "Well, why isn't my group getting the same attention?" You've got to learn the rules of the game, and that's when you can use your gifts to maneuver differently. I will go out of my way to bring in some kids that I know would not have gotten an opportunity otherwise. I think being otherized really informs how you make decisions.
BIIANCO: The good news is that more artists exist now who fit that criteria — you just have to expose them. One thing I've noticed is that more support systems are falling into place, for educating people or lifting up new artists. One organization I want to call out is Femme House, which has really helped alleviate the gender gap with education and exposure for femme electronic producers.
In some ways, the pandemic has helped expose disparities and leveled the playing field a little bit more. There's a lot more visibility but, what I've also noticed, as someone in Los Angeles who's plugged in to some of these big publishing networks, is that this doesn't always translate to the Justin Bieber-level sessions. Behind closed doors, inclusivity doesn't necessarily get people paid.
Wreckno: I'm lucky to be in a place of privilege, even just being able to play headlining shows in smaller markets. The next thing we want to implement is an inclusion rider. Like: If I'm going to be playing a show, you need to have people of color on the lineup. You need to have women. You need to have queer people. Now that I have my foot in the door, even if it's a 100-cap show, I can make sure that change is happening somewhere.
Tokenism is a real phenomenon. How do you grapple with that?
Bebi Monsuta (Ayane): I think I've had to learn how to have a lot of boundaries when it comes to my sexuality. When people want to showcase a bisexual woman, they usually want to show something performative — something more pleasing to cis, straight men, instead of the genuine artist who's representing themselves as a queer person. It feels like it's for the male gaze and it isn't genuine.
Bill Coleman: Don't look to mainstream media for representation of yourself. As much as I'd love different medleys for different folks and performances on award shows and stuff… I look at it like candy, I don't look at it as sustenance.
It's important for you, as artists coming up, that you mention the artists inspiring you and you understand the shoulders you stand on. I'm not expecting some awards show to have some tribute to James Baldwin. And it's OK! Because I can say it, whenever I have the opportunity.
Who are the friends, peers, and other LGBTQIA+ artists you think should get more attention right now?
Wreckno: Moore Kismet — one of the youngest artists to ever play Lollapalooza — is this incredible 17-year-old non-binary kid. They are seriously smashing barriers. I also ride so hard for Mykki Blanco and Cakes Da Killa, who are amazing artists.
Bill Coleman: I'll throw a lil' shoutout to my homegirl Honey Dijon, she's trans and killing it in fashion and music. I've known her forever and she's really doing a great job of balancing being on the A-list and still reaching back and remembering where she came from. I love her to death. I want to throw Sam Sparro in the mix too.
Bebi Monsuta (Mao): They're already popular, but I have to say Victoria Monet and Rina Sawayama.
Bebi Monsuta (Ayane): I would also say, though they're also super popular: Ludmilla. She's an artist from Brazil, she's amazing. She showcases who she is so organically. She's from the favela and she highlights a different side of Brazil so beautifully.
BIIANCO: I'm in love with Arlo Parks, I think they're so incredible — they just won the Mercury Prize [for 2021's Collapsed in Sunbeams]. I also want to call out Kaleena Zanders, who I've had the honor of working with on one of the tracks on my mixtape. Her voice is the best voice I have ever worked with.