Interview: KennyHoopla Is Redefining Alt-Rock Nostalgia
KennyHoopla is one of alt-rock's brightest, most singular voices. See how he's redefining alt rock on his own terms, from Oshkosh, Wisconsin.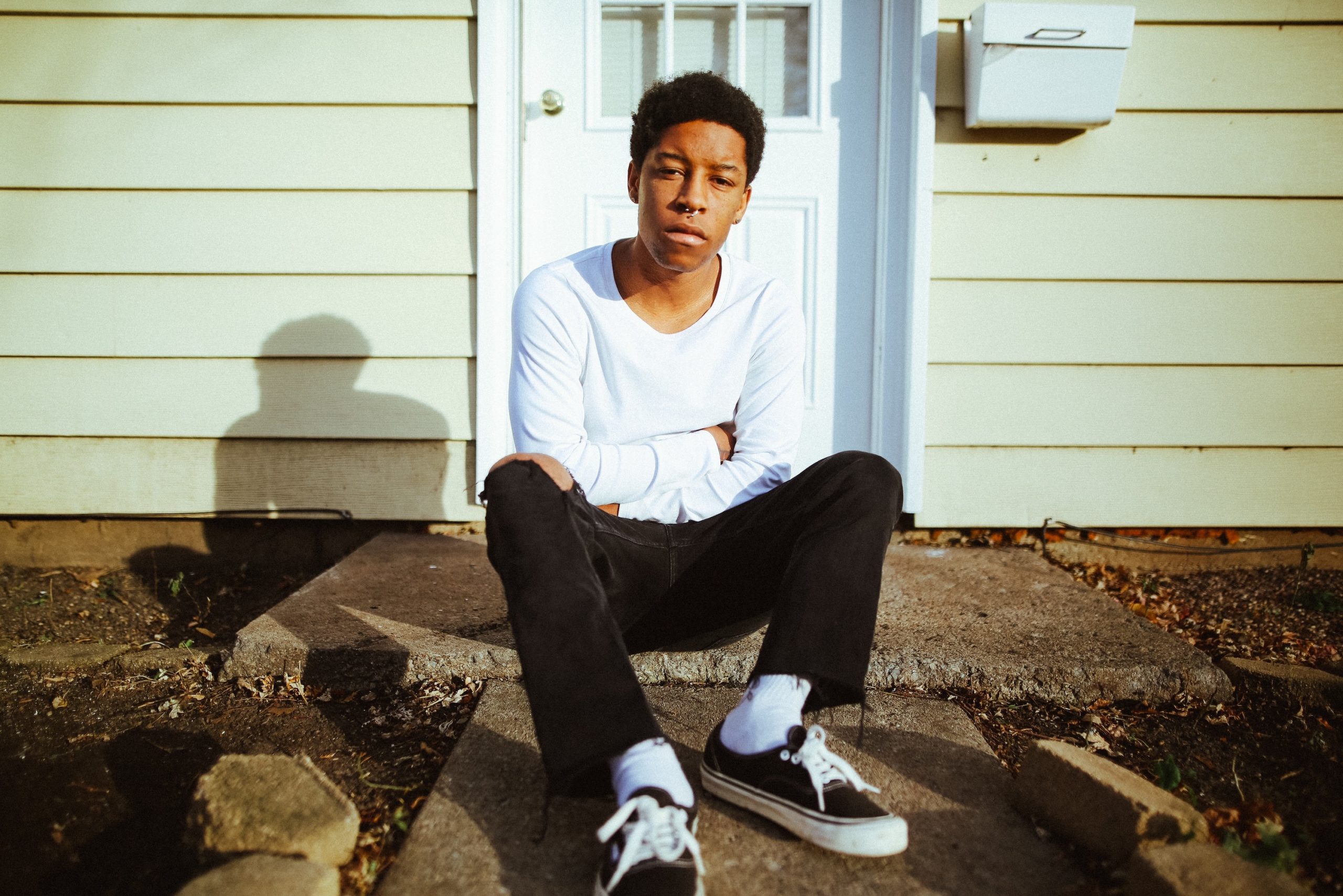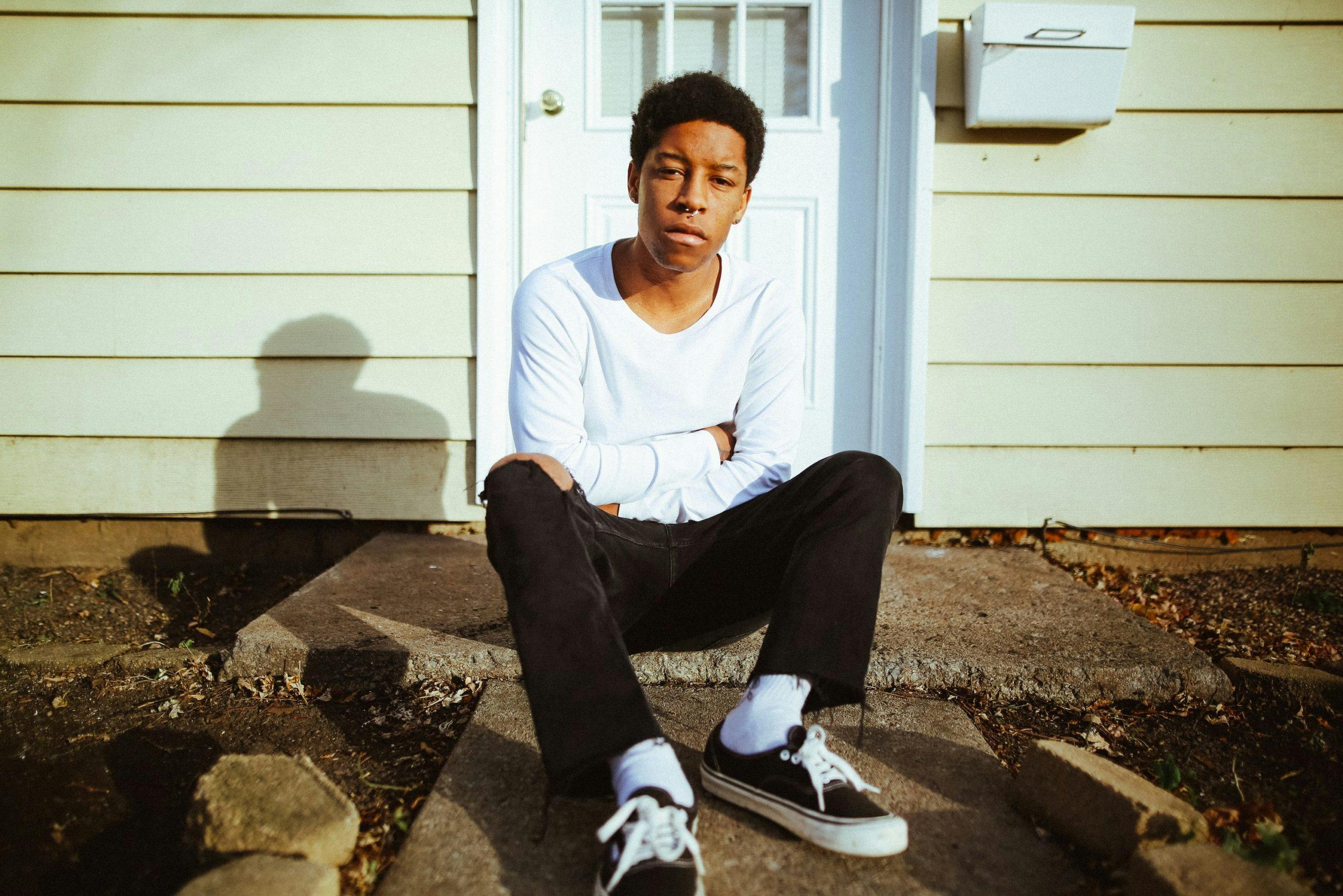 KennyHoopla is one of alt-rock's brightest, most singular voices. The 24-year-old singer, songwriter, and rapper abandons genres in favor of chasing emotion, crafting vulnerable tracks that mix in everything from industrial to glitch. With a who's who of collaborators and loyal cult following, KennyHoopla is redefining alt-rock on his own terms, from the small town of Oshkosh, Wisconsin.
---
KennyHoopla hesitates for just a moment when asked, were we not living amidst this godforsaken pandemic, what he'd be doing right now. "Probably," he says with a slight laugh, "I'd be at a concert, in a mosh pit."
As it is, he's calling from his home in Oshkosh, Wisconsin. Soon, he's flying out to Los Angeles to begin work on…something. It's not that he has anything ready and raring to go right now. He's searching for inspiration. "I'm going to work on music for a month," he says. "I want to make something meaningful and I don't have that at the moment."
The rising, genre-slashing rocker from the Midwest is, like everyone else, mostly in a holding pattern these days. When he is making music, you'll find him mixing blistering hard rock, electronica, glitch, and rap, dropping in strings and piano on occasion. It's aggressive, hyperactive music that can be euphoric, brutal, and ultimately cathartic. And KennyHoopla is not above critical reflection concerning himself or the world around him.
The artist we now know as KennyHoopla began life as Kenneth La'ron 24 years ago in Cleveland, Ohio. The musical moniker, he says, was inspired by a character in SpongeBob SquarePants. (The hoopla is a fish who appears in the episodes "Krusty Krab Training Video" and "SpongeBob's Big Birthday Blowout." "Hoopla!" was also a short comedy, starring the voice of SpongeBob, Tom Kenny.)
"I grew up on the internet and I feel like the internet is a life-changing tool," says KennyHoopla. "I was on Twitter and I'd make meme tweets up and do quotes, trying to get a following and trying to figure out how to use the internet and, I guess, to become a personality in show business. When I was young, [I thought] you have to have an alias or something. I don't know why KennyHoopla — it sounded super taboo at first and I just said, 'I'm gonna keep running with it until it sounds normal and becomes normal.'"
Artistic expression was in the mix from a young age, and he plunged into breakdancing, painting, photography, and later, making music in his bedroom. He began releasing songs in 2017 and in March of 2020 released his critically-acclaimed debut EP on Arista Records.
Zone in on that mindfuck that is the EP's catchy, aggro title cut, "how will i rest in peace if i'm buried by a highway?," which landed in the alternative chart Top 10. There's this propulsive rhythm and The Cure-like chiming guitar riff and then, these strangled screamo vocals. KennyHoopla is singing about this girl: "She's gonna cut my head off / But I don't care." Over and over again. In the video, near the end, there's a guillotine in the background and it ends with the duo slow-dancing in a graveyard.
So, what the hell's it all about, Kenny?
KennyHoopla laughs and breaks the track down.
"Um, literally, 'I cut my head off' means two things," he says. "Basquiat had this painting, 'Most Young Kings Get Their Heads Cut Off,' and the art has these playing cards with the king [being decapitated]. It was like, how the world eats you alive. Most good things die, nothing ever gets through to see the light of the day. And then, it's referring to Caravaggio — he had this fear of getting his head cut off."
The late 16th/early 17th century Italian artist Michelangelo Merisi Caravaggio painted the grotesque, albeit gorgeous and multi-layered chiaroscuro "Judith Beheading Holofernes." (Chiaroscuro is a style of painting where the artist emphasizes strong, bold contrasts between light and dark. Something KennyHoopla does in his music, too.)
"He had committed these crimes," KennyHoopla continues, of Caravaggio, "and back then they had the right to behead him or something like that. It all came down to letting what you love kill you, which is where the 'I don't care' [comes in]." Caravaggio, a notorious drinker and gambler, liked to carry a sword and brawl upon occasion.
England's NME termed KennyHoopla a "shapeshifter" and it's a term he can live with. "I don't like predictable art," he says. "Too literal, I like metaphorical. I gotta try to keep being better at that in my career."
Most of KennyHoopla's ideas start on his laptop, where he develops them to a certain level. He then sends the ideas to the producers he is working with, or takes them into sessions. He worked with Now Now, Cam Hale and Day Wave, Blink-182's Travis Barker — Barker followed KennyHoopla on social media; that's how they connected — and James Dring (Gorillaz), among others.
Songs take form in different ways. "It's all over the place," KennyHoopla says. "I still don't feel like I have a certain template. Sometimes, the beat is really good so I attack it. Sometimes, it starts with something I wrote in my notes or I'll do a cappella like my last single with Travis, 'ESTELLA.' I recorded the vocal, had them make the beat around my vocal, and then I put the rest on it. Basically, Travis was the main producer and overseer, adding drums and synths." (As of this writing, the song is number 13 on the alternative chart.)
KennyHoopla's producers often double as musical collaborators. He doesn't stake a claim to any particular instrumental prowess and says, though he played guitar on "how will i rest in peace…," it "wasn't anything crazy. If I had to play that live, I couldn't play it."
People hear echoes of early '00s indie rock (among glitch and other things), and references to the Yeah Yeah Yeahs and Bloc Party abound. Fair enough. But one term he doesn't care for (and he can blame himself for this one) is "new wave nostalgia." Recitation of his own quote, describing his music, brings a groan and a cuss.
"Fuck, I shouldn't have said that," KennyHoopla says. "I regret saying that. Everyone was already trying to identify me with older music and that made it worse. I was trying to say that it's not necessarily nostalgia but the feeling that comes from that music. I feel like I've had it in me forever and this is a new nostalgia. Like remaking my own world. I'm creating my own nostalgia of the present and it's a new one."
So, more like this line from a 1978 Buzzcocks song called "Nostalgia"?: "And I wonder what it'll be like in days gone by / As I sit and bathe in the wave of nostalgia for an age yet to come."
"Yeah," says KennyHoopla. "Exactly!"
Asked what he loves most about music — and this makes perfect sense when you consider his range and scope — KennyHoopla replies, "I really love strings. I love songs that have a lot of color in them, that sound like when they get played they transform into hues and become something metaphysical. And, I love rawness."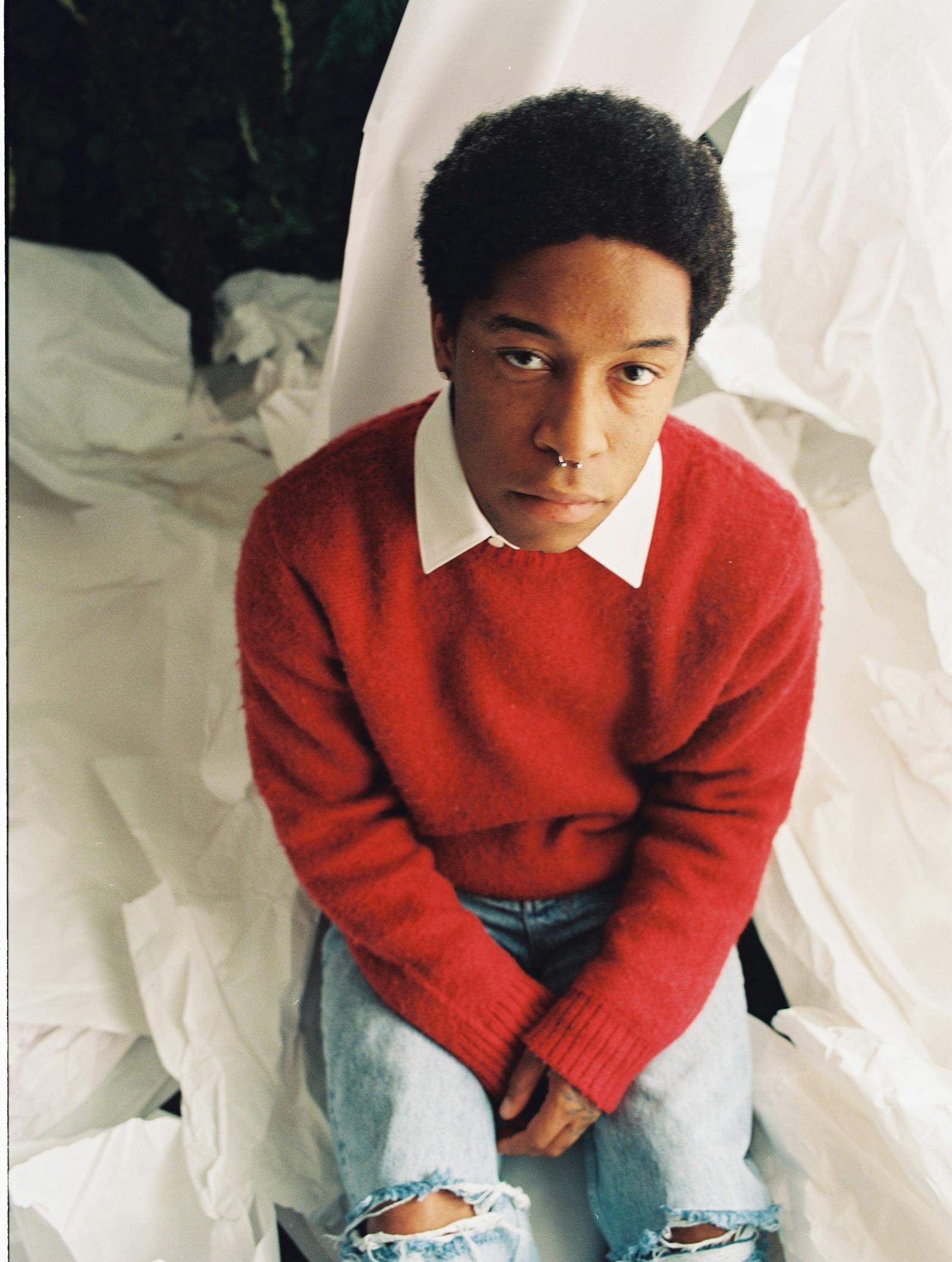 As of last fall, KennyHoopla had a United Kingdom tour with Yungblud on the docket for this year. He doesn't think it'll happen for all the usual pandemic-related reasons, but says, "All my shows are kind of put in the back of my head — they don't even exist. I don't even feel anything about them." (A spokesperson for his label, Arista, says, "We have support dates in the UK for this July. Hoping they go ahead. If not, will move to early next year.")
Obviously, COVID-19 sucks in myriad ways — "It's been weird seeing artists' lives taken away from them" — but, music-wise, KennyHoopla sees a slight upside. "I wasn't ready to do shows, really," he says. "I wasn't where I wanted it to be. I'm very nitpicky with my music and I've been making music for a long time. Also, it would be cool to be able to have time to actually focus on it, have my skill catch up with how far I've gotten commercially. I feel I'm on the cusp of mainstream, and I'm still underground at the same time. Most of my friends, my peers, are underground artists."
When he does go out again, it may be with a DJ, he may use other musicians, or he may combine the two. "The music I wanna make doesn't require a band for everything," he says. "I would keep it minimal because I just wanna show people that are like me who don't know how to play guitar, you can do what I'm doing without having a whole band behind you."
KennyHoopla credits his best friend from childhood, Malik Stevenson, as a key collaborator. "He was there for me as a second set of eyes since my start," says KennyHoopla. "He lets me know if I'm doing the right thing. He's someone I can confide in and trust."
"All I had was me and my best friend, Malik, and I knew I wanted to make rock music," he continues. "I think it's important for kids to know that it's possible. That's the main reason why I go out with just a DJ, because it's about the music at the end of the day. Of course, a bandmate can make it better, but I feel like, not all the time: If you're like gonna feel the music, you're gonna feel it regardless."
KennyHoopla's debut EP, how will i rest in peace if i'm buried by a highway, is out now.
Words by Jim Sullivan.