In the Studio: Tyler Bates
Surrounded by his favorite instruments at his studio, Tyler Bates talks scoring blockbusters like "Guardians of the Galaxy" and "John Wick."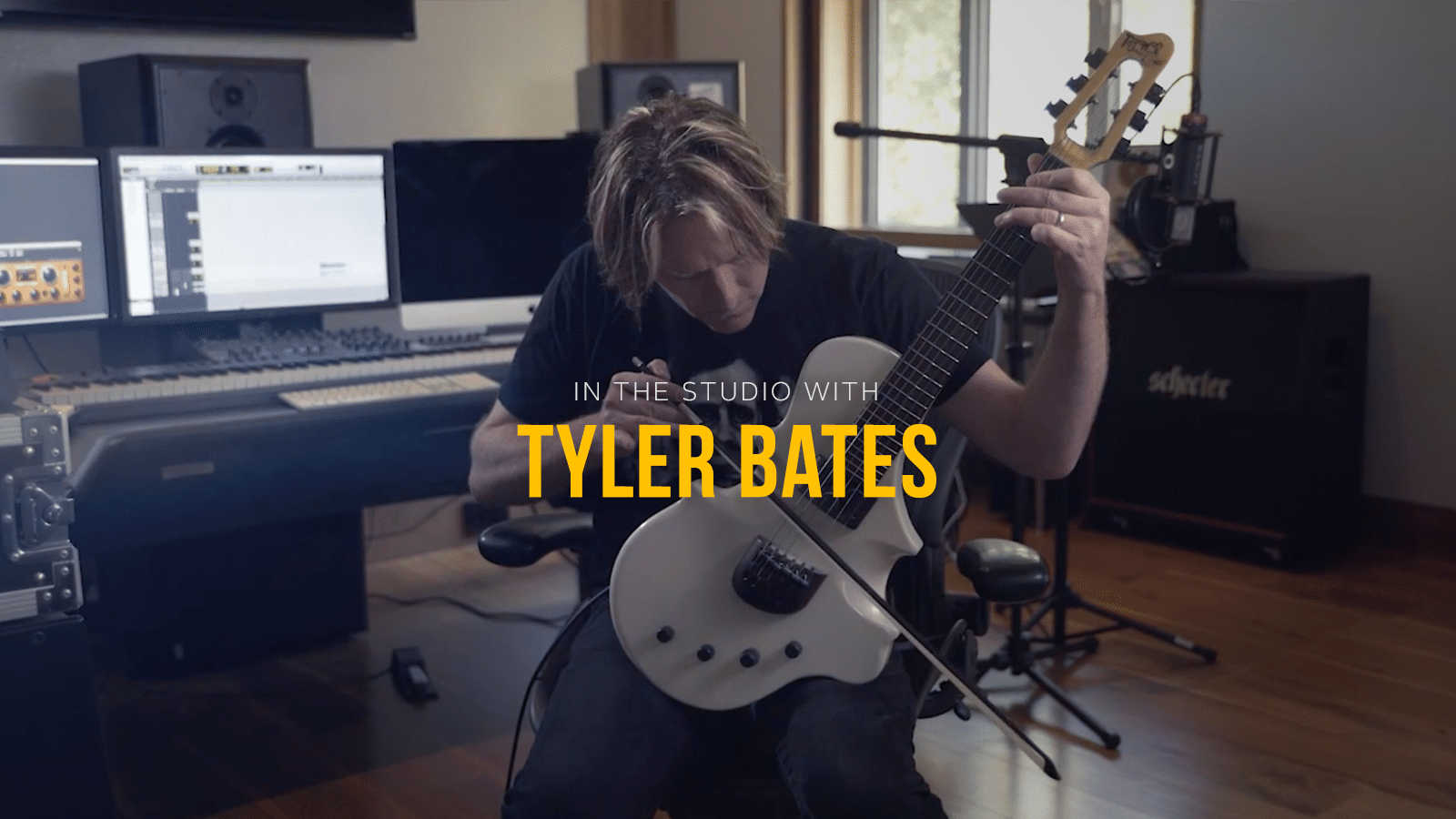 "I feel a lot and I feel music," admits Tyler Bates.
Surrounded by his favorite instruments at his studio, he reflects on his experiences scoring blockbusters like Guardians of the Galaxy, Dawn of the Dead, and the John Wick franchise.
"I put myself in the audience and think about what would move me? What would prime me to receive the emotion that the director is trying to convey? I'm trying to feel what that is instead of intellectualizing it," he concludes.
And it's exactly that emotional and novel approach that keeps composing interesting for Bates.
But he is a believer in mixing things up. "I make records, I tour, I do films, television, and other things because they all inform one another in some way. It expands upon my experience so I have a little more breadth. If I just sit behind my desk and one movie after the next happens, at some point, I get tired," says Bates.
Playing guitar on stage for thousands of people provides the change of pace he seeks. "I carry the energy from those experiences back into my studio. That gives me a ton of inspiration for anything I work on," he reveals.
Meditating on a score
One of the most striking qualities of Bates' compositions is the fluidity. Between swells and glides, his notes never feel rigid.
To Bates, achieving majestic soundscapes is all about experimenting with sounds. "Sometimes if I'm just feeling a movie or a show out I'm not going to sit down workmanlike and start typing out a score. I want the feeling of a specific film or TV project in me until it needs to come out," he explains.
In order to meditate on the theme of each score early on, he builds a relationship with the filmmakers.
"I want to create a sound for every director I work with," he says. As the composer, Bates' work comes at the last stage of the process. But that doesn't stop him from getting involved with the project right at the beginning. "Knowing who the actors are and seeing them in their roles does help me more closely articulate the style of how we're going to present an idea or create an idea," he states.
Embracing the fictional world of a film on a deep level requires open-mindedness. "When you're working on a movie, you have to dive in so deep that you feel the music as an extension of every part of your being. This room will be filled with whatever it is I'm working on," says Bates.
And that's exactly why he focuses on setting the tone rather than overthinking every single note.
Guitar as a compositional tool
As a composer, Bates relies on electric guitar as his primary instrument. His go-to strategy? "Try and break whatever the convention is."
When he sits down to experiment with his guitar, the rulebook goes out the window. And the incentive behind it is simple: "I always want to create my own style of playing any instrument."
Whether he plays it with a bow or pick, the guitar adds authenticity to Bates' music. Programming virtual instruments are one thing. But recording guitar riffs on a loop station? You never know what you're going to get.
"The randomness of bending strings and hitting stuff is not something that would occur if I'm on the keyboard or if I'm using a sample library. If I just start off programming, I don't think that the random nature of possibilities would necessarily come to mind," he says. But spending a whole day on the guitar is second nature to Bates. This awareness of his inclination towards guitar ignites his creativity.
But Bates is not one to close himself off to the possibilities programming may bring. The way he bends the guitar strings might inspire him to play with the pitch bend wheel on a MIDI keyboard controller. Perhaps some of the rhythmic textures he plays with the guitar could lead him to experiment with an arpeggiator. 
Never saying never
After decades of working in the music industry at the highest level, Bates has one sound advice to newcomers: "Don't say never."
"You just have to be open-minded about what you think your capabilities are and be open to being surprised at what excites you." he says and adds, "Everything I'm doing right now is something I never imagined I'd be doing when I was 23."
It's easy to get wrapped up in ambition to arrive at a destination. But reaching the top should only be a source of motivation. What really matters is the journey to get there.
"Any time something cool happens I'm like, 'Wow, that is awesome.' I don't think that you can really communicate a depth of emotion that is resonant with a lot of people if you don't open yourself to that part of your soul and that part of your life," says Bates.
Looking for new string instruments to play with? Check out Output's Analog Strings!