In the Studio: M.B. Gordy
Tour the studio of M.B. Gordy, the famous percussionist behind scores including "Transformers," "Spider-Man," and "X-Men."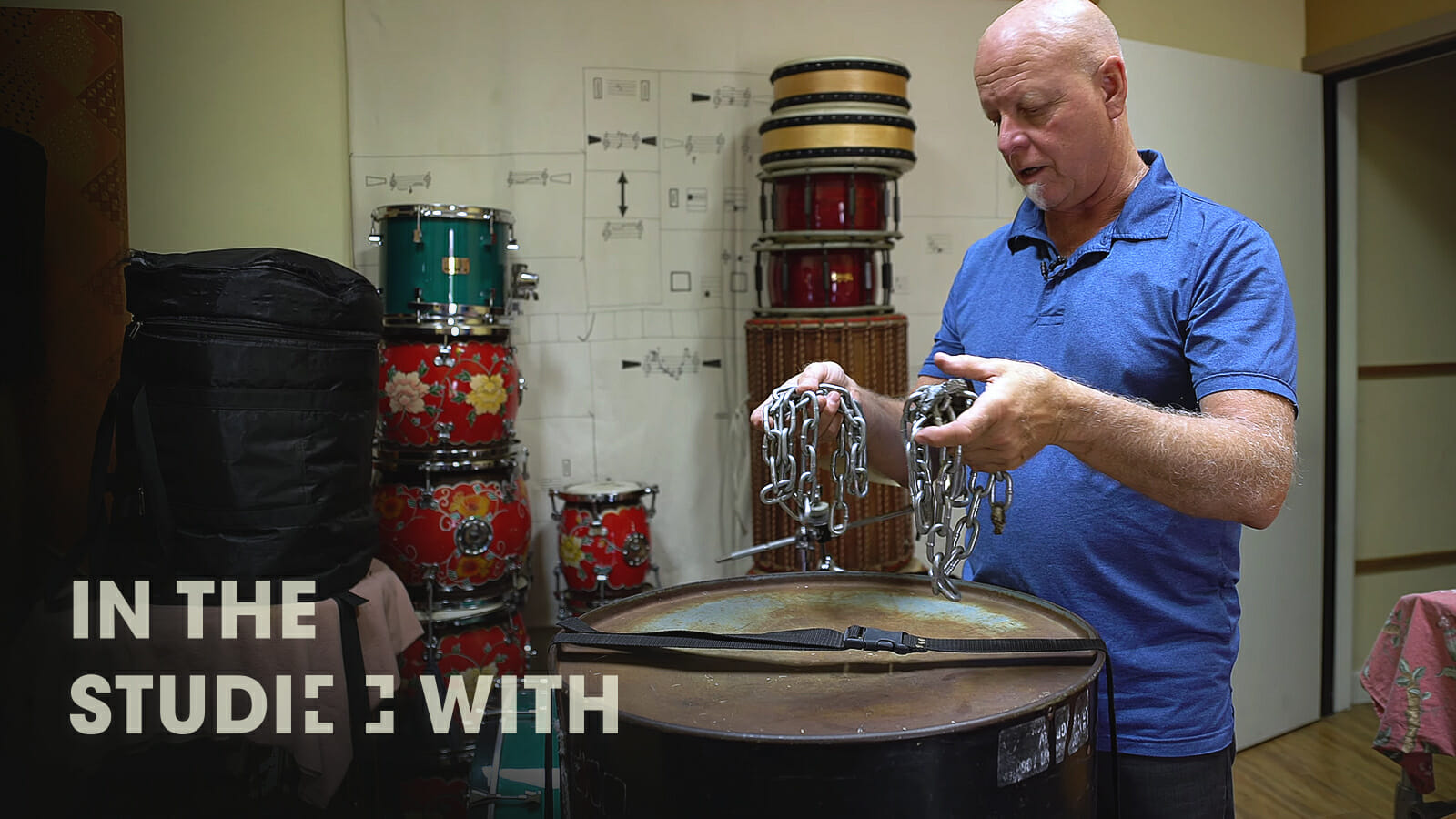 Tour the studio of M.B. Gordy, the famous percussionist behind some of Hollywood's biggest scores including Transformers, Spider-Man, and X-Men.
Sometimes the typical drum set can't deliver the exotic or industrial sounds necessary for use in video games, movies or trippy tunes. That's where M.B. Gordy comes in.
Gordy is a wildly creative percussionist and former Doobie Brothers' drummer, who has also added that little extra oomph with the likes of Green Day, My Chemical Romance, and even Neil Diamond. His credits on TV and film scores include Transformers, Mad Men, and Buffy the Vampire Slayer. And keen-eyed Broadway-goers might have spied him in the pit during productions of The Lion King, The Color Purple, and Bring It On.
But today is not about traditional toms or timpanis that you can find in basements or music rooms. Today is about rarely-seen instruments and found objects, and how they can be transformed into vehicles for new sounds you're not going to hear in your dad's record collection… unless your dad is Tom Waits.
The beauty of found sound
"Most of the percussionists that I know collect instruments as we find them," Gordy says from his densely packed LA studio.
"You find a new sound, you go, 'Oh, I could use that!'" Gordy says. "Even if you only use it one time. I've got a ton of instruments now that I might've used once in the last three or four years. But it's just what you do. It's sort of my addiction… let me show you around."
The first stop is the whale drum, also known as a tank drum or a tongue drum.
"It's basically a propane tank and it's got these metal tongues cut into it," he explains. "You can play it with all these various mallet sticks."
It truly is a unique sound.
"For the film and TV stuff that I do, I love this world of this soundscape sound sculpting, if you will," he says. "I mean, that's kind of what it is."
Next up is an oil drum Gordy nearly overlooked when he first brushed past it.
How to make music with a three-foot oil can
"I was doing this project for Terminator: The Sarah Connor Chronicles," he recalls, when he was instructed to get a lot of metal sounds for the score. Not Iron Maiden metal, but actual iron metal.
"We'd go to all these junkyards, and come to find out cars aren't made of metal anymore, man, everything's plastic," Gordy laughs. "We didn't really find anything that we could use."
As he was on the way out he saw it. Was it being used for a trash can?
"I said, 'Hey, is this thing for sale?'" Twenty bucks changed hands and he returned with the drum. "Definitely made my money's worth on this," he laughs.
"The cool thing about the world of percussion is as soon as you hit the instrument, it makes a sound," Gordy explains. "Then you can take that sound and reverse it, morph it, lower it, raise it, pitch it, whatever. All of a sudden it becomes a whole different sound that people have never heard before."
Turning a tool from a TV infomercial into a sound you'd find in a TV show
"This is actually a Garden Weasel, but it sounds awesome," Gordy says gleefully of the 50-year-old landscaping tool. "Because it's so long, it's kind of cool for slower groove stuff that just fills in space. Spurs on steroids."
Gordy has nothing against mass-produced percussion instruments. But, it sure seems like he prefers them to be a little weird and able to spin. He's a famous percussionist with flair.
"This thing is a Paiste Rotosound," he says of the unique cymbal from the legendary German manufacturer. "It's the same metal that they use from their cymbals, but not as thin…. that's a lot thicker-sounding."
But it's the fact that the cymbal turns while it vibrates that gives it its one-of-a-kind sound.
"Once you hit it, it now becomes like a Doppler effect," he says, but warns that it's not perfect for every situation. "You've got to find the right moment to use something like that, or the chopper, or the crasher cymbals."
Gordy cruises around the studio demonstrating the sound of whacking various parts of automobiles. First a drum brake, then a Jerrycan you'd find on the back of a Jeep. He even gets some good clangs from a frying pan.
Explore his insane collection of percussive instruments and get an inside look at how he uses them to build dramatic tension.
For more inspiration, get in the studio with metal-meets-classical cellist Tina Guo.