In the Studio: Laura Escudé
Talented music industry multi-hyphenate Laura Escudé talks to us about how technology has expanded her horizons in the studio and on stage.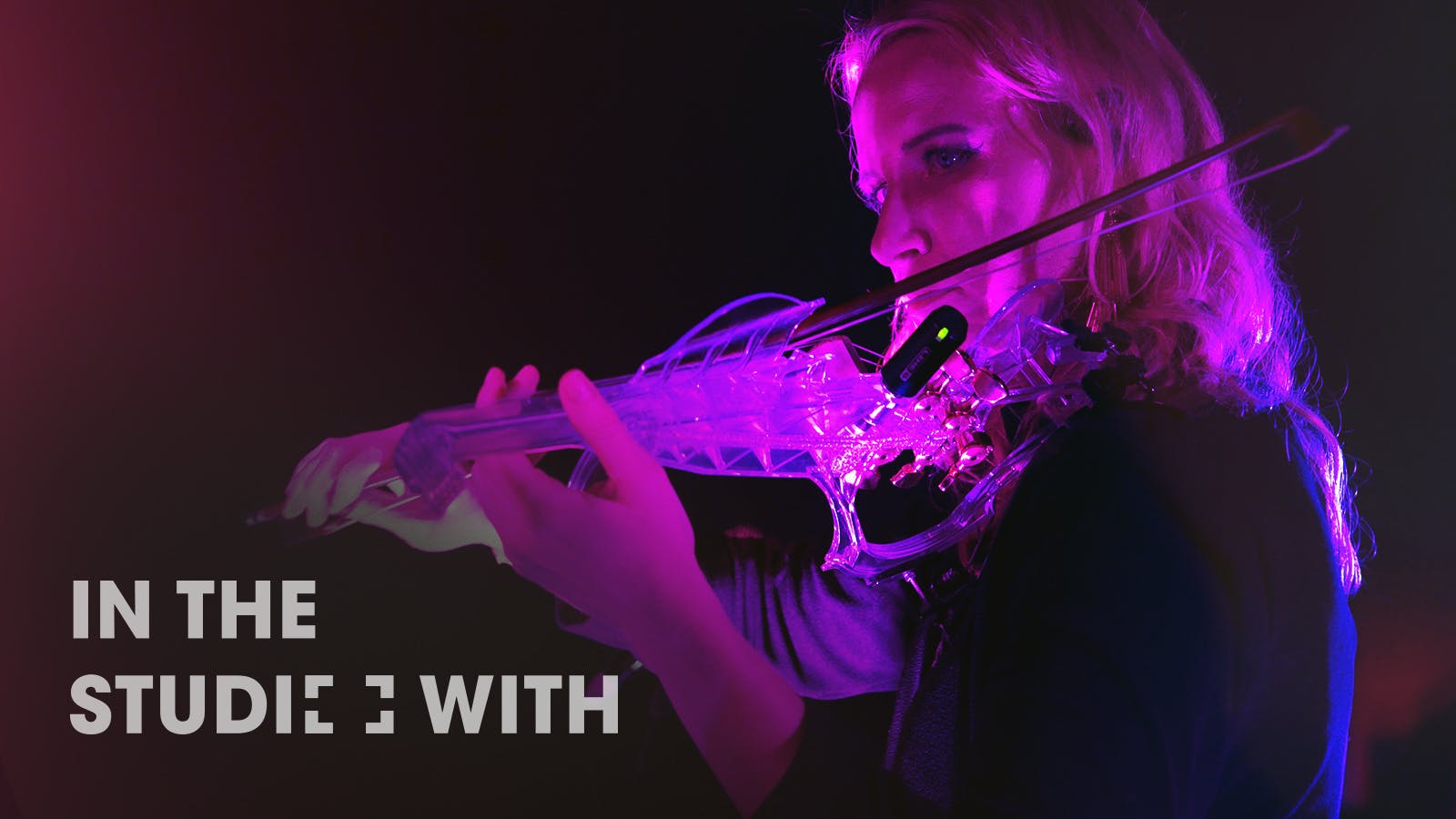 Los Angeles-based Laura Escudé is a classically-trained violinist, composer, and live show designer. She's toured the world while collaborating with A-list artists like Kanye West, Miguel, Herbie Hancock, Jay-Z, American Idol, and Cirque du Soleil.
While at school at Vanderbilt and Florida State, Escudé found her calling. Now, she's an acclaimed musician known for solo live performances that use a multitude of controllers and instruments. She's also an Ableton certified trainer. On top of all of that, she founded Electronic Creatives, a company that provides playback engineers, show programmers, and audio techs for shows and tours. Escudé is a creative entrepreneur at heart.
"At my core, I'm a violinist," she says, "and it was when I found the electronic music culture in college and started trying to record violin over DJs music that I became obsessed with production." And she isn't kidding about obsession.
In her own words, the talented music industry multi-hyphenate walks us through a project and talks to us about the importance of creating every day and how technology has expanded her horizons in the studio and on stage.
On her unique sound
One thing that I've really been working on recently is just creating every day, even if it's just five minutes or 10 minutes. It doesn't matter if it's the best thing that you've ever created. It just matters that you're creating.
I call my sound future classical. So, it's a combination of the classical music that I grew up playing with the futuristic sounds that I've grown to love. And I love to create on all the various different kinds of controllers and instruments that I use.
Using Arcade for inspiration
This is my project song called "Unlimited Expansiveness." Actually, the very first thing that I used was ARCADE, because I didn't know what I wanted to create. I found a lovely piano melody and rhythm from an Ingredients pack in ARCADE.
I decided that I wanted this to be in E minor and all of a sudden I had a motif. I built the entire song around this motif. So from there, I started creating other sounds.
There was another ARCADE texture from the Particles pack. When I feel like I'm having trouble coming up with an idea, I turn to ARCADE now. It's just an idea machine.
It's awesome because you can choose what key you want to be in and try different things on. I love reaching for Output instruments because there's nothing out there that sounds like them. They have such a cool, unique, organic, but electronic sound. It matches my future classical vibe so much.
Layering Hans Zimmer with Output's Analog Strings
[I layered] the Spitfire Audio's Hans Zimmer strings and Output's Analog Strings. What I really love about the Analog Strings is that it gives this really cool texture to it.
I utilize my Midi Fighter here. And I mapped knobs to the different parameters and Analog Strings to create some movement. So I had it starting out midway through on the spread and then becoming more and more expansive, just like the name of the song.
Building movement with Exhale and Portal
Another thing I created more movement in was the EXHALE instrument. I automated the rhythm of the instrument over the course of a couple of bars so that it could match the sound of the rhythm of the Analog Strings changing.
I also used PORTAL. I have quite a bit of automation here. I also map it to my controller here. So we've got the X and Y going on for the macros on PORTAL. This was really fun to create some more movement in the sound.
When the performance comes first
I oftentimes start creating music with a performance in mind. I perform half-finished songs all the time because it helps me come up with ideas.
When I'm performing live, I really try to play all of the elements (or as many of the elements) on my own. So I might drop out some of the sounds from the original song and just create from scratch.
I think being a musician has really helped me in live show design, live show programming, and playback engineering. I can speak the language of the musicians and the musical directors and the artists. I think that's one of the reasons why I became a go-to in this field.
It wasn't just pushing buttons. It's using my ears and using my years of experience in order to create the music that they are hearing in their head. And so it's about translating what you think that they're hearing in their head to the software and then to the audience.
Matching parts with Movement
I also recorded my own violin. I thought that it sounded a little static and I wanted it to match all the rest of the parts in the beginning that were really moving. So I added the MOVEMENT plugin. It was creating these panning and volume changes that I think really add some interesting textures.
One thing that I did is I took each note from ARCADE and routed the audio into a singular track. I used Ableton Live to convert the audio to a new MIDI track and created some MIDI notes here.
What I decided to do with the MIDI notes was to create some sheet music. And my next step is going to be to re-record the piano and layer the violin on top of it.
Now that's Unreal
The Unreal visual project is a collaboration between Scott Pagano and me. Basically, I am controlling the modules on the screen with my violins. I'm creating the modules, I'm changing the colors with my violin bow pressure. I'm controlling the glitchiness of it with my Wii controller. So I'm fully just interacting with the visuals, live, in the moment.
It literally is unreal that all this can happen in real time. Now that it's working, it's just a dream.
How to re-sample in Arcade
This is such a cool trick, and it's been a game-changer for me. What I did was I took this violin loop and I dragged it onto a key. If I go into Edit mode, you can see it. This is the whole long sample. If I hold down this key on my Ableton Push, it'll play through the sample.
And now the next thing that is super cool is this mode, the Resequence modifier. So I've just chosen eight different sample points here. And then I have the ability to step sequence and resequence these sounds.
I can even reverse the sounds if I want to and change the speed on individual sounds, change the length. There's so much that you can do here.
Goals of performing
When I'm working on a live show or performing, I'm just interested in creating an impact on the audience and really making them feel like they're going on a journey with me, making them feel the emotions that I feel when I create this music.
People joke when they come to my shows. They say, "Oh, it's kind of like a masterclass in a performance." I'll take a few moments to show, "Hey, this is what I'm doing here," because it's lost on a lot of people, especially if they're not in the music tech world.
It's important for me to strike that balance between performing something that's engaging and makes people feel moved and also teaching little teachable moments.
When I first started in this industry, there were not as many tools and you couldn't do as much. I love that technology can help us overcome our own limiting beliefs about ourselves. I think it is awesome.
Feeling inspired by Laura Escudé? Check out this studio tour with HEALTH's John Famiglietti.