In the Studio: Hudson Mohawke
Scottish producer and composer Hudson Mohawke shows us what he uses in his studio when he writes music for the likes of Kanye West.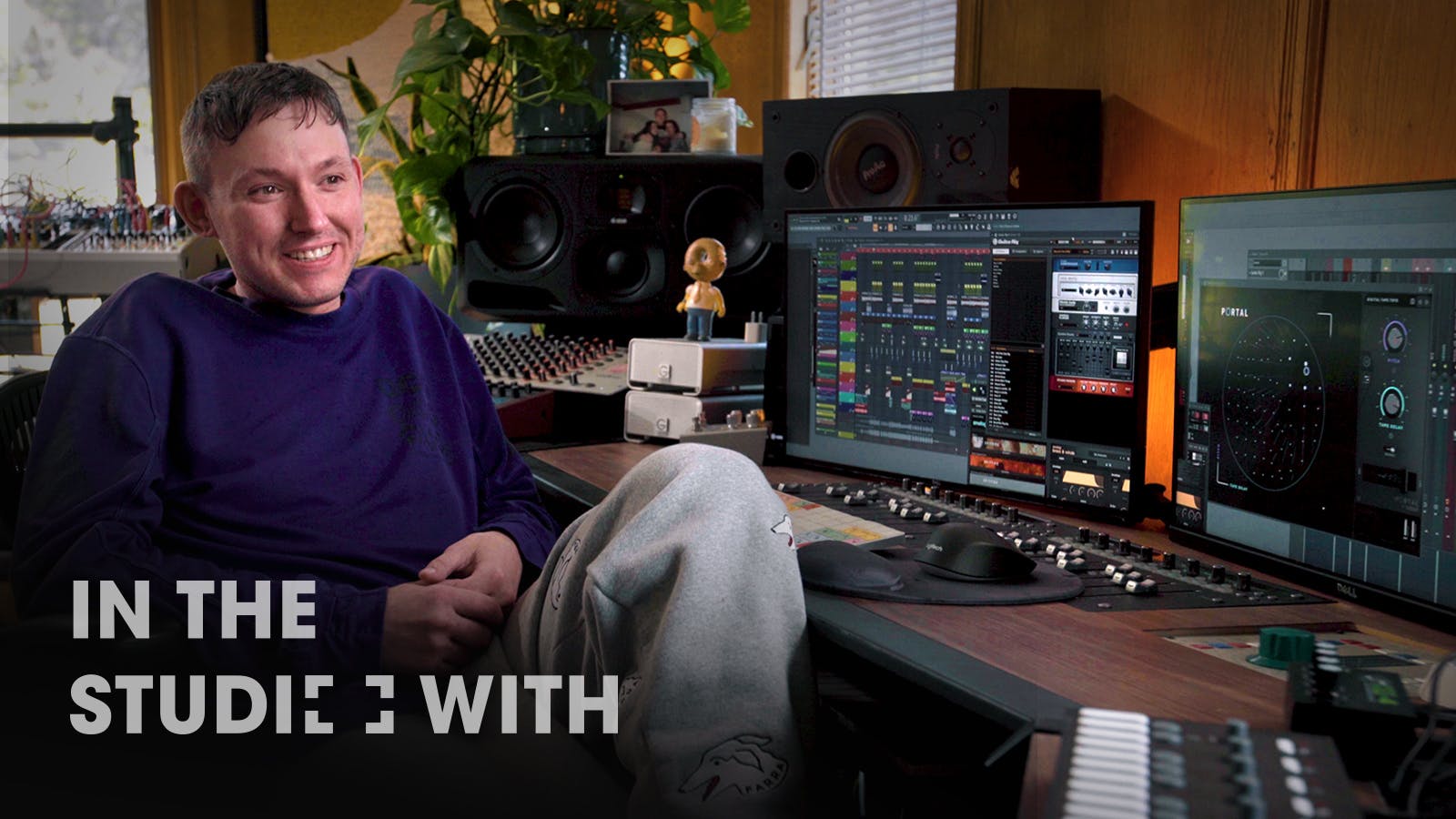 The Scottish producer and composer Hudson Mohawke has been turning heads as a DJ since he was a wee lad when he became the youngest finalist in the DMC World DJ Championships as DJ Itchy at just 15 years old.
Born Ross Brichard in Glasgow, Mohawke has been based out of London now for years. But, he also has a Los Angeles studio called the Healthfarm. He invited us in to show us what goes through his mind when he writes his own music or creates hits for giant and experimental artists. (Warning: gear envy ahead.)
"Even though I do production for other artists," HudMo states with a thick Glaswegian accent, he considers himself a solo artist and DJ first and foremost. "And I've done a bunch for Kanye West, Drake, Pusha T, Chance the Rapper, Rick Ross, FKA Twigs," he reminds us.
Early into the tour around his studio, Mohawke points out his British-made Mellotron sitting on top of his Sidecar modular rack created by Output. He apologizes for not having everything perfect, but who does?
The young phenom then explains why his wheel of steel is in an unusual spot. "I needed a place to have a turntable where, if I'm sampling, I don't have to get up and go to the other side of the room, 'cause I'm too lazy to do that."
The tour continues with some ordinary items like interfaces, headphones, "essentials," and a whimsical adult-orientated "dirty mug."
Mohawke explains that unlike some other producers, he feels at home in a studio setting.
"I've never really been one of these people who can work just from a laptop or something like that. I really like having my own setup where I know where everything is, you know?" he says but realizes that sometimes it hasn't always helped him. "I would work a lot on my own and sometimes to the point where I will be over-complicating stuff for myself."
This is a man who enjoys what he does and wants to keep the love of creation in the mix.
This means being open to spontaneity. He says if someone texted him saying, "Hey, you want to do something tomorrow and make a bunch of music?" he would be open to making it happen. He doesn't want music-making to be stressful or an agonizing ordeal. It's meant to be a fun process.
Next, he takes us to a project he did with the avant-garde musician and fellow Scotsman, Peter Ferguson aka Wuh Oh.
"I actually used a bunch of the PORTAL plugin on this," Mohawke acknowledges, explaining that his idea was "to do something that was gradually building all the way through — because it's a repetitive arpeggio that builds up and builds up and builds up."
Mohawke then replayed that through Analog Strings.
"It's a preset with a bunch of parameters changed in it," he explains. "So it's a little more messed-up sounding. I have a couple of PORTALs running as sends throughout the course of it. [The idea is] progressively more chaotic, bringing in the different elements. But again, the core sound remains just the straight violin sounds."
Ultimately, this hugely successful musician, creator, and producer sticks with Output because he finds the tools intuitive, and not overly complicated.
"The reason why I'm really into the Output instruments and PORTAL," Mohawke says, is their simplicity. "I don't want to spend ages learning the ins and outs of some particular plugin. I really like things to be very hands-on and usable. [Output] struck a good balance there with interesting, design-type ideas, but keeping it very user-friendly at the same time, which is a big thing for me."
When he's not doling out bangers for big stars and himself, Mohawke collaborates. One of his highest-profile partnerships is with the Haitian-Canadian producer Lunice. After meeting at the influential Turbo Crunk party in Montreal, the pair have recorded two albums as TNGHT and toured the world.
"It's very kind of off the cuff," Mohawke says of the loose, live sound. "Like it's left to be slack and flying by the seat of our pants, doing it. But it still bangs."
One of the first tunes TNGHT created was called "R U Ready." Kanye West loved it so much he used the beat in a fashion show and then integrated it into "Blood on the Leaves" on 2013's Yeezus album. Mohawke was thrilled with this evolution, which also led to working at Rick Rubin's Malibu studio as a producer.
While showing off the TNGHT track "Dollaz," Mohawke's penchant for minimalism shines.
"It's about doing the most with the fewest elements," he says. "The first element we added — after the vocals were chopped up — was this little percussion loop, which is just messing around with the Prophet 6 keyboard."
Mohawke is clearly a fan of the Prophet family of instruments, also known as Dave Smith keyboards.
"I used to have the 12 and it was a little convoluted," he says. "It wasn't as immediately hands-on as this. The 6 is super instant. There are basically no menus or anything. It's just a control for everything. So it's super usable straight away. I use it on almost everything."
Mohawke's relationship with pricey synthesizers is the same that he has for albums from the bargain bin. "It's never just playing keys or something like that. It's very much like treating the piece of hardware… the same way you would treat a sample from vinyl or anywhere else," he says.
Likewise, Mohawke has a love for keyboards that sometimes gets slighted for not being cool.
"This is the Korg M50, which… traditionally they'd be seen as kind of cheesy," he says. "Kind of like emulations of real instruments… It's kind of corny. But that's what I like about it." He adds that he used the M50 on a lot of his solo recordings.
Where did the hook for "Dollaz" come from?
"Lunice had an acapella [track] from someone where the phrase was not even 'they just dollaz,'" he says. "The phrase was something completely different. And [we] chopped it up like that."
When finding sounds for TNGHT tracks, Mohawke says he's "always looking for these sounds that are staccato sounds that are unfamiliar."
Delving into a project, Mohawke zeros in on a kick drum he says came from a Waldorf keyboard, where it was then used on Kanye West's "Runaway." "I must've sampled it like a good few years ago and just kept it," he says. "And I have that kick in all different pitches. It could shake the whole building."
It's clear that Mohawke is proud of what he and Lunice have created with TNGHT.
"When we had just finished it, I was out walking late at night and just had it in the headphones. And I messaged him and was like, 'I really, really fuck with this,'" he beams.
"It's what you aim for with any project. You don't always get it, but I fuck with this," he continues. "Anybody could say anything and I'm still going to be like, 'This is fucking hard. I really am into this.' I felt like: we did that."
Want another behind-the-scenes look? Check out this video showing Promnite and Hoodboi making tracks on the fly.