In the Studio: Dante Jones from THEY.
Welcoming the Output crew into his 17 Hertz studio, superstar producer Dante Jones reveals the inner workings of his creative process.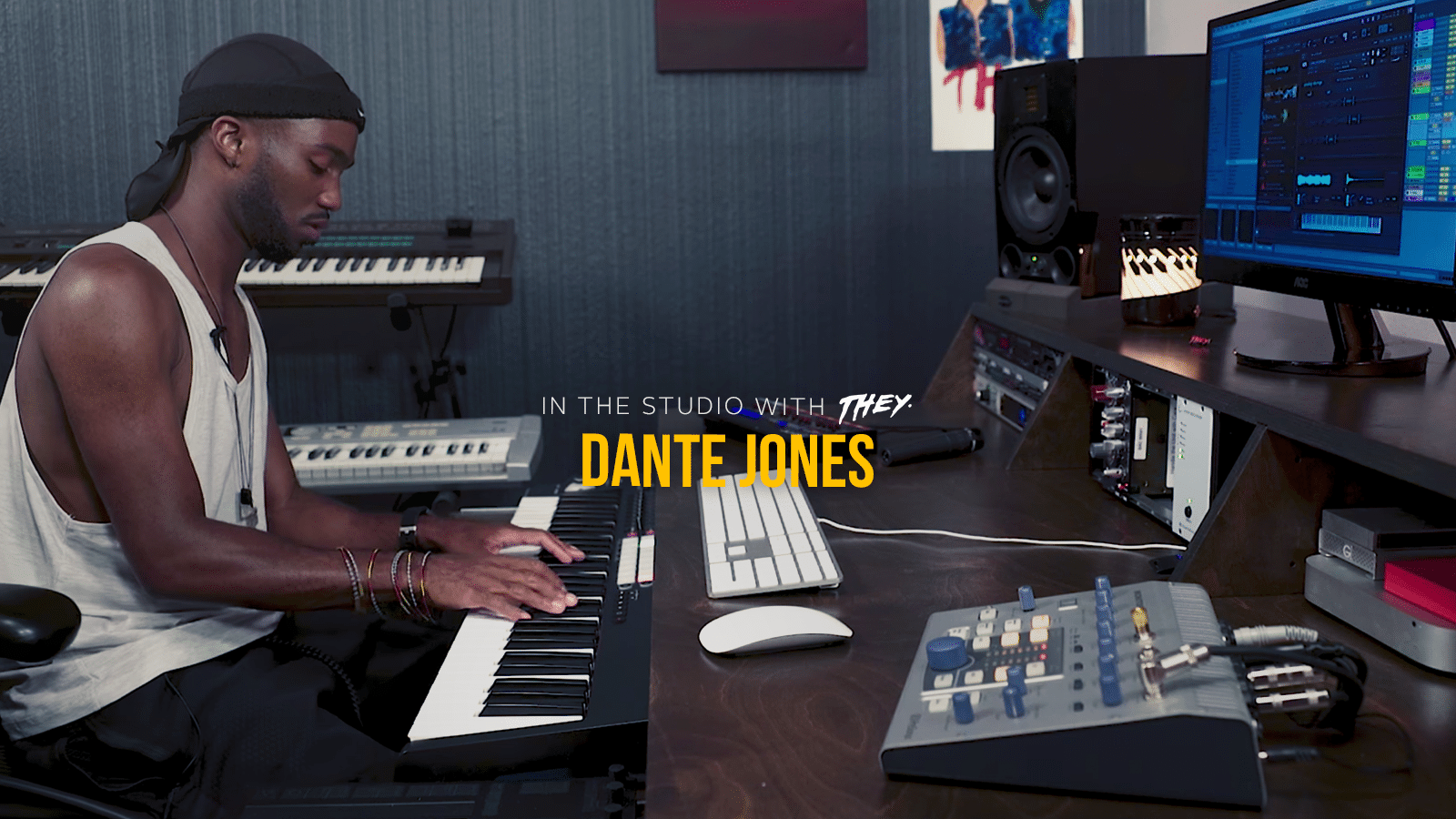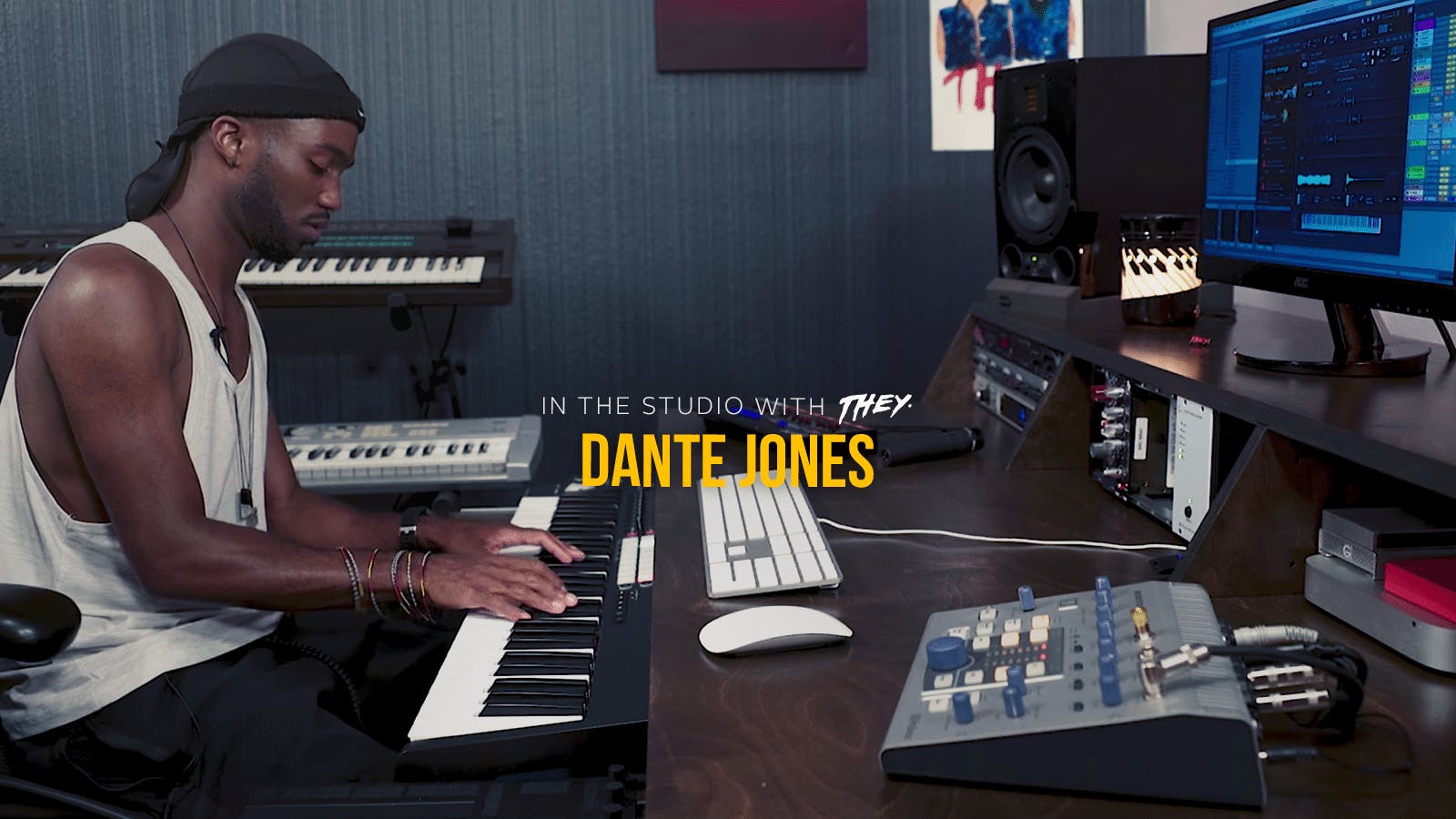 Superstar producer Dante Jones doesn't have a one-track mind. Having collaborated with stars such as Kelly Clarkson, Skrillex, and blackbear, he has built a wide-range portfolio within a decade. He continues to turn heads today with his passion project THEY., attracting other massive collaborators like Tinashe and Jessie Reyez.
But how does he manage to adapt his skillset to so many genres?
"Don't be afraid to use certain sounds that may not make sense on paper," he says.
When asked to give an example, he replies, "One of my favorite things to do is use things like scissors. Random found sounds. Instead of hi-hats, maybe you use scissors. There's a whole bunch of different things that you could do and you're still creating a rhythm."
Welcoming the Output crew into his 17 Hertz studio, Jones reveals the inner workings of his creative process.
Redesigning and processing sounds
Sitting at his Platform desk, Jones confesses his fascination with songs written in 6/8.
"When you really think about it with black music, you think Otis Redding and Sam Cooke, they had a lot of songs in 6/8. I try to do my best to bring it back and do music that I like. I think that's what's most important to me," he elaborates.
It's uncommon to hear a time signature like 6/8 in modern hip-hop beats. But that doesn't deter Jones. "I usually start off with a super simple little loop just to have something to go off of, like a melody first," he explains. Quickly, a waltz-like harmonized melody takes shape.
Jones pays attention to the sounds while composing. Doing so gives him ideas about what else needs to happen in the arrangement. "I'm just going to let that melody do its thing and add a bit of extra rhythm to it," he concludes.
When it comes to drums, Jones doesn't like spending too much time going through various kick and snare samples in his library. "About once a month, I'll go through and I'll make a drum rack or new drums," he says. "Just to have me inspired. I like to have the drums quick to run through as opposed to picking a bunch of sounds every week."
After adding some hits and hiss to make the beat sound a little more vintage, Jones moves on to the bass line. "It's just finding that groove and building on top of that. I build up as much as I can in a 32 bar loop and then start stripping it back from there and taking things out," he says.
Making beats in 6/8
After experimenting with the arrangement, leaving enough space for vocals is key.
"I always like to get as much of the track done as I can before laying down melodies," admits Jones. But everything in moderation: "For the most part it starts off as a simple little music loop. We build from there and experiment with our voices."
To Jones, songwriting is not detached from instrumental production. "I think that's the main thing that you have to really try to conquer whenever you're thinking about songwriting is getting a really sick melody, lyrics, a concept that really fits," he suggests.
Toplining a beat as opposed to building the instrumental around a lead melody and lyrics might yield different results. But at the end of the day, all the elements that make up a good song are the perfect little pieces in a puzzle.
Curious to improve your workflow? Check out our studio flip of Jones' studio with his new Platform desk.