In the Studio: MUNA
LA-based trio MUNA invite us into the studio and show how Arcade was an integral creative tool for their latest self-titled album.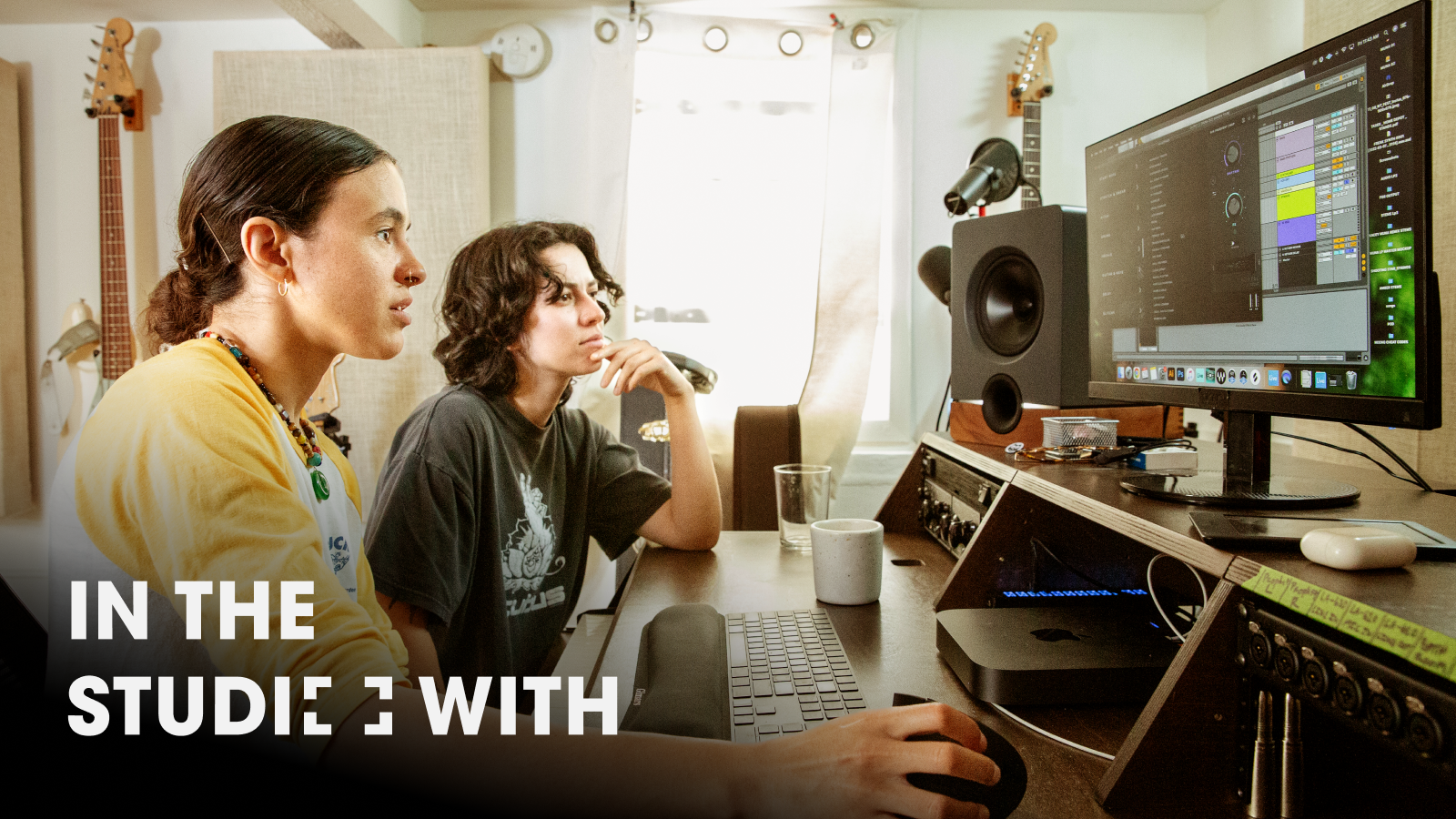 There's no doubt that the members of MUNA are clear about their goals.
When lead singer Katie Gavin lists additional dreams on "What I Want," the new single from their third album MUNA, you get it. She does want the full effects, to hit it hard, and to "dance in the middle of a gay bar."
The LA-based group is also in tune with their production goals: flexibility, creativity, and something that won't torpedo their budget.
When the trio was producing the bold "Kind of Girl" single, guitarist Naomi McPherson explains they were looking to "keep it super organic-sounding and natural."
So synths were out, strings were in, and the band used Output's Arcade to compliment the rich sounds the trio created.
Get yourself a cloud sampler with sounds to loop and layer. Arcade has over 55,000 samples, with fresh deliveries every day. Play it today for free.
"I love to use Arcade for interstitial or supplemental organic sound," McPherson explains from the group's home studio.
"What we'll do is open up a patch, play some stuff, record it, and then chop it up and make a pad, which is exactly what happened in this song," they demonstrate while using the Particles Line in Arcade.
As McPherson creates a mood for our cameras, guitarist Josette Maskin notes that this type of music production fits into any budget. That goes for studio heads, bedroom producers, and bands on the go like MUNA who are signed to Phoebe Bridgers' label, Saddest Factory Records.
"I would say that we're kind of a digital band. When you can't really afford to go into a studio and record a bunch of woodwinds, this does it for you," Maskin says gesturing to Particles on the screen above the Mac Mini.
McPherson adds that Arcade also helps the band generate musical ideas that aid in writing original songs, a feat the group, who originally met while students at USC, don't seem to have a problem accomplishing. Since 2017, MUNA has cut three studio albums, released 16 singles, and appeared on two tracks by the Canadian duo Tegan and Sara. They've also toured with Harry Styles, and, most recently, Kacey Musgraves.
"I think part of the reason that this project works is these are my two best friends and they're the people that I trust the most," Gavin says. "I believe that if I bring something to them and they resonate with the song, even if it's not their experiences, then that's our litmus test for if other people are going to be affected by this as well. If the other queers are also vibing, then we can open it up to the larger circle."
Viewers of Hulu's 2022 LGBTQ rom-com "Fire Island" vibed to MUNA's reimagined version of Britney Spears' "Sometimes."
"Sometimes people will hate what you did. And that has to be okay," McPherson reasons. "We're comfortable enough with each other to be able to work through the rejection. We try not to be too precious and also not be too judgmental or fickle."
The value of having such a powerful production tool right at their fingertips — without enduring the expense of a fancy studio — is something Maskin appreciates.
"I think the cool thing about making music right now is you don't have to have a lot of money to make something that's cool," she says.
McPherson agrees, and adds that they think Arcade is "a fun one to start on." In particular, they say "writing parts, especially when you have no external hardware — nothing expensive at all — and you're working bare bones with the program…it makes music-making and production really interactive."
Now that they've wrapped up recording their latest record with the help of Arcade (and Output's granular synthesis plugin Portal!), is there anything else MUNA wants?
"I want us to be so successful that it makes every homophobe so upset," Maskin says. Gavin adds, "we want to be so successful that no homophobes even exist."
Want to use indie rock and pop sounds in your own tracks? Get everything you need in Arcade — 55,000+ loops, samples, instruments, and counting, with more added every week. Try it free.