8 Ways a Musician Can Make Money Online
If you're looking for your next money move, Output's got you covered.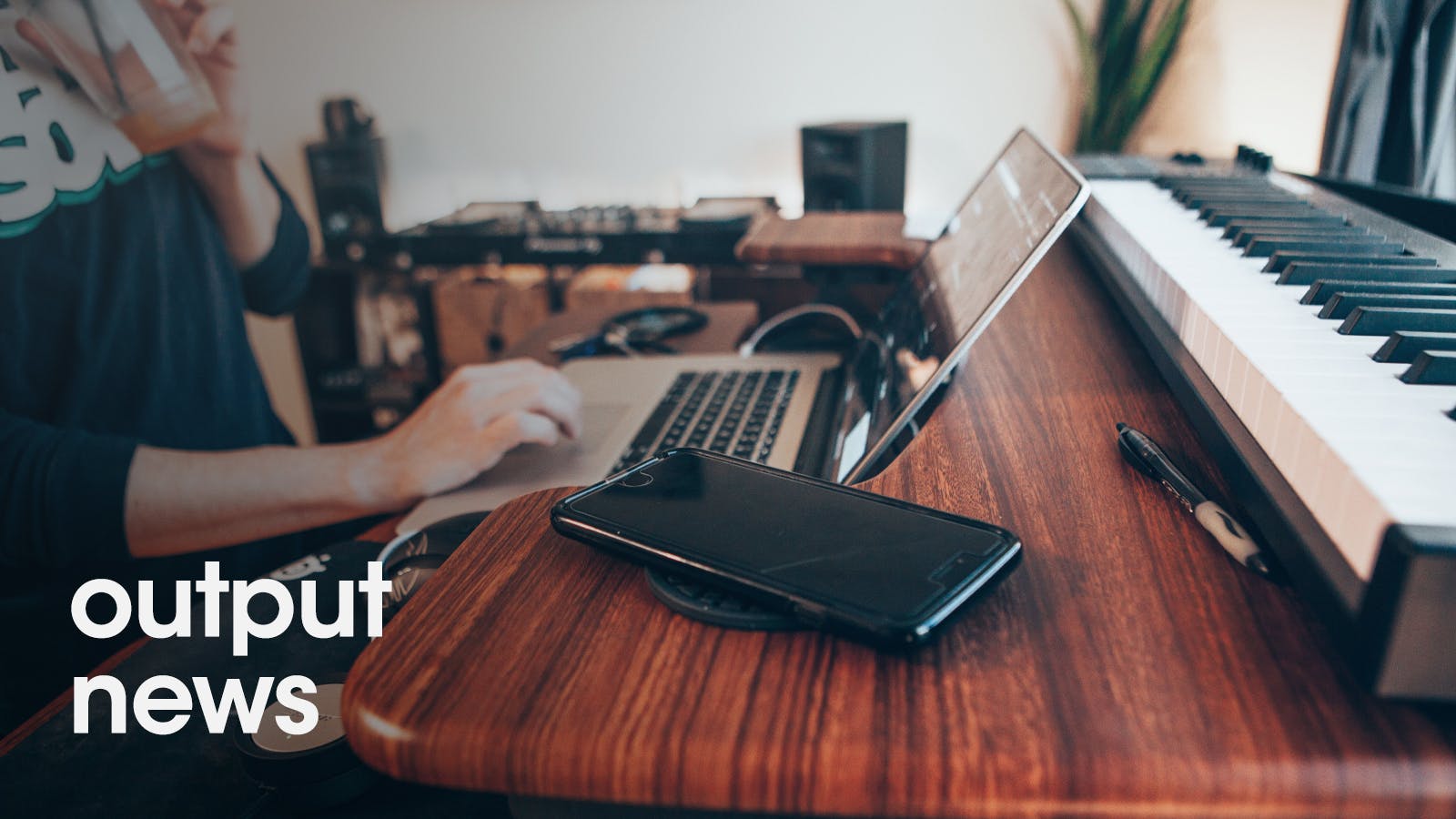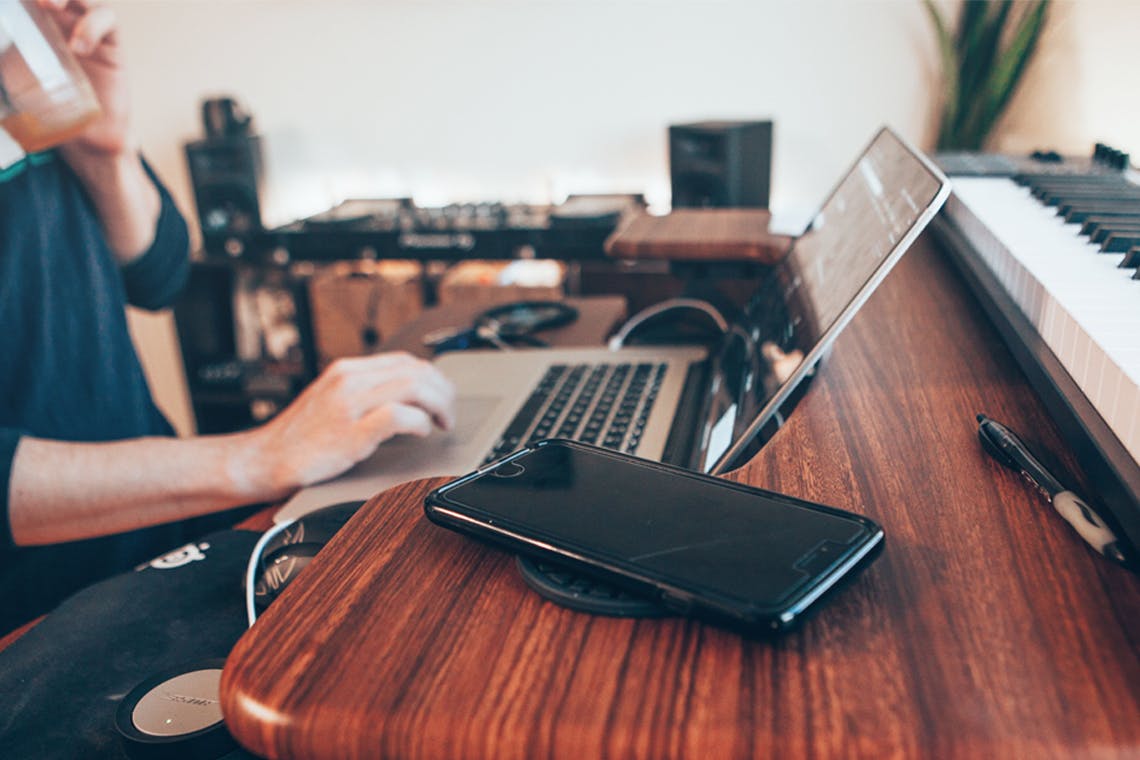 There are tons of ways a musician can make money without relying on hard ticket sales. Building out your online presence is not only a great way to invest in yourself, it's a great way to diversify where your money comes from. Passive income is good income, especially while we're all waiting for live shows to come back. Here are eight ways musicians can make money online without leaving the house.
1. Selling beats online ($100-$1000+ a month)
Selling beats on digital marketplaces is probably the fastest way a musician can make money online. Platforms like BeatStars and Airbit exist to help producers run their beat-selling business by facilitating payments, legal documents, and file delivery. That means there are no upfront costs (like building a website) to start selling beats online. And, it's a fast-growing business. According to Urban Masterclass, "The beat selling industry generates at least $30 million a year. If you can get 0.1 percent of that, you'll be able to make $30,000 a year." So, what are you waiting for?
There's no need for a team to get started (like a manager or booking agent).
You have the option to sell your music under both exclusive and non-exclusive licenses. A track with a non-exclusive license can be sold to an unlimited number of artists, while an exclusive license can only be sold to one entity. Exclusive licenses are usually sold for a much higher price and are often negotiated directly between the seller and the buyer.
Most online beat marketplaces pay out the artist immediately after a sale. There's no need to wait on royalties to see money in your bank account.
2. Production music libraries ($250-unlimited)
In short, production music libraries give the rights to companies or individuals to use your music in their projects, like TV shows, films, and advertisements, in return for compensation. If you're just starting out in the music industry and have a smaller network, getting your music in a production music library is a great first step.
Production music libraries add stability to working creators. The downside is it takes a while to see residuals, but the upside is they often last for many years at a time. Some publishers will buy your music outright, providing upfront fees and a writer's share of royalties. Others have an even split and pay little to nothing upfront but have more potential on the back end. Here is a list of music libraries to begin your research.
The goal of music libraries is to license your tracks to potential customers like ad agencies, TV shows, or indie filmmakers. They don't care if you have a huge following or not. If the song is good, they will do everything they can to get it licensed.
The more tracks you have in a library, the more likely your tracks will get placed. If you need a tool to help you get produce tracks quickly, check out the Arcade plugin. It has over 55,000 royalty-free one-shots and loops and… new users get a free trial.
With so many different music library companies out there, it's important to pick the best one for you. A few things to look for when picking a library are the kind of licensing that they require (exclusive versus non-exclusive), how much money they keep from each sale, and if their past placements match your style of production.
3. Sync licensing ($250-unlimited)
Music placement companies hash out sync licensing deals, a type of deal that pairs existing songs with film, TV, and radio content. Typically, they don't take ownership and the deal is negotiated on a term basis. Since they aren't taking ownership, there is usually no upfront money or production budgets. For this, try Chop Shop, Riptide Music, or Music Vine. (You can also read our interview with music supervisor Matt FX to get tips.)
The best way to get accepted by a music placement company is to send a short intro email with a one-paragraph bio, a credit list, and a link to your three favorite tracks. The production on these tracks has to be really good. These entities aren't looking for writing abilities, but rather the quality of the final product. Contact info for music licensing companies is usually available on their websites.
If you write music that belongs in trailers, there are specialized companies in the field. Check out the In a World Line in Arcade — it's packed with sounds that let you quickly write epic-sounding trailer music. Some examples of trailer houses include Twelve Titans, Immediate Music, Confidential Music, Pusher.
4. Fiverr.com ($5-$1,000 a month)
Fiverr is an online marketplace that lets producers, singers, mixing engineers, and other music industry folks sell their services online.
There is no fee to sign up as a seller, but they will take 20 percent out of every sale you generate.
Fiverr has a huge existing customer base, so freelancers have plenty of potential buyers right when they sign up.
Getting a high rating is key. A good way to get started on Fiverr is to charge less for your first few gigs in order to quickly build your reputation. Once you pass that point, Fiverr will start recommending you to more and more potential customers and you will be able to charge higher fees for your services.

5. Distribute your music on streaming services (1 million plays ≈ $4,000)
Getting your music on streaming platforms makes you available to your fans wherever they listen to music. It's an obvious way a musician can make money online, although the royalties may take a while to add up. A million plays on Spotify may only bring back around $4,000, but with over 250 million monthly active users, there is a real opportunity to make more.
The best way to start seeing significant money from streaming services is to pitch your music to music blogs and user-curated playlists. If they make it on, the algorithms of the platforms will start noticing that your tracks are gaining traction and could begin adding them to their official playlists.
The Spotify submission tool allows users to submit unreleased music directly to Spotify's editorial team for official playlist consideration. It's a game-changer. This feature is only available for unreleased music, so plan ahead to have your tracks ready before your release date!
If you've never submitted music to a streaming platform before, check out this article to pick the best distribution platform for you.
6. Patreon ($5+ per subscriber)
Patreon is a way for fans to directly subscribe to receive exclusive content. It's one of the best ways for musicians to build a steady monthly revenue source while building a stronger connection with fans.
Musicians can start a Patreon page based on educational music videos, synth presets, music theory, royalty-free samples, and more. The opportunities are endless.
Patrons are more likely to pledge along benefit tiers, so make sure that you offer a few different tiers to cater to a wide audience. If you're wondering what could make great rewards for your fans, check out this article on "The Top 10 Rewards Patreon Musicians Offer Their Fans."
If you are interested in starting a Patreon, we definitely recommend checking out Reverb Machine's page. It's a great example of how you can take your favorite parts of the music production process and build a very profitable side gig. And, before you get started, here's a great resource that the Patreon team put together for indie musicians.
7. Bandcamp ($10-$1,000+ a month)
Bandcamp is a lot more than an online marketplace where you can sell your music and merch. It's a vast community of music fans that understand how important it is to support artists directly. With their great recommendation system and daily selections, it's a great way to capture new fans and drive a huge number of sales. Once a month, Bandcamp waives its revenue share on sales to put much-needed money directly into artists' pockets during the pandemic.
Charge whatever price you want for your music and change it whenever you like.
Get access to real-time statistics to have a better understanding of your fanbase and help guide your next move.
The music that you upload on Bandcamp comes with a clean player that gives you, your fans, and the press efficient and customizable music players to embed across the web and display your music in style.
Bandcamp lets you sell your digital music, CDs, vinyl, posters, tickets, merch… you name it.
8. Merchandise ($50-$1,000+ a month)
If you can't make money selling tickets to an in-person show, why not try merchandise? A musician can make money with merch nowadays without buying tons of inventory, and everyone needs a hoodie to cozy up in during this time spent at home. Here are some dropship companies we recommend so you don't have to sink tons of money in to get started.
Notion is a woman-owned business that ships worldwide with no minimum quantities.
Printful offers on-demand shipping with more than just your typical merch items to choose from. Fanny pack, anyone?
Custom Cat has tons of merch options, a few different ways to print, plus embroidery if that's your jam.
If you're already selling music on Bandcamp (see above) you can easily integrate merch into your page.
If setting up a Shopify account isn't in your future, you can just as easily promote new merch through your existing channels by ordering a sample for yourself, taking a few quick snaps, and posting on social media.
Want even more business tips? Check out our guide on instrument appraisals and how they can protect your pricey gear.