Frontier Studio Monitor Reviews: "They Seem To Have It All"
Output's new Frontier studio monitor speakers have a thumbs-up from the experts on every front, from audio quality to design to value.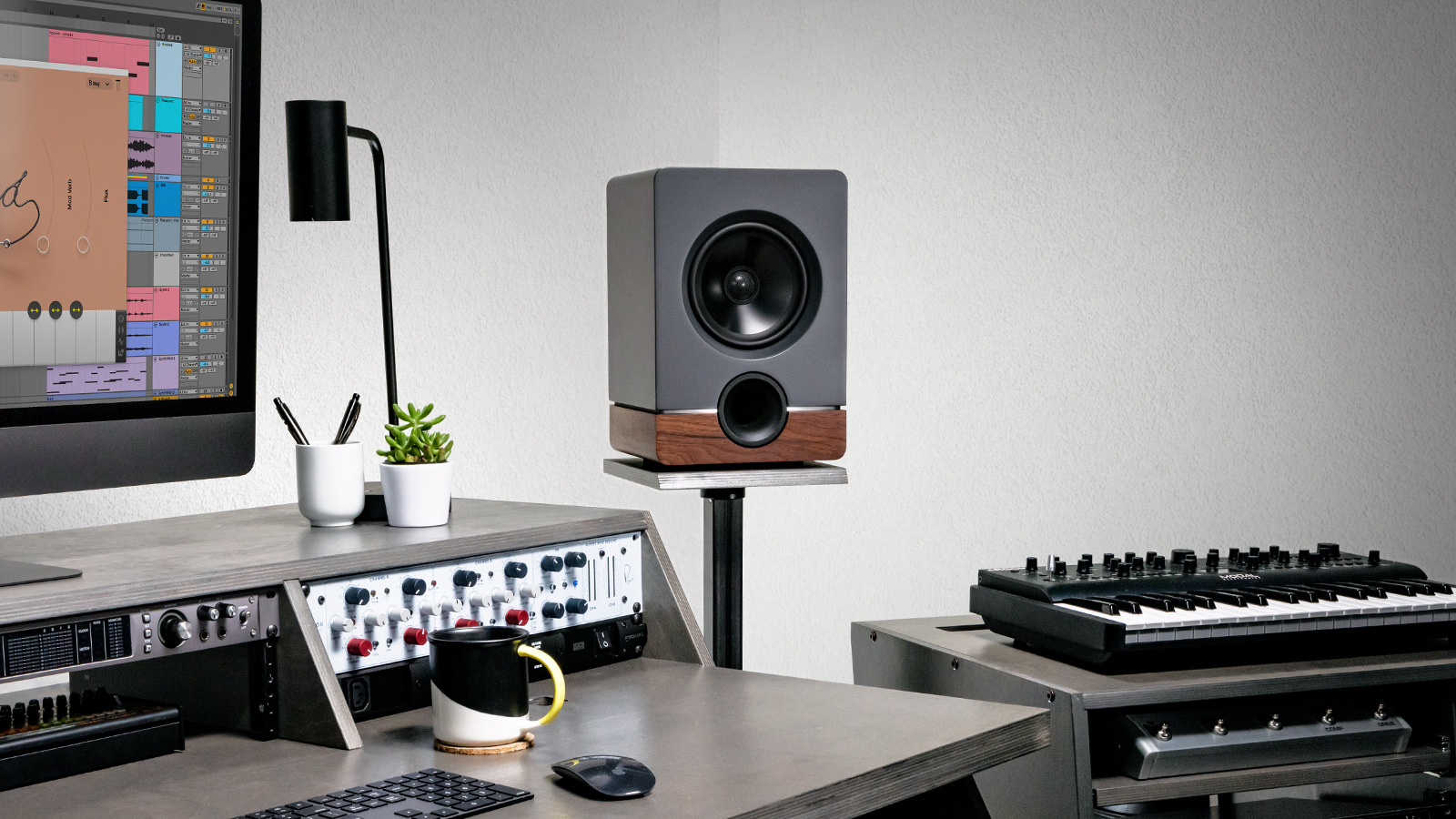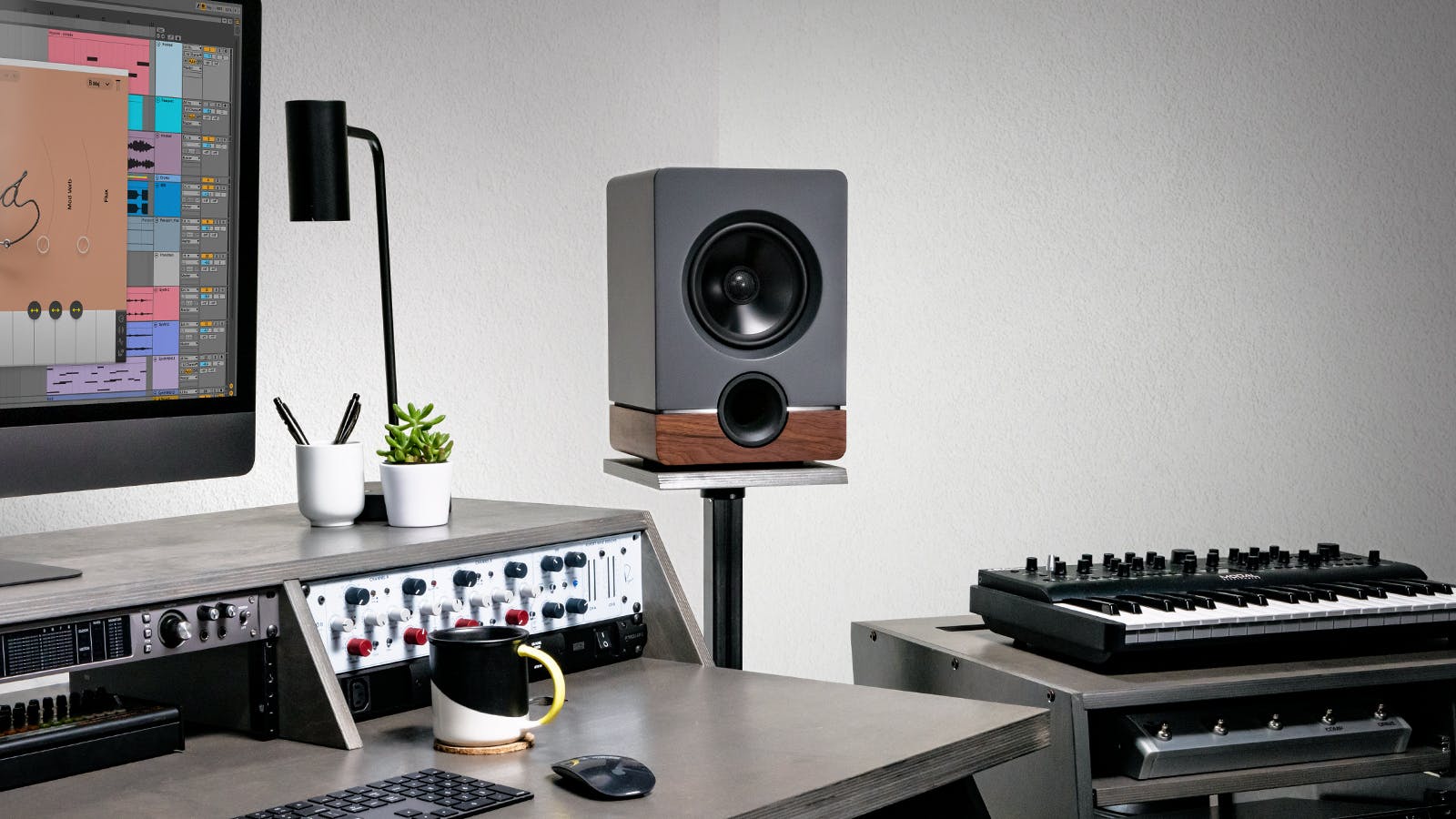 The reviews are in! Output's new Frontier studio monitor speakers have a thumbs-up from the experts on every front, from audio quality to design to value. Output partnered with famed loudspeaker company Barefoot Audio to create Frontier, with the aim to deliver professional-grade studio speakers at an affordable price. Of course, as with all Output gear, there's the added benefit of style. A walnut wood base and soft white LED light adds that extra warm and cozy touch.
We already knew musicians like !llmind and TOKiMONSTA love Frontier. Now we're thrilled to see outlets feel the same, describing Frontier in reviews as "smooth," "full-bodied," "a no-brainer," and more. Read on and see what the pros have to say about Frontier.
Sound on Sound
As expected, Sound on Sound gets into the particulars of the parts in its review of Frontier. "The dual‐concentric design really maintains focus as you move off axis," the review says. "There's a stable centre image and a very well‐defined stereo soundstage." (You can read more about why Frontier has a dual-concentric, or coaxial design, here.)
Sound on Sound also points out Frontier's design-forward build and says that "the fact that they look gorgeous doesn't hurt either. The Frontier is a very capable and stylish little monitor that offers all the benefits of a coaxial speaker design."
Tape Op
Tape Op doesn't hold back in its review of Frontier. And the verdict? "I'm impressed with the Frontiers. They seem to have it all: value, style, and (most importantly) performance," reads the review. "Much like Output's studio furniture style, the Frontier's enclosure is simple, elegant, and modern."
DJ Mag
Output was honored to get a full-page print review of Frontier in DJ Mag. The magazine calls attention to the quality that comes with Frontier's price tag, noting that "For anyone serious in their craft, working on a budget but after a pro performance, these speakers are a no-brainer." As if that wasn't specific enough, it goes on to say that "The performance of the Frontier is in keeping with speakers twice the price."
DJ Mag was especially impressed with the "clarity, sonic imaging, and accuracy" of Frontier studio monitors, giving out a 10/10 in build quality, features, and sound quality. "Output has opened the doors for everyone to experience high-end studio-quality sound and performance at a price that doesn't break the bank."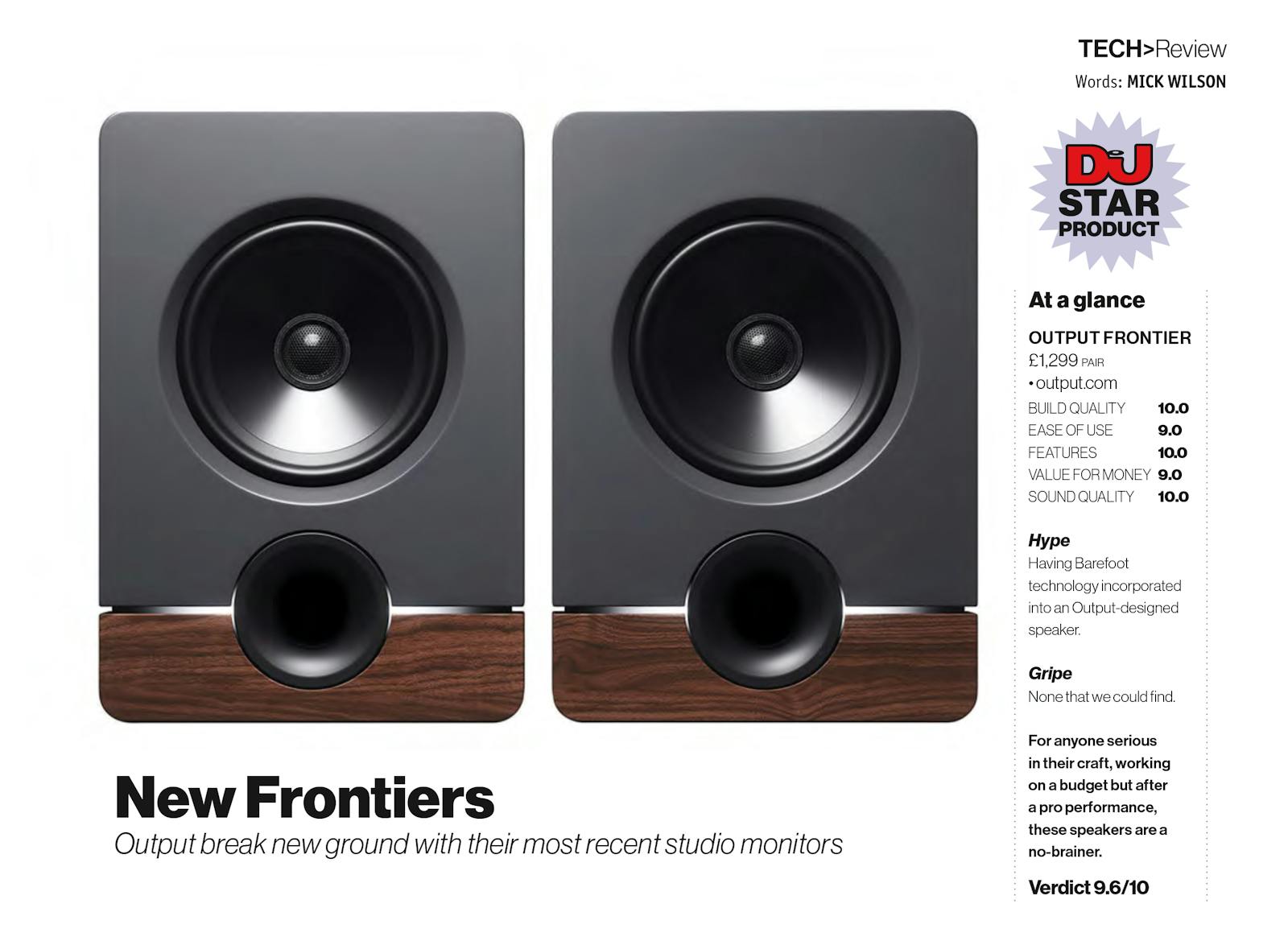 MusicRadar
MusicRadar was so nice, they mentioned us twice! Both of MusicRadar's Frontier reviews dole out glowing praise. In a breakout review, the outlet says that "Frontier is a professional level monitor with a more modest price tag and is designed to fit perfectly into the Output ecosystem." The speakers' audio quality is also praised as "a very open sound with excellent frequency separation… The mid-range is very coherent and the sweet spot nice and broad."
Separately, MusicRadar included Frontier studio monitors in its round-up of the best studio monitors in 2021, alongside longtime professional favorites like the Focal Shape 65. In the roundup, MusicTech specifically notes Frontier's aesthetic touches, calling it an "absolutely stunning monitor" that is "honest-sounding" and will "add a touch of class to any home studio."
MusicTech
MusicTech delves into the sonic qualities of Frontier in their review, saying that the speakers "exhibit a 'sounds bigger than they look' character" with a "full-bodied low-end and easygoing nature throughout the broad mid-band. Treble is smooth, detailed, and well extended but not sharp nor explicit."
If you like what these Frontier reviews have to say and want to grab a pair, check them out for yourself.