11 Must-Have Free Music Production Software Downloads
Today, we're highlighting the best free music production software you can download today, including the best free DAWs and must-have plugins.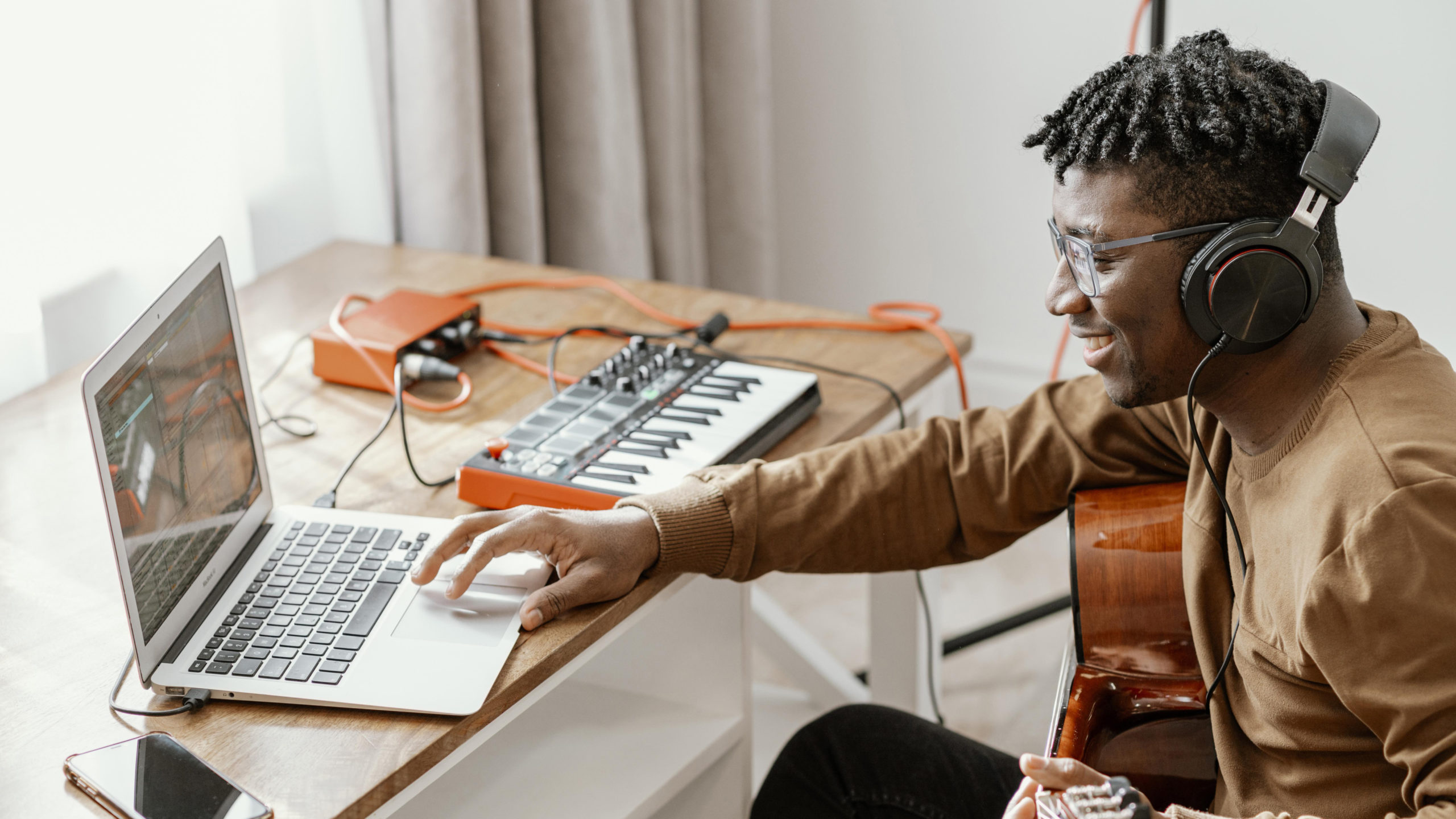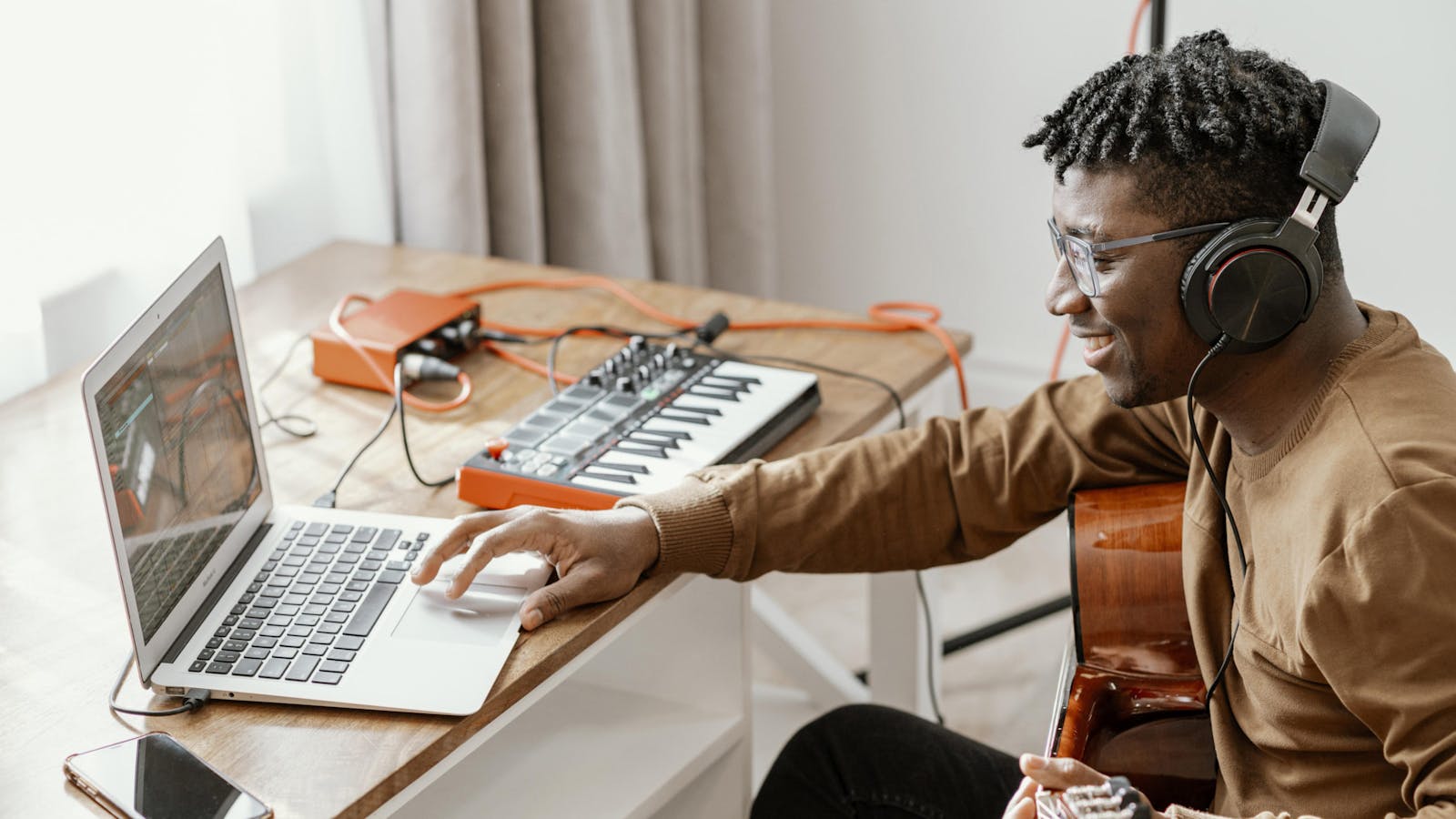 If you make music with a laptop, the first, and most important item you need in your creative toolkit is music production software. That generally means a digital audio workstation, or DAW. Luckily, it's never been easier, or less expensive, to get the right DAW that gets the job done.
In addition to free trials for professional DAW software like Ableton 11, Pro Tools, and FL Studio, there are excellent DAWs you can download and use completely for free, with no limitations. The internet also has countless free music plugins you can use inside a DAW to sculpt your sounds when producing. Many of them can hold their own against software that costs hundreds of dollars.
If you're a beginner and don't know the difference between DAW and plugin, that's totally fine. Think of it like this: a DAW is a sandbox, while each shovel and bucket inside the sandbox is a plugin. You use the shovels and buckets (plugins) inside the sandbox (DAW) to sculpt and put together sand (sounds) which results in a sandcastle (a song!).
DAWs are where you build your songs, program drums and synth parts, record vocals, apply FX, and more. Basically, everything you need to create a hit. Different DAWs excel in different areas, although most fundamentally do the same things.
Meanwhile, audio effects plugins are components that can be used in your DAW to create, change, or monitor specific sounds. They come in different formats — AU, VST2, VST3, AAX — although you generally won't need to bother with hemming and hawing over which version to pick. (If you want to know more, however, here's a good primer.)
Some plugins are used to shape the sound of your different tracks in the mix. (Examples: EQ, compression, delay, reverb, and modulation.) Other plugins, like spectrum analyzers, don't impact your sound directly but are helpful when assessing your mix and pinpointing problems.
Today, we're highlighting the best free music production software you can download right now. That includes the best free DAW for each operating system — Apple Garageband for Mac, Cakewalk by Bandlab for Windows — and eight must-have plugins that you should download and start using in your sessions. Some, like Arcade, are free versions of paid plugins, while others are wholly unique pieces of software that are essential for any music producer's toolbox.
So, are you ready to get into producing music with no budget? No problem. There is free music production software available everywhere you look. Let's dive in.
1. Arcade by Output
OS: Mac/Windows
Pros: Easy to use, new content constantly added, manipulate professional sounds with few steps
Cons: Cons?
Best for: Anyone who loves playing with loops and samples
Arcade is Output's plugin for playing around with sampled sounds and loops. There are thousands of professionally recorded sounds that are searchable and downloadable directly in the software. So, you don't have to leave your project to go find a sound or dig around in random folders. If you do want to use samples of your own, personalize Arcade and load up your own sounds to make custom Samplers!
You can search by keyword to find almost any sound or instrument, from the perfect kick drum to eerie and atmospheric winds to big brass hits. Not only that, but modifiers within Arcade let you play around with any chosen sound on the fly, so within seconds you can find a Loop, lock it to the key of your track, chop it up, and more to make it your own. And, fresh sounds are added every week. New users get a free trial.

2. Apple GarageBand
OS: Mac
Pros: Easy to use at any skill level, comes with professional-level FX and instruments
Cons: 255-track limit, does not support external synths over MIDI
Best for: Beginners looking to learn about music production, artists and songwriters who want to put down demos quickly
GarageBand is a Mac-based DAW that also has an iOS version, so you can use your iPhone or iPad to make music on the go. It comes bundled with a robust set of software instruments and sound libraries, as well as lessons for instruments like piano and guitar. Plug your microphone or instrument into your audio interface and you'll be recording music in seconds.

GarageBand is effectively a lite version of Apple's flagship DAW, Logic Pro. It's also, without a doubt, the best entry-level music production software and DAW. It comes pre-installed on many new Mac products and can be downloaded for free on the App Store in case you don't already have it.
If you're a musician who's intimidated at the prospect of having to twiddle with software to get your ideas down, never fear: GarageBand takes many of those hurdles away, allowing you to get right into creating. When you open GarageBand for the first time, you're greeted with Project Templates — there's a Keyboard Collection for budding synth players, an Amp Collection for guitarists, and separate Hip Hop/Electronic/Songwriter templates for artists and producers. No matter what music you want to make, GarageBand eases you into the creative process.
In addition to the high-quality FX and virtual instruments already bundled in the app, Apple also includes an immense custom-made loop library in GarageBand. It's full of sounds you can use in your productions — everything from vintage breaks and orchestral swells to genre-specific loops for techno, funk, urbano, and much more. And once you want to upgrade to pro software, you can seamlessly open your Garageband sessions in Logic without missing a beat.
GarageBand's widespread availability has earned it a reputation as software reserved for beginners. But don't let any sneering detractors fool you: GarageBand has been used by everyone from Justice to Fiona Apple to record, arrange, and produce iconic albums. It's an incredible tool, whether you're a total novice or a seasoned pro.
While you can open GarageBand sessions in Logic Pro, it should be noted that you can't open Logic sessions in GarageBand. Occasionally, features from versions of GarageBand are migrated to Logic Pro, like the previously iPad-only Live Loops functionality that made its way to the pro software last year.
3. Cakewalk by BandLab
OS: Windows
Pros: Great built-in FX (including the fantastic ProChannel Strip, unlimited tracks, audio and MIDI comping, supports 32-/64-bit plugins and VST3
Cons: Included VST instruments are pretty basic, no built-in sampler, some FX interfaces look dated, does not support external synths over MIDI
Best for: Producers looking for a free DAW solution, guitarists and musicians who want to record their first album
Cakewalk by BandLab is a free Windows-only DAW with premium features that hit the scene in 2018. It used to be a paid DAW known as SONAR, but after the brand was acquired by the Singaporean music company BandLab, it was re-released as a free product.
The Cakewalk DAW lives up to its name. It's an intuitive and customizable music-making suite that can keep up with competitors like Ableton Live or Logic Pro. The user interface is virtually unchanged from the SONAR days, with track and master metering on the left, a large center arrangement view, and audio/sample browsing on the right. It also includes design cues and features found in its competitors, such as Matrix Mode, which lets you trigger and loop audio clips as you can in Ableton's Session View or Logic's Live Loops.
One of the best features is the built-in ProChannel Strip, a set of audio effects (EQ, compressor, saturation, tape emulation, console emulation, and more) meant to color and shape your sound before it hits any other processing. If you're someone who's coming from recording on 4-track tape machines, you'll feel right at home with the Cakewalk interface and channel strip.
The whole strip is directly tweakable in the mix window, which is very similar to the way things work in a physical studio. Essentially, this lets you make changes without having to hunt through plugin windows.
There are areas where it could be improved. The included first-party software instruments are pretty rudimentary, and there's no built-in sampler plugin. This means if you want to program drums using your own samples, you need to use a VST like Sitala or TX16Wx, both of which are good free options. As long as you're comfortable with finding your own virtual instrument solutions, Cakewalk's otherwise solid feature set makes the app worth your time.
Building out your studio? Check out our guide to recording music at a professional level from home.
4. HOFA System Basic
OS: Mac/Windows
Pros: 29 plugins that can be used separately or together, 150+ presets, modular routing lets you get creative with how your sound is affected
Cons: Very limited preset modification ability
Best for: Sound designers
HOFA System Basic is a free version of the German music production software company's highly-praised System suite of plugins, giving you access to chorus, reverb, delay, multiple types of flanger and phaser, and more. Use the plugins as separate inserts, or connect them as modules inside the System matrix: a separate window that lets you route audio to different plugins in various creative ways.
Using the plugins as modules in the System matrix can lead to some very intriguing results, especially when you're designing new sounds or trying to make a flat sample sound more exciting. Because you aren't dealing with multiple separate plugins, it's easier to try out different processing options and immediately notice how the audio is impacted.
The main drawback with the System Basic suite is that many of the plugins are limited in how many parameters you can change if you are using them individually. For example, the channel and summing compressors have fixed ratio and release settings in the freeware version. Another example, you get access to HOFA's powerful AlgoVerb, but only the plate algorithm.
HOFA makes up for this by including over 150 presets from the full version, which costs €169.90 (roughly $208 USD) and comes with 300+ presets. If you're looking for a grab bag of great sound-shaping presets to use as starting points in your productions, the free version will suffice. When you want to start tweaking and further refining those sounds, you'll want to consider shelling out for the (excellent) full version.
5. AudioThing Blindfold EQ
OS: Mac/Windows
Pros: Simple, easy-to-use interface, soft-clipping and "analog" buttons for coloration
Cons: Blind EQ concept won't work for every situation (though that's the point!)
Best for: Early in the mixing process
AudioThing's Blindfold EQ is a 4-band EQ with a very unique proposition: You can't see the specific frequencies you're affecting while you work. The software's simple, minimalistic layout is only divided into LF (low frequency), LMF (low-mid frequency), HMF (high-mid frequency), and HF (high frequency) bands.
Many producers are used to fine-tuning a mix using notch filtering, a method of EQ where a very specific and bothersome frequency is targeted and turned down. You can't do this with the Blindfold EQ, intentionally. The lack of information forces you to fully rely on your ears as you change the frequency and gain amount of each band (no more looking at numbers to tell you what you're boosting or cutting!).
The Blindfold EQ is based on a quote by producer Matt Wallace, who's worked with bands like Faith No More and Maroon 5. "If I were king of the universe, consoles would have no indication of frequency near the EQ knobs, because when you show the frequency, then most people EQ by eye," he said. "It doesn't matter what the number is. It matters how it sounds and how it feels. That's it!"
In the market for a MIDI keyboard? We rounded up the 10 best on the market that cost $300 or less.
6. Rough Rider 3
OS: Mac/Windows
Pros: One of the most popular free compressors ever
Cons: Will absolutely color your sound if pushed
Best for: Crushing your drum bus, warming up your synths and guitars
Audio Damage's Rough Rider compressor has been an iconic fixture in the music production software world ever since the original plugin was released back in 2008. It's one of the most widely-used free compressors ever — the plugin boasts over half a million downloads so far — and gained popularity because of how good it sounds when cranked up on instruments like drums, bass, and guitar.
The latest iteration, Rough Rider 3, carries on the sonic characteristics of the original. All compressors take an input signal and bring the quiet parts up while lowering the loudest parts down. The "character" of a compressor lies in how obvious it is that a sound is being compressed.
With the Rough Rider, if you're using it right, you'll hear the compression. This is not a "clean" or "transparent" compressor, like the Tube-Tech CL 1B. Depending on how you set the knobs, Rough Rider will distort and saturate your audio, making it perfect for parallel compression and drum bus processing.
Rough Rider 3 boasts a simple control scheme — ratio, threshold, and make-up gain, with attack, release, mix, and output level on the side — and its exaggerated nature makes it easy to understand how compression impacts your signal. If your track has elements that feel too thin or quiet, use this compressor aggressively to give your instruments some bite.
7. RhythmDelayFree
OS: Mac/Windows
Pros: Dead simple and easy to use, not overly resource-intensive
Cons: Fixed low-pass filter means the sound of the delay can be inflexible
Best for: Creating clean and catchy rhythmic delay patterns
RhythmDelayFree is a multi-tap delay, meaning the delay time can be subdivided into eight different "taps" for some interesting rhythmic possibilities. This freeware version of D10Labo's RhythmDelay retains the original minimalist interface and much of its basic functionality.
Each of the eight taps can be engaged or disabled separately. You can set the delay time manually or sync it to the tempo in your DAW, with a single feedback knob to control how long your tails ring out. Whether you're using it on guitar for that classic U2-style Edge sound, or making a synthesizer pluck more psychedelic, RhythmDelayFree is simple enough to let you quickly dial in the exact sound you need.
8. Verberate Basic 2
OS: Mac/Window
Pros: Four high-quality algorithmic reverbs of different kinds, optional "swirl effect" to emulate the tail sound of vintage digital reverbs
Cons: No control over reverb decay time, room size, or other parameters
Best for: Quickly putting sounds "in a room" together, giving vocalists reverb for recording
Verberate Basic 2 by Acon Digital gives you access to four different algorithmic reverbs (plate, room, hall, and "lush") that you can use to give your sounds new life and presence. This is a bare-bones plugin. Make no mistake — the only real controls you get are buttons to switch between each of the reverb modes and a big dry/wet knob — but sometimes that's all you really need to make a sound come to life.
Each of these fantastic-sounding reverb algorithms is taken directly from the fully-fledged Verberate Immersive 2, one of the most well-respected reverb plugins on the market. Although you can't control parameters like early reflections or decay time like you can in the paid plugin, Verberate Basic 2 ensures you won't get any nasty resonance, which is an unwanted loudness that can occur when there is too much build-up of specific frequencies.
9. Caelum Audio Tape Cassette 2
OS: Mac/Windows
Pros: Easy-to-use cassette processing emulation, options for oversampling to reduce audio quality falloff
Cons: Not a lot of filtering options
Best for: Recreating that analog warmth and wobble
Cassette tape emulation has had a moment for a few years now (hello, lo-fi beats and chill). Producers gravitate towards the warm sound of cassette tapes to give their instruments the feeling that they've been lifted from samples or recorded on old hardware. You know the vintage vibe: A synth or sample with the top and bottom ends shaved off, with woozy pitch and grit, giving it a shot of instant nostalgia.
Tape Cassette 2 from Caelum Audio is a free way to tap into those same retro feelings. It's got a bevy of options — saturation, noise, wow, flutter — and even has the option to use an impulse response from a Tape I tape for that authentic cassette sound.
10. iZotope Ozone Imager 2
OS: Mac/Windows
Pros: Turn a mono sound into a stereo one at the touch of a button, clearly visualizes the stereo width of your instruments or track
Cons: Easy to over-do it
Best for: Widening mono synth sounds, giving your vocal additional presence in the mix, checking the stereo imaging of your final track
For decades now, recorded music has operated in stereo — and so one of the most important aspects of your mix is the stereo imaging and how your song sounds in the stereo field. A stereo imager helps you push hi-hats wide so they feel spacious and sparkle, or keep a kick drum smack dab in "front" of the listener.
An imbalanced stereo image can mess with how you perceive your mix as a whole. Sometimes, you may find that a vocal or synthesizer part feels like it doesn't sit correctly. You throw on a bunch of FX to try and fix it, only to discover later on that all you needed to do was to tweak the stereo imaging.
Enter iZotope's Ozone Imager 2. It's an updated version of the stereo imaging module included in the company's mastering suite, Ozone 9. You can use it on mono sources and instantly make them stereo with the "Stereoize" button.
There are two "Stereoize" Modes: Mode I has a more obvious "stereo" effect while Mode II can be used to widen mono elements like percussion without artifacting or transient issues. Best of all, this plugin gives you access to three different vectorscope types to help you visualize whether your sounds or see if mixes have any phase issues (which is when identical or near-identical doubled sounds cancel each other out).
Need more hard drive space? We picked the best external hard drives for music production.
11. Voxengo SPAN
OS: Mac/Windows
Pros: Best free spectrum analyzer, period, built-in level meters, works in stereo and mid-side
Cons: Interface can be confusing at first glance
Best for: Checking your bass mixdown when you don't have a treated room
Voxengo's SPAN is a spectrum analyzer — it visualizes the frequencies of your sound or mix. It's one of the most flexible and customizable tools on the market, free or paid. You can use it to find where the fundamental frequency of your kick drum is, figure out what frequencies of your guitar tracks are irritating you, or even check how solid your bass mixdown is.
This can be immensely useful, particularly if you have a sub-optimal mix environment. If you're working with studio monitors in an untreated room and you don't feel like you can fully trust your bass levels, this plugin can come to the rescue. You can use two instances of SPAN — one on your mix and one on a reference track — to get a sense of what your mix balance should look like.
Remember: You should always mix with your ears, not your eyes, but SPAN can help you figure out what to listen for.