Facebook Ads For Musicians: Everything You Need to Know
How do you promote music on Facebook to gain more fans and listeners? It can be a struggle, but there are some easy and inexpensive ways to go about it. At Output, we've been successful in using Facebook music ads and wanted to share some of the techniques we've picked up along the way.
Use Facebook to Target the Fans of Your Influence
Let's say you make music similar to Phantogram and know their fans would probably dig your music, too. You should target Facebook Posts to Phantogram fans.
Currently, Phantogram has roughly 400,000 fans in what Facebook calls an 'Interest Group.' These are people who have interacted (liked, commented, shared, and/or mentioned) with Phantogram on Facebook.
If you can snag the attention of 10% of that audience, you'll reach 40,000 new people. Even if 10% of that group click on your post and listen to your music, you could possibly acquire thousands of potential new fans.
Note: It's worth mentioning that smaller bands aren't part of Facebook Interest Groups. You should be aiming for better-known musicians and/or bands.
"How Much Will I Need to Spend on Facebook Interest Groups?"
$5 a day per post/per ad for any length of time you'd like. You can spend more, but $5 goes a long way.
Why Is Facebook Great for Musicians?
Facebook stores everyone's interests, likes, and dislikes. Why not use this data to your advantage? By understanding how the advertising system works, you'll be using the same tools and tactics that large companies do to grow their fan bases.
The Golden Rule of Facebook advertising is to be genuine, honest, and speak to your new fans the way you'd like to be spoken to. By following this standard, you should see a lot more success.
Using Facebook Ads to Connect to Instagram Use
When using Facebook, you'll automatically receive access to Instagram channels. Remember: Instagram is even stronger than Facebook in usage and popularity for all ages.
With two placements for ads to appear (Feeds and Stories), you'll have greater flexibility when creating them.
Using Videos with Facebook Ads
The Facebook Ads game has changed recently. Video ads are a "must" these days. Though this is the newest favorite format for ad platforms, static images are still extremely useful for specific situations (and they cost far less).
Facebook Musician Ads: What You Need to Get Started
To get started with Facebook Ads campaigns, you'll need a few things:
– a Facebook page
– credit card
– a basic understanding of the layout and structure of Facebook ads
(Learn all about that here)
A Step-by-Step Guide to Optimizing Facebook Ads
Let's review how to optimize your Facebook video ads.
Before you start, look at the "Boost Post" button on your Facebook Page. Though the button is easy to activate and functions well, it lacks specific ad options that save you money in the long run. Simply put: We don't recommend using it.
Step 1: Create an Ad in Facebook Ads Manage
In Ad Manager, click 'Create Ad'.
Step 2: Determine Your Marketing Objective
Select your 'Objective' – click on the 'Objective' type or hover over the "i" icon to get a description of each option.
"Video Views Optimization" is the best option for videos because it gives you access to a relevant audience – and in the easiest way possible. All of the other Facebook optimization types have some limitations.
"Engagement" involves a lot of fake clicks. "Reach" doesn't control the quality of the people you reach. "Brand Awareness" is fine, but you should understand that it can't be accurately measured.
If you have a static image (not video) and you're using one of the other objectives (e.g. Engagement, Reach, Brand Awareness), the steps are the same. The best strategy, however, is to use the automatic options.
Step 3. Choose Your Campaign Name and Budget
Name your Campaign and set your budget. Decide if it should run continuously or end on a specific date/time. If you are choosing a budget, start low. You might be pleasantly surprised how little it takes to get in front of a good number of people.
Step 4: Name Your Ad Set
Name your 'Ad Set', which contains individual ads.
Step 5: Determine Your Audience Location
Select the geographic location where your ads will be shown. You can type in "Worldwide" for international coverage, or get more specific with countries and cities.
Step 6: Choose Your Audience Demographics
Select the demographics or characteristics of your target audience. The more specific, the better. If the majority of your listeners are between 18-30, be sure to select that age group to reach the right people (and optimize your budget).
Step 7: Complete Detailed Targeting
'Detailed Targeting' requires diving into the specifics. Input your "target" interests or topics (e.g. influencers, artists, brands, categories). As always, the more specific, the better your ads will perform.
Recommendations of relevant topics and/or interests will show up as well, as you will keep a fresh list of targeted keywords and influencers with each growing campaign. Note: Not all artists or topics will show up here. Don't panic.
Step 8: Choose Connections
Select a 'Connection' to your Facebook Page. Exclusions can be just as important for targeting the right audience, so decide on whether you wish to specify targeting for (1) Your Fans (2) Friends of Fans or (3) Exclude Fans.

Step 9: Placements
When you "Edit Placements", you'll be able to choose the types of devices, platforms, and placements yours ads will run on. We recommend using automatic placement. Facebook's algorithms have incredible resources and will quickly allocate your ad set's budget across multiple placements (based on where they're likely to perform best).

Step 10: Choose Optimization & Spending Control
Just like in Step 9, we recommend that you use the automatically-selected settings for these fields. Let Facebook's algorithm do the work and deliver your video to people who are most likely to play it for at least 15 seconds.
Step 11: Name Your Ad and Select Your Accounts
There's so much flexibility here. Automatically select an existing post from your page to run as an ad. Create an ad from scratch by uploading a creative, adding ad text, ad headline, url, and CTA button.
Step 12: Track Your Facebook Ads
If you want to dive deeper into Facebook marketing results, make sure that you have a Facebook pixel on your website. At this step, you want to make sure it's enabled.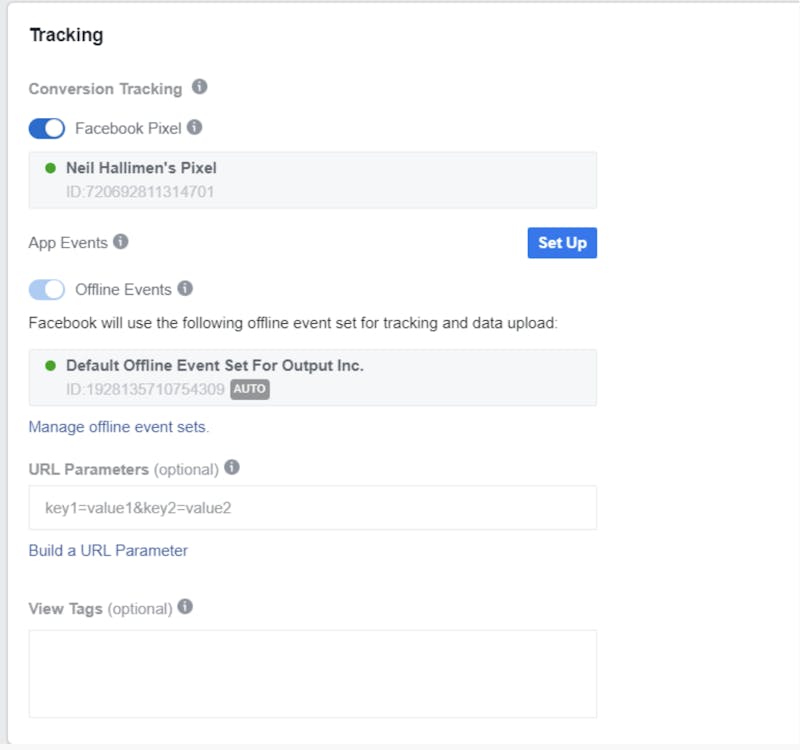 How to Create an Effective Facebook Ad
Effective ad performance is a science unto itself, but here are some simple tips to keep you on the right track.
Tip #1
Video Ads Are (Typically) the Way to Go
With video ads, the viewer can listen to your music and watch the video. The ads can also link to your website or landing page for additional information. It's a good 2-for-1 deal.
Tip #2
Consider User Experience
The key to building successful ads revolves around considering the user experience. If your ad is a single image with a link…
Where does the link lead? What is in it for the viewer? Is it visually appealing and informative – or just eye candy?
Tip #3
Capture the Viewer's Attention
As Facebook Newsfeeds are crowded with cat videos and political posts, ask yourself what will make people pause for your ad? Graphics and text should be consistent and visually captivating – and the video should start with a bang! Remember: You've got to grab your audience's attention within 1.7 seconds. No pressure.
Analyze Your Results
Once your ad is up and running, keep tabs on its performance. Track how many views, clicks, and engagements (likes/comments/shares) are aggregating in the Ad Manager of Facebook Business. Test multiple videos and images to see which ones perform the best. Remember: The smallest changes can make the biggest differences.
There you have it: the best way to promote your music on Facebook to grow your fan base. Good luck, and be sure to let us know how it goes.
A Completely New Breed of Bass
SUBSTANCE is a deeply produced bass engine — combining heavily processed electric and acoustic basses, real brass sections, the dirtiest analog synths, and insane sound design to make your low end sound unlike anything you've heard.
---