In the Studio: Mark Mothersbaugh
In this studio tour, step inside the weird and wonderful world of composer and trailblazing Devo band leader, Mark Mothersbaugh.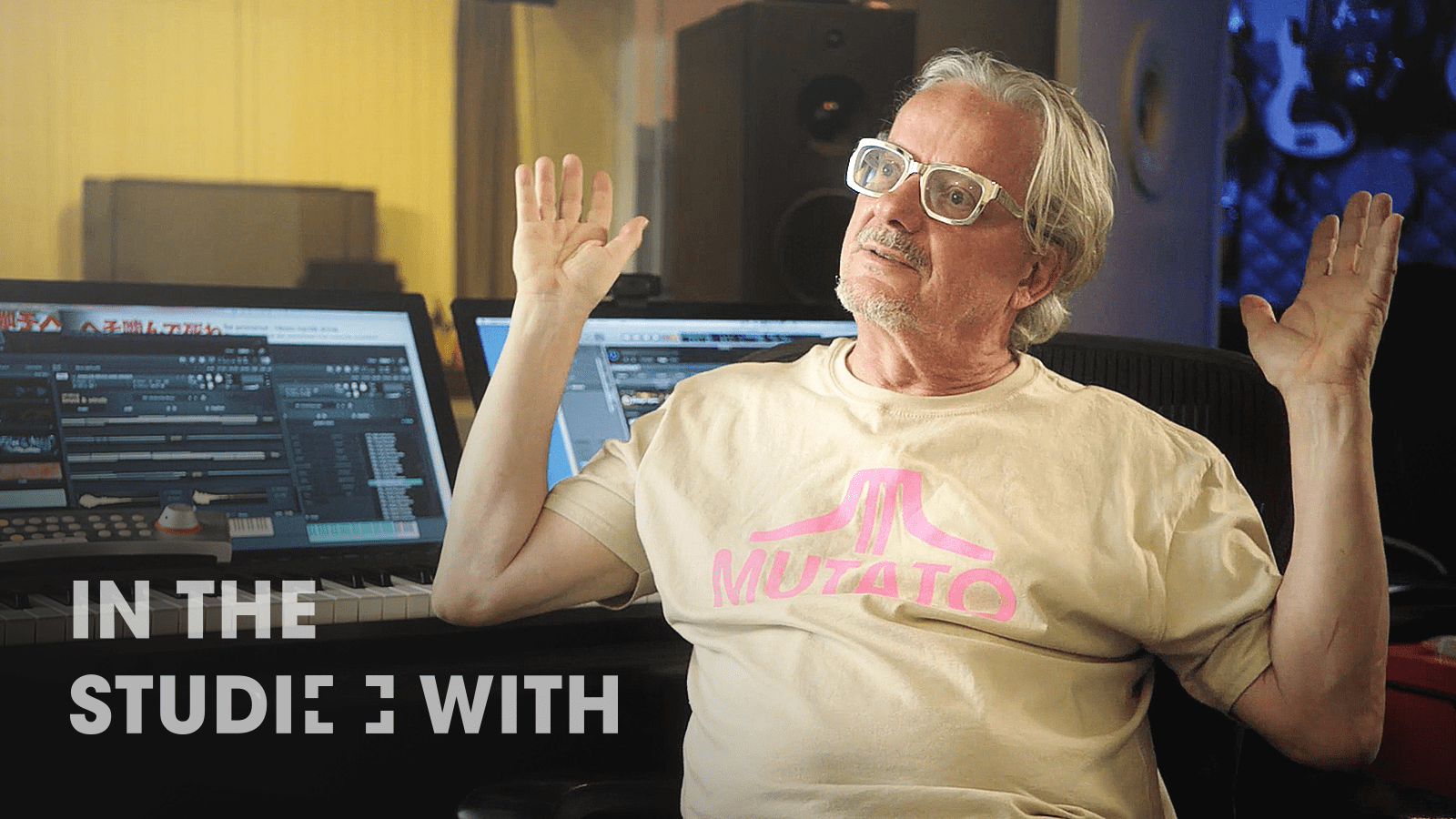 Mark Mothersbaugh is the most identifiable member of Devo, the midwest new wave revolutionaries that whipped their way up the charts like an uncontrollable urge in the '80s. Decades later, Mothersbaugh is still creating beautiful music.
When Devo stopped regularly making music in 1990, Mothersbaugh seamlessly transitioned into becoming a composer for TV and film. If you saw Adam Sandler's Happy Gilmore, Wes Anderson's directorial debut Bottle Rocket, or more recently, Marvel's Thor: Ragnarok, you've heard Mothersbaugh's scores. In all, the prolific singer and musician has racked up over 225 credits for his work on the small and giant screen.
Mark Mothersbaugh and Mutato Muzika
Batman has his bat-cave and the Avengers have Stark Tower. Mothersbaugh's magic emanates from an unforgettable structure on the Sunset Strip that he calls Mutato Muzika. The circular lime-colored mid-century building was created in 1967 for Hollywood cosmetic surgeon and author, Dr. Richard Alan Franklyn. The good doctor tasked the architect to build an office with natural light radiating through central skylights to illuminate his operating room.
"I painted it bright green about 25 years ago," Mothersbaugh says of the landmark situated a few blocks from the legendary rock clubs The Whisky, The Roxy, and The Viper Room.
Pink Floyd's Ondioline
Mothersbaugh is generous as he gives a tour around the office, pointing at various instruments and little projects he's working on. "About every two or three years my wife comes over and says, it's starting to look like a pawn shop," he jokes. "I'm a collector. I've got a serious collection problem. I started with Devo. I was archiving all of our old keyboards. I collected a lot of sound-making things and esoteric instruments."
Then he comes across a curious find with a one-of-a-kind origin story. "This one here is something that I used during the Rugrats days," he says of the animated series that ran from 1991 through 2006, whose 172 episodes he composed music for. "It's called an Ondioline and it's got a ribbon controller on it. For tremolo, you wiggle the keyboard. If that isn't the most awesome thing… I've never seen that ever again on another keyboard," he marvels.
"I got mine because I was writing this album called Freedom of Choice with Devo," he says as if no one has heard of the classic album recorded in 1979 that contains the hits "Girl U Want," "Gates of Steel," and "Whip It."
"We were rehearsing in this place in Hollywood. Pink Floyd had the big room and they were rehearsing to go out on tour [to support their double album The Wall," he continues. "They were throwing all this stuff in the garbage bin. I went over and I said, 'Hey, you guys, what are you doing with that?' And they said, 'We're getting rid of it. You want it?' So Pink Floyd gave me this Ondioline."
Without the Fab Four, there would have been no Devo?
Along with millions of other people, Mothersbaugh was watching TV the night of Feb. 9, 1964. That evening, John, Paul, George, and Ringo played a handful of songs that changed the future of pop.
"I hated music, actually. I had to take organ lessons," he says. But then it all shifted. "I saw the Beatles on Ed Sullivan and I was like, that's why I've been tortured my whole life learning how to play the organ, so I could do that. By the time I was 12, I knew I wanted to be a multi-disciplinarian in the world of arts."
That's a good start, but he soon learned that teamwork makes the dream work. "I come from the school of writing everything myself and orchestrating everything myself and being self-contained," says Mothersbaugh. "Over the years, I've learned how to incorporate a team to work with me. I've got people here where their specialty is, for instance, taking my crummy mock-ups and redefining them for a hundred-piece orchestra."
Composer John Enroth, who has dealt with the so-called crumminess with Mothersbaugh since the 2005 Lindsay Lohan film, Herbie Fully Loaded, explains the process. "Mark will write a bunch of music and send it to the filmmakers and then they'll pick out themes that they like. We take it and use that as a roadmap for the rest of the show," he says.
Fellow composer/de-crummer Albert Fox says that they also "choose instruments that will agree with the sonic palette that has already, hopefully, been established on the show. We'll get the Logic files and then we'll have to reassign sounds or add certain things or take certain things out to better fit the scene."
Mothersbaugh enjoys creating his sketches through Logic, but the man who once jerked around robotically understands that sometimes music needs a human touch. It's then that he'll play it on a live instrument.
Mark's Swarmatron
Introduced in 2010, the Swarmatron is extremely rare. Only 83 of the hand-built instruments have seen the light of day. Trent Reznor used one on The Social Network to create the soundtrack's eerie warbly vibe.
"I'm always looking for something different to use when I'm writing music," Mothersbaugh says, leading the way to the Swarmatron. "You're not prepared for it if you've been playing synthesizers all your life like me. All the settings on it have nothing to do with how you normally think about synthesized music."
Mothersbaugh is obsessed with bird calls, Eastern European doorbells, and creating new instruments. His passion for tech in all forms has never diminished.
Out of the box in the box
Among all the trippy instruments, funny glasses, and Devo collectibles, you shouldn't be surprised to see Arcade on the Mutato Muzika computer monitors.  
"My first experience with Arcade was I needed a big drum circle sound and I needed it within a day so we couldn't hire players," Enroth says. "Fortunately, there's one Sampler [in Arcade] called Drum Circle. I immediately brought it up and it was exactly the sound I needed. It couldn't sound electronic. I had to do a lot of start and stops and there were a lot of tempo fluctuations, and we had to make a lot of room for dialogue. So being able to quickly mute things and when something odd happens, just hitting one of the modifier buttons to give it a little something going on, made my job intensely easy."
Fox says Arcade was equally helpful on the three Lego films the team has worked on together, and the Lego video game. "We've been using it a lot in the Lego movies," explains Fox, "mainly because of the glitchy circuit things. We've been using a lot of the metal clangs and click hits. It adds a nice little rhythm to the whole piece." 
"Any time we get to blend synths with orchestral stuff, we grab a lot of things that sound organic and have that synth element, which is thankfully a lot of the Output stuff," Ethan Obbema, another member of the team adds. "We can grab Analog Strings or even EXHALE to sell a cue where the director wants it to be hybrid, but doesn't want to hear electronic [sounds] right in front."
"We're all so fascinated with what's happening in technology," Mothersbaugh says. "Music has really gotten such a great boost from technology. It's opened the floodgates to make art democratic."