Watch James McAlister Process Arcade Using Analog Gear
James McAlister shows off how he turns an ARCADE pluck into a polyrhythm with an Electron Digitakt, Teenage Engineering OP-1, and more.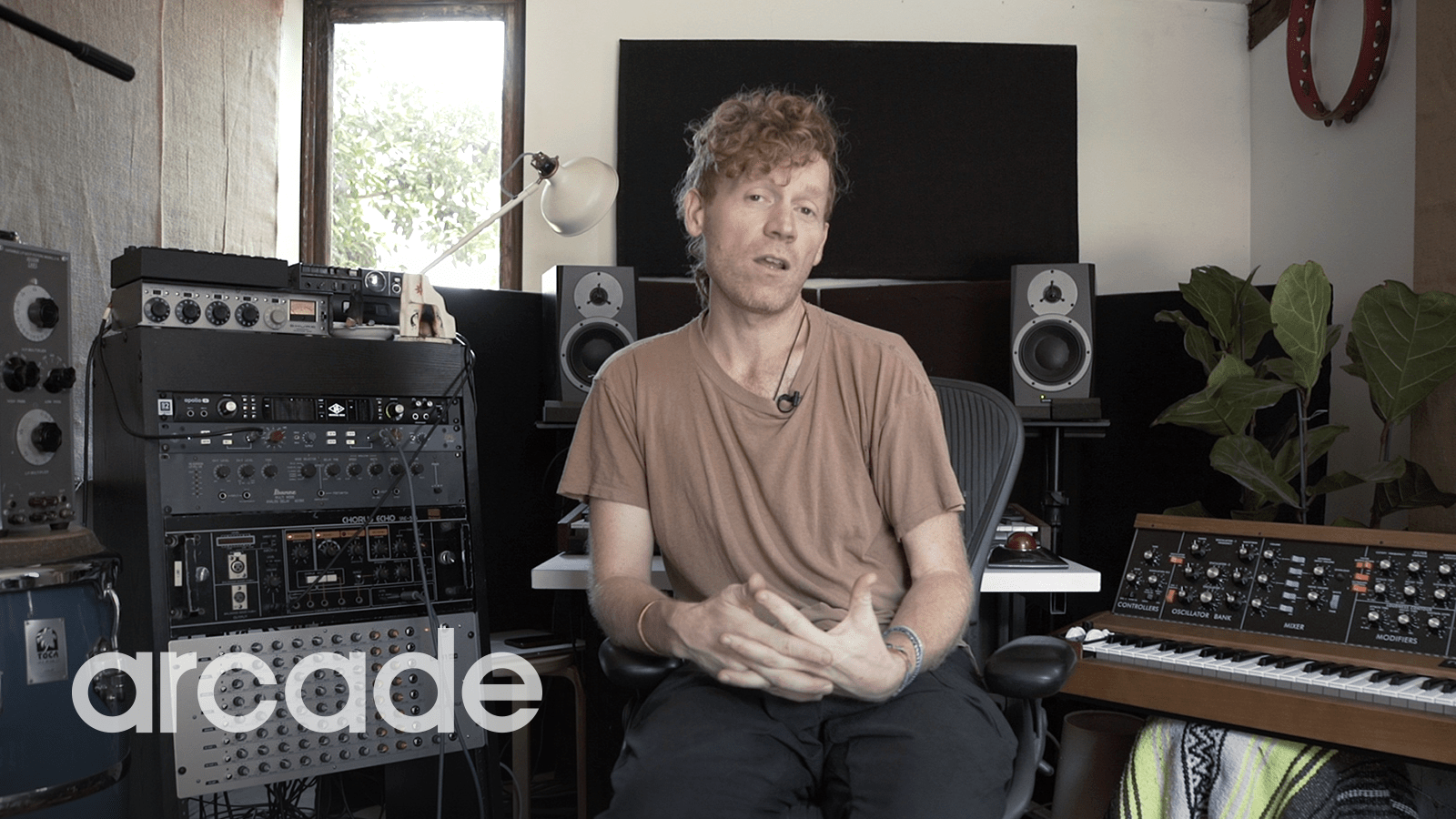 James McAlister wears many hats. Composer, producer, drummer, keyboardist — if you name an instrument, he can likely play it. The Los Angeles-based musician counts Sufjan Stevens, the National, Nico Muhly, and Bill Frisell among the artists he's collaborated with over the past 20 years. A frequent collaborator of Aaron Dessner, he most recently contributed to Taylor Swift's albums folklore and evermore.
In his solo work, McAlister creates slowly rotating, ambient synthesizer music, with his most recent album Scissortail released in March of 2021. Speaking to us from his LA studio, the composer pulls up Output's Arcade, focusing on the atmospheric, pad-centric Line called Aura. "I like to think more texturally at the beginning. I like to spend some time digging for more raw material," he says, browsing through the presets. He pulls up a pristine, neutral-sounding pad — the basis for his first song using Output tools. It's an ideal starting point for a new composition.
"It's very big sounding, but at the same time there, isn't a strong major third or a strong minor third thing to it," McAlister muses. "So it feels a little more open for composing on top of. Which is nice, when you're starting something as a bed, because you don't want to necessarily be locked into a tonality."
McAlister recounts how he closed his eyes and took a moment to listen to the sound. He says he thought to himself: "Where does this feel like it should go, tempo-wise?" Another Arcade pad, this one chopped and played like a pluck, begins a steady pulse. "It could be a quarter note, it could be a triplet; I like the mystery of it."
From there, the composer sets off. He turns that pluck into a polyrhythm with the Echoboy plugin, throws down drums with an Electron Digitakt, and uses the step-sequencer in his Teenage Engineering OP-1 to control his Behringer Model D. As he adds layers, the outline of an arrangement begins to loosely take shape — though that doesn't necessarily always last.
"I arbitrarily put these markers in my timeline here, and then worked around those," he says. "One process that I like doing is getting stuff 75 percent there and then going back and saying, well, this could be completely deconstructed."
McAlister routes the Arcade pad out of his computer and through a vintage analog passive EQ filter, straight into a Roland Space Echo hardware unit. The result is a more murky, underwater ambiance. "It's always a fun experiment to keep folding the song over on itself in that way," he says. "When you get a few cycles into that you get to this almost unrecognizable place. That's when it's the most fun."
For more gear dives, check out this interview with Jason Achilles Mezilis, who put a microphone on Mars.