The 6 Best Affordable Speaker Stands in 2022
If you want total control over height, direction, and physical placement to get the most out of your speakers, you need the right stands.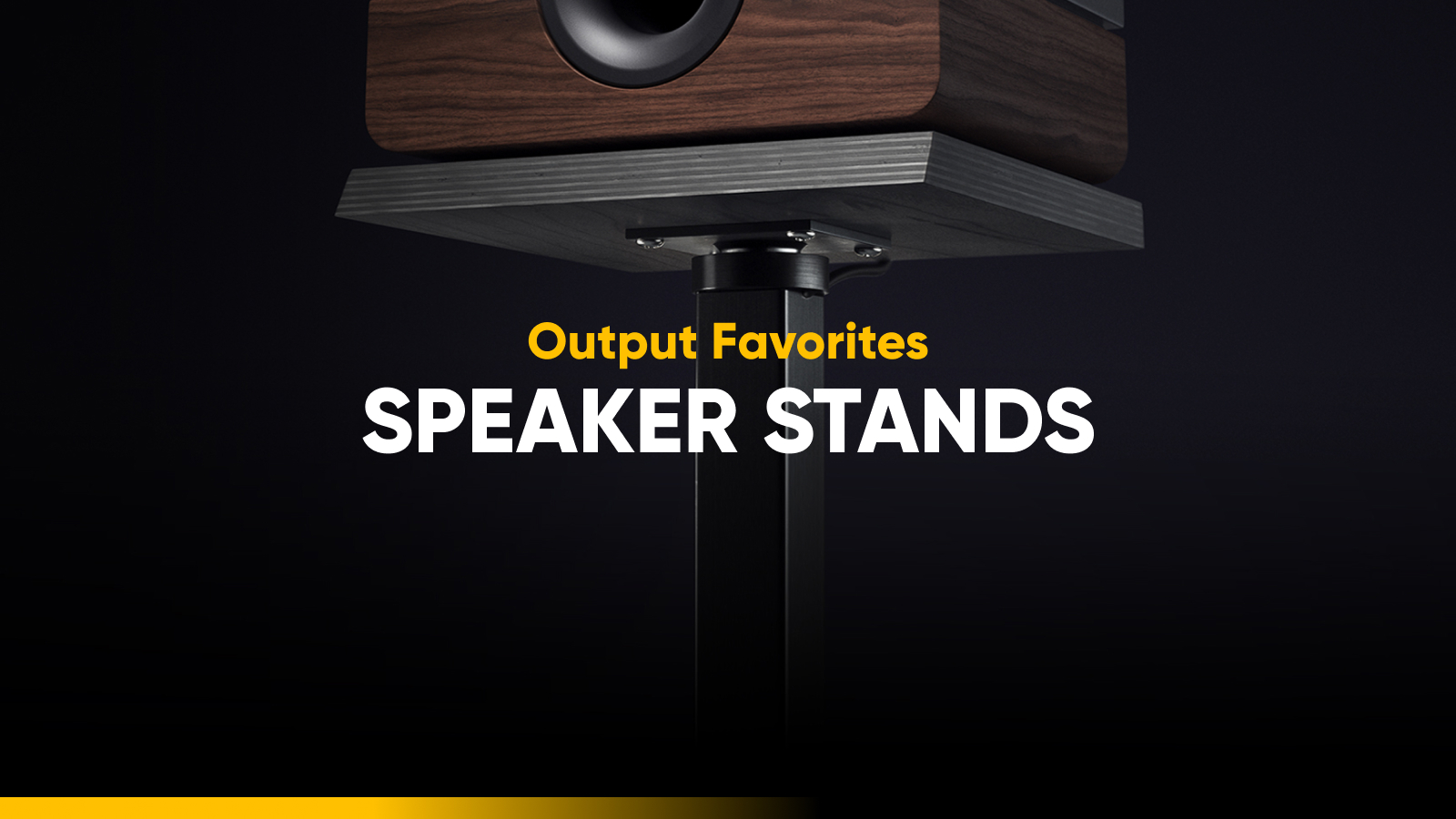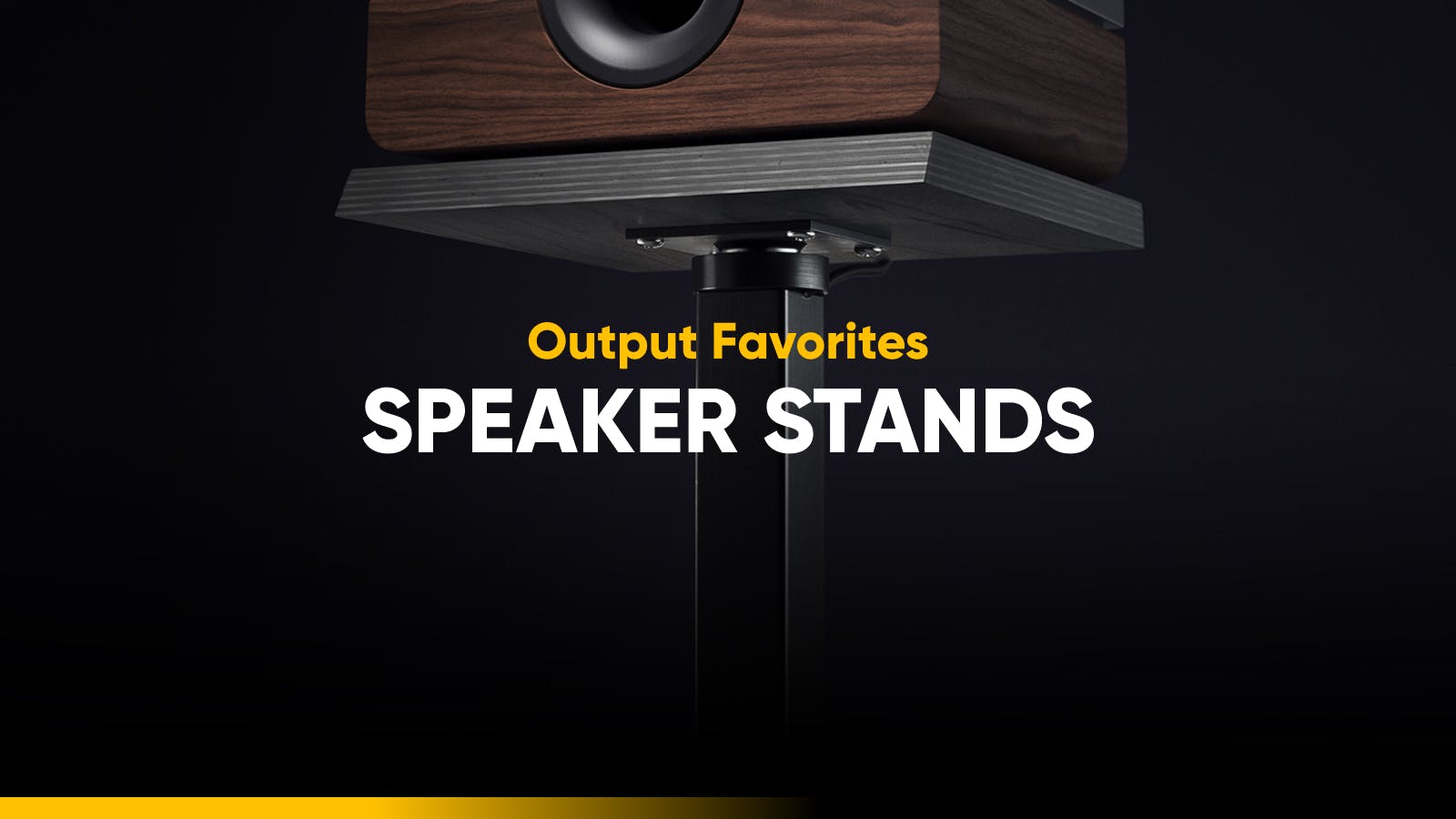 Speaker stands are one studio purchase where you might be tempted to save some money. And who could blame you? You probably think that your cash is better spent on new plugins, or even the speakers themselves. But aside from acoustic treatment, where you place your speakers in a room has the most impact on whether or not you can get an effective and accurate sense of your mix. So, if you want total control over height, direction, and physical placement to get the most out of your speakers, you need the right stands.
A good pair of speaker stands lets you adjust the placement of your speakers until they're just right, while also dampening any physical vibrations from the speakers themselves that might affect the quality of sound. Select speaker stands even allow you to subtly change the angle of the speakers to better suit your listening needs.
Some rooms are big enough to fit a pair of speaker stands that sit on the floor, either behind or on the sides of your desk. Smaller rooms might be better suited to isolating stands that sit on top of your desk, next to your computer monitor or laptop. Luckily, there are plenty of options to fit every budget, room, and speaker size.
There are certain qualities you'll want to look for in a good set of speaker stands, including build quality, durability, weight, load-bearing limit, cable management, height adjustability, and more. This last feature is perhaps the most important. You want to make sure that your speakers are at as close to ear level as possible for the most accurate referencing. The proper height can depend on the size of your speaker, and you generally want the tweeter of your speaker close to ear level — so make sure you do some measurements before making a purchase.
Taking all of these factors into account, we've put together a list of the best speaker stands money can buy — stands you can place on the floor or on your desk. (If you're shopping to build out a home studio, check out our lists of the best studio monitors, USB audio interfaces, affordable MIDI controllers, and hard drives.)
1. Output Stands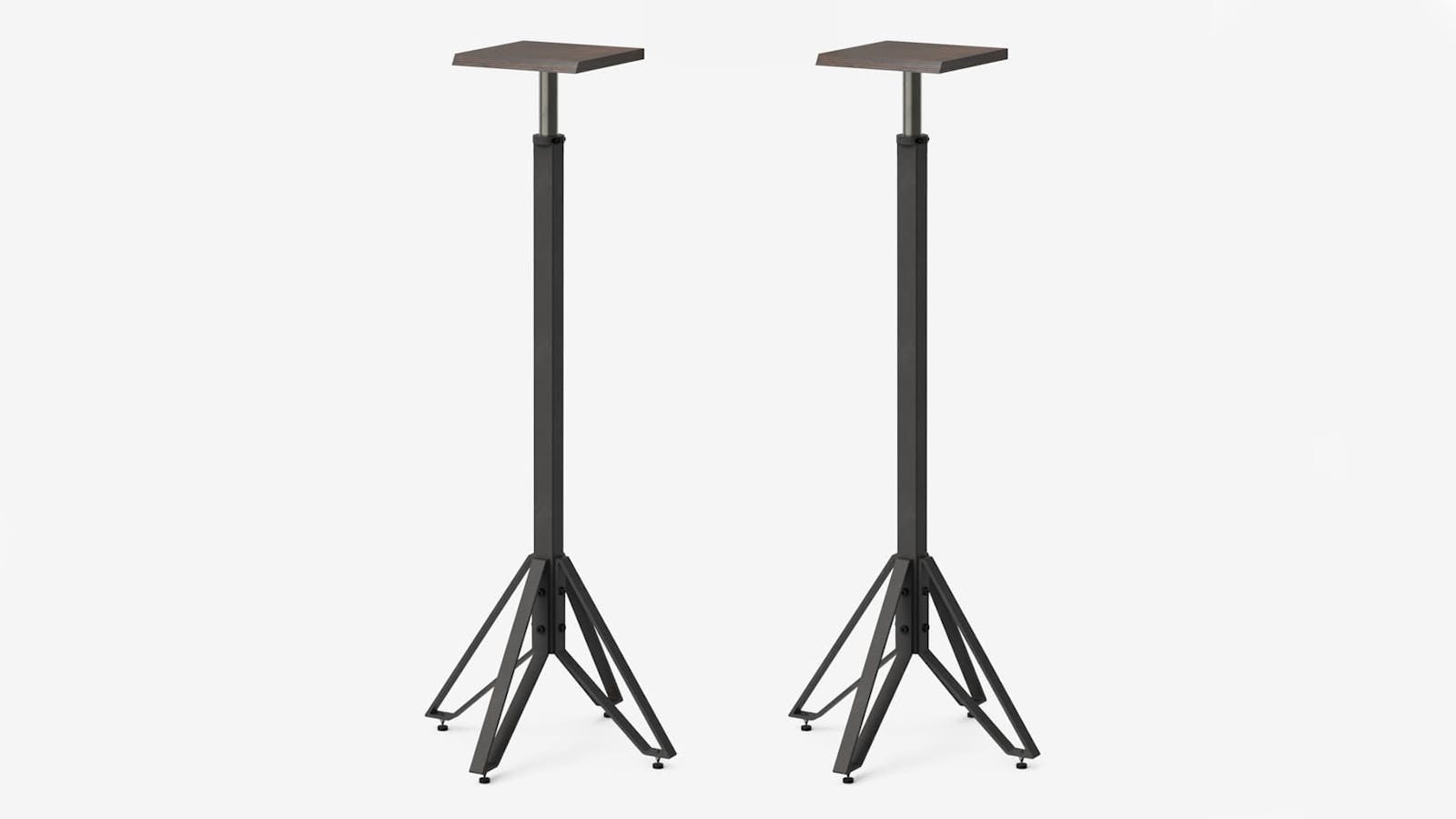 Pros: Unique wood platforms with iso pads, trustworthy steel tripod design (no wobbling), freely adjustable height up to 43″, made in the USA
Cons: Cons?
As a company full of producers and musicians of every level, we can proudly say that Output Stands are durable and flexible enough to beat anything else out there. Ethically manufactured and handcrafted in the United States, our Stands feature a unique, heavy-duty steel tripod base with a high-quality wood pedestal to rest your speakers on. They're easy to assemble and freely adjustable from 37″ to 43″, so you can get them perfectly at ear level.
You won't have to worry about how heavy your monitors are, either. Output Stands can reliably support 200+ pound speakers and come in at 25 pounds each. The bottom feet of the tripods also have acoustic spikes to better isolate your sound and reduce unwanted vibrations in your mixing environment. (Each stand comes with spike pads for producers with hardwood or other floor surfaces.)
One underrated aspect of the Stands: They genuinely look fantastic, topped with wood pedestals that come in three stains (natural, Kodiak brown, and driftwood grey). There are also bonus accessories, like included isolation pads and clips to help keep your cable management tight and professional. Hopefully, you'll spend more time making music than staring at your speaker stands, but it's nice to have studio gear that feels like furniture and makes your space cozy.
2. On-Stage SMS6000-P Studio Monitor Stands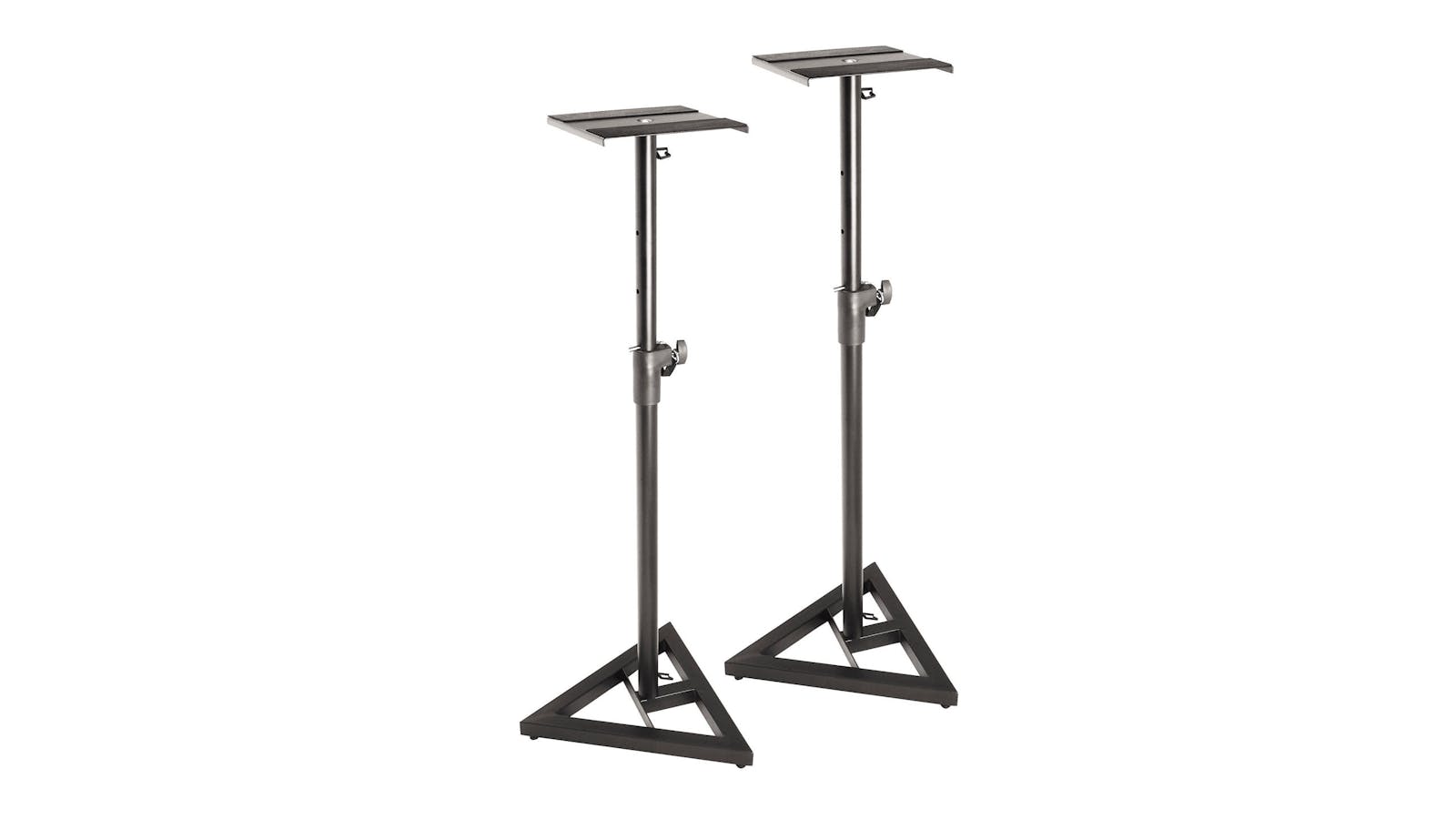 Pros: Affordably priced, durable locking mechanism, adjustable base and platform swivel
Cons: Platform isolation is minimal, wobbly with heavier speakers at higher heights, locked height movement
On-Stage is responsible for the best-selling SMS6000-P Studio Monitor Stands. These stands (which are also sold under the Proline brand) are built from arc welded steel and have a triangular metal base with leveling spikes to ensure they sit evenly on your floor. The platforms are metal, with two separated thin layers of rubberized padding that provide some vibration reduction (though you may want to invest in some additional isolation pads).
In terms of height adjustability, the On-Stage stands can go from 36″ to 54″ tall, though you only have five locked height positions you can set them at (36″, 40″, 44″, 48″, and 54″). The platforms swivel for ideal soundstage adjustment and they stay in place thanks to a robust locking pin mechanism. And, they support monitors up to 90 pounds in weight. These stands will get the job done.
However, it should be noted that if you plan on using larger monitors at a taller height, the high center of gravity destabilizes the relatively small base (this means wobble). If there's no danger of accidentally knocking into the stands, this won't be an issue, but you don't want a scare if a stray elbow hits one.
3. Ultimate Support MS-90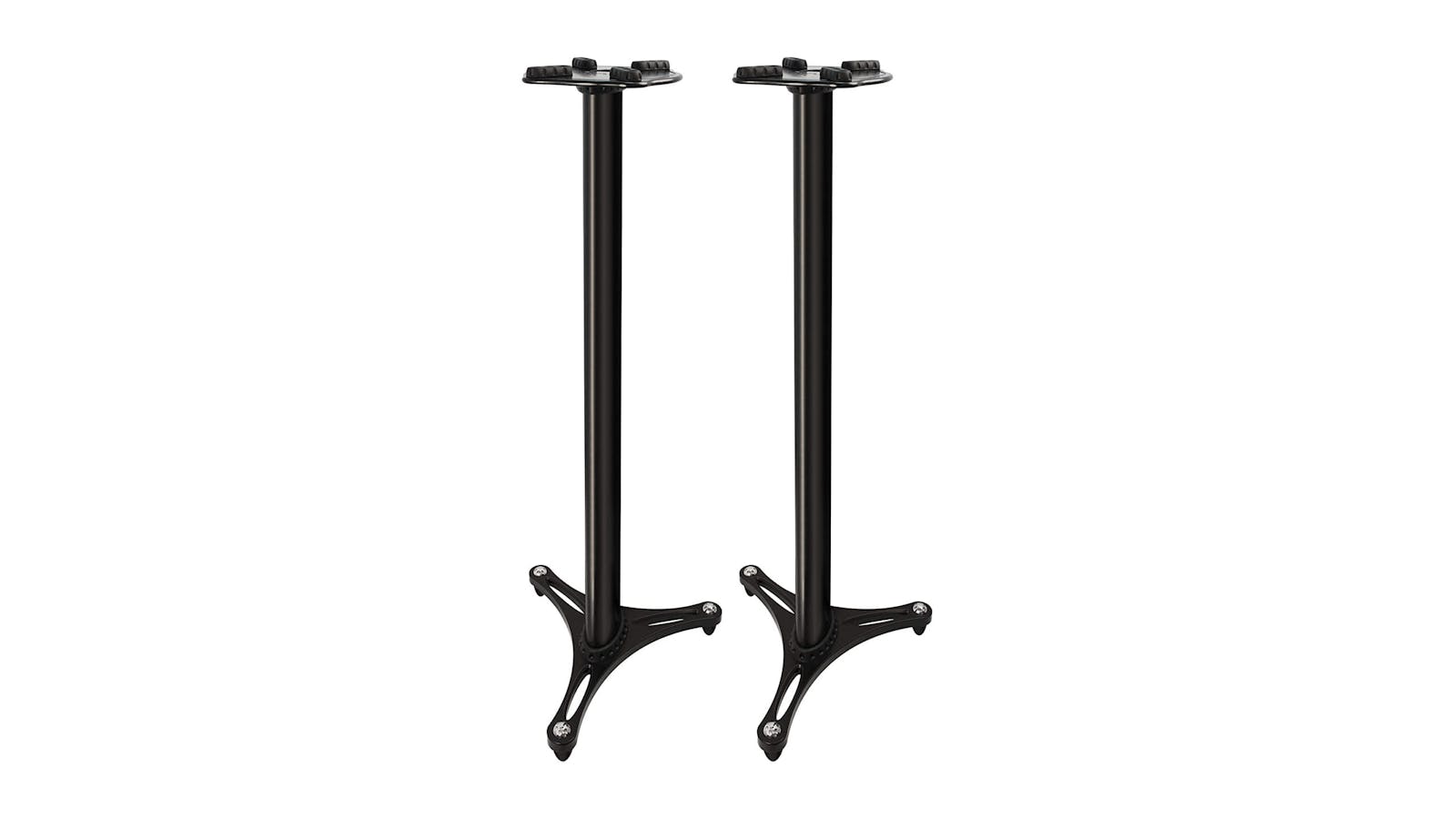 Pros: Excellent build quality, decoupling pads built into the platform for isolation, great cable management
Cons: Non-adjustable height
The name does not lie: Ultimate Support makes some of the sturdiest studio monitor stands on the market. They're not particularly flexible — the height is non-adjustable, with 36″ and 45″-tall models available — but the MS-90s excel in security and sound performance. The stands themselves are built from durable 6000-series aluminum and can support monitors up to 75 pounds in weight. They're relatively lightweight, weighing 10 pounds each.
The Ultimate Support stands' coolest features are three hidden "channels" inside of the stand itself, which is hollow. Two of them are dedicated to keeping your audio and power cables tucked away, eliminating any further behind-the-desk clutter. The third can be filled with sand or other material (such as gardening pebbles) to add weight and help better stabilize the stands if you are using larger monitors.
4. IsoAcoustics ISO-155 Studio Monitor Stands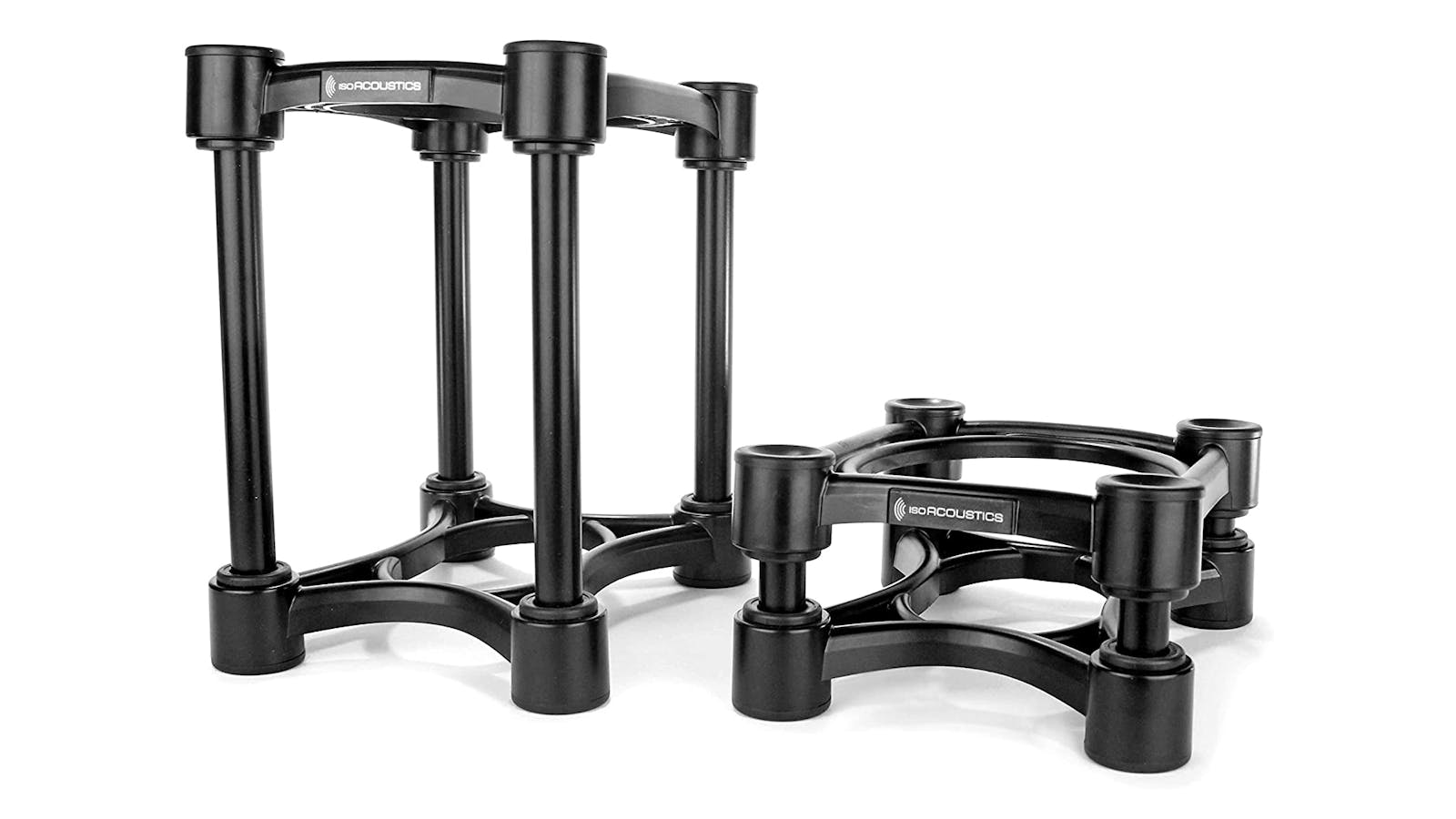 Pros: Unique modular design lets you adjust the height and tilt to taste, rubberized corners ensure your stands stay in place
Cons: They take up a fair amount of room
IsoAcoustics make adjustable isolation stands that allow you to place your speakers on your desk without having to worry about how the vibrations are affecting your perception of the sound. The modular stands are easy to assemble, with different steel rods that determine how tall the stands are (from 3″ to 8.2″ tall). Each of the corners is rubberized to your stand in place and the speaker on the stand.
What sets these stands apart is their degree of tilt flexibility. You can tilt them down or up in both short and tall configurations to ensure that the sound from your monitors is hitting your ears at the optimal angle. If you're currently using monitors on your table, using these will improve your bass and stereo imaging clarity significantly.
5. Ultimate Support MS-80B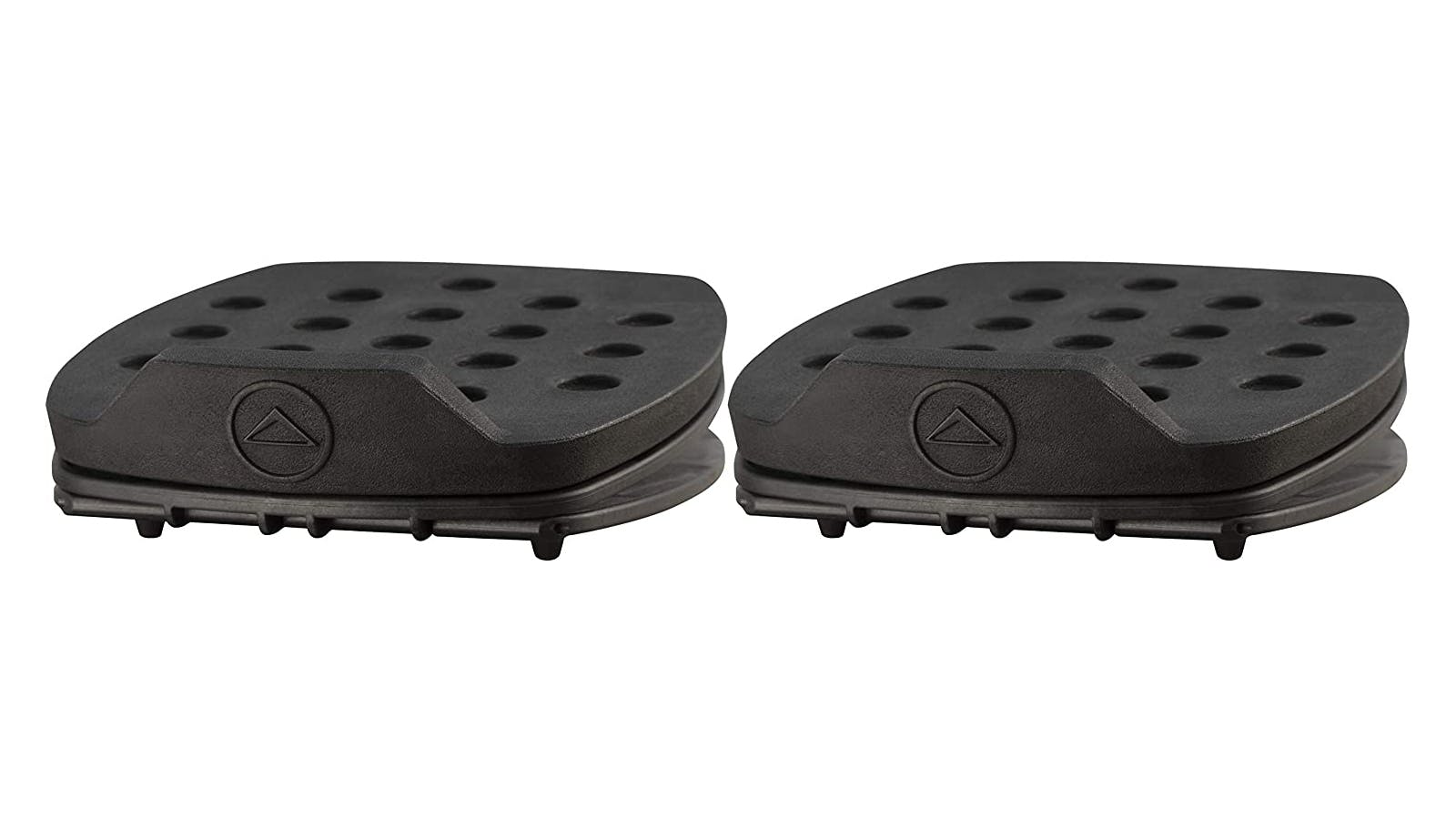 Pros: High degree of tilt upwards and downwards, good sound absorption, can accommodate larger speakers, compatible with other Ultimate Support stands
Cons: More expensive than the IsoAcoustics
Ultimate Support's desktop option is a pair of capable monitor stands with an adjustable angle on the pad base that allows you to find your sonic sweet spot. There's a foam layer on the top of the platform for sound absorption and you get even further isolation from the rubber-capped spike feet on the bottom.
The MS-80B is also compatible with the MS-90 floor monitor stand series, which means you can neatly place them on top of the floor stands and use them to change the angle of your monitors there as well.
6. K&M Tabletop Studio Monitor Stand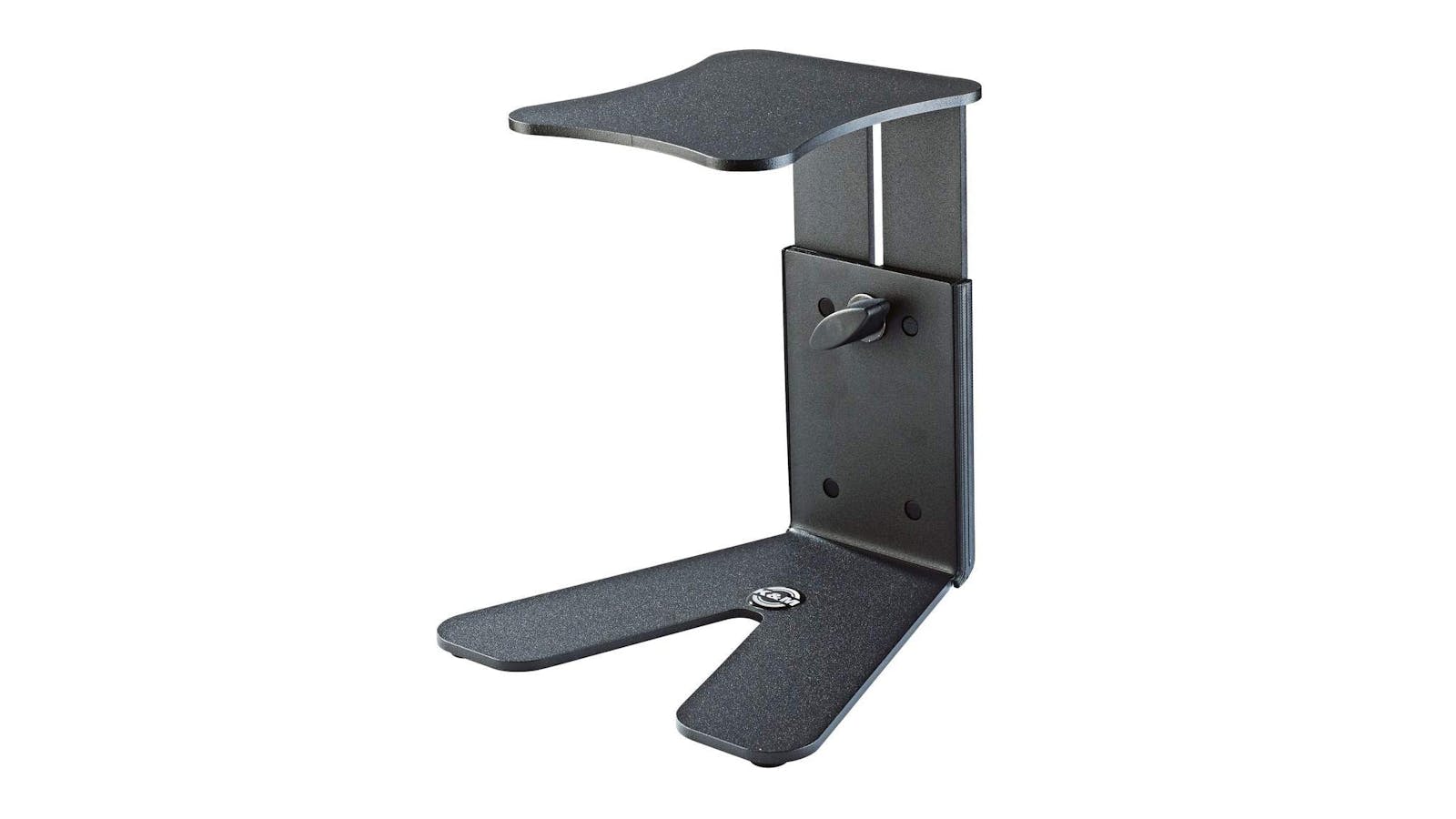 Pros: Simple design, flexible continuous height adjustment between 6.58-10″, hefty, won't be easily jostled on your desk
Cons: No tilt functionality, additional isolation recommended
These minimalist stands from K&M are dead simple and require no assembly. They're height adjustable between 6.58″ and 10″, making them easy to use with any size of monitor speaker. And, they're weighted for monitors up to 33 pounds each.
For sound isolation, each stand comes with four rubber pads that can be attached to the base or platform. As some reviewers have noted online, this means you have to choose between isolating the speaker or bottom of the stand, so keep that in mind (or buy more isolation material) if you decide to purchase the K&M stands.
Now that you've got your stands, make sure to check out our list of the best studio monitors.