Output Favorites: 9 Best Music Podcasts for Artists and Producers
Podcasts will never replace songs, but the best music podcasts can help artists better understand the universe of music around them.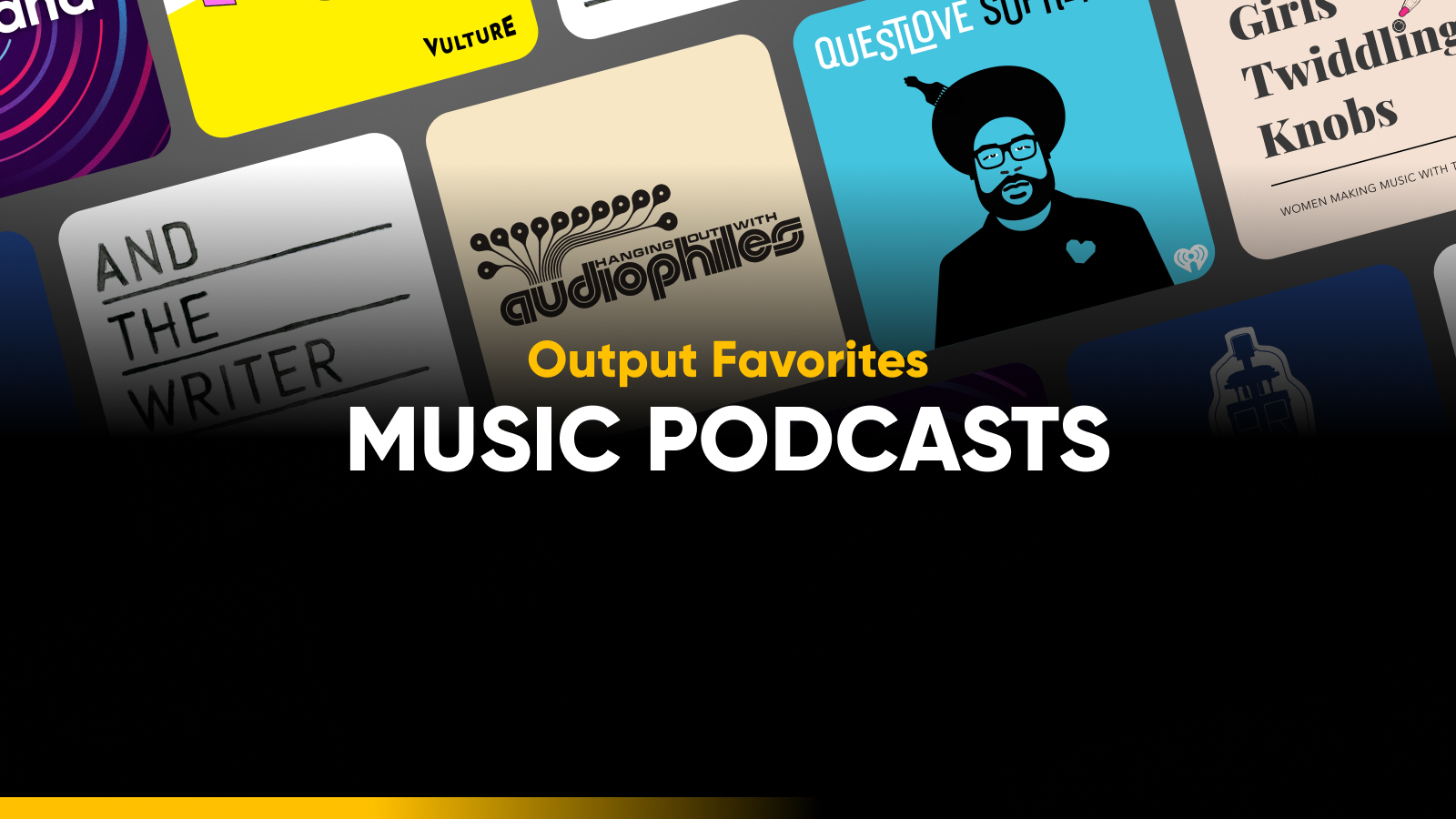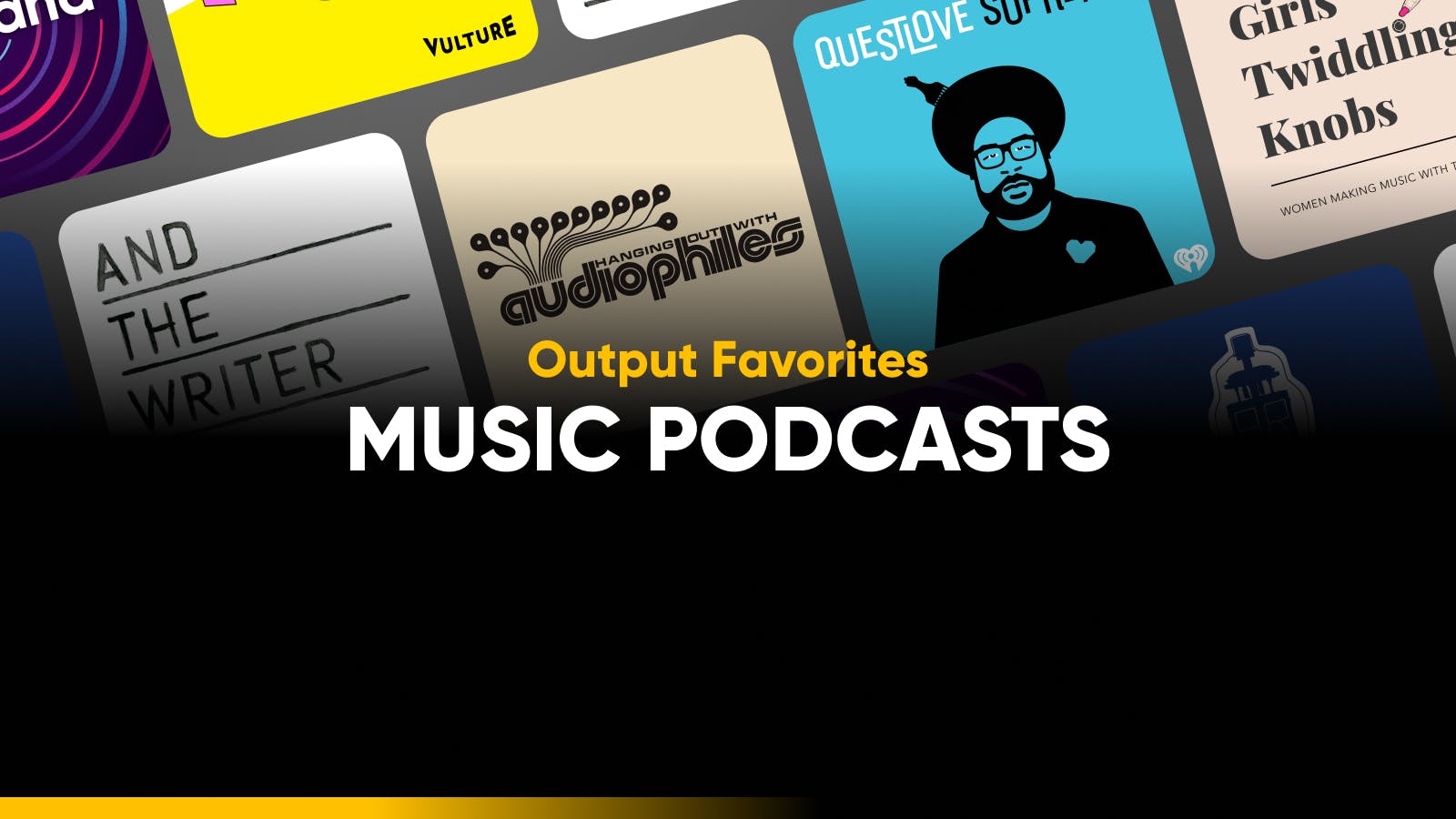 There's a very famous quote that is widely attributed to American musician and actor Martin Mull: "Writing about music is like dancing about architecture." Even the best music podcasts can make artists react the same way: Why would you listen to people talk about music when you could be listening to music or even making it yourself?
The answer is simple: For artists and producers, the best music podcasts provide a way to learn more about the culture surrounding music, how other artists create their work, and how you can improve and expand your own production and songwriting.
Some podcasts center around personalities — famous artists or important figures in the music industry — while others approach individual songs or entire bodies of work from an analytical or historical lens. The best music podcasts can also act as music discovery vehicles: miniature audio documentaries about sounds you might not have heard otherwise.
With so many fantastic music and audio-related podcasts out there, it can be tough to know where to devote your time. This list of our favorite music podcasts includes a wide variety of shows, all of which publish new episodes on a consistent basis. Each takes a different angle to covering distinct parts of the music world, from the highest echelons of pop to renowned studio rats to beloved cult bands.
The next time you want to cozy up with a podcast and learn something new, check out one of these series, presented below in alphabetical order.
1. And the Writer Is…
You may not know Ross Golan's name, but there's a good chance you've heard his work before. A songwriter who's worked with Ariana Grande, Maroon 5, Flo Rida, Selena Gomez, and so many more, Golan is also the host and co-producer of And the Writer Is…, a podcast that invites some of the the most acclaimed songwriters (both of the moment and from throughout music history) to talk about process and their experiences in the industry.
One of the greatest strengths of And the Writer Is… is the sheer star power of its guests. This applies to famous artists like Mark Hoppus, Nile Rodgers, and Gwen Stefani as well as producers like Olivia Rodrigo collaborator Daniel Nigro or Kenny Beats. The show also includes a segment called "And the Update Is…," which serves as a weekly update on relevant developments in the music industry.
2. Dissect
Did you know the Strokes inspired the guitar part of Frank Ocean's "Ivy"? These are the types of little-known facts brought to the surface in Dissect. Dissect is a serialized podcast that selects an iconic hip-hop or R&B album each season and then breaks down individual songs from those records over the course of multiple episodes .
Started by Cole Cuchna in 2016, the podcast goes to great lengths to deeply analyze the lyrics, production, and other aspects of popular works that may otherwise go overlooked. Albums covered to date include Frank Ocean's Blonde, Kanye West's My Beautiful Dark Twisted Fantasy, Beyoncé's Lemonade, Kendrick Lamar's To Pimp a Butterfly and DAMN., and more.
Since it launched in 2016, Dissect has branched out to other forms of media, including video essays and "visual guides," which break down the artistic intent and execution of visual albums by Beyoncé and Childish Gambino.
3. Girls Twiddling Knobs
Let's face the facts: Music technology is a woefully male-dominated industry. (Though we're looking to change that!) We know how tough it can be for young women who are interested in recording and production to find useful resources that actually speak to them.
This is part of what makes Isobel Anderson's Girls Twiddling Knobs podcast so necessary. A DIY musician herself, Anderson shares personal tips and her own experiences from self-releasing music while interviewing other women producers and artists about their journeys. No matter your pronouns, there are plenty of thoughtful insights to be found here; episodes cover everything from coding and turntablism to technophobia and time management.
4. Hanging Out With Audiophiles
Modern artists working in a modern studio require a modern music production podcast. Hanging Out With Audiophiles (or HOWA for short) is the podcast of eclectic producer and singer-songwriter Jamie Lidell, who invites different esteemed artists, producers, and engineers from around the music world to dish about their favorite gear, secret workflow techniques, how they approach work, and so much more. Past guests include Boys Noize, Dave Sitek, Prince's longtime engineer Susan Rogers, and mastering engineer Heba Kadry, among others.

Lidell's decades of studio expertise make him a perfect host for this kind of podcast. Each episode features a segment called the "Studio Nitty Gritty" ("nittys" for short), in which he explains an "out there" production technique, with examples. For anyone who's feeling creatively stuck, HOWA is a wonderful well of inspiration.
5. My Forever Studio
Gear acquisition syndrome is real. With so much equipment released all the time, it's hard to know whether you actually need that new synth or if you just really want it. Don't worry: You're not alone. MusicTech's My Forever Studio, hosted by Will Betts and Chris Barker, is the anti-GAS podcast. The challenge is simple: Various gear-head producers must narrow their collections down to only six pieces of equipment outside of a computer and audio interface.

The resulting conversation around this simple premise often leads to insightful, sometimes hilarious conversations about artists' histories and what draws them to certain pieces of equipment. You might never guess, for example, that Deadmau5's list includes a guitar pedal, or that Muse frontman Matt Bellamy once tried to convince Butch Vig that he needed a $40,000 MIDI clock for his setup.
Looking for your own forever monitors? Check out Frontier by Output, a studio speaker collaboration with Barefoot Sound.
6. Questlove Supreme
Drummer, professor, movie producer: Ahmir "Questlove" Thompson holds down a lot of different jobs. Outside of his Tonight Show duties, the Roots leader also hosts his own podcast called Questlove Supreme. A voracious music fanatic, Questlove possesses a seemingly infinite knowledge of recorded music and the culture surrounding it. He brings that wealth of experience to each episode, sharing it with guests and listeners alike.

Because QLS is such a broad-ranging show, the interviews tend to cover an artist's entire life — from the early years of their career through their first successes and best- known moments. Questlove's own star power also affords him the ability to book some legendary guests; past interviewees include Roy Ayers, Chaka Khan, the late, great Biz Markie, George Clinton, Sheila E., and so many more. Highly recommended for fans of rap, funk, or jazz.
7. Switched On Pop
The initial premise of Switched On Pop is simple: It's a podcast about pop music. Musicologist Nate Sloan and songwriter Charlie Harding break down the biggest stories in contemporary pop from the standpoint of historical significance. The format varies depending on the episode: Sometimes artists come on to discuss their own work, or to talk about songs they admire. In others, Harding and Sloan go down the rabbit hole to break down musical phenomena. In one episode, Mark Ronson came on the show to discuss the magic of Ginuwine's 1996 classic Pony.

Whether you're an avid student of pop music or a skeptic who doesn't understand Olivia Rodrigo, Switched On Pop offers insight into some of today's biggest artists that can be valuable to everyone. Because sometimes, simply listening to music isn't enough to understand its importance.
8. The Attack & Release Show
Mastering is an essential step of music production that remains a mystery to many — even to professional artists. Sam Moses and Matthew Garber aim to clear up some of that fog with The Attack & Release Show. This is a friendly, non-pretentious show that explains different aspects of what a mastering engineer does and the workflows they use every single day. (The show also comes with a warning: There will be dad jokes.)

As professional mastering engineers based out of Nashville and Charleston, Moses and Garber offer more than technical tips and tricks. They've recorded episodes on dealing with clients, how to maintain artistic discipline, how to turn in the best possible mix to a mastering studio, and so much more.
9. Twenty Thousand Hertz
Twenty Thousand Hertz is a podcast about not just music, but sound at large. For the past five years, Dallas Taylor — host and professional sound designer — has investigated different elements of the sounds in our world, both natural and man-made. The subjects are varied and always interesting, ranging from the history of the Amen Break and the story of the SM7 microphone to more abstract topics, like sound archivism and music's power on human mood.
For example, did you know that casino slot machines play an unresolved melody when you almost hit a jackpot in order to keep you in the seat? Or that Metallica helped kickstart the public conversation around the Loudness War? Listen to Twenty Thousand Hertz and you'll never think about sound the same way again.