The 9 Best Mobile Beat-Making Apps in 2022
Did you know that you're walking around with a studio in your pocket? Here are the 10 best mobile beat-making apps for novices and pros alike.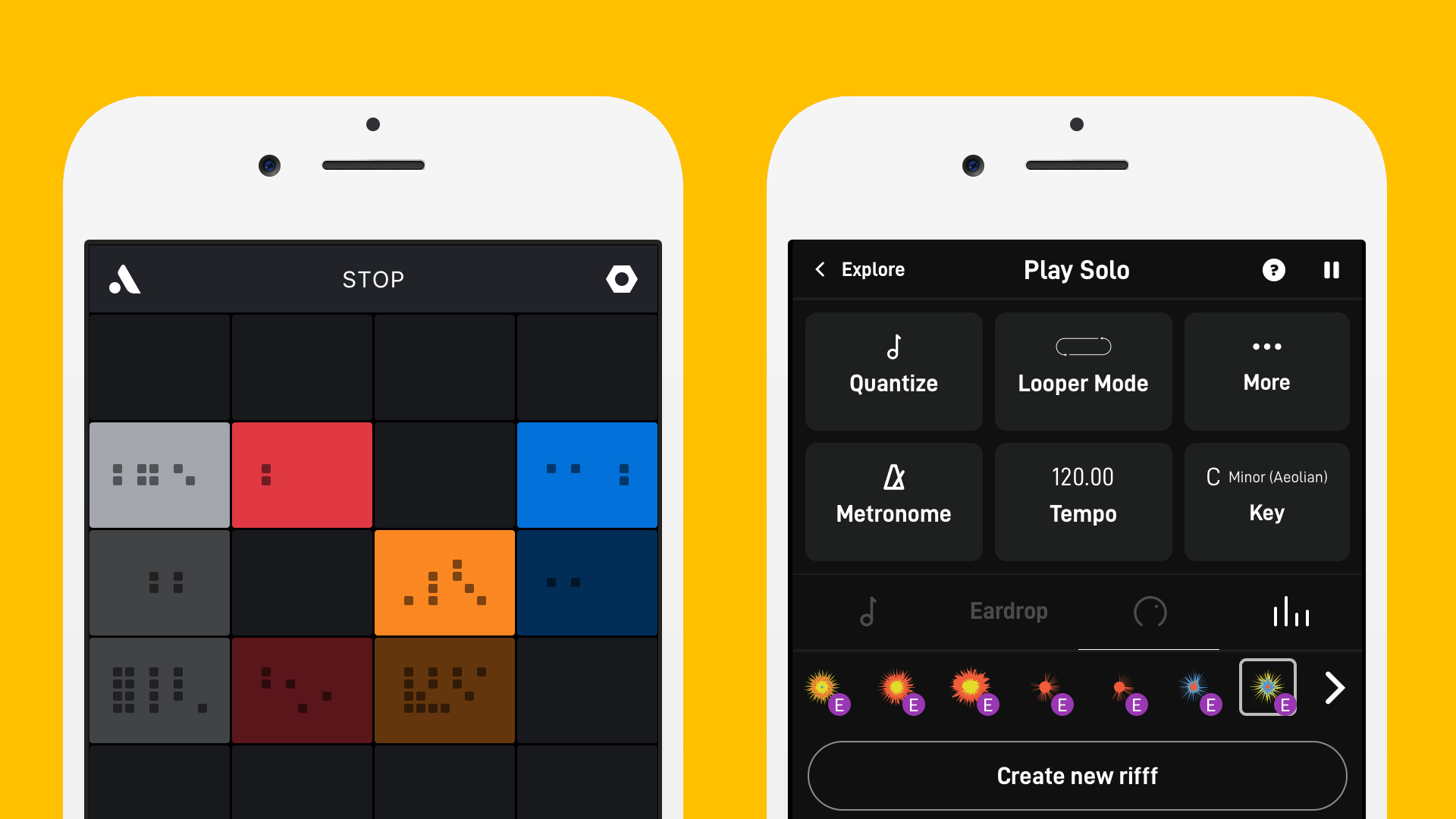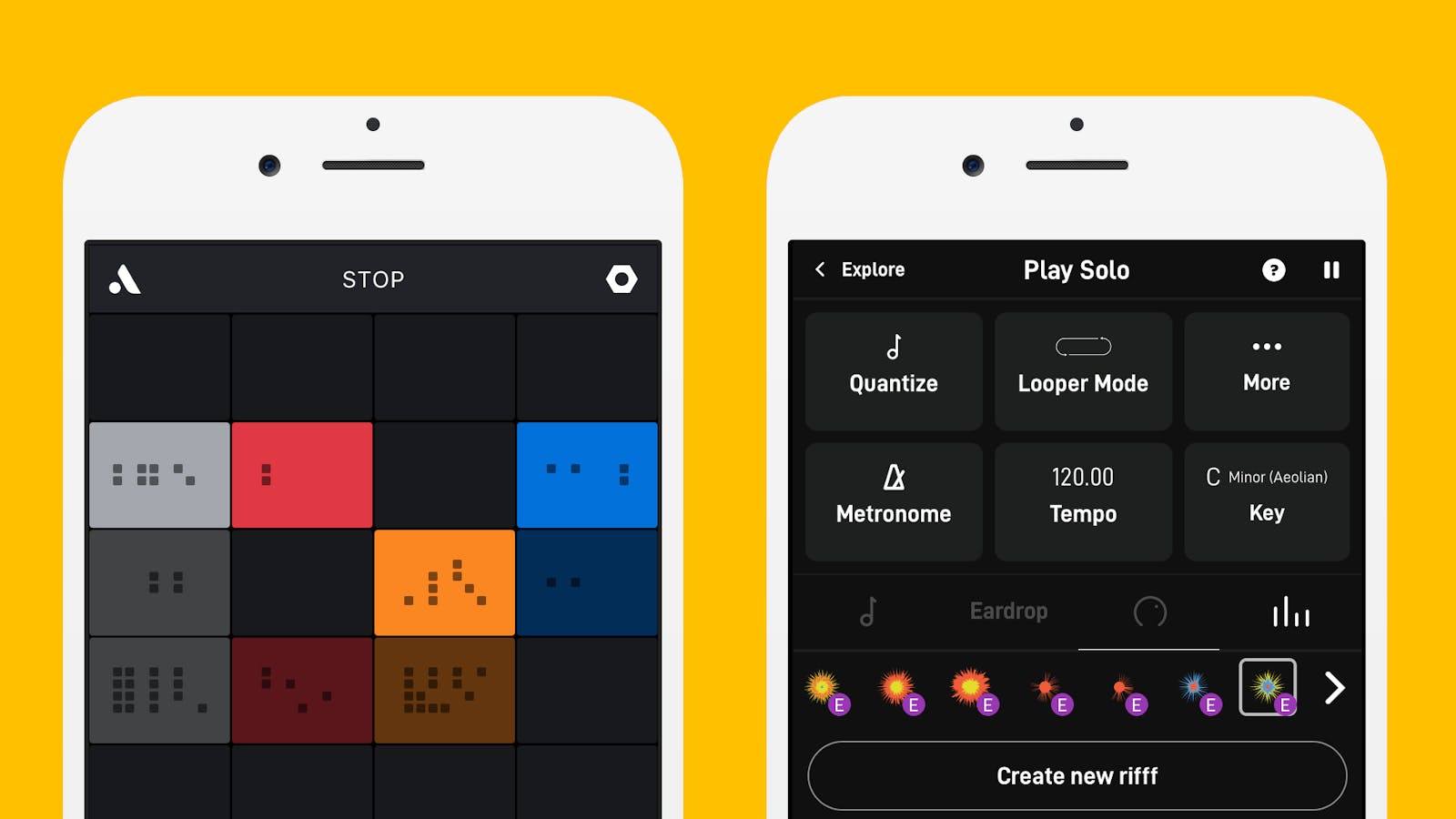 Did you know that you're walking around with a studio in your pocket? As phones and tablets grow more powerful by the year, mobile beat-making apps for iOS and Android also continue to offer more to mobile musicians. It's never been easier to use your phone for making drum patterns, chopping samples, or recording scratch vocals.
Mobile music apps can inspire new ways of being creative. Some apps, like GarageBand or FL Studio Mobile, offer simplified versions of their desktop counterparts. Others, like Flip, are samplers with professional effects modules. And exciting newcomers to the market like Endlesss are revolutionizing community-driven music-making.
It doesn't matter whether you are totally new to digital music or an experienced music producer who wants to tap out drum loops on the go. Mobile beat-making apps are an incredibly convenient way to keep creativity flowing, even when you're away from your computer. The workflow will differ from app to app, but because the apps are designed for touchscreens, working with them feels tactile. That's harder to achieve when working with traditional digital audio workstations (DAWs) on your desktop.
iOS is the dominant mobile platform when it comes to music and beat-making apps. That's thanks to protocols like Inter-App Audio (IAA) and Audio Unit plugins (AUV3), which make it easy for different apps to talk to each other. (If that sounds complicated, you can check out a guide here.)
Finding great music software for Android tends to be more difficult. However, ports for popular apps like Koala have opened up new possibilities for Android users in recent years.
We scoured the market to find the 9 best mobile beat-making apps for novices and pros alike. The full versions of these apps allow you to export your track, and several of them offer the ability to export stems (the track's different audio layers). So, you can break your beat sessions out into individual parts and finish them on your computer. Let's dive in!
1. BeatMaker 3
Price: $26.99
Operating System: iOS (iPad-only)
Pros: Pro-level DAW features, velocity-sensitive beat pad and keyboard sampler, excellent documentation
Cons: Frequent updates, iPad-only (iPhone version in development)
Four years after its initial release, Intua BeatMaker 3 continues to be one of the best mobile beat-making apps on the market. This feature-rich app is, for all intents and purposes, a fully-fledged DAW. You can play and program drums on the 16-pad Drum Machine interface, create new instruments with the Keyboard Sampler, and even mix directly on your iPad.
BeatMaker 3 is the closest you can get to recreating the full DAW experience on a mobile device. It has functions that are especially useful if you use a lot of audio or samples in your productions: BeatMaker 3 has a powerful wave editor for editing audio and you can easily import files via Dropbox or AirDrop (for macOS users).
The best part about BeatMaker 3: If this is your first DAW or music software, and you eventually want to move to a computer-based DAW like Ableton Live or Logic Pro X down the line, the skills you learn by using BeatMaker 3 will carry over into your new software. The app also supports Ableton Link, which means you can sync up your BeatMaker jams to Ableton Live with ease.
2. GarageBand
Price: Free
Operating system: iOS
Pros: High-quality drum machines and synthesizers, MIDI programming, guitar amp and cabinet simulation compatible with interface adapters like iRig, lots of free sound
Cons: No Ableton Link connectivity, no proper mix window, maxes out at 32 tracks
There's a reason GarageBand is at the top of this list, and not only because it's free for anyone with an iPhone. Apple's mobile digital audio workstation (DAW) is an adaptable choice for anyone who wants to jump into making music on an iOS device. It comes with a wide variety of instruments, including 808 and 909 drum machines, various synthesizers, keyboards, a sampler, and even stringed instruments like guitar and bass. You can create up to 32 tracks, play the instruments using the on-screen keyboard or a USB MIDI controller, and edit via the piano roll.
No matter what genre you're into or skill level you're at, Garageband for iOS can be a powerful creative tool. It utilizes a grid-based clip-launching system called Live Loops, which is similar to Ableton Live's Session View. Use your own loops to build out arrangements, or dip into Apple's free Sound Library which is stocked with sounds from producers like Take a Daytrip, Oak Felder, Boys Noize, and more.
GarageBand isn't just for slicing up samples. It's friendly with live instruments too. If you play guitar, use a mobile interface like iRig to plug your instrument directly into your iPad or iPhone, record straight to the app, and then use the built-in guitar amp and cab simulators to dirty things up.
Once you're familiar with GarageBand for iOS, you'll also understand the basic layout of GarageBand for macOS. And if you want to refine your mobile demos once you've made them on your phone, you can open your sessions on the desktop version. There are also tons of apps that play nicely with the desktop version of GarageBand, like FlyTape 2, which adds vintage character to sounds. (FlyTape 2 is also available as a standalone iOS app!)

3. Patterning 2
Price: $19.99
Operating system: iOS (iPad-only)
Pros: Powerful rotational drum sequencer with Euclidian sequencing mode, free drum kit library with option to import your own sounds
Cons: iPad-only (older iPhone version available)
For iPad owners who make electronic music, there is one app on this list that is an absolute must-buy: Patterning 2. Developed by Ben Kamen of Washington-based Olympia Noise Co., Patterning 2 is a totally unique drum sequencer and beat-making app. It ditches the traditional linear arrangement layout in favor of a multi-layered circle, subdivided into different steps.
At first glance, the app appears pretty straightforward. But simple actions can wildly change sounds. Adjust parameters like velocity, filter cutoff, and panning with a swipe. Or set different layers to automatically rotate their position each time the loop makes a full rotation so that every time it circles back around, the pattern is completely different.
The original Patterning was the Runner-Up for Apple's App of the Year in 2015, and it's not hard to see why: Kamen's fantastic design gives way to an organic and effective beat-making workflow. And, Patterning 2 expands on the original's magic with an even richer feature set. You can import your own samples to create and switch between different patterns, or tap into hundreds of user-generated kits via the app's Cloud Kit function.
4. Koala
Price: $3.99 (+ $2.99 for Samurai Edition upgrade)
Operating system: iOS/Android
Pros: Straightforward sampling workflow, works with any USB class-compliant interface, import your own samples or record new sounds, creative track/global FX and resampler, Ableton Link enabled
Cons: Can't import samples from Dropbox in-app
If you want to make beats on the go but the idea of fiddling with a more traditional workflow on a small screen doesn't sound appealing, check out the Koala sampler. Available on iPhone, iPad, and Android, this deceptively powerful app has three tabs: Sample, Sequence, and Perform.
The Sample tab offers you a 4×4 grid, with the ability to assign a sample — any sample you like — to each of the 16 pads. How you get those samples is up to you. Record from your iPhone mic for instant one-shots, load samples to your device, or access your sounds with a cloud service like Google Drive or Dropbox. Koala is pretty flexible and even lets you grab audio from YouTube videos. (Just make sure you're not breaking any copyright laws!) Then, program beats in the Sequence tab and add effects in the Perform tab like comb filtering, reverb, and dub delay.
Koala's sample editing features are very robust, but if you want more grab the $2.99 "Samurai Edition" DLC. That comes with extras like time stretch, a piano roll, and an Ableton Simpler-style auto-chop. The app is easy and fun enough to get kids into producing, while also having enough professional features to make it a best-in-class app. At $3.99, Koala is priced like a game, but these functions far outstrip any toy.
5. miRack
Price: $9.99
Operating system: iOS
Pros: Eurorack-style modular synthesis environment in the palm of your hand, comes with over 500 modules, with new ones added regularly, full AUV3 compatibility with multiple inputs and outputs, bring your sessions and patches to your computer with miRack for macOS
Cons: Can be overwhelming if you're not on a tablet, high learning curve for modular synthesis, patches can only be synced between mobile and desktop via iCloud
miRack is, potentially, the mightiest app on this list. It's essentially an iOS port of the open-source desktop app VCV Rack: a Eurorack-style modular synthesis environment where you can chain different sequencers, oscillators, filters, and other elements to create complex rhythms and atmospheres.
miRack is for anyone who's ever wanted to try modular synthesis and was put off because of the high price tag associated with building a physical rig. The app comes with over 500 (!) modules, some of which are based on coveted real-life hardware by manufacturers like Audible Instruments. You could make music in miRack every day for a decade and still only scratch the surface of what it's capable of, thanks to the limitless possibilities of signal routing.
Because miRack is AUV3 compatible, it syncs up with other iOS music apps. And when you want to bring your patches to your proper DAW, there's a free companion app for macOS. Since its launch in 2019, the miRack community has also assembled an ever-growing library of hundreds of patches, available to all users. If you're already making music on an iPad, the $9.99 price tag makes miRack a no-brainer.
6. Endlesss
Price: Free download with $8.49/month subscription for all sounds
Operating system: iOS
Pros: Collaborate and improvise others on the fly, unique loop-based workflow, major library of free presets with many more sound packs available, great X-Y FX, easy looping, built-in sampler
Cons: Amazing for generating ideas but not so much for editing
Endlesss is a powerful, collaborative beat-making app developed by technologist and electronic artist Tim Exile. As the name suggests, the workflow is all about continual loops and building musical layers atop one another. You can create private jam sessions and invite friends and collaborators to join in at any time, with any project.
Endlesss features three main categories of instruments — Drums, Notes (for leads, poly synths, plucks), and Bass — as well as a Sampler, an FX bucket, and a Microphone input that can also be used with external instruments if you have the right adapters. As Exile puts it, the app is "not for perfection, but to keep you in a forward motion of creativity."
Though the app requires a premium subscription to access all of the features and the 300+ presets, the free version comes with a surprising number of very usable electronic sounds, and you can get to collaborating straight away. The $5 per month subscription also nets you two new sound packs every month, as well as 11 more FX and the Sampler.

7. Flip
Price: $9.99
Operating system: iOS
Pros: 9-channel sampler with powerful effects processing, importing samples is easy with Airdrop, easy-to-use automation, can output to other iOS music apps like AUM via AudioBus
Cons: No time-stretching, no Android version (yet!)
Flip is a powerful sampler for iOS that also might be the most beginner-friendly app on this list. Created by artist and prominent music tech YouTuber Andrew Huang, the app lets you import or record audio to one of 9 pads and then play or program the sounds inside a DAW-style arrangement view. Each of the pads has a full ADSR envelope with multiple effects (graphic multiband EQ, bit crush, delay, and more) and can be played polyphonically. This essentially puts 9 instances of Ableton's Simpler at your fingertips.
There are a lot of recognizable professional DAW features here, shrunk down for mobile. There's a full piano roll, along with latch and draw-in automation for all effects parameters, which makes it easy to create shifting arrangements over time. Every channel is automatically routed to a reverb send and there's a mixer window with panning, solos, and mutes. The master bus even has a maximizing compressor and limiter to give your beats that extra oomph when you need it.
When putting your tracks together, you can build different patterns and chain them into arrangements in a very elegant, almost game-like interface. From there, you can then tap into different MIDI and audio performance effects (like note randomizer or low-pass filter) and assign them to separate tracks. As of July 2021, they've also added support for Audiobus and Inter-App Audio (IAA), meaning it'll play nicely with other iOS apps.
8. FL Studio Mobile
Price: $13.99
Operating system: iOS/Android
Pros: FL Studio users will feel right at home, familiar drum programming workflow, will run on practically any hardware
Cons: Inflexible programming, workflow not for everyone, no AUV3 support on iOS
FL Studio Mobile has been around since 2013, but developers Image-Line have refined it over the years and continue to support it, releasing the latest patch in July 2021. If you've ever used FL Studio for desktop, you'll know exactly what to expect: A bright color scheme, rigid yet satisfying sequencing workflow, and modern software synths and effects.
As with many mobile music production apps, you may have an easier time working with the software if you have a tablet or iPad instead of keeping to your phone. But even with limited space, it's easy to navigate FL Studio Mobile's interface thanks to a neat layout. You can even record vocals, in a pinch. Don't expect to use any third-party plugins, though, as FL Studio Mobile currently does not support AUV3.
9. TwistedWave
Price: $9.99
Operating system: iOS
Pros: Simple waveform editor lets you cut, fade, and affect audio clips, great for "mastering" your mobile beats for loudness, exports in multiple file formats (WAV, AIFF, MP3, FLAC)
Cons: UI is functional but outdated, doesn't do anything Audacity can't do
TwistedWave is a multichannel editor for iOS that can edit audio files and apply effects processing. However, it is not a multi-track recorder, meaning it's not a digital audio workstation. TwistedWave is actually something closer to a stripped-down version of Magix Sound Forge, so it is an essential utility for mobile beatmakers. You can trim your samples, prepare loops, apply effects, and resample your edited audio, all within one app.
If you're making beats entirely on your phone, then you might also want to finish your music without a computer too. While we don't necessarily recommend it, you can throw your finished beat into TwistedWave and use it as a mobile mastering app in a pinch.
Ready to expand your mobile music-making abilities? Check out our list of the best free plugins available now.