The 17 Best Backpacks for Music Producers in 2022
Traveling is an essential part of being a musician and the most important travel item you need is your gig bag, or backpack.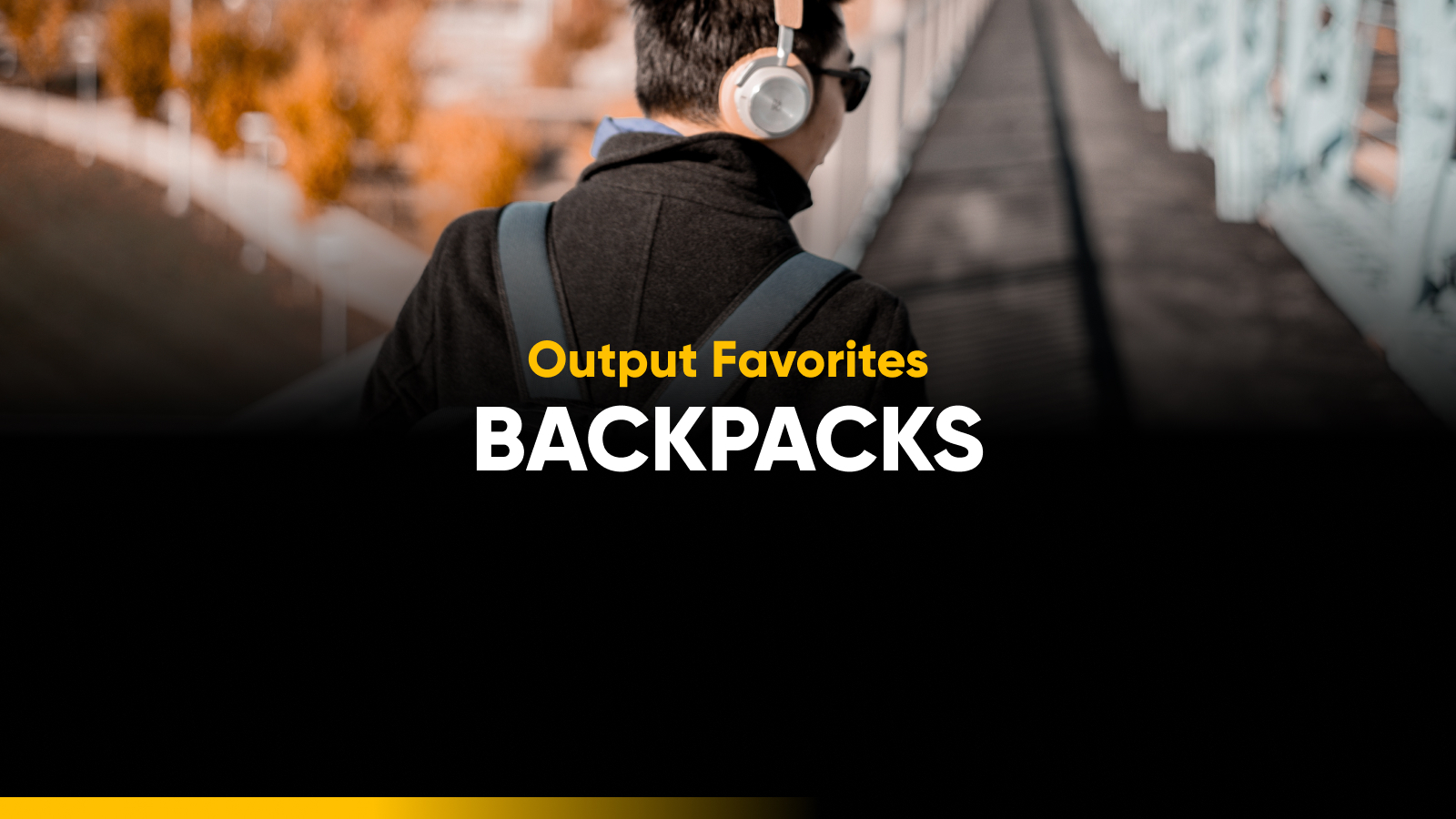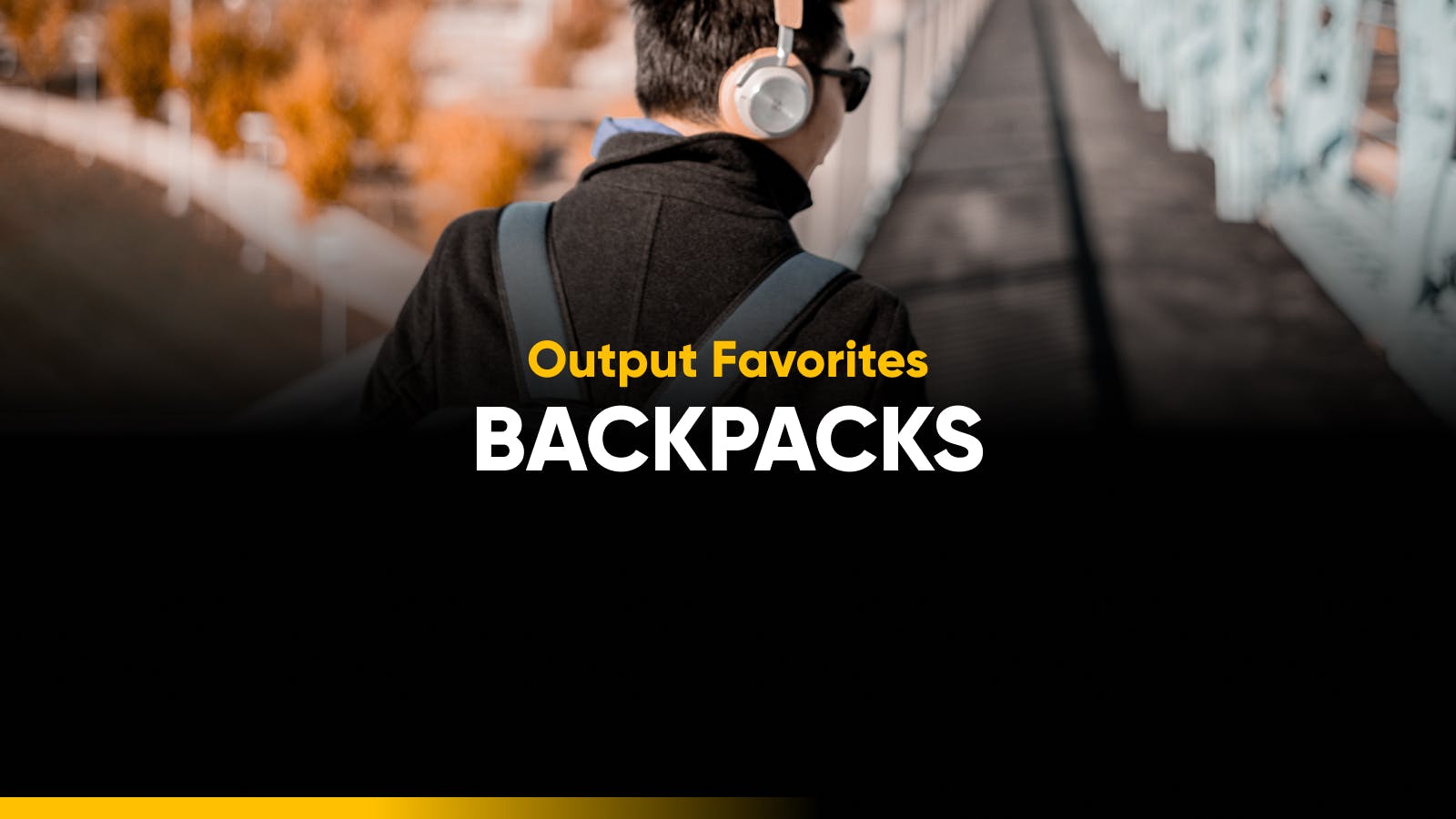 Traveling is an essential part of being a musician and the most important travel item you will need — outside of a toothbrush! — while on tour is that contraption you rely on to carry all of your travel items, your gig bag, or backpack.
Whether you're taking a weekender, a long tour, or just heading over to a friend's house to jam, you're going to be traveling with any amount of music, instruments, or gear for the particular occasion. To protect those delicate items — so that you can get the most life out of your investment — you'll need a bag you can trust, provides a significant amount of convenience, and is easy in the comfort zone.
In an ideal world, you would only have to worry about giving the best performance possible while traveling, but in reality, you have to find the most dependable way to get you, your gear, and your sanity to the gig and back. As traveling DJs, performers, and musicians, we understand the fatigue and calamity that comes with the wrong luggage… and the endurance and peace of mind that is had with the right equipment.
Critical to posture and comfort, one should never underappreciate the value of an affordable first-class upgrade in the traveling gear department. It's always a good call and one that we find ourselves grateful for later. Whether you shell out for a bag that's bigger, more water-resistant, or has ergonomic improvement, it pays for itself many times over.
We all have different core needs, so we have put together a list of the best backpacks in four separate categories: DJs, guitarists, drummers, and all-around musicians. For each backpack on our list, the Output crew took the following factors into consideration:
Features and functionality
Durability and build
Comfort and mobility
Aesthetics and cosmetics
If keeping your gear protected in all weather and venue conditions is the largest concern, pay attention to materials and general construction. If having just the right amount of space to fit all of your items conveniently and securely is important, then keep an eye on the features offered around pockets, design, and general layout.
In consideration that your needs may change over time, it's important to find a nice backpack that fits your current requirements, and also allows some room for your growth while traveling to gigs. Below, our picks for the top backpacks available for touring musicians.
DJ backpacks
1. Rockville DJ Laptop/Gear Travel Backpack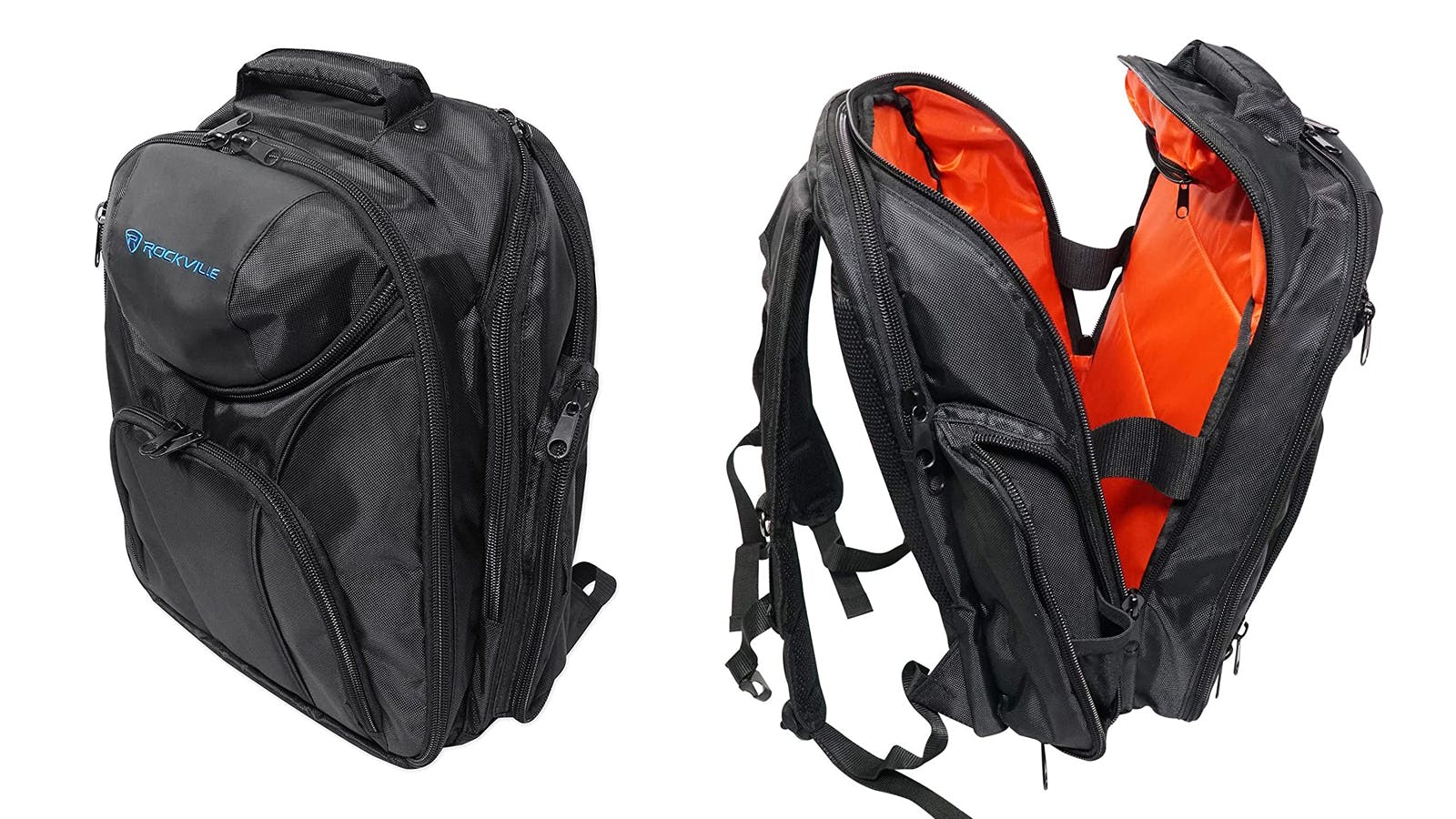 Pros: Lots of pockets and compartments, bright-colored interior
Cons: Not as durable as other options, not water-resistant
Special features: Dedicated headphone and adjustable laptop compartments
Dimensions: 20 x 19 x 13 inches
Weight: 6 pounds
The Rockville DJ backpack is exclusively for DJs who need to carry their laptop, controller, and/or mixer to the gig. It has loads of features, including protective padding, a fairly large interior, a dedicated headphone compartment, an adjustable laptop compartment, a pocket for a laptop stand, and more. There are even elastic band cable holders to make sure everything stays in place!
Every detail is thought out, including the bag's interior color. The bright orange lends much-needed contrast when you need to rummage and find something quick in a dark club. Basically, this bag is for DJs who love pockets and bring more to the club than a pair of headphones and a USB. It's all about utility.
This backpack takes the number one spot for offering robust features with a cheap price tag. It won't last you as long as a Tumi or even a Mono backpack, but if you want something that does the job without burning a hole in your wallet, look no further.
2. Odyssey Digital DJ Gear Backpack
Pros: Affordable option with extra compartments
Cons: Shoulder straps could use an upgrade
Special features: Direct access opening design, lots of pockets
Dimensions: 20 x 19 x 13 inches
Weight: 6 pounds
Odyssey is a brand best known for its hard-shell cases, meant to protect touring DJ equipment. The company brings that experience to their Digital Gear Backpack, which can fit a laptop, controller, and folding laptop stand. There's also a dedicated headphone compartment and plenty of separate pockets for cables and other accessories.
It's bulkier, but with reason. This backpack is large enough to fit a Traktor S2 and comparably sized DJ controllers. One of the biggest draws is that the main compartment fully opens up, letting you pack your gear neatly and without any issues. The bright contrasting interior makes it easy to keep track of your stuff in low-lit areas like DJ booths or green rooms.
Every little space is thought out. There are small touches any touring DJ will appreciate, like the side pockets that are sized to hold a standard bottle of water (just don't forget about it at TSA!)
Overall, the Odyssey Digital Gear Backpack is sturdier than its Rockville counterpart. Though it comes in at double the price, superior build quality is a must when you're on the road all the time. It's an affordable and convenient option for all-in-one DJs who need to bring more than a laptop from show to show.
3. JetPack Slim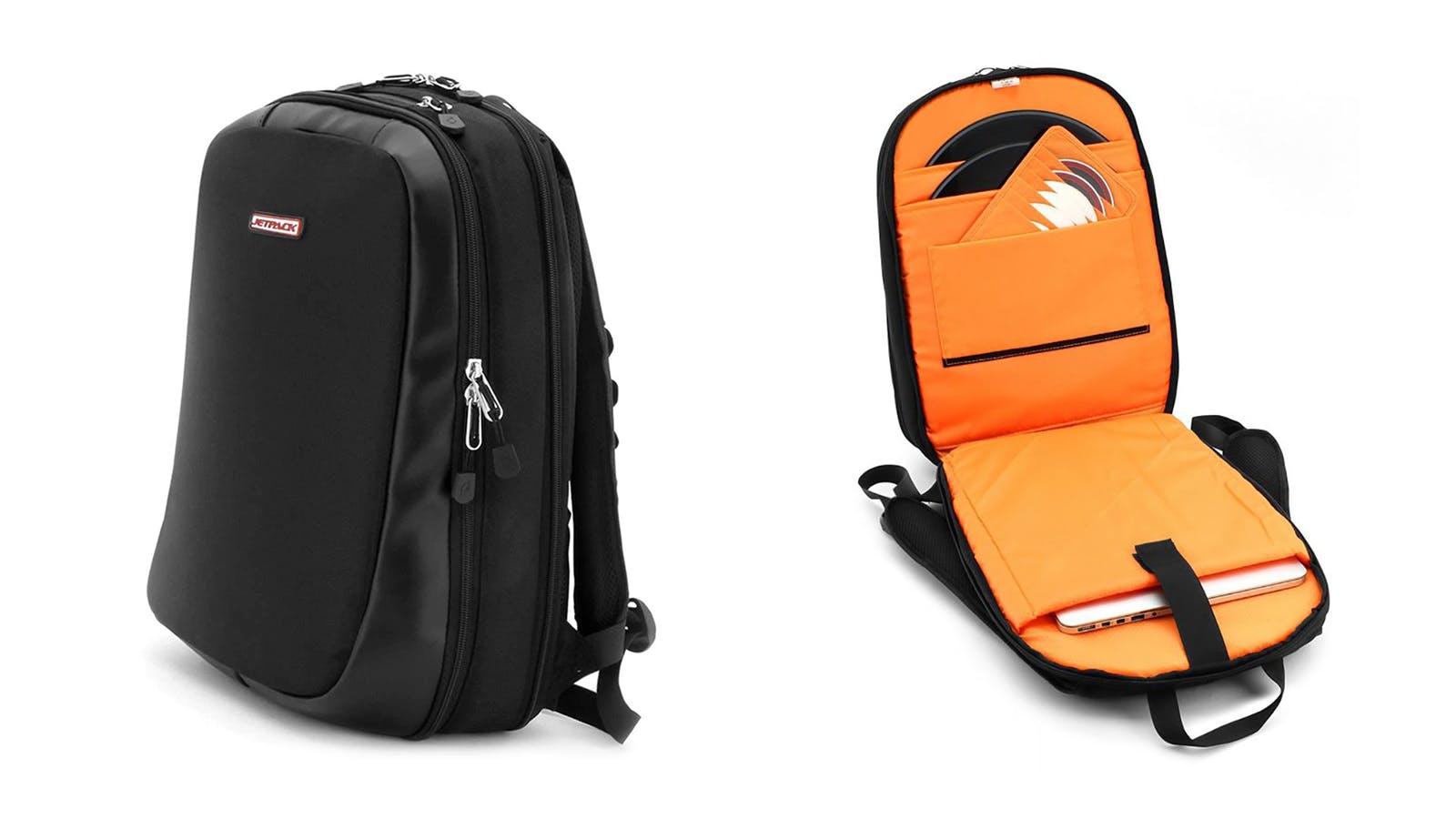 Pros: Great level of organization, comes with a one-year refund guarantee
Cons: Meant for overnight shows, it may not be large enough for multiple gigs
Special features: A compartment with sleeves to hold multiple vinyl records
Dimensions: 18.5 x 13.5 x 7.5 inches
Weight: 3.4 pounds
JetPack is a company run by DJs, designing products for DJs, so they have a great understanding of what working selectors need in their day-to-day. The JetPack Slim Backpack is designed as an everyday bag that can carry all of a DJ's essentials. And, it doubles as a great all-rounder backpack for when you aren't gigging.
This sleek, compact bag will fit even the largest laptops — up to 17"-sized screens — and boasts separate compartments for control vinyl and headphones in addition to pockets for external drives, cables, and other components. This bag is small enough to be your carry-on but large enough to fit all of your essentials.
It is more expensive than some other bags that boast more space, but if design is top of mind plus weight (it's only about three pounds!) the extra few bucks are worth it.
One of the JetPack Slim Backpack's best features is a trolley sleeve, letting you slip it through the handle of a suitcase and cart it around with ease. It's also got a water-resistant nylon exterior, meaning you'll get to your gig with gear intact, rain or shine. If you use CDJs and don't need the room for a whole controller in your bag, it's an ideal choice.
4. Odyssey BRXMK2BP12 Remix MKII Series Large Backpack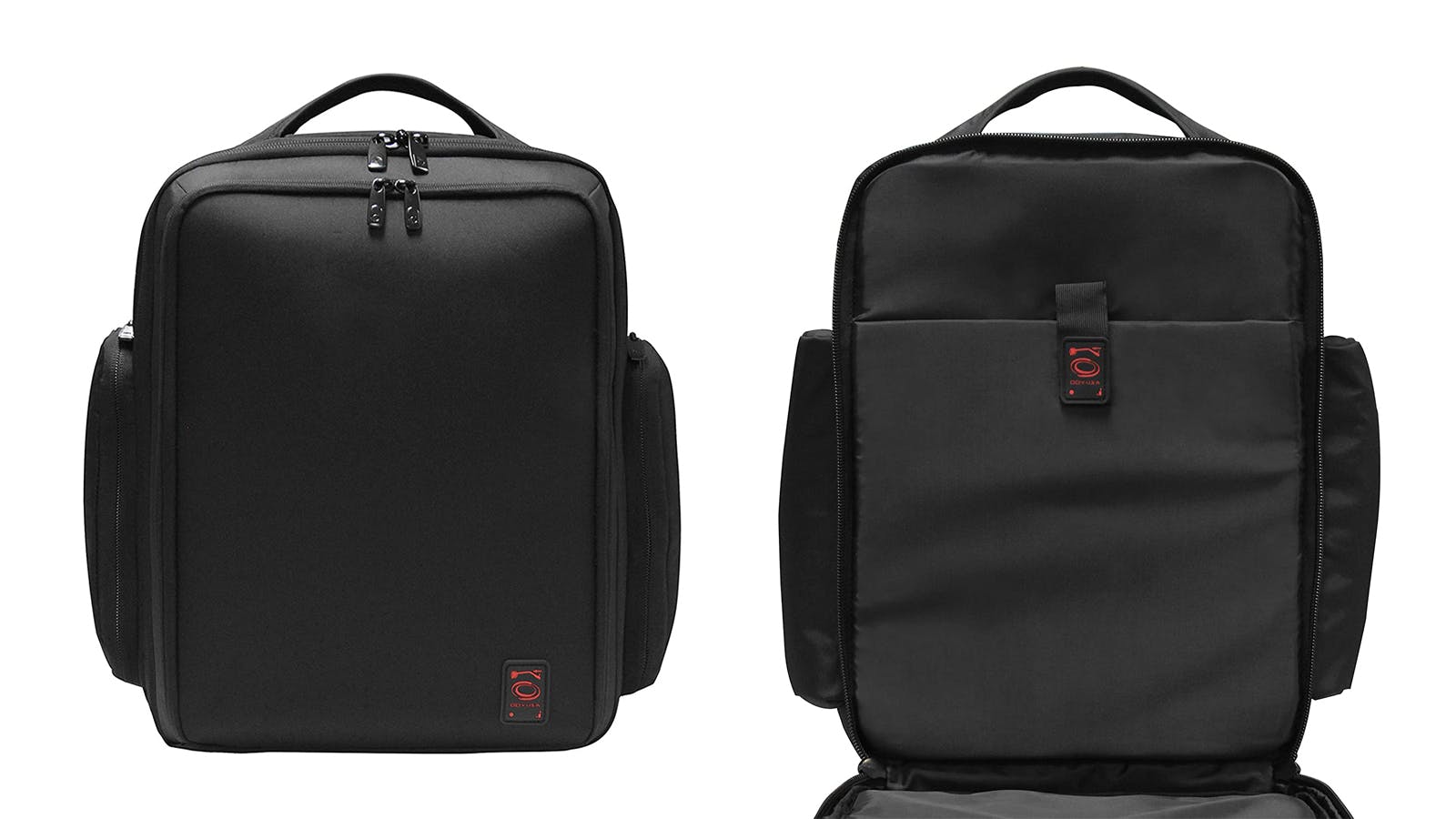 Pros: Cosmetically pleasing, balances comfort, function, and price
Cons: If you require more features, compartments, and space, this isn't the bag for you
Special features: Inconspicuous 9 x 5-inch exterior stash pocket
Dimensions: 21 x 16.5 x 9.5 inches
Weight: 3 pounds
Odyssey's BRXMK2BP12 Remix MK II Series Backpack (yeah, that's a mouthful) is primarily built for DJs who need to transport and protect their premium gear. This is a well-padded, ergonomically designed bag that can hold standard-sized 4-channel Pioneer DJM mixers, Allen & Heath's Xone series, and even a CDJ should you need it. That's kind of nuts!
It should be noted that it is not big enough for some larger-format controllers, such as the Pioneer DDJ SB3. Just make sure to measure out the gear you haul around against this backpack's internal space. It will likely fit.
This backpack also features zippered inner compartments for your auxiliary gear, a special headphone pouch, two separate laptop compartments, and internal straps that can be used to hold your cargo in place in transit. There's even a four-slot 12″ vinyl organizer section! It's got a fully padded design and heavy-duty zippers, meaning it's built to last.
This is a no-compromise DJ backpack for professionals. It's a sleekly designed DJ bag with all the essentials one needs for a weekend of gigs. It's not intended to be the "one solution for everything bag," but it is perfect for the fashion-oriented traveling DJ with a limited set of specific needs.
Guitarist backpacks
1. Ibanez Powerpad Electric Guitar Gig Bag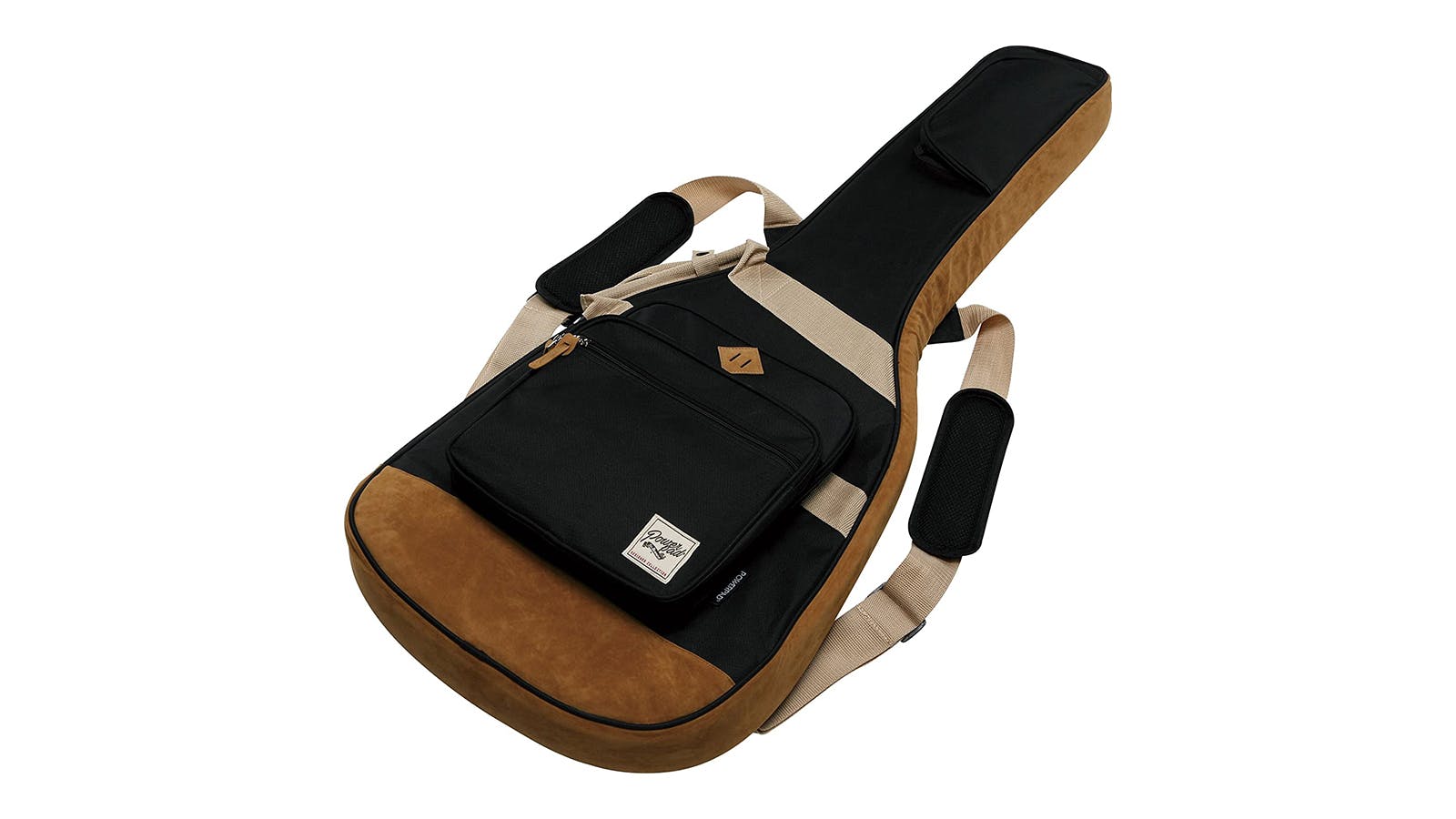 Pros: Affordable, build of a bag two or three times the price
Cons: Less padding, no rubber-soled bottom
Special features: Easy to use, large pockets
Dimensions: 42.52 x 16.93 x 2.96 inches
Weight: 2.43 pounds
The Ibanez Powerpad Electric Guitar Gig Bag expands on the classic gig bag concept while taking design cues from modern backpack companies like Herschel. These gig bags offer 15mm-thick cushioning on the bottom and sidewall, protecting your instruments from any bumps and scratches. The main compartment also features a strap to keep your headstock in place, minimizing risk of damage.
There are four large pockets on the front, the biggest of which can fit a 13" Macbook Pro. The others can fit your cables, tuner, capo, strap, and anything else you might need for practice sessions or gigs.
The various colorway options — black, beige, navy blue, moss green, wine red — means the Ibanez Powerpad can fit into anyone's style. It also comes in different size configurations for bass guitar and acoustic. Just remember that while gig bags are lightweight and portable, they won't be enough to protect your instrument during sustained travel.
2. Fender FE1225 Electric Guitar Gig Bag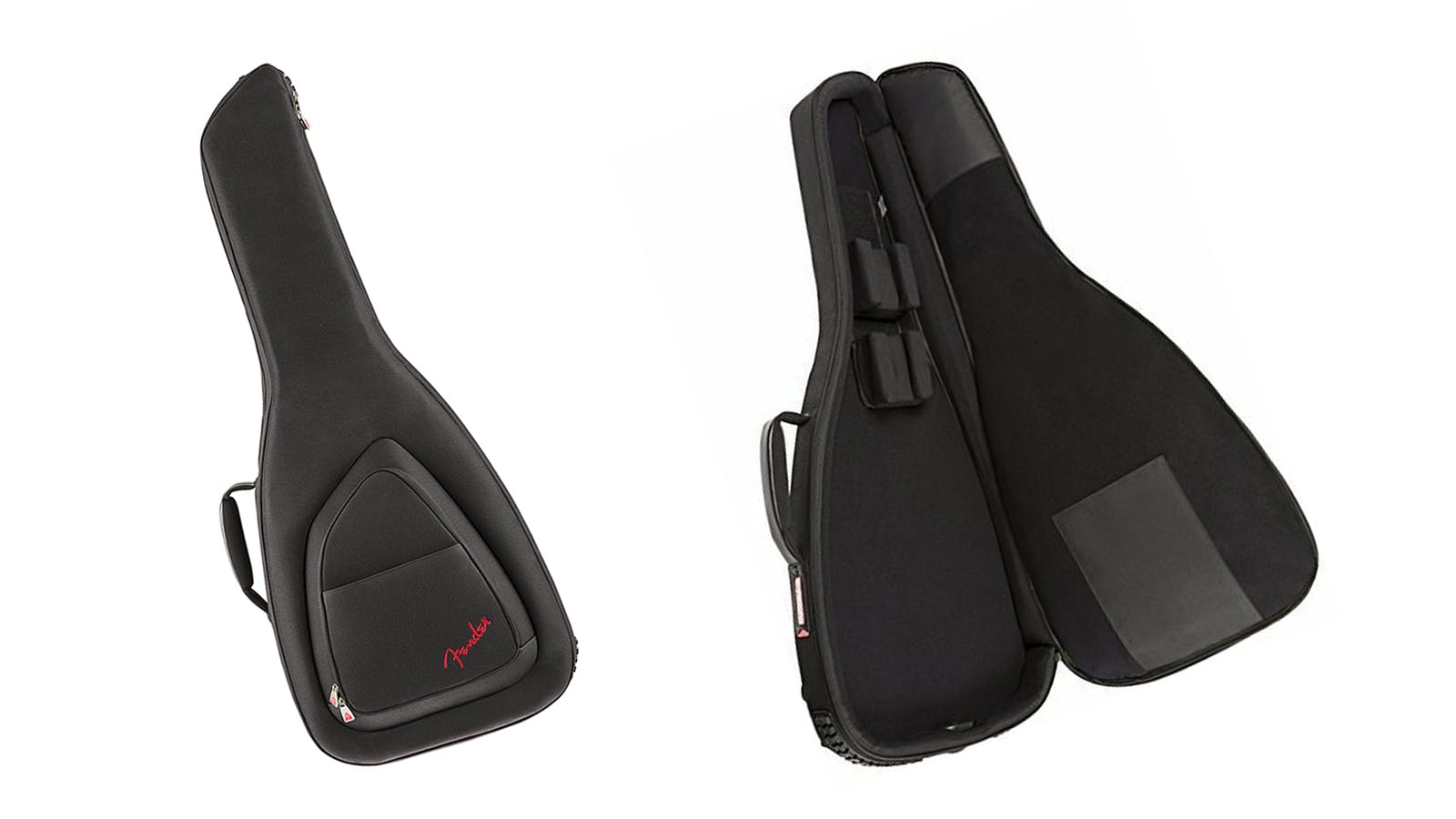 Pros: Designed for long and asymmetrical body guitars, top lid swings fully ajar like a hard case
Cons: Backpack straps, only one handle on the side, no handle in the headstock area
Special features: The perfect fit for all your Fender needs
Dimensions: 42.1 x 16.9 x 6 inches
Weight: 6 pounds
Fender's FE1225 Electric Guitar Gig Bag falls into the category of "soft hard cases." It's lighter than your standard hard case but offers far more protection than your average gig bag. It sports a unique, asymmetrical shape and is perfect for any Fender model, whether you rock a standard Strat or a longer offset guitar like the Jazzmaster.
Inside, you get two adjustable protective neck rests, minimizing the risk of any damage to the instrument while commuting. The outer layer uses high-quality polyester that is resistant to fading, while the interior is lined in soft-touch microfiber padding. Both the bottom and top sides have exterior plastic bumpers as well.
This gig bag has backpack straps, a single handle on the side, and a pocket pouch for cables and other accessories. There is no grip in the headstock area, slightly limiting your mobility in tight spaces, but if you're looking for a case for your Fender that can go on an airplane without issue, this is a great bet.
3. Reunion Blues RBCE1 RB Continental Voyager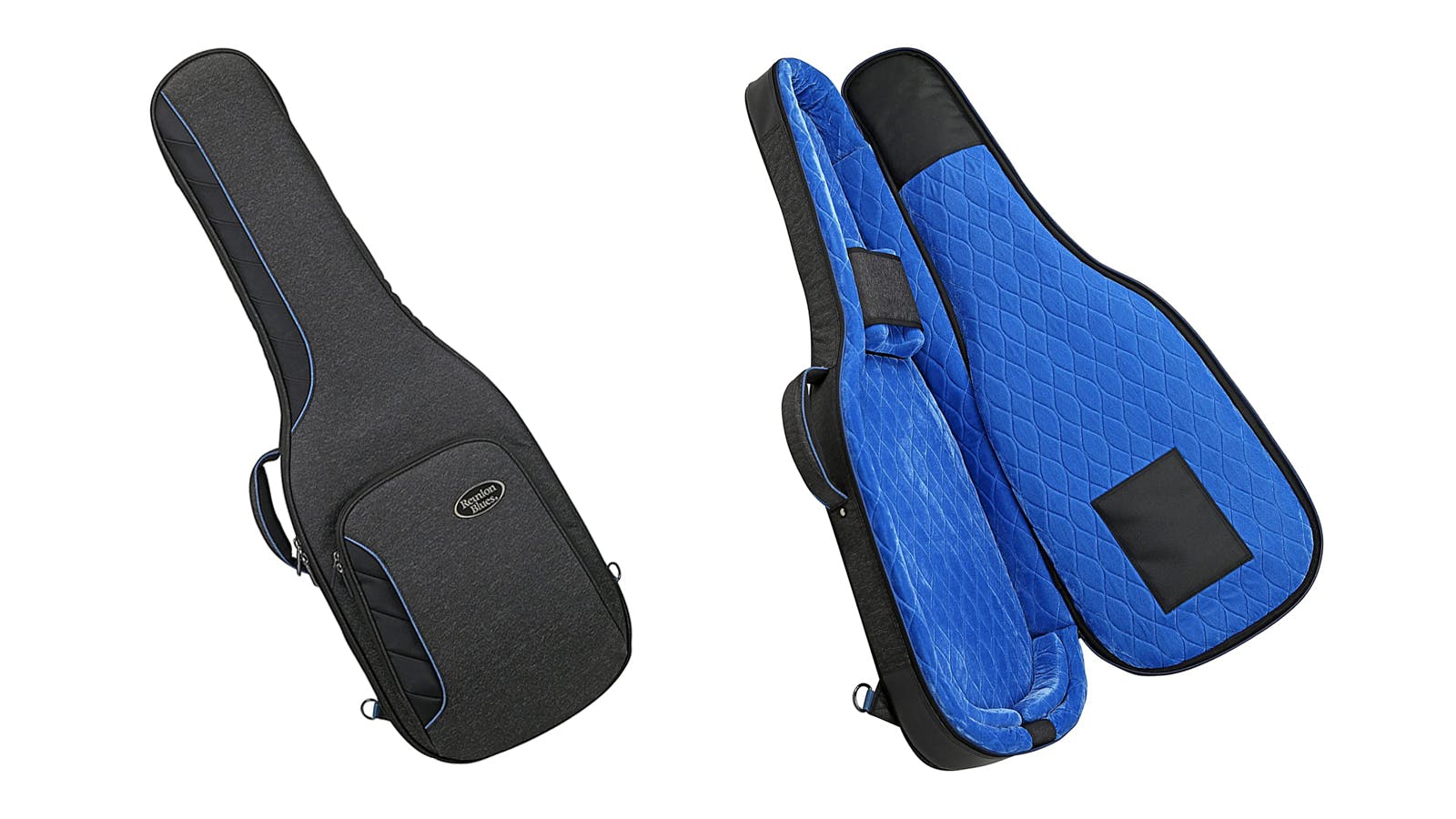 Pros: Cosmetically pleasing, sturdy, road-tested over many decades
Cons: Limited options on storage, only comes in one color
Special features: Ergonomic features like the Zero-G handle
Dimensions: 44 x 17 x 6 inches
Weight: 9 pounds
Take one look inside the Reunion Blues RBCE1 RB Continential Voyager case and you'll immediately see what sets it apart from the rest of the pack. It's fully padded on all sides with a bright blue plush lining. There's a neck block, bracing system, and an internal strap to keep it fully secure during transit.
This is another "soft hard case" with options for various instrument types, including semi-hollow electric guitars (like the Gibson ES-335) or dreadnought-size acoustic guitars (like the Martin DX series). It's got comfortable backpack straps and a well-balanced "Zero-G" handle, making this an ergonomic choice, regardless of instrument weight.
If you're looking to transport a laptop or tablet in addition to picks or other accessories, the Reunion Blues Continental Voyager fits screens up to 13" in size in its main front pocket. The limited lifetime warranty means you shouldn't have to worry about undue wear and tear.
4. CAHAYA Electric Guitar Bag Premium Padded Gig Bag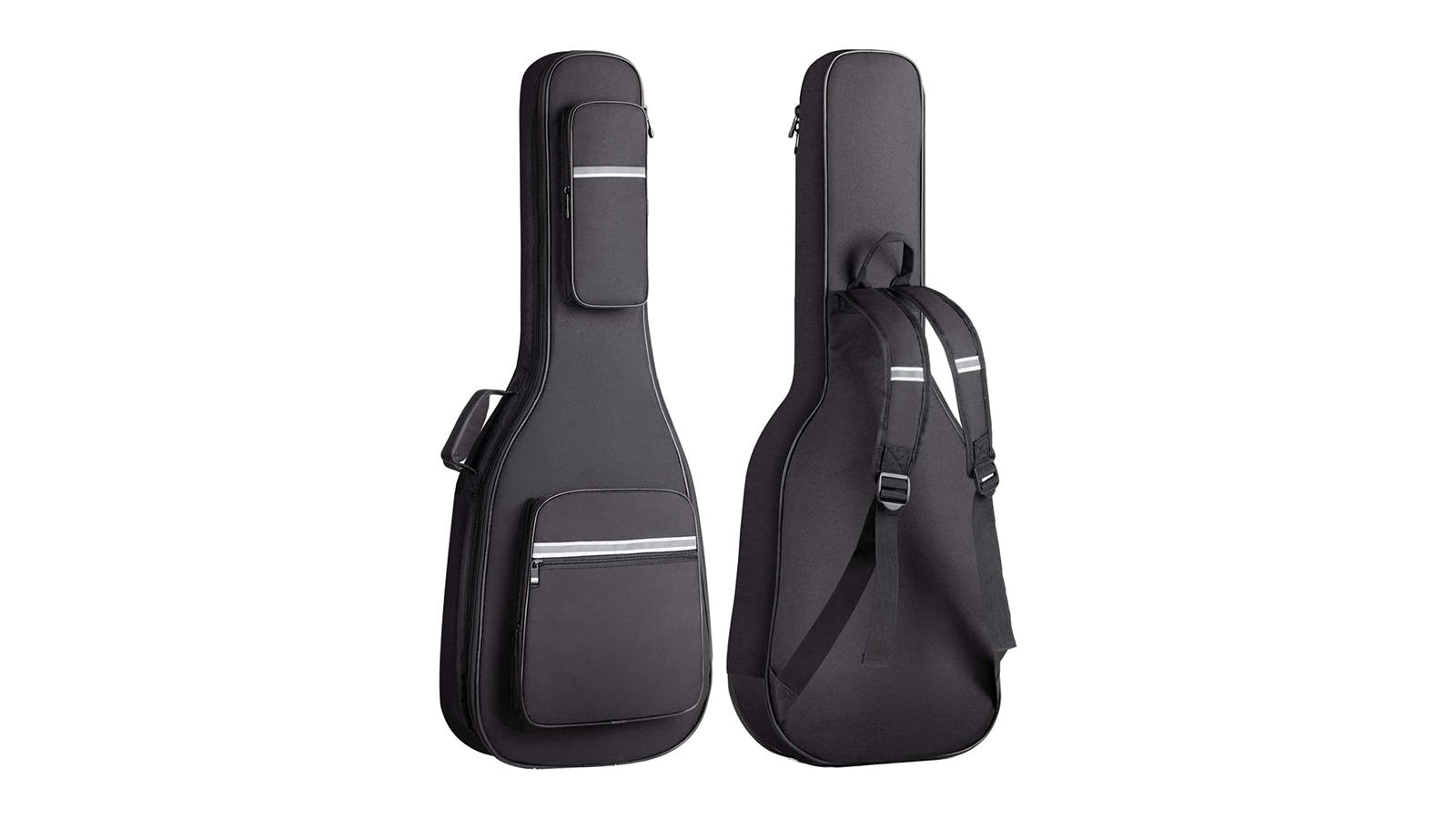 Pros: Feature-rich, six pockets, reinforced carry handle
Cons: Thin padding, not water-resistant, zipper system feels a little temperamental
Special features: A large amount of space for storage
Dimensions: 41.7 x 14.2 x 3.1 inches
Weight: 2.57 pounds
Maybe you're someone who doesn't need the heavier protection a "soft hard case" can offer. You just want something to schlep your Strat around in the car between practices. The Premium Padded Gig Bag from CAHAYA is a budget option that's perfect for new players and retains some of the premium features of more expensive gig bags.
Inside, you get 0.5-inch thick padding and a velcro loop near the top to keep the headstock secure. When you wear it with the backpack straps, this effectively means the guitar is hanging by its neck rather than moving around in the bag. The dimensions are such that a standard-scale length guitar should fit snugly.
On the outside, you get a surprising amount of storage with three total pockets: a large exterior pocket for laptops and accessories, a thinner pocket for sheet music, and a top pocket for your phone, tuner, capo, or anything else you need to easily reach. If you know your guitar won't ever be exposed to the elements, this is a fine choice. But, this case isn't water-resistant, so make sure it fits your needs.
Drummer backpacks
1. ddrum StickPack Backpack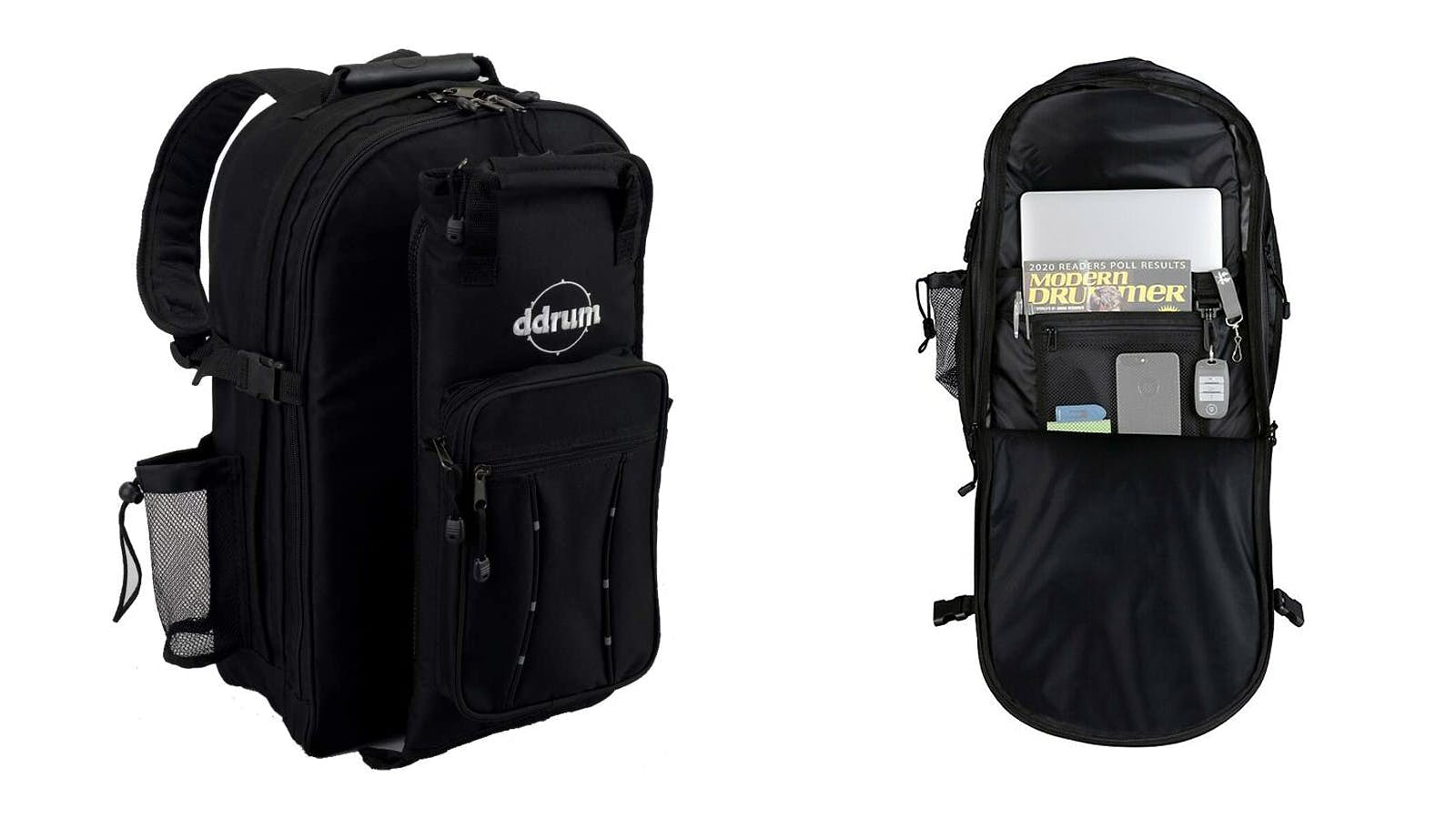 Pros: Space for 12 pairs of sticks and a 17" laptop, numerous compartments for accessories
Cons: Construction and stitching could be better
Special features: Room for a change of clothes so it's a more true all-in-one option
Dimensions: 20 x 14 inches
Weight: 2 pounds
Student drummers and percussionists or working drummers who want something simple for keeping their essentials together should look no further than ddrum's StickPack Backpack. The handiest feature is a fully detachable stick bag that unzips from the front of the main backpack, enabling you to keep your sticks on you even when the rest of your gear is stashed in a locker.
The backpack itself is no slouch, with compartments for more sticks and mallets and a laptop pocket that will fit screens up to 17". Session players who require flexibility will find a lot to love about this bag's roomy interior, which can also fit headphones and lead sheets. The buckles on each side are a nice touch, allowing you to keep the backpack itself compact.
2. Gruv Gear Quivr Tour Bag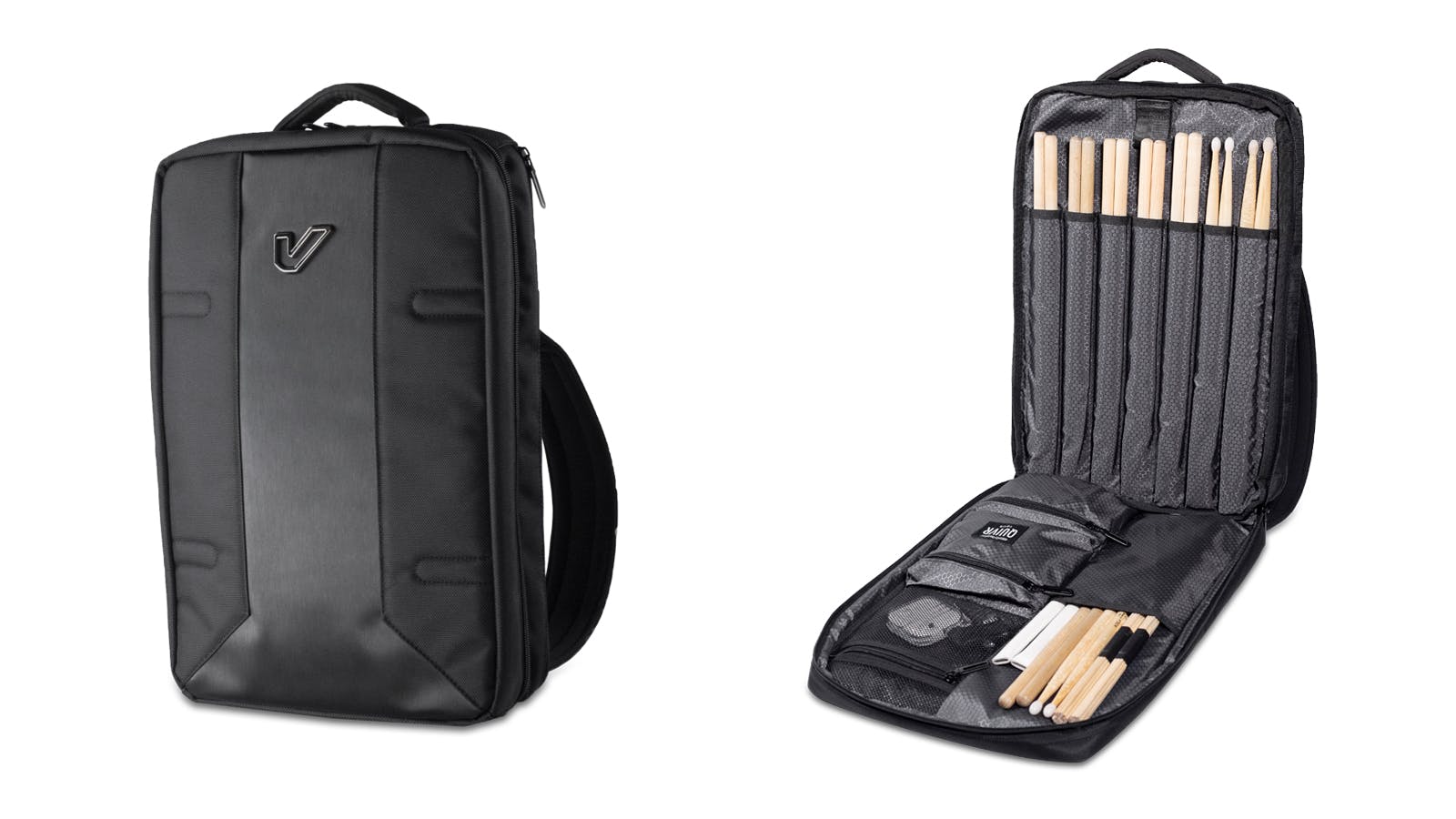 Pros: Sleek design, laptop pocket, thick backpack straps, fits 11 pairs of sticks
Cons: Won't fit larger-size laptops
Special features: Integrated Global Recovery Tag to help find your bag in case you lose it
Dimensions: 19.5 x 13 x 2.5 inches
Weight: 3 pounds
Gruv Gear's Quivr Tour bag expands on the brand's standard Quivr stick bag with a laptop compartment and more pockets to store your drum keys, in-ear monitors, moon gels, and any other accessories you need for the studio or stage. The pouches have internal straps to keep any drives or cables in place while you're traveling, and you can sort up to 7 pairs of sticks neatly in the main compartment, with room for up to 11 pairs total.
One of the coolest features is the built-in Global Recovery Tag, which is useful for keeping track of your bag should it ever get lost at the airport. If you ever want more space, you can always buy a standard Quivr and throw it inside for a whopping 27+ stick capacity. With thick, comfortable backpack straps and top-notch build quality, the Quivr Tour backpack is made to last.
3. Vic Firth Vicpack
Pros: Very sturdy, numerous pockets for gig accessories
Cons: May not be the right bag if you need to move a drum head
Special features: A headphone port, and protective laptop sleeve
Dimensions: 15 x 15 x 5 inches
Weight: 2 pounds
The Vic Firth Vicpack is made by one of the most respected names in the drum industry, geared towards students and working professionals alike. Like its ddrum counterpart, it has a detachable, full-sized drum stick bag on the front. The whole thing is sturdy and stable enough to be taken out on the road while protecting whatever's inside.
The interior is large enough to fit a change of clothes, a laptop, a practice pad, and some accessories before it maxes out its full capacity. If you're in the school marching band or the pit orchestra and you're fed up with having to manage two different bags for your music and academics, the Vic Firth Drummer's Backpack offers a solution that should last you well beyond your school years.
4. Protection Racket Snare and Bass Drum Petal Case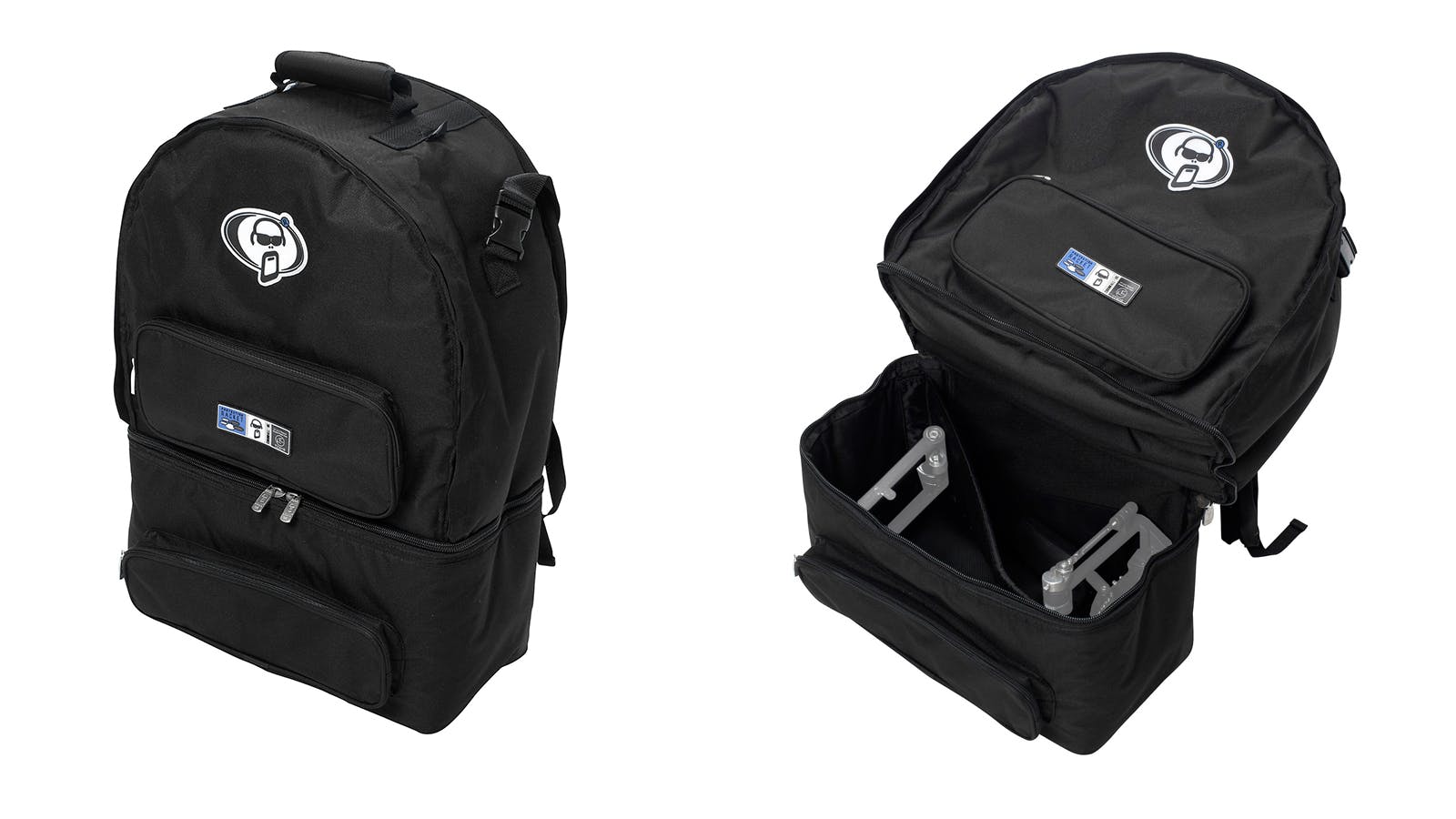 Pros: Built for comfort and strength, dual-density foam, lightweight case
Cons: Very specific in its design, pricey but you get a strong build
Special features: Transport an entire drum shell with a couple of pedals
Dimensions: 26 x 16 x 6.5 inches
Weight: 7.7 pounds
Gigging drummers know that even though many venues will have a house kit to use, you can't always rely on every part of that kit to be fully up to scratch. Bringing your own cymbals is standard, but many drummers will also opt to bring their own snare and kick drum pedals as well. Protection Racket's Snare and Bass Drum Pedal Case is an elegant solution, with dual compartments and backpack straps so you can transport all your gear yourself.
The unique design of the Snare and Bass Drum Pedal Case lets you place the kick pedal at the bottom of the case (with options for single or double bass pedals) and then store your snare separately in a synthetic fleece-lined section that will keep it safe and in tune on the way to the show. There's a generous amount of room, meaning the case is compatible with a wide range of snare sizes.
You can wear this case on your back or tuck the straps away for when you're moving several bags and they aren't needed. It's a fantastic all-in-one solution for drummers who don't want to manage the lids, buckles, and straps associated with traditional drum cases.
All-around backpacks
1. Matein Travel Laptop Backpack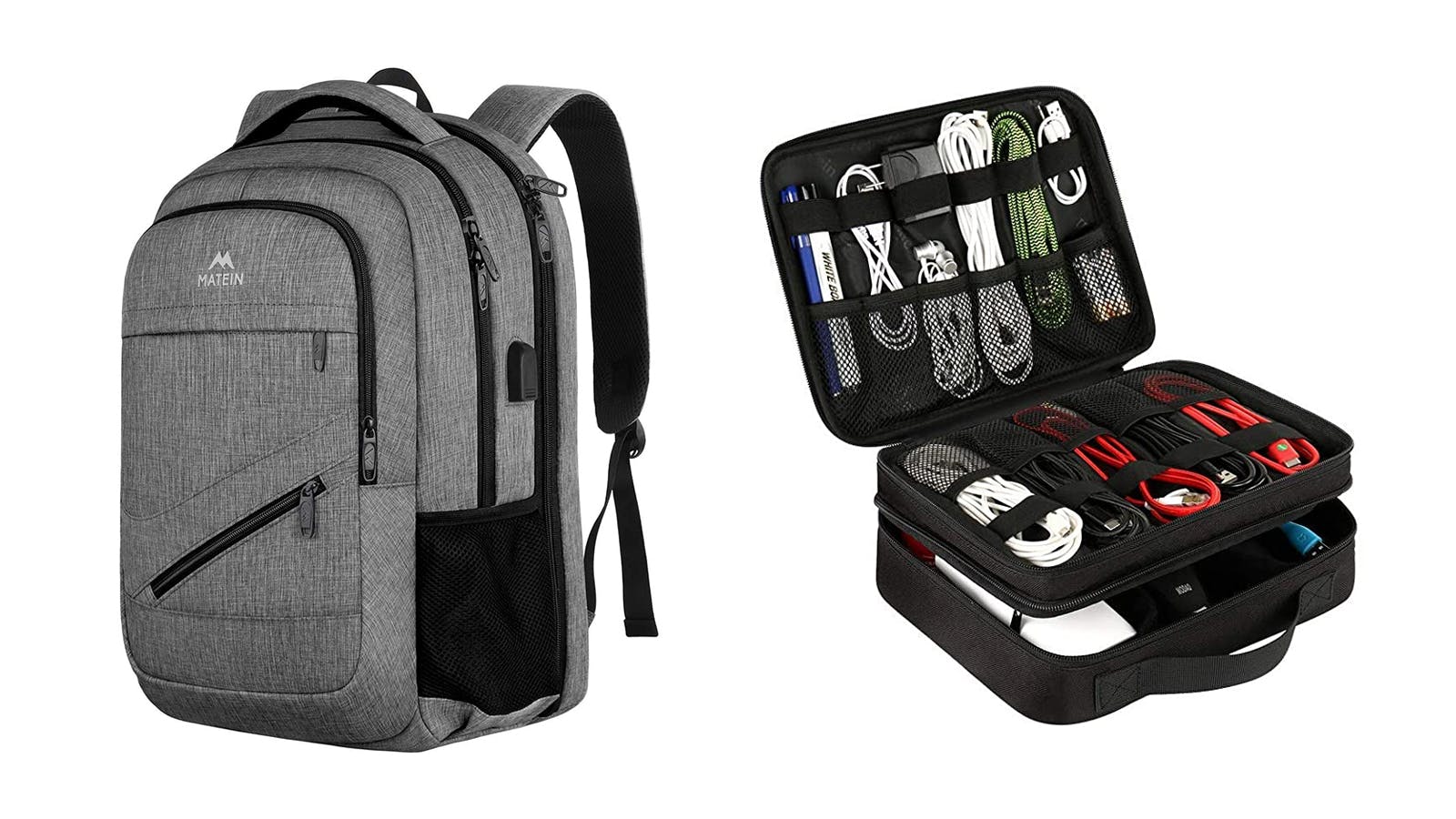 Pros: A large amount of functional features, anti-theft back pocket, external USB charging port
Cons: The straps could be stronger
Special features: Luggage strap to slide on a suitcase handle
Dimensions: 18 x 12 x 7.8 inches
Weight: 1.56 pounds
The Matein Travel Laptop Backpack is a compact bag that can carry laptops up to 15.6" in size and sports some nifty modern touches. The most noticeable one is the external USB port, which you can connect to a power bank (not included) with a built-in charging cable on the inside. This makes it perfect for keeping your phone and USB-chargeable equipment at 100 percent while on the go without having to fish for your power bank.
This model from Matein is relatively inexpensive and comes in a variety of colorways, so it'll fit right in with any style. There are a surprising number of compartments within the three main pockets. There's also a smaller pocket on the side with the backpack straps to keep your valuables safe. For the price, it's a feature-rich bag that is a high-value, low-risk investment.
2. Rockville Key Case Soft Carry Bag Backpack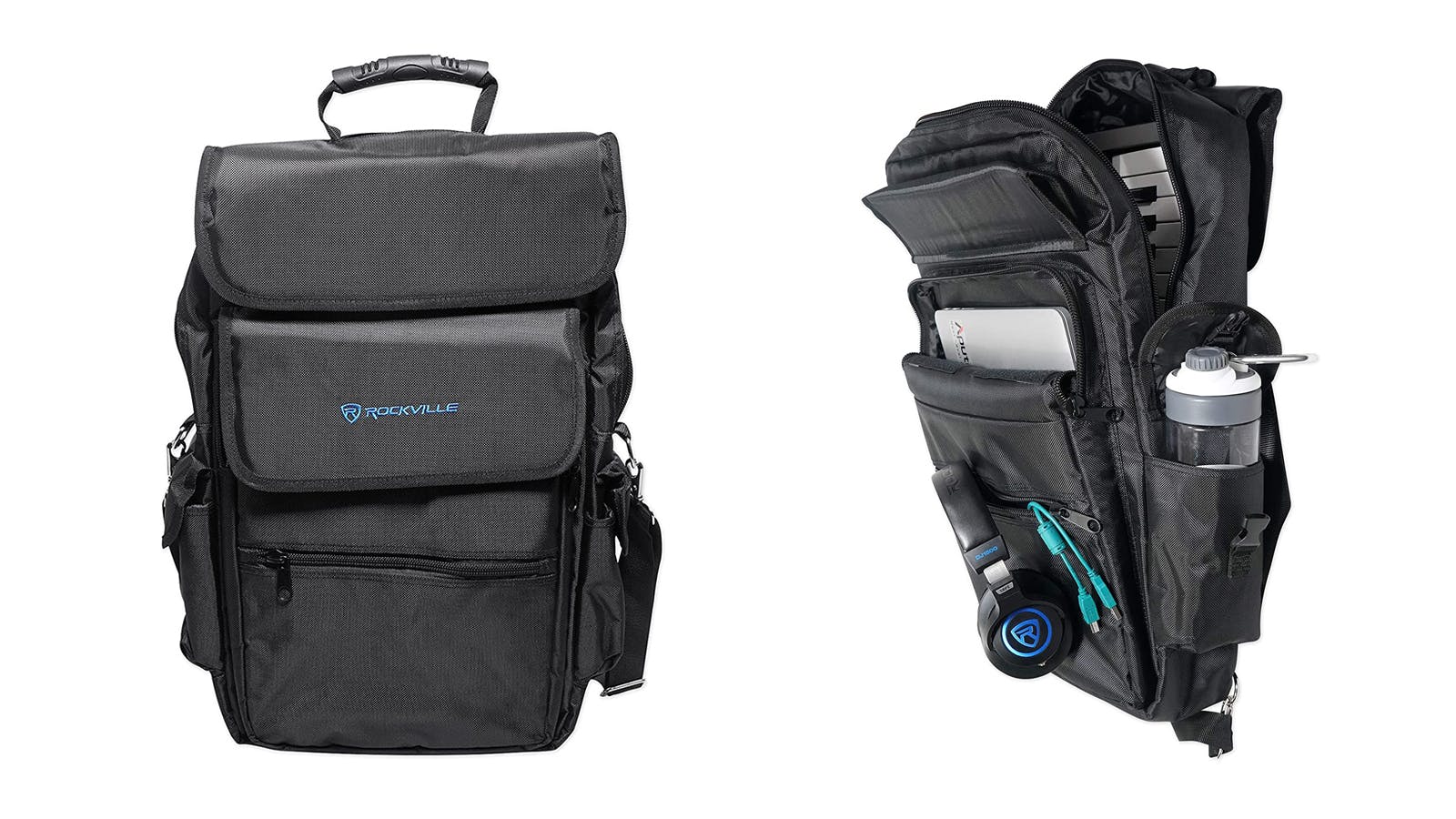 Pros: Fits 25-key controllers or similar dimension gear, multiple compartments for storage
Cons: Stitching could be stronger for the weight of the bag, shoulder strap lacks padding
Special features: Unique design for a soft case
Dimensions: 16.3 x 23.3 x 4.9 inches
Weight: 4.59 pounds
The Rockville Key Case is specifically made with the traveling musician or producer in mind. The design is geared towards those who use 25-key MIDI controllers, like the Novation Launchkey 25 Mk II, M-Audio Oxygen, or Arturia Minilab 25. (Not sure which controller is right for you? Check out our list of the best MIDI controllers under $300.)
If you're ordering online, it's not always easy to gauge whether your specific gear will actually fit into the backpack you want. You won't have that concern with the Key Case, which will fit the aforementioned keyboards and similarly sized models with ease. It can also fit DJ controllers like the NI Traktor Kontrol S4. There's a separate compartment for laptop, headphones, cables, and other needs, and it can be worn as a backpack or shoulder bag.
3. Mark Ryden Magnate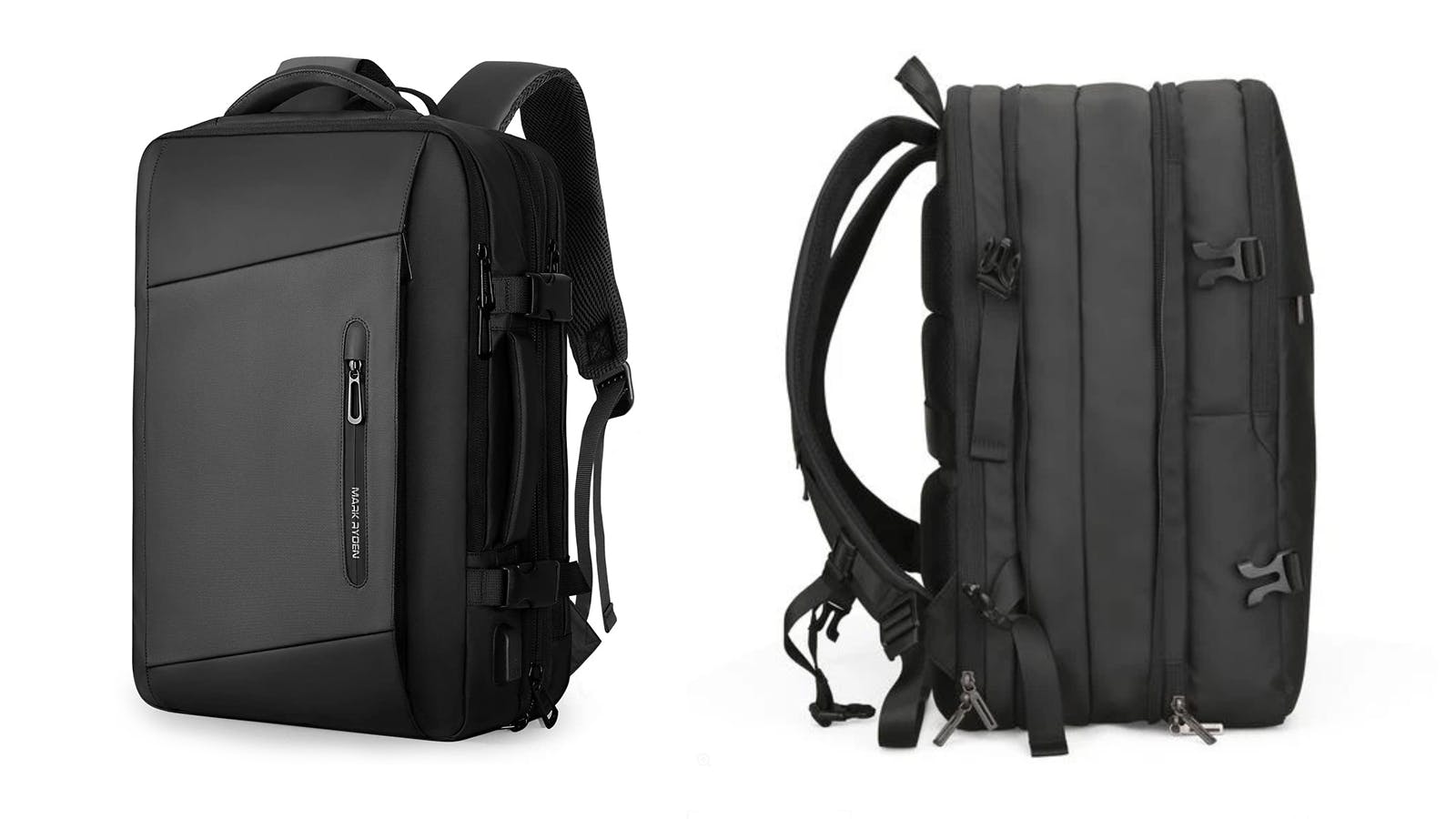 Pros: Large-capacity, built-in charging capabilities, secret anti-theft pocket
Cons: Softer construction
Special features: Seven total compartments, built-in charging capabilities
Dimensions: 19.69 x 12.20 x 5.91 inches
Weight: 2.375 pounds
The Mark Ryden Magnate backpack is a comfortable, premium bag that expands from a 23 liter to a 39-liter capacity as needed. This makes it an excellent all-rounder for traveling producers who also want something they can use on a day-to-day basis. It fits laptops up to 17.3", with a dedicated computer sleeve to keep your laptop as protected as possible.
Whether you're carrying clothes and toiletries or audio gear, the bag's multiple opening modes make it easy to pack your things neatly, and its water-resistant surface means nothing will get damaged in the rain. The USB charging port on the right-hand side (power bank not included) is a great touch for keeping your phone juiced up while traveling. There are a few useful hidden pockets, too, up top and in the shoulder strap (including a secret anti-theft pocket).
4. Pelican S115 Elite Sport Backpack
Pros: The Cadillac of security features, easy and quick to pack
Cons: Heavier than most, big, not the most comfortable, less flexible
Special features: Built-in crush-resistant, waterproof internal laptop case
Dimensions: 18.5 x 10 x 13 inches
Weight: 8.65 pounds
Pelican is the de-facto brand when it comes to protecting expensive gear. Their rock-solid cases are the go-to option for people in video, photography, extreme travel, and more. There's no such thing as overbuilt if it means your livelihood is nestled safely in a case designed to withstand the most extreme conditions.
This might not be the first brand that comes to mind for traveling musicians, but hear us out. The Pelican S115 backpack is designed to take a beating and has a built-in crush-resistant laptop case that's waterproof (watertight to 1 meter for 30 minutes). This is a case for when you are traveling longer distances, need more protection, or just generally want the peace of mind that comes with resilient gear.
It should be noted: This is not the ideal day-to-day bag. It's heavier than the average backpack, due to its construction, so you won't feel amazing hiking around with it strapped to your spine. However, despite the bulky look, it's small enough to fit under your seat as a carry-on and it is TSA inspection-ready. For professionals who are transporting expensive microphones or other valuable equipment, it's a worthy purchase to protect your bigger investments.
5. Aer Travel Pack 2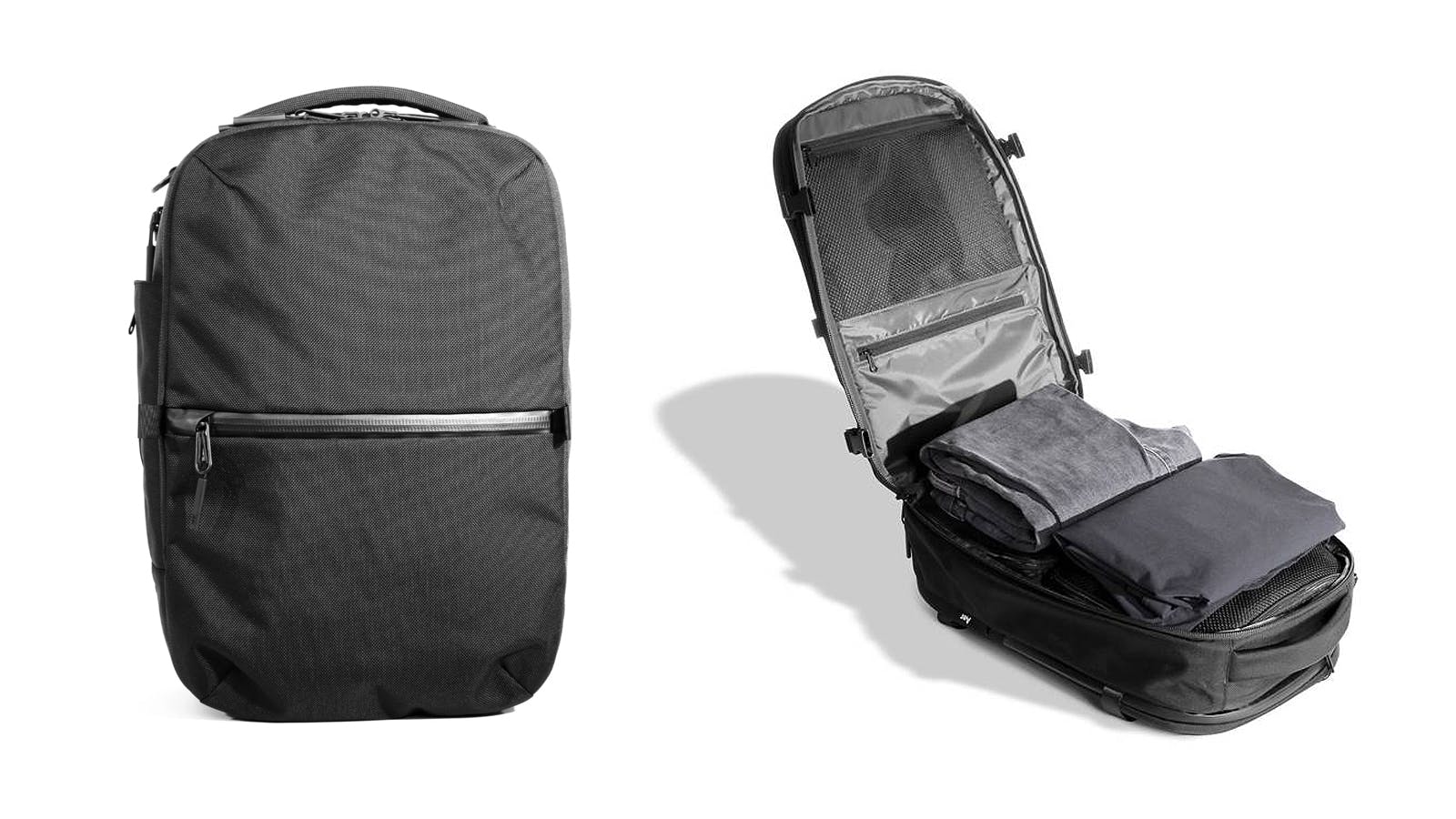 Pros: Durable, great backside airflow, plenty of storage capacity
Cons: Pricey
Special features: Dedicated compartment for shoes, side handle
Dimensions: 13.5 x 21.5 x 8.5 inches
Weight: 3.7 pounds
Aer's Travel Pack 2 is the most expensive backpack on this list, but it might be the last backpack you ever need, especially if you're someone who travels for gigs or sessions. It features a massive laptop slot (with Aquaguard zippers, natch) and a main compartment that opens all the way up, letting you pack like you would a suitcase. No matter how much stuff you pack into it, it'll meet all the requirements for carry-on luggage.
Inside the backpack, there are plenty of zippered sections and different mesh partitions to keep your things organized. You'll never have to ever worry about tangled cables and lost USBs ever again. As an added plus, if you use the Travel Pack 2 as an everyday carry-on for trips, it has a special dedicated section for shoes at the bottom. On top of everything, it all comes in a clean, minimalist design with no visible branding.
Words: Neal Andrew Emil Gustafson
Complete your setup with our recommendations for the best affordable studio chairs. And, here are our picks for the best MIDI keyboards under $300 for home producers.