How To Record Hip-Hop Drum Samples With Daniel Gallardo
Combine acoustic and electronic: Step inside the studio with Daniel Gallardo and see how we recorded his hip-hop drum samples for ARCADE.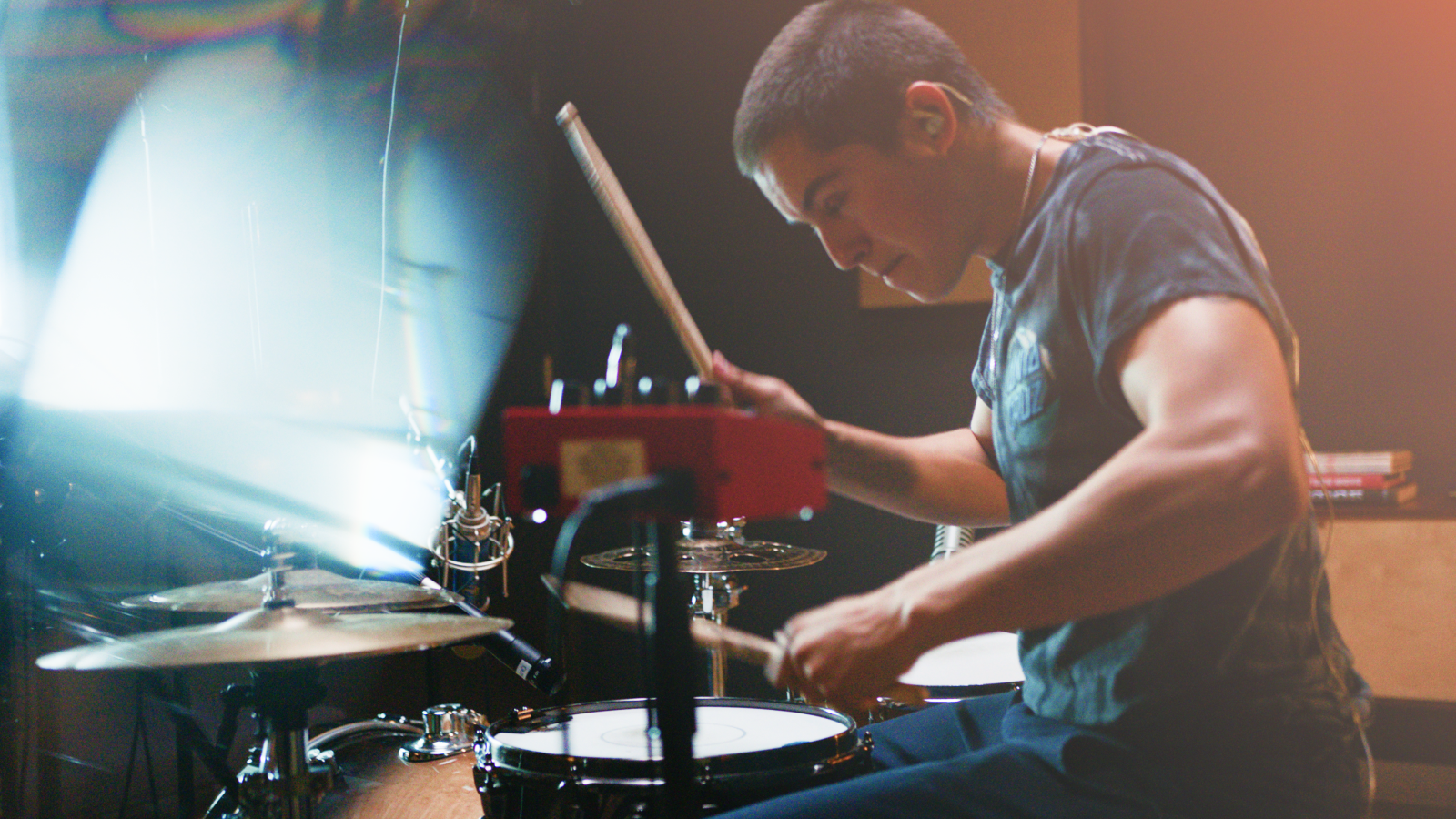 Yes, the hip-hop drum samples you use in Arcade have a story and a name behind them. And that name is Daniel Gallardo.
Like many professional artists, Daniel Gallardo started young. At just six years old he was playing drums, which led to piano and singing. Not only did he rock out in the usual ways — through cover bands and pop-punk groups — but as a Southern Californian, Gallardo earned his chops while busking on Venice Beach.
"I would set up my drum set, and I would just put up a sign, like, 'Give me a dollar and then request a song,'" he says. Since Venice Beach is Los Angeles' top tourist attraction, he had a steady stream of strangers calling out tunes.
"A lot of people came through and I would have to play a bunch of songs on the spot. That really helped with improvising and trying to predict what the next part is going to be," he said of his under-the-microscope education.
Eventually, he would go to music school, and now he's here at Output schooling us on the production process he uses to record drum loops. Step inside the studio with Daniel Gallardo and check out how we recorded his hip-hop drum samples for Arcade.
Fortuitous path crossing
"I'd been seeing people that I know using Arcade," Gallardo says. "It was something that was more and more becoming of interest to me because I was also hearing it in the music I was listening to, and I was like, 'this is really cool.'"
At some point, the young drummer started talking with award-winning composer and producer Gregg Lehrman, whose music has been featured on little shows like Saturday Night Live, and events like the Olympics and the Super Bowl. Lehrman also happens to be the founder and CEO of Output.
"We were very much on the same page," Gallardo said. "We had a similar vision in regards to bringing acoustic, percussive elements into the trap scene. There it's more focused around samples and stuff that comes from your computer, which is great, but it's nice to have the human touch."
The human touch? Through software?
"The difference between a hi-hat loop that was actually played and one that was programmed is that in the one that was played, you can hear that there are human inconsistencies," Gallardo explained. "When you can harness that, and it can fit in the song, but you can tell that there's a human movement to it, I think that's kind of cool."
Watching Gallardo, it's hard not to smile. His touch is light, but powerful. His Venice Beach training has allowed him to effortlessly move from pop to punk to jazz to trap.
"The loops that we recorded were all recorded with the specific trap-pop genre in mind," he continues. "I think that the producers that are going for that type of sound are going to be really happy with what they find there."
It's not how many microphones you have, it's where you put them
"There was a lot of fun working on the samples for Arcade," says the percussionist who once opened for Asia, and headlined the Vans Warped Tour. 
"We spent a lot of time figuring out miking, and how we wanted the room to sound," he explains.
Gallardo and the Output engineers worked diligently to record hip-hop drum samples that he says are "clean enough that they can be dropped in and you don't have to mess with it, but still have enough room to breathe that it feels like a live set."
The result: drum loops you can play around with.
"All around, the loops are very malleable," he says. "That's what's nice about using Arcade specifically, is that you can set a tempo and then just hit something and then go. Sometimes I'll use a full Sampler. Other times I will just use a hi-hat. It just depends on what feel I'm going for and what sounds good in the moment."
On that Drip Line
Gallardo then pulls up some audio he recorded for Arcade and demonstrates how he mixes it with the newly released Drip.
"You can hear there's a lot of compression and reverb happening," he says. "These are just some drums that I brought in. They warped fine to different tempos, but this one's at 140 [beats per minute]."
"So let's whip up ARCADE," he says. "This instance I'm using is the Drip Line, from the On the Grind Sampler… I wanted to add some bass to it. I just whipped up another instance of ARCADE and found a sound that worked. You can see it here too. I manipulated this sample a little bit, added this repeat here, added some cool percussive elements to it, and you can hear that fully in context right here." 
Gallardo points out that he recorded a wide variety of Loops. There's plenty of full drum kits, and also some cross sticks, cymbals, FX cymbals, and a specific stack he used for a trap snare-type sound.
"We incorporated some different things. It's not all just full drum Sampler Loops. There are also cymbal Loops, which are nice to be able to lay on top of something. That way you can combine the acoustic and the electronic elements together."
Advice for artists of all sorts: keep your mind open
"I don't necessarily go into something with the idea of, 'I want to make this specific thing,'" Gallardo says. "I try to go in with an open mind and if I hear something that inspires me, then I'm going to chase that… because that idea will branch out to even more cool paths."
Gallardo suggests going online to be inspired. His YouTube channel, for example, hosts dozens of videos where he showcases his mastery.
"The lines between the genres are getting so much more blurred. I think that people want to try something new. There are so many musicians and especially with social media, you see way more of them," he says.
Ok, but why trap?
"It's hard to say that anyone has their own sound that's never been heard before, but I think just following what you want to do and what interests you is probably most important," he continues.
"That's really the reason why the trap genre has been such an inviting place for me. It's something I really liked to do. That's just what motivates me. If you can find something that motivates you to pursue your own sound, that's all you need."
Gallardo's samples are now available royalty-free in Arcade's Drum Sesh Line.
For more percussion goodness check out this video with M.B. Gordy.